Ben's Corner: Guildpact is Coming - Alpha/Beta/Unlimited Repriced and Restocked!

Hey everyone! Welcome to the first 2006 edition of Ben's Corner! For those who have not read this column before, let me give you a brief introduction. Ben's Corner is a column which deals with news about the sales end of StarCityGames.com. In past columns, I've talked about which cards are hot and which or not, rare cards that we've acquired, price reductions in inventory, and previews of upcoming sets.
Speaking of previews of upcoming sets, Guildpact is only three weeks away from release! Based on the cards spoiled by both MagicTheGathering.com and MTGsalvation.com, Guildpact looks to be as strong a set as Ravnica - and Ravnica was the most popular Magic set possibly ever! On Wednesday, MTG.com gave us a taste of an amazing Izzet (the Red/Blue guild) Legendary Dragon!
Card of the week: Niv-Mizzet, the Firemind!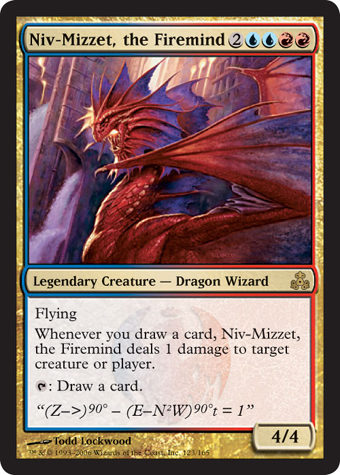 Niv-Mizzet is one of the most exciting creatures to appear in quite some time. To begin with, he's a 4/4 flying dragon for six mana - par for the course for large flyers. His abilities are what make him stand out - whenever you draw a card, Niv-Mizzet deals one damage to target creature or player. This includes your normal draw for the turn - so at minimum, you're getting a free point of damage anywhere on the board at the beginning of your turns.
But wait - there's more! Niv-Mizzet himself taps to draw you a card - so if you don't feel like beating for four in the air, you can get another point of damage and a card out of his tap ability.
Blue is the color of card drawing, and there are plenty of exciting cards to use with Niv-Mizzet. Compulsive Research becomes Arc Lightning plus Concentrate. Flow of Ideas becomes X to the head, Ideas Unbound becomes Lightning Bolt, and Tidings - already a well-played card - becomes an absolute monster. That's just in Standard - Niv-Mizzet becomes bizonkers when combined with Brainstorm, Accumulated Knowledge, or other uber-efficient card-drawing effects.
Why not use Niv-Mizzet with Electrolyze?
(Courtesy of Inquest Magazine) Electrolyze - UR1, Instant
Electrolyze deals 2 damage divided as you choose among any number of target creatures and/or players.
Draw a card.
Then again, you might just want to play Fire/Ice (or should I say, Fire and Ice) all by its lonesome.
Preorder Guildpact today for just $74.99 a box!
Massive Price Reductions on Older Sets!
The Monster is our massive inventory of cards that have not yet been entered into our system. It's easily several hundred thousand cards large - and all of the cards in The Monster are good cards - no bulk there! Over the past few weeks, I've had time to go through and grade, reprice, and inventory almost all of our older cards from the monster. This includes the following sets:
Alpha
Beta
Unlimited
Antiquities
Not only did I add tens of thousands of cards from all of these sets to the system, I dropped the price of most of these cards by as much as 50%! Here's a sampling of some of the great prices we now have every day on older cards:
Unlimited Lich - as low as $15.00
Near Mint Antiquities Commons: Starting at $0.25
Psionic Blast and Alpha/Beta Lightning Bolt - starting at $12.50
Candelabra of Tawnos - only $25.00 for Heavily Played, $35.00 for Slightly Played and $45.00 for Near Mint

These go hand-in-hand with the repricing of Arabian Nights and Legends from a few weeks ago - so whether you're looking to complete an older set, trying to corner the print run on an Alpha uncommon, want to get your hands on an out-of-print card cheaply or just plain want to pimp out your deck with black-borded goodness, now's the time to check out our massively revamped and restocked Alpha/Beta/Unlimited/Arabian Nights/Antiquities/Legends inventory!

Ben's Special!
Every once in a while, I'll add a unique item to our system under the heading of Ben's Special. Right now, I have a single copy of a beautifully signed, Near Mint Foil Sol Ring. We recently acquired four foil Sol Rings, and the other three non-signed ones have already been sold over the past couple of weeks. This is your opportunity to purchase this Mark Tedin-signed Sol Ring - once it's sold, we're not likely to get another back in stock.

Guildpact Prerelease and Grand Prix: Richmond on the horizon!
We will be running a two-day Guildpact Prerelease in Richmond on Saturday, January 21st and Sunday, January 22nd. We will have multiple buyers on staff that day, so bring your cards and let us make you some offers! In addition to the usual flights and drafts, we will be holding a team-sealed event on Saturday and a Two-Headed Giant event on Sunday - both using Ravnica/Guildpact as the format. These two events have been especially popular with our Richmond crowd, so come on down and bring a friend!

Grand Prix: Richmond will be held on Saturday, February 4th and Sunday, February 5th. This two-day event is the first Ravnica/Guildpact sealed qualifier in the world! Come down on Friday to play in the Grand Prix: Richmond last chance qualifier - your chance to win three byes at Grand Prix: Richmond! We will also be running the second Star City "Duel for Duals" Legacy tournament that Sunday (100 dual lands up for grabs!), along with many other great events - more on these in next week's Ben's Corner!

Oh, and one of the best parts of Grand Prix: Richmond? Guildpact is officially released that Friday, and StarCityGames.com will be offering fantastic deals on all Guildpact products throughout the entire weekend!

[Guildpact Booster Box - Grand Prix: Richmond Price - $79.00 (includes Virginia sales tax)]
[Guildpact Booster Case - Grand Prix: Richmond Price - $466.00 (includes Virginia sales tax)]
[Guildpact Booster Pack - Grand Prix: Richmond Price - $3.00 (includes Virginia sales tax)]
[Guildpact Theme Deck Set of three - Grand Prix: Richmond Price - $24.00 (includes Virginia sales tax)]
[Guildpact Fat Pack - Grand Prix: Richmond Price- $26.00 (includes Virginia sales tax)]
[Guildpact Complete Set - Grand Prix: Richmond Price - $131.00 (includes Virginia sales tax)]
[Guildpact Complete Set x 4 - Grand Prix: Richmond Price - $494.00 (includes Virginia sales tax)]

All major credit cards will be accepted on-site!

We will also have a complete line of Guildpact singles available for sale at Grand Prix: Richmond.

That's all the time I have this week - thank you for tuning into Ben's Corner! If you have any questions/comments, please feel free to e-mail me at Ben@StarCityGames.com, or post in the forums of this article, and may all your Guildpact packs yield the cards of your dreams.

Ben Bleiweiss
General Manager, StarCityGames.com