The Magic Show #154 - Take A Ride In My Zendikar

Hello everybody and welcome to another edition of the Magic Show. This week we're going to talk about some awesome Zendikar spoilers that were provided at last week's GenCon show you the first of three parts of my own Zendikar spoiler Warren Instigator and reveal the powerful keyword Landfall and its revelation regarding the Zendikar block theme. Let's go!
Take A Ride In My Zendikar
So last week at GenCon Wizards of the Coast was there and they broke out Planechase to battle participants with. And seeing as the used the official Planechase decks all of them had a new Zendikar card in them. Let's take these one at a time.
The first is Beast Hunt:
Beast Hunt
3G
Sorcery
Reveal the top three cards from your library. Put all creatures revealed in this way into your hand and the rest into your graveyard.
This to me is a lackluster common used only in creature-heavy decks. At four mana it looks to me like a bad Gift of the Gargantuan a card that didn't catch on regardless of its intrinsic card advantage. It's no Harmonize either a top-tier card that I was sad to see leave Standard. This card like most of these new Zendikar spoilers will work great in casual creature-heavy decks but don't expect to see many of these rocking tournament tables.
Next up we take a look at Zendikar's version of Eyeblight's Ending and/or Dark Banishing and/or Doom Blade of the block Hideous End:
Hideous End
1BB
Instant
Destroy target nonblack creature. That creature's controller loses 2 life.
This is another removal spell that gets better by using a bit more colored mana. Sure Doom Blade is cheaper but this knocks your opponent for an additional two life. However for tournament players that is not enough. The ease of casting Doom Blade overshadows this card's utility and the best comparison for Hideous End is Countersquall a card that simply isn't as usable and versatile as Essence Scatter. That said this is a card that will be rocking limited and sure to be a first pick for those playing Black.
Now we get to the goodies. These next two cards revealed a lot more about Zendikar than we expected. Let's get to the first in Kor Sanctifiers:
Kor Sanctifiers
2W
Creature — Kor Cleric
Kicker - W
When Kor Sanctifiers enters the battlefield if it was kicked destroy target artifact or enchantment.
2/3
Artist: Dan Scott
Now this card tells us two things: One the Kor return. This race of blue-skinned warriors haven't been seen since Time Spiral and before that were featured in the Rath Cycle a.k.a. Tempest Block showing up further in Mercadian Masques. But the second and most obvious important thing to notice is that Zendikar is going to feature Kicker! That is awesome! Kicker is an incredibly fun and diverse mechanic that just makes cards better than they are at regular price and look at that new wording! Yes instead of "if you paid the kicker cost" we took six words and replaced them with four. "If it was kicked" is a nice shortcut and should be quickly adopted amongst the Magic populace.
This card of course makes people nostalgic for other Kicker cards whether they're the ones seen recently in Time Spiral such as Citanul Woodreaders or further back with incredible limited bombs like Magma Burst. I for one welcome our new Kicked overlords.
But the last card... oh the last card spoiled at GenCon was a doozy. Check out Whiplash Trap:
Whiplash Trap
3UU
Instant — Trap
If an opponent had 2 or more creatures enter the battlefield under his or her control this turn you may pay U rather than Whiplash Trap's casting cost.
Return two target creatures to their owner's hand.
Artist: Zoltan Boros & Gabor Szikszai
Yes that is an Instant with a type on there called "Trap." You'll notice that while Trap isn't mentioned in the rules text the alternate casting cost alludes pretty heavily as to what this will entail: Traps are cards whose cost is greatly reduced based on an opponent's actions. This in essence 'traps' your opponent by having them perform actions which make your cards cheaper without them being aware they're even doing so! Of course as time goes by we'll learn exactly which Trap cards are powerful and will choose our plays carefully.
That said the subtype Trap is very exciting. Why? Because it allows for Instants to be classified in a way that hasn't been seen since Kamigawa block. For example you can now have a creature that searches for a Trap has protection from Traps and may have a triggered ability when you play Trap. That is awesome! Instead of having to say things like "Whenever a card is played without paying its mana cost" or whatever you can instead reference the exact type of card you want with one word.
Hopefully the difference this go-around from Kamigawa is that Traps will be good by themselves and will not need Spirits or Splicing in order to make them playable.
Moving on what about my spoiler for Zendikar? Take a look at the artwork name and flavor text for Warren Instigator: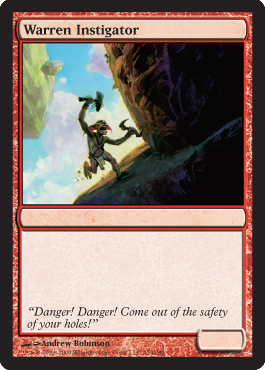 Warren Instigator
(Red)
"Danger danger! Come out of the safety of your holes!"
Okay that's what we got this week. So what can we figure?
First the word "Warren" in Magic almost always applies to Goblins. The flavor text which indicates the Instigator is saying something ridiculously stupid is also indicative of Goblins who aren't known for their intelligence. Lastly the word "Instigator" and the flavor text combine to make you think that this card either incites attacks incites creatures onto the battlefield or perhaps lowers the cost of a Goblin in your hand.
Note we don't know the rarity of this card so it's hard to delineate whether or not this card is 'pushed' in power level meaning it does something a little bit better than you would expect for its mana cost something else we don't have.
So here is my official guess for the card this week:
Warren Instigator
3R
Uncommon
Creature - Goblin Warrior
Haste
Creatures have haste and must attack each turn if able.
3/2
Why these stats this ability and the Uncommon rarity? One I think this guy 'instigates' creatures into combat whether or not they are your own and whether or not they have summoning sickness. Second it's fun to force decisions for your opponent's and make them deal with those 'forced' decisions. Third a four mana 3/2 haster isn't breaking power curves but should be ideal for its effect. Finally as an Uncommon its effect would be too swingy as a Common in Limited while Uncommon keeps it from showing up in almost every Red deck you run into at the draft tables.
So what do you think about Warren Instigator and what are your guesses for its stats? I'll have more to reveal next week.
Our last spoiler is a doozy revealing a huge keyword from Zendikar and a potential Limited and perhaps Constructed bomb to our Magic canon. Say hello to Rampaging Baloths
Rampaging Baloths
4GG
Mythic
Creature - Beast
Trample
Landfall - Whenever a land enters the battlefield under your control you may put a 4/4 green Beast creature token with trample onto the battlefield.
4/4
Now as you can see in the image not all of this card data is available and some of the wording is guessed meaning this ability may change slightly and the power and toughness may be different. But still a 4/4 Trampling ass-whipper who makes additional 4/4's just for playing your lands? Holy crap that is nuts! This guy just screams "Kill me now" so don't expect him to live long after he resolves but just one land played after he's on the battlefield and he's worth the cost of admission and then some. I foresee Rampaging Baloths making their way to the tournament tables before long.
With that said the biggest revelation here is the keyword Landfall. Too cool! It didn't take long for me to realize that this is the keyword and concept that will tie Zendikar together. The Land block is here! I'm so excited. Finally we get a block or at least a set devoted to one of the most unappreciated card types in the game. I am so pumped for Landfall an ability word that triggers through an uncounterable unstoppable action. It also makes cards like Rampant Growth completely busted depending on the power level of these Landfall creatures and I'm excited to see what can be done with lands and land-based mechanics throughout the block.
Many months ago Mark Rosewater said that Zendikar would be built around something "players like to do" which is play lands of course and that there would be a mechanic based around something they've had on many cards but never put a keyword to it. Check out the seven cards in Magic which currently trigger when a land is played or when a land comes into play:
Ankh of Mishra
Lifegift
Polluted Bonds
Seed the Land
Stone-Seeder Hierophant
Tectonic Instability
Vinelasher Kudzu
My guess? Vinelasher Kudzu will be reprinted in Zendikar. It's a perfect card to feature Landfall resonates with veterans and is powerful enough to remain relevant. I'm sure as we enter the weeks of Zendikar previews we'll learn more about this awesome ability and the cards found there-in. The Zendikar prerelease couldn't come fast enough for me as it not only heralds all new cards to enjoy but it forces Lorwyn out of the format. Stay tuned in September as I plan on having a "Goodbye to Lorwyn" show discussing the movers and shakers in that overpowered tribal block of ours. Also note that I'll be live in Richmond Virginia for the Zendikar Prerelease alongside Ken Nagle from Wizards of the Coast R&D. Considering Ken was also on the design team and has been a long-time contributor and supporter of the show I'm sure it will be an awesome day.
Up next is Kelly Reid's Magic Financial News Update. For as for myself that's another show. Thanks for watching and until next time Magic players this is Evan Erwin. Tapping the cards... so you don't have to.
Magic Financial News Update courtesy of Kelly Reid of QuietSpeculation.com.
Evan "misterorange" Erwin
twitter.com/misterorange
Lovin that Brian Kibler pimp opening. Thanks BK!