Official Zendikar Spoiler - Kalitas, Bloodchief of Ghet!

Hidey Ho I don't think we've met yet.
My name is Kalitas Bloodchief of Ghet.
Spitting such fury that you'll never forget
And I bet you won't find me in every draft set.
I'm Mythic G and I'm bringing the hype
Warrior on the track like my creature type.
Vampiric verses because I work under moonlight
Like Aaron Forsythe I'm bringing spoiler foresight.
I'm seven mana rowdy and ready to roll!
Like Cedric Phillips I smoke Kithkin like bowls
I keep killin' critters like you don't even know
And when I do I get a new homey at the show.
Killing creatures is my biz when I get hungry
They're blood to my lips when I get thirsty
Legendary Vampire been around centuries
Two-of in your MBC hurry up preorder me!
I'm wordy so let me explain the facts:
For triple Black I kill a dude and get one back.
I surprise when I drop like a Sneak Attack
An All-Star athlete next week on Vs. Shaq.
A 5/5 for seven undersized but hardcore
Though I'm the same size as a Benthicore.
A Giant Warrior like Boldwyr Intimidator
I'll go head to head with any damn Regal Force
Stop judging me like I'm Baneslayer B?
Mythics that broken are a rare sight to see.
I'll dominate the board if I see an upkeep
Slaying their monsters giving rise to my Vamp army.
Killing creatures is my biz when I get hungry
They're blood to my lips when I get thirsty
Legendary Vampire been around centuries
Two-of in your MBC hurry up preorder me!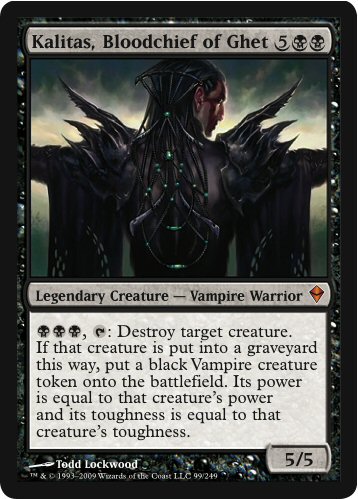 Hello Kalitas….
I'm pumped about my first card preview for StarCityGames.com. Being the first person to put a stamp on a card before anyone else has ever seen it is an honor and privilege and hopefully they'll let me pen some more raps on new cards in the future! Obviously I'm the only writer besides CPhil that could do such a busty creature justice…
I was going to drop some sexual innuendos in the rap but honestly I couldn't figure out from the picture whether Kalitas is a dude or a chick. Not to take anything away from the art; I can't wait to pick up some foils of this thing especially with the crazy foily white expanse in the background. As for the creature itself… this guy knows how to turn a game around and it isn't as bad as you might think for competitive formats at first glance.
It's a shame we're losing Bramblewood Paragon because I'd love for Kalitas to come in as a 6/6 Trampler or pick up an Obsidian Battle-Axe to provide some beatings. I do wonder why Kalitas isn't a flyer. Would that really put it over the top? It's a Vampire! Even Eric from True Blood can fly; he's not Legendary and he's only a thousand years old! WTF Wizards!? Don't you watch True Blood? All you people creating Vampires need to take notice of the best show on TV and ride their success. It would be pretty cool to create a Vampire-themed Magic set too given the current rage for fangs these days.
Sure Kalitas is expensive but if unhindered it will completely turn the game around in your favor. I could definitely see myself playing a couple of copies in a Black deck that wants to diversify its removal suites to include a late-game kill condition. This is all hypothetical of course; we don't know how Standard is going to be shaped after Zendikar comes out.
The first thing I look at when considering a creature is the removal being played to see if the dooder is viable. Fortunately Kalitas is able to dodge a lot of popular removal right now such as Bituminous Blast Doom Blade Lightning Bolt Agony Warp Deathmark Volcanic Fallout Ajani Vengeant (you can wait until end of turn to kill a creature and it generates creatures to attack Ajani) Flame Javelin and Shriekmaw. However it still falls to Path to Exile and Terminate. Those two are the super efficient removal spells right now but I honestly wouldn't worry about them too much when playing a discard-oriented Black deck.
You really can't underestimate the ability to turn a game around either. Kalitas has the ability to kill any creature that he can target and then he spawns a Vampire army from the toasted creature's ashes. This is pretty unique and we haven't had a creature like this before with such a busty reusable ability. We're always a little hesitant to play seven mana spells but this guy costs one less than Avatar of Woe and only one more than Visara. They were Blacks bosses in their own right for a long time and they didn't have the raw built-in card advantage that this guy generates.
Another comparison is Helldozer since they are similarly sized and they have relevant activated abilities that can take over a game. Dozer never really saw the play that his power reflected because he was placed in a block filled with super-efficient multi-colored spells that overshadowed him. Kalitas may fall victim to the same circumstance… however its ability is obviously much more powerful than "BBB: blow up a land."
The thing about the devoted Black decks is that their plan is usually the same every game up until turn 6 or 7. They kill all the creatures you play with board sweepers like Damnation or Infest one-for-one your critters with Doom Blade or Terminate attack your hand with Duress or Thought Hemorrhage then (when the path is clear) drop a fatty to finish 'em off. Giving that fatty an ability like this is pretty remarkable and this guy could turn out to be the new upgraded Visara/Avatar of Woe.
There is also the reanimation implication that follows with Kalitas. For a long time Avatar of Woe was the gold standard for the creature you want to reanimate to contain a crowd of critters. Then Visara came along and said "Yo I'm much better than you!"
Perhaps its Kalitas's time to tell Visara what's up! Perhaps Kalitas will spawn a Vampire revolution devouring anything with blood in its veins to spawn his/her Vampiric forces! Perhaps Kalitas will define the Standard and Block format being the seven drop of choice for anyone sleeving up Swamps! In any event I'm very excited about this card and really hope I open this beast in Limited sometime soon!
I don't know what it is but spoiler season has me giddy like a Gindy like when he played The Spanish Inquisition at U.S. Nationals. It really brings out the little girl in all of us so take time to take in this spoiler season and let it take you on an adventurous ride of amazement and awe. As scary as it is Wizards R&D is getting better at what they do set after set so Zendikar looks to be one of the hottest set we've seen so far! I usually preorder a case as soon as possible to save money and if this set turns out anywhere near as powerful as these last two blocks (that have pushed the bar up further than ever before) I might just preorder two of them and slang some 4x sets!
Thanks for reading!
Kyle