Drafting With Olivier - Zendikar #17

Pack 1 pick 1:
My Pick:
If the Cobra wasn't worth so much I'd still pick it. Indeed it is probably about as good as Oran-Rief Survivalist or Kor Hookmaster but you don't get the opportunity to try a mythic nearly as often as you get to play a common. I know both commons are pretty good but I yet have to figure how good I can make Lotus Cobra.
Pack 1 pick 2:
My Pick:
Kor Hookmaster could be an option but GW is not my cup of tea. Therefore only Mosquito Shambler and Recluse are option. I won't take the first one as I'd rather stay open for now. Then the two Green cards are pretty close and I think both picks are okay.
Pack 1 pick 3: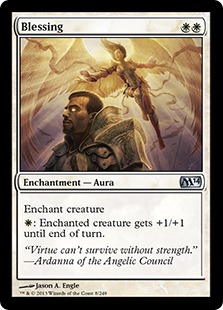 " tooltip="Blessing">Blessing " "ZEN");'>

My Pick:




Pretty great turn 3 play after casting the Cobra.


Pack 1 pick 4:


My Pick:



Pack 1 pick 5:


My Pick:




Pretty bad pick here. The card may be excellent I've been too influenced by the result of my previous drafts and I should have taken the 2/3 over another four-drop.


Pack 1 pick 6:


My Pick:



Pack 1 pick 7:


My Pick:




Paralyzing Grasp is rarely in tempo so I'd rather just focus on my beating.


Pack 1 pick 8:


My Pick:




Time to lighten the curve a little.


Pack 1 pick 9:


My Pick:



Pack 1 pick 10:


My Pick:




Better when you have many early drops but still good when it comes to racing.


Pack 1 pick 11: