Innovations - Scars of Mirrodin Set Review Part 1

[Editor's Note: Click on any of the card images to go to its preorder page!]

Just to give you a word of caution about my set reviews I'm not one for rating cards on a scale of 1-5 or 1-10. I think that the ratings fluctuate so much depending on contextual shifts that such a rating isn't useful. Additionally the majority of cards will fall into the same spot on the bell curve which is either "good card in the right deck" or "decent Limited card."

A set review that just likes half the cards and dislikes the other half can be useful but instead I'm just going to talk about ways to use every single card. Not every card will dominate tournaments but I find it much more interesting to find the uses for every card. That said I'll definitely speak up about cards I think are overrated or unlikely to see Constructed success despite surface appearances.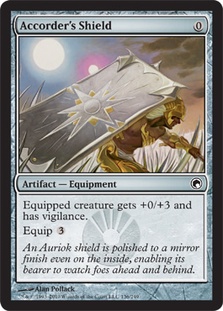 See the thing about doing a full set review is that you discuss every single card in the set. While not all cards are created equal and as such won't receive equal camera time from me I do think it's worth coming up with some useful content on every single card. Most set reviews would probably pass over a card like Accorder's Shield as "Constructed Unplayable Possible Fringe Uses in Limited" if that much but let's see if we can do a bit better.
First of all cards that cost zero are always worth keeping an eye on. It doesn't just take cards like Tolarian Academy to break zero-drops. For instance what if getting fast metalcraft was so good that you'd be willing to play some weak cards to help ensure you have it turn 1 of every game? A deck containing some combination of Mox Opal Memnite Ornithopter Chimeric Mass Everflowing Chalice and Spidersilk Net could safely count on turn 1 metalcraft most games. This opens up blisteringly fast starts with cheap metalcraft creatures particularly ones that deal at least four damage a turn for two mana.
Accorder's Shield is nowhere near the top of that list but unlike Chimeric Mass and Everflowing Chalice it's still useful as a zero-drop on its own. It's quite possibly better than Spidersilk Net and while not as good as the first three could easily be zero number thirteen if you're in the market.
As far as Limited goes it'll be interesting to see the impact infect has on toughness-enhancing equipment. I wouldn't be surprised if this card somehow turned out to be especially good. First of all extra toughness can help your guys live longer in the attrition games against infect but much more exciting is the possibility of equipping an infect creature with the Shield. Now they have enough toughness to consistently rumble with other creatures and live allowing infect to give you value turn after turn. Additionally the vigilance granted by Accorder's Shield allows you to continue to poison your opponent while defending the home front.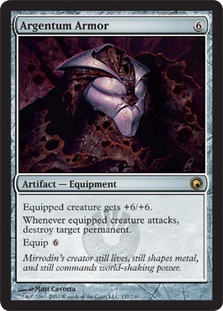 Argentum Armor is the Eldrazi Conscription of the set in that it's the biggest most powerful version of its card type. This means it's also the best candidate to abuse with cards that let you cheat the casting cost. Additionally it's just a very powerful long-game plan that adds a very potent dimension to any Stoneforge Mystic.
Stoneforge Mystic has received a fair bit of love since its release and I expect that trend to only increase with the most dangerous equipment ever printed. Argentum Armor is more than just an awesome way to take over a game that goes long (meaning that Stoneforge Mystic is now a potential bomb topdeck even late) but it also makes your Stoneforge Mystic a creature worth killing.
Up until now Stoneforge Mystic has pretty much always just been a Squire that also got you any equipment you wanted. Once in a while you'd save a mana or make a card uncounterable but now he threatens to generate four mana (by letting you play your Armor for 1W instead of six). That's already very fearsome and will be the primary function of the card but for those that are especially greedy it's possible to push it even harder.
Kor Outfitter has never received much fanfare in Constructed on account of rarely producing much mana worth value. Now with the promise of another four-mana savings you have possibilities of hitting your opponent with the Armor (and one of their permanents) as early as turn 4 or even turn 3!
Possible opening lines include:
T1: Forest play Birds of Paradise
T2: Plains play Fauna Shaman and any zero- or one-drop
T3: Forest fetch and play Stoneforge Mystic and fetch Argentum Armor
T4: Plains activate Stoneforge to put Argentum Armor onto the battlefield fetch and play Kor Outfitter and attach Armor to the zero- or one-drop
T1: Plains play Memnite/Ornithopter
T2: Plains play Stoneforge Mystic fetch Argentum Armor
T3: Plains activate Stoneforge to put Argentum Armor onto the battlefield play Mox Opal play Kor Outfitter and attach Armor to Memnite/Ornithopter
Whether or not it's worth including the otherwise sketchy Kor Outfitter remains to be seen however there's no doubt that Argentum Armor is at least a one-of in every Standard Stoneforge Mystic deck. You don't even need to be doing anything particularly busted as the Armor is just a really powerful effect that makes your Stoneforge Mystic into a truly epic card. Given the Mystic's ability to fetch a single copy it's probable that exactly one will be enough as even if you "get stuck" with it in your hand you can go get Sword of Vengeance Basilisk Collar Trusty Machete Adventuring Gear and so on then if he survives a turn you still get to cheat the Armor onto the battlefield.
The other Standard way to cheat Armor onto the battlefield involves Quest for the Holy Relic. Again a single copy in your deck works though with a dedicated Quest plan it's possible to get stuck with it in your hand like an Eldrazi Conscription meaning you might want two copies for such a deck. Triggering the Quest will give you twelve mana worth of value which will often be game-winning especially since it can't be blown out by a removal spell the same way Conscription could. Once your opponent lets the Quest activation resolve it's too late to respond by killing the creature before it gets the Armor. If your opponent does kill your Ornithopter in response just put the Armor on Glint Hawk. Even if Doom_Blade_Guy has one of his Blades the Armor is still on the battlefield waiting for your second wind. Hitting the five creature criteria is accomplished a variety of ways such as:
T1: Plains play Quest for the Holy Relic play Memnite.
T2: Plains play Ornithopter play Glint Hawk replay Ornithopter play any other one-drop (or a Mox Opal and a two-drop) trigger Quest go get Argentum Armor and attach it to Memnite; attack destroy their Creeping Tar Pit extend your hand show your opponent that you still had all White Weenies.
However slightly less ambitiously there's always the back-up of a mere Squadron Hawk which nearly fully requires the quota by its lonesome albeit on a slightly more reasonable turn (like 4).
The takeaway is that new Standard may not have Sovereigns of Lost Alara but there's a new fast and deadly combo that will force deckbuilders to take it into consideration during construction. Additionally despite the hate that is sure to rise up these combos will be played for years. Also for years there will be players complaining every time one of their "luck-sack" opponents hits them with an Argentum Armor by turn 4 or earlier. This is yet another reason to actually put a little removal in your decks. Creature spot removal can slow down the Stoneforge Mystic as well as threaten to blow out an overly ambitious Quest player; however answers to artifacts can also deal with the Armor directly. All in all I have Argentum Armor as one of the top ten Constructed cards in the set even if it primarily sees play as a one-of. The card is a bit slow in Limited but will totally take over a game and should be rated like most other expensive but game-winning bombs in Limited.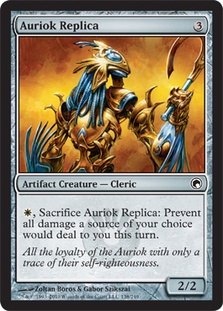 Auriok isn't going to turn any heads in Constructed as he just doesn't do anything particularly better than anything else. A hallmark of most Constructed cards is that they're either the best at what they do for their cost or are good enough to be the additional copies after filling up slots with the better cards. This guy is no good as an artifact creature nor is he good as a damage-prevention card. In Limited he's "fine." He's just a random artifact dude but he does help you metalcraft.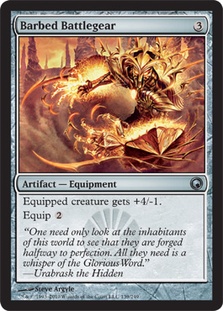 An awful lot less Trusty than a Machete I'm skeptical of the strength of the Battlegear in this Limited format. It seems okay on numbers but I'm not really feeling the -1 to toughness since most of the creatures I want to pump have one toughness. As such I kind of want to avoid this equipment when there are so many better options available. Probably at its best with two-toughness fliers for what it's worth. As for Constructed this card is miles from playable or useful in any reasonable deckbuilding scenario.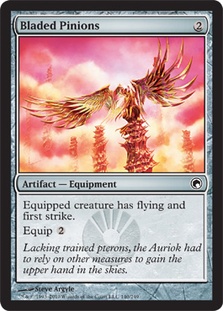 See this is almost the opposite kind of card than the Battlegear. It isn't very impressive on numbers but it's possible that contextually it'll be playable in Limited. The trick is figuring out how much bogging down there really is. Like so many equipment it's sweet with infect — both to get unblockable poison in but also to first strike creatures down to size before they even deal damage. For instance if you have a 2/2 infect creature that blocks a 3/3 it'll live if the infect creature has first strike. Now don't go selling the farm on the Pinions in Limited as it's still just another equipment that doesn't modify power but it's definitely worth considering. The fact that it's common makes me suspect that it's merely "fine" as it'd be strange for it to be good in this way and for us to want it to come up game after game after game.
Another piece of equipment that is miles from Constructed.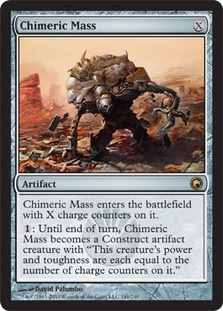 Chimeric Mass is an awesome new Trinket Mage target providing an excellent mana sink for cards like absurdly large Everflowing Chalices (most likely brought about by excessive proliferating which also boosts the Mass directly. Somewhat like Argentum Armor in that it adds a type of tool to your toolbox (albeit a less abusable one) Chimeric Mass solves the eternal problem of Trinket Mage: When you have no good Trinkets to get against your opponent he's often a glorified Striped Bears. Chimeric Mass is to Trinket Mage what Scute Mob was to Ranger of Eos. To sweeten the pot he's Day of Judgment proof an awesome trait for a giant finisher.
When it comes to Limited see his merits are massive. He's always mana efficient and scales up very well as the game progresses not to mention receiving random benefits from proliferate. On top of that he's a powerhouse on his own making him a perfect metalcraft enabler since metalcraft is so good that you might often play somewhat weaker artifacts just to fuel it. It should be noted that while the Mass does cost a mana to fight with he's generally +1/+1 over a Protean Hydra and there's a world of difference between a 3/3 for three and a 2/2 for three.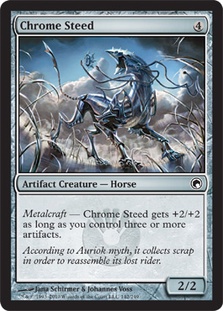 Chrome Steed is unlikely to be remotely playable in Constructed but is actually a very important contributor to Limited as he's very much the Myr Enforcer of the set albeit perhaps slightly weaker. On the plus side he contributes a third of your metalcraft requirement and is probably the best robot horse in the set though he still pales in comparison to On-X .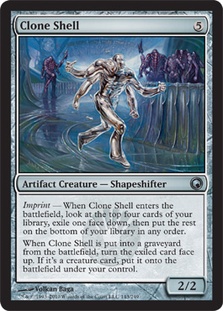 There are basically two ways of approaching this card for Constructed. On the one hand it can be just good clean value. It gives you a guy up front but if your opponent tries to resist you get an upgrade into whatever Wurmcoil Engine Primeval Titan or whatever you might have lurking. If your opponent has to fight through it even just flipping a Wall of some variety or a Baloth is still value. The fun part is: they don't even know what you have until it's too late. You just have to be careful to avoid getting blown out by a card like Condemn.
The other more devious approach is to try to break the card in half by hitting a truly devastating monster. Obviously Wurmcoil Engine and Primeval Titan are very very powerful and often game-winning but you know what's even more powerful? Eldrazi! Clone Shell does a half-way decent Summoning Trap impression with the advantage being that it ups your total creature count to help ensure that your Traps don't miss but with the drawback of only letting you look at four cards. Additionally if you don't have a way to sacrifice or destroy it it can be very frustrating to not be able to access your monster. Besides how many fives sixes and ten-pluses can you really play?
Perhaps the better way to break it will be a creature deck with sacrifice outlets that in some way tutors a giant monster like Emrakul the Aeons Torn to the top of your library. Maybe the cards needed to push Clone Shell don't exist yet but I'd certainly keep an eye on ways to get creatures to the top of your library. Overall though I think this card is unlikely to see much play in Constructed though the card is good times in Limited.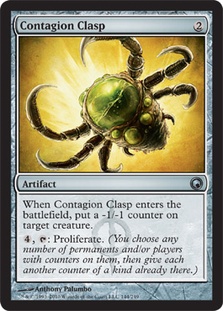 Ready for a surprise...? Contagion Clasp is probably the biggest sleeper in the set! While many have been discussing the possibility of proliferate most of the discussions have centered around cheap proliferate cards with no activation costs generally as an enabler for poison. I think Contagion Clasp is the breakout proliferate card that ends up helping shape the Standard landscape. My review of Contagion Clasp is going to amount to an entire article's worth of writing but the proliferate mechanic deserves the attention and Contagion Clasp is the best of the bunch.
Let's start by looking at Contagion Clasp's mana efficiency. Just how powerful of a card is it without regards to this specific context? Well Steady Progress is much like Divination albeit an instant suggesting that the proliferate ability is nearly as good drawing a card (an idea backed up by other instances of the proliferate keyword). Contagion Clasp is like a Jayemdae Tome that only costs two mana to cast a nice discount to be sure but a Jayemdae at two wouldn't see play these days let alone a four-mana version. We're going to need more. On top of all of this you get a removal spell that would actually see play at one mana on its own.
Yeah an artifact that put a -1/-1 counter on something when entering the battlefield would easily see play at one mana. Think about it! Hornet Sting sees a little play and this card would be leagues better. First it's an artifact for your metalcraft which is already shaping up to be a pretty awesome ability if you can find a good way to trigger it. Second even if you don't kill the creature you can at least help cut it down to size. Finally and perhaps more importantly it's "blue."
For just two mana you get a Jayemdae Tome and a -1/-1 counter but to sweeten the pot they even work together. Even if you don't kill the creature outright the creature will continue to shrink as the game continues and you activate the Clasp. Already we're talking about a pretty sweet deal here especially when you factor in that the two abilities help both ends of the game allowing the card a great deal more flexibility than either Jayemdae or Sting. Consider the following sequence:
You play a land.
They play a land and a Birds of Paradise.
You play Contagion Clasp.
Now you have made a play that not only totally undid their last play (and one of the best plays in their deck) but you also have a "Tome" on the battlefield ready to generate more advantage as the game continues. If this were all you got I'd still be interested but the trick is that proliferate is much more variable in value than a Tome. Obviously this card is sweet in Limited but when you build your Constructed deck to take advantage of it you can start getting a surprising amount of value out of it in places you might not always expect.
Everyone is discussing proliferate with infect which is certainly a fair application. Contagion Clasp is even an artifact meaning there's no need to add blue as a third color to your B/G Poison deck if you don't want to. The proliferate ability serves not only as a means for continually cutting down large creatures it also takes a tenth of your opponent's purity every turn. It doesn't take many early hits from infect creatures before this is a very short and threatening clock. Remember to use Oran-Rief the Vastwood in your poison decks for added value from infect and added value from the Clasp!
It isn't just infect that grants -1/-1 counters remember. When Carnifex Demon gets his hands on a Contagion Clasp the combo is much more than the sum of its parts. First of all every creature that Carnifex Demon shrinks will continue to shrink every turn now. Then on top of that Carnifex Demon gets an extra counter every turn meaning he can keep it up forever!
The other application that players are discussing is that of planeswalkers which I think is probably even more exciting than its synergy with infect. The ability to pump up all of your planeswalkers unnaturally fast is very abusable. Take a planeswalker like Koth of the Hammer. Koth is already a very dangerous threat putting a huge amount of pressure on your opponent. If they can't damage him in two turns he threatens to go ultimate giving you an emblem that is generally game-winning if only inevitably.
Now imagine the world where you play Contagion Clasp on turn 2 or turn 3 helping slow your opponent's first assault or even if they have no creatures just add it to the board. When Koth hits turn 4 you can attack for four damage if the coast is clear or if you're facing a creature (like Creeping Tar Pit) or the possibility of something with haste like Vengevine then just untap the Mountain and leave your Lightning Bolt mana open.
If you can just make it a single turn without letting your opponent hit Koth you're already Ultimate! That's right on your next turn you can activate Contagion Clasp putting a fifth loyalty counter on the Hammer then immediately use the deadly -5 ability (allowing you to play the game from turn 5 on with the ability to tap Mountains for colorless damage). You don't even need to hit your land on turn 5 but if you do you get a free point in that turn to start the party.
That's a very imposing threat that will put a huge amount of pressure on players to build their decks more aggressively. After all with Oblivion Ring and Pithing Needle gone it has become a lot more dangerous of a game to try to play some kind of U/W deck that doesn't attack immediately. All Is Dust and Volition Reins are both totally awesome but both are potentially a little too slow to stop this sequence. Into the Roil may prove to be even more important than it already is just as a safety mechanism to protect against this kind of insanity.
Proliferate works better with planewalkers that have +1 loyalty abilities just as a matter of ratios since it means you're getting double value every turn instead of merely 50% more. That said the Clasp is still great with +2s. For instance it normally takes six turns of Jace being on the battlefield to actually activate his ultimate. If you play a Contagion Clasp on turn 2 or 3 you can actually ultimate Jace in just four turns! Even if your opponents are actively damaging your planeswalkers it's like you're gaining a life for each Planeswalker each turn. Every extra damage they have to deal to your Venser your Jace and your Gideon is one more damage you aren't taking. The more planeswalkers you control the better as proliferate scales up as much as you like.
On top of the these shenanigans there are plenty of other clever uses if you only look. For instance Everflowing Chalice with Contagion Clasp means that on top of whatever else you're doing with your proliferating you're also essentially getting an extra land onto the battlefield every turn as your Chalice gets more and more charge counters on it.
Ratchet Bomb is another exciting tournament card that offers great power and flexibility primarily only limited by time. Contagion Clasp grants you a little extra value as you charge it up twice. We're nothing if not lovers of value! Some other great charge counter cards to try include Golden Urn Culling Dais Chimeric Mass Grindclock and Lux Cannon just to name a few all of which we'll discuss below.
The beloved Ally tribe may not have received any new Allies proper but Contagion Clasp can help provide a little early removal or perhaps just a tempo boost as you plow through some troublesome creature. From that point forward it threatens to let you Ajani Goldmane your squad at instant speed any or every turn! Actually on the topic of Ajani Goldmane even if you aren't 100% Allies or even Allies at all if you used Ajani Goldmane the Clasp will keep giving you bonuses after the planeswalker is dead (though if he lives you can continue to pump him every turn at the same time you pump your guys for +2/+2 every turn from now on!). Steel Overseer is in a similar boat.
Contagion Clasp clearly has synergy with every +1/+1 counter creature including the kickers but we can go even further. What about levelers? Four mana to put an extra level counter on a creature is hardly game-breaking but some players are interested in dedicated leveler decks with cards like Training Grounds and Time of Heroes. Those sorts of decks were always missing a little something and it's possible that Contagion Clasp can fill that void. The ability to level several creatures at once offers a pretty nice mana advantage though this sort of strategy is likely more of a Vampires-esque one in that it's unlikely to break through to the Tier 1 due to its disruptibility.
One final application of the Contagion Clasp to keep in mind is that of the Expeditions Quests and Ascensions. It's unclear how many of these you'd actually have on the battlefield at once but the Clasp does give added value in these areas — a bonus probably best capitalized on by Luminarch Ascension. Luminarch Ascension decks are very likely to have lots of planeswalkers and Everflowing Chalices at the very least and with a Contagion Clasp you can trigger Luminarch Ascension in just two turns.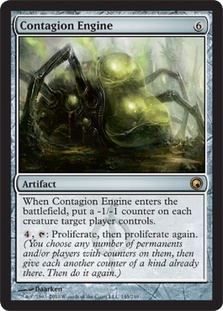 Okay obviously I just went off for 2000 words ( 1621 to be precise but who's counting? – LL ) about how awesome Contagion Clasp is but Contagion Engine is most definitely not twice the card Contagion Clasp is regardless of surface appearances. It's definitely sweet that Contagion Engine has an immediate impact on the board that can help you actually survive long enough to use it and it certainly proliferates at an alarming rate but it's nowhere near the card that Contagion Clasp is — because at the end of the day the difference in casting cost makes them not even on the same planet as one another.
You have to compare each card to what else you could be doing for that much mana. Contagion Engine gets matched up against Wall of Omens Spreading Seas Mana Leak Doom Blade Kargan Dragonlord Fauna Shaman Everflowing Chalice and so on. Those are some great cards but obviously a different sort of competition than being matched up against Primeval Titan Wurmcoil Engine Grave Titan Sunblast Angel Sun Titan Inferno Titan and so on.
Additionally Contagion Engine is just such a big mana investment that's mostly undone by a Shatter-type effect (worth a mana or two) despite the -1/-1 counters (maybe worth three at the very most). Contagion Clasp's -1/-1 counter ensures that it'll generally have gotten decent value even if it's destroyed since the -1/-1 counter is worth a mana and getting shattered is worth the mana they spend on it.
The Engine seems like it'll get a lot of love on kitchen tables casual formats and be a Limited bomb. At the end of the day how much mana are you really going to have in order to activate all of these Clasps and Engines? Everflowing Chalice helps but I tend to think you'd want all four Clasps before resorting to the Engine.
The five returning Mirrodin Myr were never really close to Constructed before. While fairly low on power by today's standards metalcraft — particularly Kuldotha Phoenix combined with Fauna Shaman antics — gives a glimmer of hope to the Myr. Still I think they're substantially outside of the realm of Constructed on account of their vulnerability to stone-cold everything.
Limited on the other hand is a totally different arena for these guys. Myr were always excellent affinity enablers and metalcraft seems even more potent in Limited. The Myr are a fantastic way to achieve metalcraft early. Additionally the mana acceleration is well used in this set as there seem to be plenty of mana sinks to take advantage of the floods that are likely to occur from time to time. On top of that they bring fine beats generally augmented by equipment. Scars of Mirrodin has a substantially higher concentration of equipment than any set since the Mirrodin block. As such random donks to put the gear on are at a premium.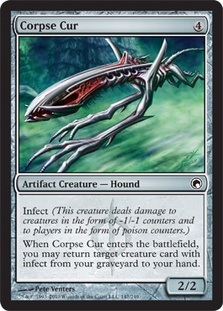 This guy is common!? Wow this guy just seems like one of the best enablers for a poison deck. A 2/2 for four with infect is very much like a 4/2 which is not the most exciting set of stats. However he's an artifact to help enable metalcraft and his ability has massive upside. If you're building your infect deck properly you're hopefully going to have plenty of other infect creatures making him a much much better Gravedigger in the right deck.
Infect creatures have a tendency to look for fights to die in to spread Phyrxis so the value he grants is well placed. Don't even get me started on what happens when you have two of this card and start recurring them with each other.
As far as Constructed goes he seems to certainly be a potential inclusion to a dedicated Poison deck if it turns out that you're a "value" type of deck rather than an all-out aggro deck. he's pretty filthy with Putrefax but I think even just getting back a random Ichor Rats on turn 4 is kind of nice if the format is a card economy-based attrition.
However I suspect that in real life infect will only really work with swarms that use pump to exploit the double strike aspect other than an occasional fatty victory condition for Skithiryx decks. The infect lord is even a four-drop and there's a surplus of good two-drop infect creatures. As a result if the coast is clear I'd bet that Corpse Cur is more likely sideboard technology at best.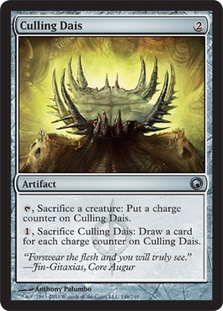 I keep reading this card hoping that it'll magically cost one so I can Trinket Mage literal DI. It costs two however so I guess the best chances for it to see Constructed play are:
1) Proliferate decks. Sacrificing a Trinket Mage to get started means every Contagion Clasp activation is essentially worth an extra card when you decide to sacrifice the Dais.
2) Decks with a ton of random Memnites and Ornithopters or other weak creatures. The problem with this is that these aren't the sort of decks that generally want to build a Knowledge Vault so to speak. Even a deck that makes Soldier tokens has better ways to draw cards most of the time right?
3) People that have to play against Oath of Druids. Probably won't come to this but it's worth considering as a way to keep yourself off of Spirits. The tap in the activation will probably make it not worth it in this context but it's an option.
4) People that have creatures that come back from the dead over and over. This is probably the best use of the card and where it will fit in if anywhere. You may snap jump to Vengevine but there are so many better things to do with Vengevines you'ren't really going to want to spend your Dais Culling them.
Much more likely you could build a deck with Bloodghasts and Reassembling Skeletons meaning no shortage of creatures to sacrifice at minimal cost. One of the biggest weaknesses of Mono-Black is their inability to draw enough cards to execute their game plan. This is a very low mana-cost attempt to remedy this. There's potential overlap with Contagion Clasp here as well.
Abyssal Persecutor is another excellent creature to sac to your Dais. I recommend probably avoiding Nantuko Shade though Gatekeeper is another nice creature to sacrifice as you'll have already gotten value out of him.
5) Act of Treasons or creatures you want to sacrifice like Roc Egg. This is a highly synergistic use of Culling Dais but these strategies are rarely good. It doesn't mean they won't be in the future; it's just more likely fringe than Tier 1. If these sorts of Bloodthrone Vampire decks appeal to you I'd recommend doing a search on the StarCityGames.com spoiler generator for the word "sacrifice" as well as for the words "goes to a graveyard."
If Culling Dais is at best fringe in Constructed it's probably a bit better in Limited. That's such a low mana cost and the effect is quite powerful once you've put a few counters on it especially with a few stray proliferations. Still without damage on the stack this type of effect isn't what it once was as is evidenced by Carnage Altar (though the Altar cost a ton more mana to use which was probably the biggest problem with it). The one thing you don't want is to be the guy who gets his Culling Dais blown up by a Shatter when he's tapped out. Additionally it's easy to overestimate the Dais and imagining drawing five or six cards. When in reality you know damn well you're going to sacrifice it as soon as you have three or four counters.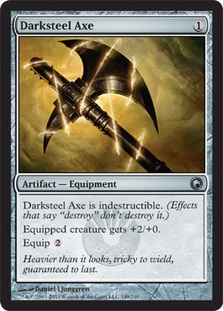 Darksteel Axe may be a bit more expensive than the Bonesplitter was but there's a lot of room for a card to be worse than Bonesplitter and still good. After all this card isn't far from Trusty Machete. Additionally it's an ideal cheap enabler for metalcraft aggro decks that try to bash before the opponent can start doing too crazy of combos. As always cheap effects that pump power work well with infect.
Darksteel Axe is generally worse than the already somewhat dubious Trusty Machete in Constructed with the main exception being a Phylactery Lich deck that has somehow decided that it wants equipment. This may prove important as the Lich is quite potent but with artifact destruction surely on the rise it may be important to put your Phylactery counter on an indestructible card (though you're still vulnerable to Revoke Existence). Also in case you were wondering Phylactery-ness makes for some of the least impressive proliferating possible.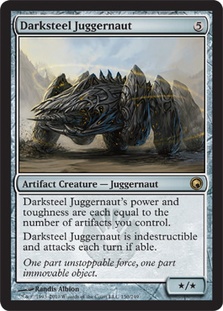 To say that nothing can stop the Juggernaut would be nave to say the least. Darksteel Juggernaut is fine in Limited if you have a dedicated metalcraft deck but there certainly are no shortage of answers to indestructible. Black and green have infect white can exile it completely and blue can bounce it or even just block sometimes. Red is kind of without answers of its own but even there they could have access to some of the numerous artifact infect creatures as could the rest of the colors.
How many artifacts do you reliably have to present in order to make the Juggernaut worth it? Six? Seven? It's such a slow card (five mana without haste or immediate card advantage) that you have to really want the indestructible to make it worth it. Maybe you could sideboard it as a transformational plan in an artifact-heavy deck but I sure don't plan on it.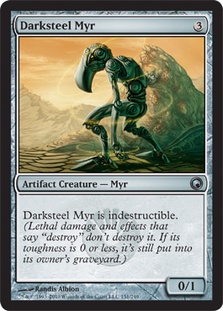 As Darksteel Myr is almost entirely just the indestructible keyword I see two possible Constructed applications of Darksteel Myr:
1) Use him as a creature. An indestructible blocker is worth something but for three mana I think he's a very bad Wall of Denial.
2) Use him as an artifact. An indestructible artifact is worth something to Phylactery Lich Mono-Black decks usually have little shortage of good options for three-mana cards so I doubt this is worth it.
When it comes to Limited he's a fine blocker but obviously soft to infect and the -1/-1 counter theme in this set. He's probably fine but he's way worse in this set than he'd be almost anywhere else.
I know I was just ragging on indestructible but this is a completely different case. Darksteel Sentinel is big enough to rumble with infect creatures if he has to without being laughed out of the room. Additionally his size makes him able to actually do some damage to opposing forces that try to plow through while he attacks unimpeded thanks to vigilance. The biggest bonus however is the flash ability which makes him into a bad Nekrataal which is still pretty good. All in all this guy seems like a monster.
As far as Constructed goes there's a good chance you'll find that he's probably some amount worse than Wurmcoil Engine.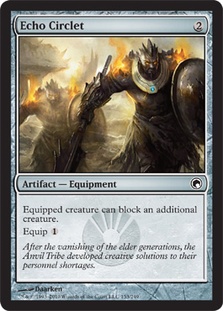 This card does so little and what it does do you don't even want nor is it even good at it. A prime candidate for worst card in the set.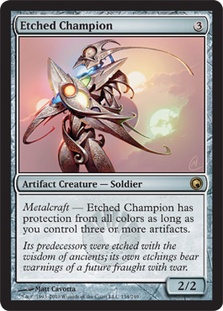 Etched Champion is very underrated right now in my opinion. Why is no one talking about this guy? He's the new Paladin en-Vec! Instead of first strike he has protection from blue from green and from white in addition to red and black. That's way better. On top of that he's an excellent enabler for metalcraft aggro in Standard. Tempered Steel is the superior three-drop I think but the deck probably wants eight three-drops anyway.
One drawback compared to Paladin en-Vec is that Etched Champion doesn't have a Jitte to carry but many of the decks he'll appear in may use equipment anyway which he proudly wields. Outside of just being a 2/2 pro-all colors he's also an artifact to get boosted by your Steel Overseer and Tempered Steel. Additionally he's an ideal candidate to carry the Armor of Argentum as long as you time everything in such a way as not to screw yourself (for instance having a fully charged Quest that can't target him because he's pro-white; though if you have only two artifacts he can acquire the Armor and be promptly protected).
As far as Limited goes he's obviously quite good in a metalcraft deck but probably not a game-breaker as he's deterred by a number of infect artifact creatures as well as merely being a 2/2 that doesn't actually dominate the board. It's going to be such a blow-out the first time someone flashes down Darksteel Sentinel on defense as their third artifact when they have an Etched Champion on the battlefield...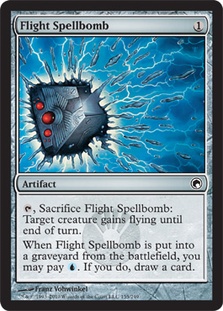 Flight Spellbomb has a variety of interesting albeit minor applications. First of all it's easy to acquire in draft as away to help enable metalcraft. It's also an ideal way to trigger "enters the battlefield" sacrifice or "put into a graveyard" triggers as you still cantrip. Next Flight Spellbomb is actually probably more accurately thought of as Jump Spellbomb as putting it on the battlefield is like a Seal of Jump that the mere threat of is actually almost as powerful as actually using it. (Okay yes Seal of Leap...)
For instance if you have a 3/3 creature on the battlefield your opponent may not attack with his 2/2 flier lest it get eaten after the Spellbomb grants flying for the turn. No one wants to lose their flier to an onboard one-mana cantrip. The problem with avoiding the attack? You still have the Spellbomb next turn so it's sort of like the 2/2 is already dead (or at least being stopped every turn as long as the game continues on this path). The nice part about looking for this sort of situation is that if the game state doesn't support it you can always just cantrip your Spellbomb as long as there's a creature to target.
Finally Flight Spellbomb is a very reasonable surprise attempt at the kill out of nowhere. Your opponent may have four blockers to your three creatures though none involved have flying. While it's possible that a big fatty is the target I kind of imagine an infect creature with equipment or a pump spell coming out of nowhere will finish the job. How many infect decks will have blue? It's unclear but blue does offer more proliferate if that's your angle.
As far as Constructed goes the card has to be considered for Trinket Mage decks simply as a result of wanting to ensure that you can fetch up a cantrip if needed. It's also possible that one might have some great use for artifacts to sacrifice which is ideal for these new Spellbombs. Finally it's possible that some crazy deck will exist at some point that can kill fliers easily. This is a very efficient way to give your opponent's creatures flying if that's your idea of a good time.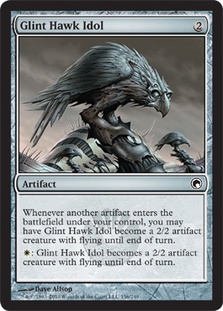 Wings of silver nerves of steel Glint Hawk Idol is not likely to have much of an impact on Constructed though I suppose it's a possible if unlikely two-drop in Mono-White Affinity (as we discussed with Argentum Armor).
Limited is a very different story however. Glint Hawk Idol is actually quite effective often operating as 2/2 flier for two mana that also powers your metalcraft. Even when you don't play artifacts it's nothing more than a single mana to keep the beats coming. Even better he dodges some sorcery-speed removal not to mention making -1/-1 counters awkward from time to time. I'm not sure Glint Hawk Idol is good enough to play without white mana; however it's possible that you play it in a non-white though fairly heavy artifact deck with only a couple Gold Myrs or perhaps a single Plains and a Horizon Spellbomb.
Glint Hawk Idol doesn't look that insane on the surface but this is the exact type of card that I think you want to be on which is fast and aggressive. This format smells like it's going to get really aggressive as the weeks roll on despite how slow some people seem to suggest at the moment (somewhat like M11 was though even more so).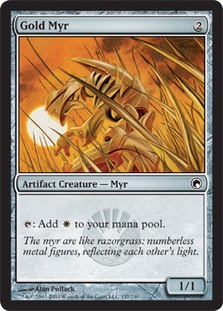 The returning five Myrs are among the most important cards (for Limited) compared to how few words there are to say about them in the set. They're more than just enablers for metalcraft as they carry equipment and provide a much appreciated tempo boost. It's too early to tell yet how high you should draft them compared to other creatures as well as whether or not you should look to off-color Myrs as well. There are a few Myr bonuses but drafting a tribal deck with them seems less than normal.
The somewhat unfortunately named Gold Myr is above average for breed in Limited as white has a strong metalcraft flavor and is often in the market for such a guy. He's not likely to make any waves in Constructed; though he does work well with Tempered Steel and Lodestone Golem so it isn't totally out of the question. Still in the future people will keep it real and play fast removal plus sweepers like Pyroclasm and Ratchet Bomb so Myr look like where I most definitely do not want to be.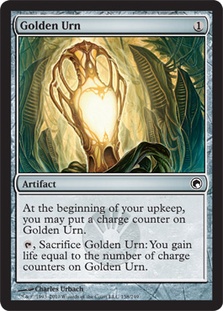 First the good news: it's another Trinket! Doesn't it seem like every artifact that costs zero or one gets special treatment? Does Golden Urn do something special? Yeah it's essentially one life "in the bank" for the rest of the game until you're going to die. That's pretty awesome. Is it better than Elixir of Immortality? Well it certainly doesn't do Feldon's Cane's duty nor does it gain as much life now; however if you can play this card early it has the potential to be a bit more powerful than the Elixir especially if you start getting crazy with proliferate which Trinket Mage players are likely wont to do. Still the Elixir is more reliable and more versatile so I'm not holding my breath on this one.
Constructed: Maybe maybe Role Player
Limited: I guess it could be Fringe but you'd have to really want to gain life and be pretty short on playables.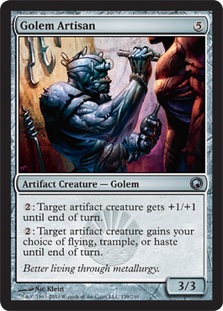 Wow this guy has got to be a wrecking ball in Limited once he gets going. It seems extraordinarily difficult to not get horribly blown out on every exchange and he assures that you'll make efficient use of your mana at almost every point. He's an artifact and vulnerable but I expect this guy to be pretty good despite being unfortunately slow. He definitely seems like the type of card that people will mess up against over and over again as they don't even realize what all he can do despite him being clearly visible on the table.
A non-issue for Constructed since you could do a lot better with your mana and people actually have easy answers naturally.
Golem Foundry is way too slow to see serious Constructed play but is an interesting option for Limited particularly in conjunction with proliferate. It's also somewhat well-suited for a metalcraft deck as a metalcraft deck is likely to have enough artifacts to fuel the Foundry. Even if you can support this device it's still super slow perhaps too slow. Definitely gains a lot of value with Spellbombs and Myr.
Lucky Charms are really far from good. Though like so many of these types of life gain cards only the one against red is playable. This one isn't. However it does open up possible infinite life gain combos if you have a way for two zero-cost artifacts to bounce each other an arbitrary number of times.
Embarrassingly life gain is even worse in the set than normal on account of poison counters. In general these are the easiest cards in the world to avoid.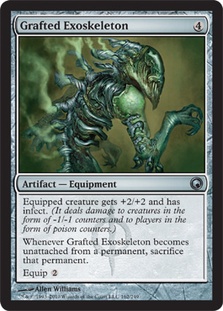 This card is probably going to tempt a lot of novice deckbuilders in Constructed but it's really not at all what infect decks are looking for (too much competition at the four spot granting infect synergizes poorly way too slow) and it isn't really what a non-infect deck is looking for (way too slow of a way to give a creature double strike without synergizing with the rest of your deck).
In Limited however the card is a fantastic addition to an infect strategy. You'll likely have a mix of both infect and non-infect creatures. Your non-infect creatures can now contribute in a big way to your poison plan. Your infect creatures are just happy to get a +2/+2 bonus.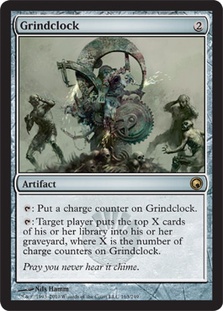 This is such a cool card as it really captures the flavor of a clock that you wind up more and more but when they hear it the sound drives them insane.
It seems a rather dubious plan to count on Grinding someone out in Standard since people play Eldrazi — but with Jace the Mind Sculptor it's far from fatal. The main problem with Grindclock as a victory condition is that it doesn't affect the board whereas something like Wurmcoil Engine or Elspeth Tirel does (and a lot).
This isn't to say that it can't be used in Standard; I just tend to think you're more likely to Grind yourself. it's no coincidence that all the best "mill" cards rarely see play unless you use them on yourself (Tome Scour Hedron Crab Traumatize etc). With so many graveyard shenanigans possible this shouldn't be a surprise. Dredgevine was doing very reasonable in the old Standard and there's no shortage of exciting possibilities to try from Scars of Mirrodin.
Grindclock is a bit slow but it's relentless once it gets wound plus it's very mana-efficient. Add to this that Trinket Mage seems a very reasonable addition to these sorts of decks particularly for finding Memnites (plus if you're Gerry Thompson Basilisk Collar for the Cunning Sparkmages that you absolutely must play in every deck). Trinket Mage can work with Grindclock by finding Voltaic Key which goes a long way towards speeding up the Grinding. On top of this Grindclock is another artifact for your Kuldotha Phoenix which is the most exciting new addition to such a deck. The Phoenix is very potent but very demanding when it comes to deck construction as metal doesn't craft itself.
In Limited Grindclock can provide a fine victory condition for a very defensive deck that wants to focus all of its resources on not dying. However it's certainly nowhere near as exciting as a bomby creature. It isn't exactly slow either as a turn 2 Grindclock kills around turn 12 or so. Generally adding four charge counters then grinding for six turns is at best turn 2 as it kills the same time as the "five then five" plan but it works better with proliferate. The baseline strategy for figuring out the right number of cards to mill is to take the number of cards in your opponent's library when you play the Grindclock then follow the following chart:
The basic method is to charge for a number of turns equal to half of the total number of turns needed to finish them off rounding down. Keep in mind this is often not going to be absolutely optimal as there are a lot of other factors that can affect what the tightest play is; but outside of proliferate this should be near ideal for you.
Proliferate tends to make you want to err a little on the side of starting to grind earlier. Voltaic Key actually tends to make you want to start grinding a little later in the number of activations though far earlier in turns. The chart above is based on
X = n 2 + 2n
but that isn't really worth getting into here. Either way a ten-turn clock on turn 2 is fine but hardly mind-blowing. It's a bit faster as the game progresses of course but I kind of suspect the format will be too fast for this to be a total bomb and too many answers available for it to be that hard to beat.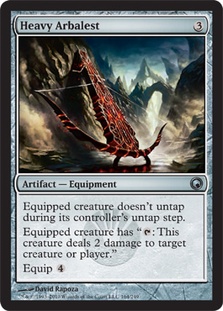 This is an equipment that isn't good enough in Constructed — despite the potential to abuse untap mechanisms — on account of costing seven mana to play and equip. That is really far from where you want to be especially for such a minor effect. As far as Limited goes the card is quite powerful once you get it going though it's painfully slow. There are no shortage of powerful slow cards in this format so it seems very appealing to monopolize the fast cards if possible.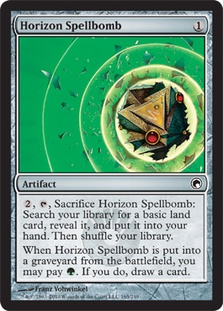 Now this is a fun card!
Let's start with Limited where this is just an awesome source of value in a variety of areas. It's a cheap artifact for metalcraft it's another artifact to trigger your "smiths" and it's a cheap and easy-to-cast mana fixer. There's a strong reward for playing green but anyone can use it — plus even if you're green you can still use it when you're color-screwed and get your green mana. On top of that it's a built in two-for-one which makes my heart very happy.
When it comes to Constructed Horizon Canopy is a little slow to "just play because it's good." However it's an awesome Trinket Mage target. So often Trinket Mage just tutors up a cantrip anyway. Now you can tutor up a Divination (or I suppose a Krosan Tusker).
While this is a sweet application of the card it'll get even more love in Elder Dragon Highlander and all sorts of other casual formats. It's all feel-good and just helps you play your cards more. Horizon Canopy isn't about overpowering anyone; it's about gaining a very modest increase in resources making it more likely that you can actually play a real game of Magic with your opponent.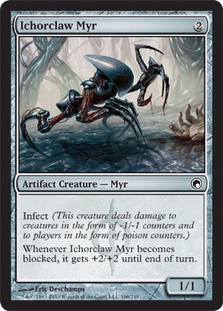 All of the two-mana infect creatures are exciting if only as double strikers. Ichorclaw Myr's strengths are:
1) He's an artifact if you're playing any of the many bonuses for such an attribute.
2) He's harder to block than Necropede which may often be the decision you have to make in deckbuilding.
3) He's another colorless infect two-drop meaning you don't actually have to play both black and green if you don't want to.
4) He's known to melt faces off of opponents in Legacy when they block only to discover Invigorate plus Berserk aided by Ichorclaw Myr's bonus. This can be especially relevant with Reckless Charge which wouldn't kill in one hit with Berserk though most opponents will block wanting to stop the four poison counters. Ichorclaw Myr deals even more poison blocked than if they hadn't blocked at all. Fear of this sequence may actually cause some players to not block the four poison counters on turn 2. For more on this emerging Legacy strategy check out Matt Sperling's Eternal set review later this week.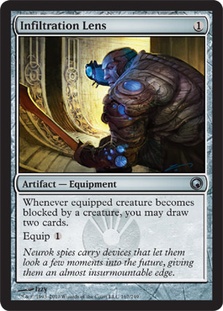 I've seen a lot of people very excited about this card but I tend to think it's pretty overrated. It's definitely a pretty cheap way to make your guy "fairly" unblockable but what is the big deal?
First of all who even needs to be unblockable? Our Scroll Thief in our Trinket Mage deck? Maybe. Maybe. I did underestimate Basilisk Collar a little though so it's possible that the marginal value of making your guys have to block will add up over time but I'm not overly optimistic. Infiltration Lens is obviously adorable with some sort of Lure-type action but that doesn't seem overly likely.
As far as Limited goes I'm not a big fan here either. We're still talking about an ability that's generally worse than "unblockable." I'm open to the possibility that it's better than I give it credit but I'm definitely not on board yet. I gotta admit I do love drawing two cards though...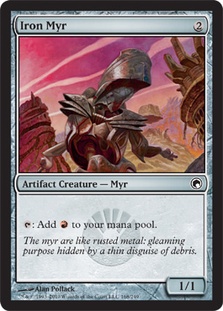 See: Gold Myr .
They have a few chances in Constructed either in a dedicated Tier 3 Myr deck some weird Fauna Shaman + Kuldotha Phoenix deck that's desperate or a heavy mono-color artifact deck that's desperate for more mana acceleration beyond Everflowing Chalice most likely blue or red.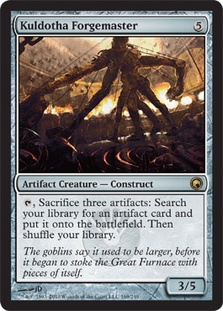 Just to let you know upfront I'm going to review this card without even mentioning the card that you're already thinking of.
Now getting down to business Kuldotha Forgemaster is obviously at least as reasonable in Limited as a Siege Mastodon that threatens to surprise your opponent with a game-winning bomb at a moment's notice. Even if you don't have an insane target such as Molten-Tail Masticore or Wurmcoil Engine he can still occasionally get a little value in combat such as sacrificing relatively unimportant artifacts (like Myr) and maybe some Spellbombs (which you can still draw cards from anyway) in order to find something even if it's just some random equipment. I suspect most of the time you'll be able to get something pretty decent to look for.
Over on the Constructed side Kuldotha Forgemaster is a five-mana creature with no card advantage no protective abilities and no haste. Still if you get to untap with it you're going to totally take over the game pretty quickly with cards like Wurmcoil Engine Mindslaver and Platinum Emperion. Additionally Everflowing Chalice Contagion Clasp and various trinkets make it pretty easy to assume you'll be able to meet the requisite metalcraft so to speak. My inclination is that this won't be a part of a Tier 1 strategy. However it does have chances if the metagame is such that people are actually not playing the artifact and/or creature removal that it seems that they should.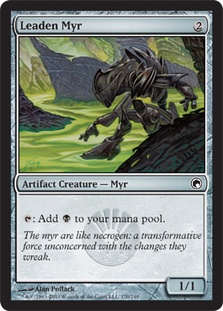 Only name heavy
So many puns possible
Inspired by Zvi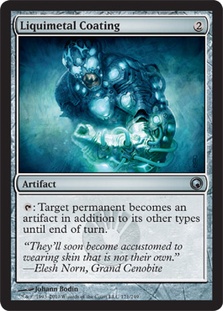 This is a very cool card that seems like it has a lot of exciting potential in most every format though is most likely not actually good enough in any of them (though there's just enough of a chance that it's worth trying). In Limited it's a quick way to enable metalcraft and gives added versatility to Shatter type effects. However it is in many ways a do-nothing as the Darkest Mage Michael Jacob would say.
In Standard it's possible that you could use enough Manic Vandals and Nature's Reclaims to make it worth it but that deck sounds super sketchy as you can't count on having the Liquimetal Coating. Of course if enough people play artifacts anyway this plan could work.
In Legacy you gain access to Gorilla Shaman opening up the possibility of destroying a land a turn for one mana. This is a fairly impressive combination but it's shame that Gorilla Shaman isn't particularly good in the format meaning it's hard to justify the two-card combo when such better combos exist like Painter's Servant + Grindstone Nomads en-Kor + Cephalid Illusionist and Survival of the Fittest + Kasimir the Lone Wolf (or any other creature ever printed). You can actually use quite a few anti-artifact cards in your quest to make Liquimeal Coating good but again you're at a loss when you don't draw your key card.
Vintage is probably the Liquimetal Coating's best shot at real Constructed play. The same Gorilla Shaman combo is available but Gorilla Shaman is really good in the format anyway. On top of that you can play Nature's Claims (which you probably should anyway) and Trygon Predator to have tons of ways to abuse the Coating. Both of these combos can actually hit creatures as well ensuring that you can solve most any problem thrown your way.
Is it really worth going to this much trouble? We'll see what the Vintage community has to say as I suspect if it's a viable strategy they'll uncover the best version. It does kind of remind one of Painter's Servant + Red Elemental Blast if you know what I mean.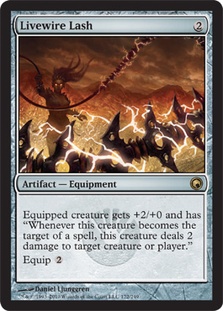 As a straight-up enhancement spell Livewire Lash is very mediocre and in Limited will merely be a random piece of equipment that's a little slow but with the potential for random bonuses once in a while. When it comes to Constructed however the Lash is a bit more exciting. Obviously it grants a bit of pseudo-shroud to the creature but the real payoff comes when you combine the Lash with pump spells and other sources of targeting. Getting a free Shock out of your Vines of the Vastwood is sexy but I doubt the format will be right for such a play.
If one is a little more ambitious Prey's Vengeance Emerge Unscathed Virulent Swipe and Distortion Strike all target your creature in a positive way twice. Now we're starting to talk about some serious value. Why would you want to use enough cards like those to make it worth it to Livewire Lash? What if you played a dedicated poison deck?
This is the home Livewire Lash was born to inhabit. Right off top the Lash provides a big boost to the infect creature's power which is much like taking advantage of double strike. Next we can use Prey's Vengeance to pump our infect creatures. Not only do we get the same double strike bonus from the Lash but working together the cards let us get two free Shocks from our guys.
Now reading carefully we find that it's the creature that deals the damage which means that you can put more -1/-1 counters on creatures instead of just damage plus you continue to deal double damage to players. A Plague Stinger with Livewire Lash and Prey's Vengeance puts seven poison counters right off top threatening seven more next turn. This sounds like overkill but remember your opponent will be fighting back. Maybe your opponent has blockers for your poison creatures. With Livewire Lash every targeting spell is another two poison counters towards victory unblockable.
Virulent Swipe is just as effective and coincidentally in the other poison color making for a natural deck shell that has a huge amount of potential. Plague Stinger Blight Mamba Ichor Myr Necropede Prey's Vengeance Virulent Swipe and Livewire Lash provide the core though you have tons of possible ways to expand from there. The biggest obstacles to build your deck to overcome are:
1) Sweepers — Particularly Pyroclasm and Ratchet Bomb.
2) Blockers — The right creature removal is an interesting question and might actually be Vendetta. The surplus of two-drops makes us want to avoid Doom Blade. Fortunately each of the cheap infect creatures listed have a plan to help combat creatures but you still don't want to get bogged down early. If your opponent can buy enough time you're quickly going to be outclassed by Baneslayers Lux Cannons and Titans.
3) Cheap removal — Playing against a Koth deck might be a nightmare if they have a bunch of Lightning Bolts and Burst Lightnings to blow you out when you try to pump your creatures.
4) Your mana curve — With so many twos it's going to be interesting figuring out how to balance the deck with ones threes and to a lesser degree fours.
Address these problems and you could actually make an attempt at a Standard poison deck.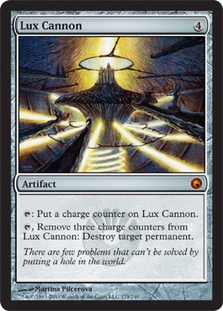 Lux Cannon is quite the curiosity. On the surface it looks like a super slow and super greedy attempt to value people out at least in Constructed. However the card is perfectly crafted to interact well with Contagion Clasp. The Clasp can come down turn 2 or 3 followed by a turn 4 Lux Cannon. Now you can destroy a permanent every other turn! On top of the fast Legacy Weapon action you also get to systematically boost your Everflowing Chalices any planeswalkers you must and any of the other awesome bonuses from proliferate.
Once again we find a total artifact combination that is going to trump most old strategies. The Lux Cannon even destroys land! It's going to be so hard to just power through these sick artifacts. It's looking more and more like various Revoke Existence and Manic Vandal type cards are going to have a home in maindecks.
I'm loving Contagion Clasp more and more in big mana Mono-Red and Lux Cannon might be an ideal complement to Koth at the four-spot on the curve though it's by no means a sure thing. The ability to hit every single type of non-creature permanent (in addition to creatures) makes this card particularly enticing. It's probably the type of card that will start out great but get pretty bad once people adjust their decks to beat artifacts. I guess what I'm trying to say is: With so many dangerous cards of every different type (Koth Baneslayer Valakut Argentum Armor) cards that can actually hit any type of permanent are at a premium especially with the loss of Oblivion Ring. As for Limited well the card is a bomb mythic and if you get it keep your eye on proliferate.
One last way to really abuse the Lux Cannon is with Voltaic Key. This is probably most commonly set-up with Trinket Mage as Voltaic Key is looking like a better and better Trinket target. There's a lot of overlap with the Contagion Clasp-type cards and I can already see a major archetype forming. Trinket Mage has lots of good targets that work with the Clasp such as Everflowing Chalice and Chimeric Mass. Mox Opal is a natural fit and it seems fairly easy to quickly begin to assemble a machine that's obliterating any and all permanents your opponent tries to play. For instance:
T1: Island play Voltaic Key
T2: Island play Mox Opal play Everflowing Chalice for one play Contagion Clasp
T3: Island play Lux Cannon and charge it twice (with Key)
At this point you'll be able to destroy a permanent nearly every turn while building your board. That type of stuff seems to be popping up more and more which really makes it seem like maindeck artifact kill is just going to be all over.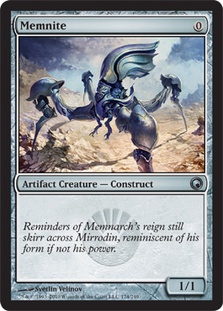 The first thing that we can be sure about is that just slightly less than 1337 custom card designers will claim that Wizards stole this design from them (which happens to be one of the fifty most obvious Magic designs ever created).
Only slightly less than that will make the obvious Memnite Sham-alan jokes when Fauna Shaman is involved. I'm not judging mind you as I'm not above such easy wordplay — just helping the potential embarrassment of discovering at an inopportune moment that this joke occurred to more than one clever comedian.
The next observation is probably slightly more useful which is that zero-cost artifacts are highly abusable particularly creatures. Memnite is the first true zero-mana creature with a positive power requiring no additional mana or work which means that it's new territory and is certainly "the best" at a few things. Whether or not he's worth it in Limited is probably a function of the various metalcraft strategies but I wouldn't be surprised if he fits in well though he could easily be fairly overrated as he's actually very much like Ornithopter in that he'sn't always going to be a worth a card.
As far as Constructed goes he's certainly at his best enabling somewhat degenerate openings like triggering fast metalcraft for bonus or Moxes as well as abusing the various zero-cost elements of the card. For instance:
1) He makes a great Trinket Mage target as he makes your Trinket Mage always at least three power over two bodies for three mana plus assures your ability to trigger Vengevines.
2) He combos well with Glint Hawk and with Ornithopter and Mox Opal. There are certainly enough zeros to run the most savage Isamaru of the skies.
3) He can just lead to really fast starts by presenting a fast turn 1 clock. For instance turn 1 Memnite Memnite Mox Opal Land Carapace Forger or Auriok Edgewright isn't altogether unreasonable presenting six damage a turn before the opponent has taken a turn. Additionally a turn 2 Tempered Steel will be nearly unbeatable in that scenario and Ornithopter is an easy backup Memnite.
4) He's an artifact creature so Tempered Steel Steel Overseer and the like all pump him.
5) He's super fast in Legacy Affinity and with Mox Opal in the mix as well it's likely that Affinity is a real deck in that format now. He's also a sweet addition to most Kobold decks if we're living in a world where those are real decks.
6) He's an artifact so if you just want to fill the board with artifacts he's one of the most useful and proactive ones to drop early. For instance any card that wants you to sacrifice an artifact early (Kuldotha Rebirth) or triggers from casting artifacts (Riddlesmith) can get extra value out of him.
Will be a very oft used role-player and an exciting card to build around; though like so many cards in this set will oft be misused as well. This is one of the most Johnny-riffic sets in years but Memnite is definitely on the Spike side of Johnny. Probably fine as I have to imagine WotC tested the hell out of this one but certainly one the biggest possibilities to actually break.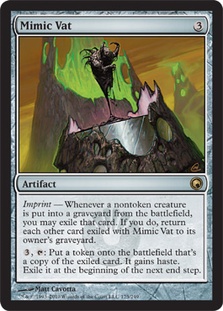 I love that so many of the imprint cards in this set don't require inherent card disadvantage! Mimic Vat is quickly dismissed by most in Constructed but I think it may have chances of fringe play if a clever Johnny finds the right home for it. On its own it's a sort of Jayemdae Tome that costs three plus three to use but if you don't play the right types of creatures all you get are Ball Lightnings so to speak. It works especially well with "187s" such as Wall of Omens Sea Gate Oracle pretty much anything you'd put into a Venser the Sojourner deck.

It can be a little clumsy getting the Mimic Vat going but it's certainly especially good with evoke creatures like Mulldrifter and Shriekmaw but Extended is such a hostile format those plays are probably more likely for casual formats and Conley Woods.
It seems like an easy winner in Limited but it may take a little extra to find a home for it in Standard. It's important to note that it does have some natural advantages to Vengevine and Kuldotha Phoenix as it can exile the creature (when you kill it) though only one creature at a time can be removed this way. Remember you can steal your opponent's creatures too!
Not likely to be a Constructed player but the numbers on this one are certainly a bit more generous than previous incarnations of this card.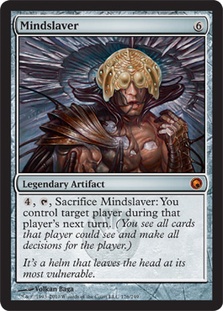 A true classic Mindslaver is back and once again occupies the space as the best non-creature artifact to exploit a surplus of colorless mana. The first time around Mindslaver was fueled primarily by Cloudposts and the Urzatron. This time around it would seem that Grand Architect is the best way to generate massive amounts of mana fast. With the right build it isn't out of the question to Slaver people consistently by turn 5 which may be good enough for a win. Historically it has been really hard to not destroy yourself whenever you find yourself Slavered and I suspect that these days won't be that different.
Another use of Mindslaver is as an end game trump in control matchups especially if you're playing a blue deck with both Contagion Clasp and Everflowing Chalice as you can relatively easily build up enough mana to Slaver someone effectively even naturally playing around Mana Leak. Alternatively Primeval Titan provides a fantastic way to hit the elusive ten mana needed to Slaver someone and most of the time Slavering someone is going to be a much more powerful play then Avenger of Zendikar or Ulamog. In fact Mindslaver is probably the most powerful single thing you can do in Standard other than Emrakul the Aeons Torn.
Does this mean we're looking at a new era of Slaver mirrors? No far from it. Just as you don't jam Emrakul into every random deck the same holds true for Mindslaver. Emrakul even has a lot more ways to cheat it into play but Slaver is just this ten-mana card that's actually worth ten mana. The primary homes are going to be aforementioned Titan and Architect decks as well as possibly Big Red decks that can get there easily with Koth of the Hammer as well as Contagion Clasp + Chalice. These Big Red decks can even find their one Slaver with Hording Dragon (though the default is probably to get a Wurmcoil Engine).
Merely a role player but a pretty important one that will help the bar for how big of things are possible. If the format speeds up from all the metalcraft it might be resigned to a sideboard card but if the format slows down it could be the ideal trump for a lot of big decks. It's another expensive bomb that often wins the game if you can activate it without being hopelessly behind. It's a desire to beat cards like this that make aggressive tempo-based strategies seem very appealing most likely using infect or metalcraft.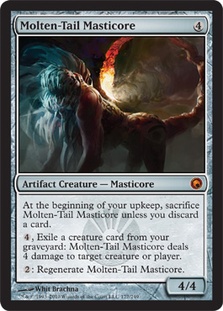 How far have we crept that this isn't even in the top five cards in the set? Molten-Tail Masticore is basically identical to one of the most feared creatures of all-time the original Masticore.
What is the difference between them? The old version did one damage for two mana instead of four damage for four mana. While the original is slightly better at taking out one-toughness creatures the new one does a lot more damage per mana — but more amazingly can also hit the face!
Perhaps the biggest factor limiting Molten-Tail Masticore is the rest of the world creeping faster. All in all Molten-Tail Masticore is probably better in most decks that can actually afford the other drawback needing creature cards in the graveyard to exile.
This restriction tends to eliminate the exact decks that wanted Masticore most back in the day from getting the new one. This combined with the improvement of removal has cooled some opinions on the Molten-Tail.
That said he's a pretty awesome monster for totally taking over games especially if combined with Squadron Hawks to fuel him or Vengevines and Kuldotha Phoenix to get paid off with the discard ability. Many of those cards have a tendency to appear in the same decks further fueling the chances of Molten-Tail making an appearance. As a matter of fact it seems crazy to play a Fauna Shaman deck without at least one of this guy.
It would be too easy to sing praises of how much better Molten-Tail Masticore is than almost anything in Limited so instead a little alliteration that describes his value compared to other game-winning bombs.
Molten-Tail Masticore my magnality mostly means major massive mad machine machairodont malapert macrural monster mastering Magic marvelously managing many mabsoot match massacres manslaughtering macaronic morons mayhap making malefic malgr minor manacost. Macrology much?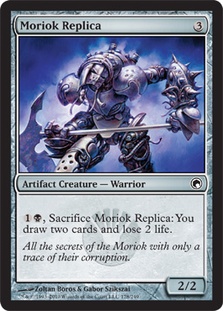 A card that's probably slightly more fun than it is good. Without damage on the stack this guy will probably not perform as well as I wish he would but he's still decent. Aside from the usual artifact bonuses it's nice that he has an anti-removal ability as there's a fair bit.
In Limited he's fine though no superstar since you're paying a mana more than for a Grizzly Bear or three mana more than Night's Whisper unless you "work it" (create a situation where you get paid on both ends).
In Constructed he's very enticing as black wants to draw cards so bad right now but whenever you build a list with him you're likely to find that you don't need another three-drop. That said I kind of wish Cruel Ultimatum were still available to get him back but I'd probably say that about Camel.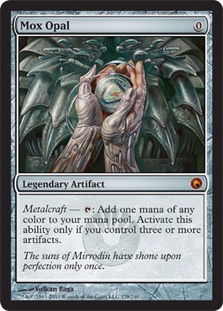 Yeah I hear that too. Those are the warning bells that are drawing all attention to Mox Opal.
1) The word Mox. WotC doesn't throw that word around lightly.
2) It's a zero-cost artifact. Automatically raises the alert level to orange much like the way the airport is permanently.
3) Mana acceleration. There's not much of that these days and with good reason as it's one of the most common ways cards and formats get broken (and we're talking actually broken not just solid midrange deck good).
4) The word metalcraft. Metalcraft is very much a hot topic in the Magic community as it's sort of a combination of Affinity and Threshold and found on lots of good cards making each of the others better.
Okay so we know the card has flags going up all over. How do we use it? Here are the main ways:
1) Metalcraft decks. If you're building any deck that has the word metalcraft appear anywhere you should strongly consider the Mox. It isn't just a potential mana accelerator it's another enabler for all of your other metalcraft. Often Mox Opal will give you an extra mana of any color by the third turn at times even earlier while simultaneously achieving metalcraft and the bonuses that go along with it.
2) Memnite/Ornithopter decks. If you're playing a deck that tries to abuse Memnites and Ornithopters Mox Opal is a way to add even more explosiveness.
3) Vintage. Mox Opal could be absolutely busted Vintage busted right in half. It may be legendary but if you set your deck up to abuse it it will just be a better Mox Sapphire on turn 1 every game. With more Moxes than you could possibly play (Chrome Mox as well) it's academic to build a deck that consistently starts playing draw sevens on turn 1 without Rituals.
In fact the unrestricting of Crop Rotation Time Spiral and now Frantic Search (more ways to get more value out of extra Moxes) points towards a dream of turn 1 Rotating into Tolarian Academy and just going crazy. One possibility is to chain draw sevens together until you Tendrils though another possibility is to just set up Time Vault + Voltaic Key aided by Transmute Artifact to find the Time Vault and possibly even Grim Monolith to add power to the Keys.
It remains to be seen if such a bold deck is possible but the line between "curiosity" and "totally degenerate" is very thin. Sperling thinks it will fail; I'm not so sure.
4) Legacy. There are an awful lot of fast combo decks that use artifact mana and Mox Opal is more of it. Additionally Mox Opal could be the push Affinity needs to break out as a major player in Legacy.
5) Finally any deck that just happens to have a bunch of artifacts. Trinket Mage decks for instance will often have enough random cheap artifacts that you may want the added boost that Mox Opal provides. As a side note See Beyonds stock has risen as it's the closest thing to a Thirst for Knowledge we have to get rid of extra Moxes outside of the obvious Jace the Mind Sculptor that you'll hopefully already be using.
At the end of the day Mox Opal is about as powerful as a three-mana permanent when it's active so it's one of the swingiest cards in years. When things come together it's like you get an almost free Black Lotus worth of value which is often game-winning. When things don't work out (it's legendary you don't achieve metalcraft artifact removal whatever) the card can be quite a stinker.
Still a Black Lotus of extra value when you make it work is so off-the-charts it isn't even funny. Easily in the top ten cards in the set for Constructed probably top three though it's important to remember that it's a very linear card (the Floresian use of the term) meaning its power scales up the further you go in one particular direction (in this case metalcraft).
Mox Opal is the type of card that is a strong candidate for the best card in almost every deck it's in but has so many costs and deckbuilding restrictions that it might not always be an objectively good strategy to play it. Maybe one of the most wrongly used card by the most people in the set but a big big two thumbs up when used right.
To be continued tomorrow and the next day and the next day and the next day...
Patrick Chapin
"The Innovator"

---