Another Open Series another Lewis Laskin concoction. Lewis let me in on his deckbuilding process for this event a delicate and mysterious process. "Harrison picked up my boxes of cards and read each card to me" Lewis said. "As he pulled them out I yea or nayed each card until we had 75 of them!" All right it's not as rigorous a process as it might appear. Lewis wound up with a pretty spicy meatball when all was said and done and showed up to battle with something a little old and a little new: UB Infect. While Brian Kibler wrote about a more aggressive build on StarCityGames.com this week Lewis has a more historical affiliation.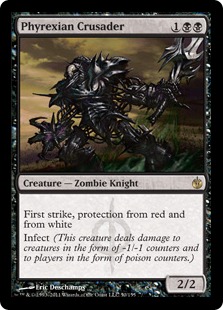 "It's very similar to U/B Control" he said. "Instead of beating down with Sea Gate Oracle you have Phyrexian Crusader." The Crusader is a uniquely positioned card in the Standard format and also served as Kibler's primary inspiration. "I really just wanted to build a deck with Phyrexian Crusader because he has 'protection from the Standard format.'" The dominance of a U/W deck with an all-white creature deck combined with the popularity of Boros Mono Red Quest and the ubiquitous play of Lightning Bolt all make Phyrexian Crusader a very attractive creature.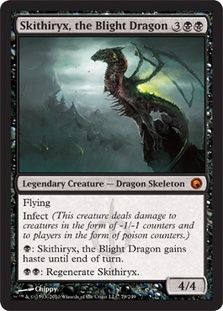 Another card that has been picking up steam is Contagion Clasp. Ali Aintrazi cited it as a reasonable solution to Lotus Cobra in decks that need access to that effect comparing it to Mortarpod. Lewis actually played with the Clasp in Memphis last week and was pleasantly surprised. "It was really good for me in U/W and if I'm trying to kill someone with infect it's a lot better" he said. The infect kill can surprise and unsettle opponents as many players aren't used to defending themselves from such a dangerous clock. "A lot of the time you just cast Skithiryx and they're dead." A control deck that can shift gears and attack threatening to end the game quickly . . . my that sounds like a successful Standard strategy.
Lewis pointed out that the more aggressive decks suffer from a lot of vulnerabilities while this archetype can play the Jace game with the best of them especially thanks to Creeping Tar Pit. "You're curving out blue or black spell on turn one blue or black spell on turn two . . . you definitely need the mana-fixing and he's really good at attacking a Jace" Leiws said. "Kibler and a lot of people are playing Phyrexian Vatmother. I think that card is really bad as it's like Abyssal Persecutor without evasion. Persecutor isn't being played so I don't know why that one should be." Lewis points out that the popularity of Sword of Feast and Famine makes the Vatmother even weaker than usual and the event of mirror matches arising could also add risk to the 4/5.
The sweetest card in Lewis's sideboard has to be the draft bomb Corrupted Conscience. It's a Mind Control in most instances . . . except when it's not which is of course where Lewis brings it in! "Decks with big creatures anything with a Titan in it" Lewis said. "I intend to bring them in against Valakut and RUG. Inferno Titan with poison is absolutely insane!" Dream big kiddo. In all seriousness the popularity of Inferno Titan in this format probably makes Corrupted Conscience one of the most dangerous possible cards.
Infect is slowly beginning to make headway in Standard thanks to its powerhouse three-drop and the ability to close games out aggressively. It's possible that Mirrodin Pure I mean New Phyrexia I mean "Action" will make infect one of the next decks to beat so keep an eye on strategies like this one.
Creatures (6)
Planeswalkers (4)
Lands (25)
Spells (25)