Ryan and his Naya buddies are undefeated!
Players have been trying to make Vengevine work in Standard for months now. Following the departure of Dredgevine and the aggressive Shards cards a variety of Titans have kept the 4/3 Elemental down. Now with Caw-Blade rearing its head and dominating those tap-out control decks with its aggressive early game there is an opportunity for Vengevine to strike again. Jumanji didn't break the Edison metagame wide open but Naya might just do the trick this weekend. Ryan O'Connor is undefeated with a unique take on an old archetype.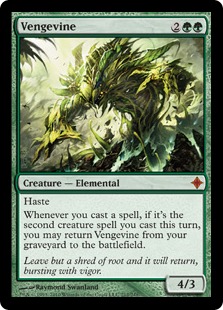 Of course his decision to play the deck stemmed from the potential of Vengevine. "Vengevines are just really good right now" he said. "A lot of the Caw-Blade decks have problems with them because they just keep coming back." Some of the newer builds have begun to pack in Condemns to help deal with that problem but Ryan maintains that the presence of Fauna Shaman makes that pretty irrelevant. His own Stoneforge Mystic and Squadron Hawk engine gives him the same offensive advantages in control matchups that Caw-Blade can present with additional pressure taking the place of planeswalkers like Jace and Gideon.
The first thing you'll notice when looking at Ryan's decklist are the variety in the bullets he has available. He has his friend and testing partner AJ Sacher to thank for some of those as they worked on the deck together. "AJ and I were just talking about different matchups and we decided which certain cards were good" he said. That led to a metagame decision to angle for the matchups they could win. "The Valakut matchup is really bad so we just removed some of those slots to put in more bullets for the Caw-Blade and the aggro decks" Ryan said. "Anything with Pyroclasms and Slagstorms is pretty bad." That's a gutsy move considering that Valakut just won a Standard Open last week but it has paid off—Ryan's played against only Caw-Blade RUG and Kuldotha Red thus far dispensing Lewis Laskin's U/B Infect deck just moments ago.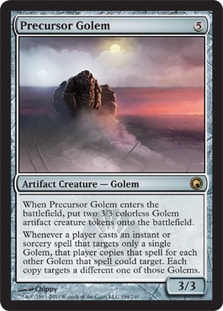 "I was actually really worried about the poison matchup because of Phyrexian Crusader but the Precursor Golem really took care of that situation" Ryan said. "It's an answer to the card and was very good against Lewis." Ryan's not sure about all of his amtchups but he knows the one he wants the most. "If I could play against Caw-Blade every round I would" he said. "We have a lot of cards and a lot of people don't know how to play the matchup." Ryan took a draw after splitting games with AJ in Round 5 citing AJ's insider knowledge as key to the matchup. "Because we'd tested a lot AJ actually figured out how to adapt to the matchup."
Ryan's sideboard offers him a lot of different options. A pair of Acidic Slimes can team up with the ones in the main to offer him additional removal although Ryan wishes he had a third in his starting sixty. "I really like him a lot—being able to blow up manlands is key" he said. "But I'm happy with the Scrapmelter main." In addition Ryan's deck can assume the control role against other aggro opponents.
"The Gideons in the sideboard come in with the Lightning Bolts and Condemns and we just try to grind it out with our Titans." The Sparkmage-Collar combination adds an additional dimension to those matchups and Ryan can face them down confidently.
If Ryan can dodge Valakut he'll be in great shape for a Top 8. His presence in the draw bracket not only means he'll be more likely to battle against the most draw-heavy deck in the format Caw-Blade—it also makes it less likely that he'll play against Valakut. The Titan ramp deck very rarely draws making his ID with AJ an even better decision than it might have at first appeared.
Creatures (32)
Lands (25)