Gerry's piloting a sweet BUG deck--lands courtesy of Adam Cai!
Team America has become a fan favorite of the Open Series ever since Daniel Signorini's victory at the Washington D.C. Legacy Open. It posted some very powerful finishes in Memphis last weekend and a number of players are playing it today in Fort Worth. Standard Open champion Gerry Thompson is one of them—sort of. Gerry's running a very different BUG list courtesy of MTGO and a couple friends. "I copied the list from some MODO dailies that Bing Luke and Jarvis Yu were playing in" Gerry said. "Tombstalker is a fine card but I like Dark Confidant more. It puts them on about the same clock although it doesn't block as well. I don't think that's an issue." Terravore is a fine replacement fatty in a deck filled with fetches and Wastelands.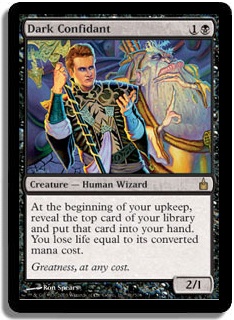 Gerry liked the deck on sight recalling his experience at GP Chicago. There he played a potent multicolored Counterbalance deck alongside LSV and Gabriel Nassif a deck he loved. "I started thinking 'Why was our deck so good?'" Gerry said. "Oh yeah Dark Confidant." Adding the Confidant to Team America was a simple enough shift especially once the Tombstalkers were gone. The deck is already built to bury its opponents in attrition and card advantageous trades. A few other tweaks to the list have drastically changed the deck's shape however.
One of those is Jace the Mind Sculptor. Jace has seen plenty of play in Legacy before but his inclusion here offers Gerry additional dimensions of play. "In the grind matchups he seems really good like the mirror matchups or some control pairings." Of course Jace also offers him some much-needed training wheels. "I'm not running Top since I don't have enough blue cards and needed to run Ponder over it. Jace is a way to make sure I don't die to my Confidant in the midgame." Dark Confidant can occasionally lend an opponent victory by killing you before you close out a game that you are winning and Jace is an amusing "win more" in this scenario.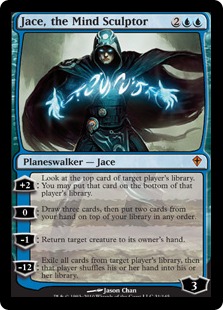 A few other oddities make this list unique. One is the absence of Stifle a card typically thought to go hand-in-hand with Wasteland in Team America builds. Gerry disagrees. "Stifle is a card I've never liked unless it has good interactions with the rest of the format" he said. "It's not good as a Stone Rain and it's not good against combo." The fact that it often only has the functionality that your opponent allows it to makes Stifle weak in a fundamental sense. It will hamstring opponents who are stuck but you were already favored in that situation most of the time.
There's a cute little bit of action going on in Gerry's sideboard. "I wanted to play a Misdirection or a Life from the Loam try some cards out" Gerry admitted deciding to run the latter. "Having protection from Hymn to Tourach and Wasteland is pretty important but it might turn out to be really bad." Alongside a pair of Krosan Grips he hedged his bets with Maelstrom Pulse as a catch-all. "I don't want to play a bunch of Krosan Grips because you can side those in against the decks with equipment or Aether Vial and just get beat by a Knight of the Reliquary" he explained. "Pulse gives you a lot of utility and I don't think Grip is that much better against Counterbalance than Pulse is."

Gerry gets to start the tournament off 2-0 thanks to his Level 6 status and he's hoping to follow that with the favorable pairings he needs for another Top 8 finish. Combo seems to be the best pairing he can find although he is prepared to defeat a variety of control opponents. "Nothing with a lot of creatures" he begged. "And no graveyard-based decks. I don't have any graveyard hate!" Dredge is looking like one of the popular choices in Texas so Gerry had better watch his back!
Creatures (10)
Planeswalkers (2)
Lands (22)
Spells (26)