So, what happened to Dave anyway?
In short, real life. I've been extraordinarily busy on a secondary project for the last five months, spending pretty much all of my extra time coding, parsing, testing, and building. This, unfortunately, meant a minor hiatus from writing, which thankfully was covered up by the all the great writers in the Talent Search! A big round of applause to all those gents.
Happily, by the time you read this, I will be free of my secondary-project bonds, and now I can get back to frustrating Lauren with my double-space-after-a-period writing. [SpaceBeGone! –LL]
So, ah. What's been going on?
I played Pyromancer Ascension in the last Extended PTQ in Denver, happily donating somewhere in the range of 70 DCI points to the first four players I encountered. From the start of GP Denver (yeah, I played in that too!) to right now, I've lost almost a hundred and twenty DCI Total rating points. And to think, I was actually close at one time to getting a Grand Prix bye based on my Total rating!
In fact, it was almost exactly one year ago. At the end of National Qualifiers last year, I was sitting at 1843, thinking I'd make a nice run at a couple of GPs this year. Denver for sure, and Kansas City and a couple others are all close enough that I would have given them a chance. Now … gah.
Clearly I need to step up my game!
THE COST OF LEGACY
The other day on Twitter, I saw the following:

Even though Legacy has been seeing a real surge in popularity recently (due in large part to the StarCityGames.com Open Series), it's still a far cry between casual Legacy players (or beginners to the format) and the real competitive decks. Price still plays a large part in the discrepancy, since dual lands make up most of the mana bases and are $40-100, and format staples like Force of Will, Tarmogoyf, and Wasteland all are around $50 apiece.
(Wait, Wasteland is fifty bucks? Woof.)
Sure, it's not Vintage levels of entry barrier, but if Legacy continues to pull large numbers for tournaments and gets a following of newer players, these cards are likely to increase in price, potentially resulting in Legacy returning to a "niche" format.
So what are possible options to curtail this? The tweet got me thinking, and I came up with these three items:
1. Print another variant of the dual land.
Dual lands themselves are not a barrier for entry into Legacy – there are plenty of playable monocolor decks, mostly based around tribal synergies. And, if you're financially restricted, you can opt to replace those dual lands you see if the Top X Decklists section with Ravnica lands ($7-12), heck, with Scars fastlands, or M10 dual lands, or, if you want to get really old-school, Ice Age painlands! You'll be slower in some cases; you'll kill yourself with a point of extraneous damage in some cases, but you won't be out a new couch just because you needed to fund a Legacy deck.
Part of what makes a good Legacy mana base, though, is the ability to fetch dual lands out with fetchlands. All of the Top 8 decks from SCG Memphis that ran dual lands also ran fetchlands – six out of the Top 8. And I think it's arguable that, had Wizards not printed the enemy-colored fetches in Zendikar, that we'd be looking at $30-40 Onslaught fetchlands, rather than the $15-25 that they currently are. (Rare, printed in big set, more played overall than something like Entomb, which is $30.)
Printing another set of fetch-able dual lands, with a potential downside like the Ravnica shocklands, would offer newer entrants into Legacy a way to get a "competitive" mana base for a fraction of the cost of buying dual lands. The downside, whatever that may be, would allow the original duals to maintain their spot as the "best dual land" and to avoid having their value impacted; Ravnica dual lands might fall a bit further but will give entry-level Legacy players more options.
(Tangent: I've heard some people suggest printing close-to-functional reprints of the dual lands, like "Snow Land - Island Plains" – which is really what Tundra should have been anyway – and I don't think this is bad either. I don't think this is what Wizards will do, but I don't see it as a bad thing. The argument has been put forward that this would allow players to effectively run eight Badlands in their deck, but if you look at Legacy decks nowadays, they don't have room for all this supposed double-dipping. Drew Levin's Team America from Memphis has seven dual lands in it, across three colors. I don't think you could squeeze in a fifth Underground Sea if you tried.)
2. Continue to reprint some of the uncommon staples, in foil if you absolutely need to.
Wizards has done a great job of seeding their premium "boxed sets" with some of the uncommon Legacy staples, and it would be great if they could continue that practice. Giving players a chance to put their hands on hard-to-find uncommon cards like Chain Lightning, Goblin Lackey, Sensei's Divining Top, or Aether Vial, even as a one-of in a boxed product, has prevented these cards from joining the Wasteland ranks, and the format has no shortage of other options for this treatment. How about Spell Snare, currently four bucks? Mother of Runes, currently four bucks and sold out? Daze, currently four bucks?
Additionally, Judge foils have been pointed at the Legacy format. Deck-defining cards like Natural Order, Sword of Fire and Ice, Wasteland, Phyrexian Dreadnought, and the Onslaught-block fetchlands are all well-represented in Legacy. I think I could get behind a Judge version of Grim Tutor or another high-dollar Legacy rare.
Now, please note, I'm not suggesting reprinting Force of Will or Strategic Planning or Imperial Recruiter or anything nonsensical like that. While I'd like Legacy to become accessible to more people, I don't necessarily think that dropping P3K uncommons down to twenty bucks will do that – those cards are corner cases and not used in any great number of decks. (Possibly due to the fact that they're well over a hundred and fifty bucks apiece.) But I do think that, if you started playing Magic in the last five years, having an easy way to get your hands on some of these obscure uncommons would be nice.
I mean, it took me forever to find Hymns to Tourach, and I started playing in Tempest!
3. Keep Masters Edition going.
The final thought on the matter is that, in order to keep a new generation of Magic players interested in a format full of old cards, you're going to have to keep giving them opportunities to pick up those cards on Magic Online. You could release Arabian Nights to Magic Online, but that seems wasteful, when 85% of the cards would be unplayed.
No, I think Wizards needs to keep Masters Edition rolling.
The most ideal way would be to do something similar to how the base sets are done now – rotate out a subset of cards, keeping the cards that fuel the older formats (like the dual lands) while still giving yourself a chance to release never-before-played-online cards in the set. Printing a large number of rares (disproportionate to normal "paper" Magic sets) means you can keep a large number of these "chase" rares without heavily impacting the Limited environment.
I think MED4 got a lot right in that regard. Wizards moved a large number of powerful uncommons up a rarity slot to ensure that they didn't impact Limited play (Sol Ring, Strip Mine, Sinkhole, Maze of Ith off the top of my head) and just released an oversized set.
But in order to keep interest in the format as a whole (and prevent an absolute downslide, which appears to be happening in Extended now), I think you have to keep the online players invested in the format. Masters Edition works best as a limited-run entity, but releasing a new one every January would help attract new online players and (potentially) keep singles prices online to a reasonable level.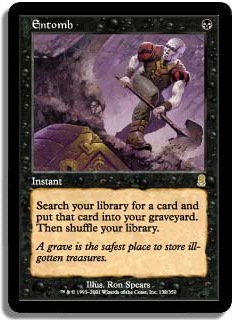 BUT LEGACY WILL KEEP ON GROWING
… for the foreseeable future, at least. The unlimited cardpool, the support from Star City and Wizards itself … we're going to see prices increase before they decrease, at least at the top end. As proof, when I started writing this column, Force of Will was $50 on this here site here and has now jumped to $75 and is sold out.
Legacy as a format rewards "choosing one deck and sticking with it" more than any other format, as you can easily incorporate any new cards at minimal cost. So if you have any Legacy events on your calendar or you're interested in the format, picking up the "missing pieces" now will allow you to always have a Legacy deck on hand for those events. That's what I've done with Reanimator – I had the Entombs well before they were unbanned (maybe even before they were banned!); The reanimation targets are inexpensive in general to pick up; and I've been picking up the odd expensive card here and there when I can trade for it. It's limited my options to some extent, but I enjoy playing the deck, so I'm not too bothered.
So what do you think? Is the price for "jumping in" to Legacy too much? Would you play in a Legacy tournament, even if you were stuck playing a "cheap" version of a deck?
THE NAME CHANGES
Unlike Bennie Smith, who should never change his column name unless it's to "Friends With Bennies," this column is in desperate need of a name change. The initial name for the column came about because it was started when Lorwyn was fresh and Morningtide was around the corner; now, these sets are getting ready to rotate out of Extended for crying out loud. So please make suggestions in the comment thread, or else I'll be forced to choose something like "Johnny, Minus the Cash" or (worse yet) submit you to a Google Vote Thingy the next time around.
Glad to be back! Gonna be a mo before I get back into the swing of things, so thanks for bearing with me.
Until next week,
– dave
@davemassive on Twitter and dave dot massive at Facebook and Gmail