Playing The Best Deck: Innovation Is Overrated

This topic has been written on many times before but it is an important principle that is forgotten extremely easily (and often ignored entirely). It is somewhat of a pet peeve of mine when players believe they are taking the game seriously but delude themselves somehow into believing that piloting a known quantity is somehow an egregious error.
Another fair warning: If you don't like abrasively toned articles then you can go straight to the forums to complain now. For the freaks out there who have been telling me that I've gone soft and need to lay down the law again please enjoy.
Playing the best deck or at least playing an established archetype is nearly always the correct decision if your ultimate goal is to do well in the tournament. If your goal is to play the best version of your favorite archetype or to play something no one else is playing or anything besides purely "place as highly as possible in the tournament" then this article is not for you.
The people who already play the best deck likely know nearly everything that I am going to be talking about today. This is for those who scoff at "netdeckers" and people who try and brew a new deck for every single tournament week after week after week. Again only if you are trying to win. If you merely want to build decks to build decks then please continue doing what makes you happy but please recognize that some players have different priorities namely winning. That doesn't somehow make you "better" or some form of Magic Purist. There is plenty of room for a multitude of approaches to this magnificent game and judging one another for our different paths that lead us to it is a corrosive and pointless activity.
I've been considering writing this article for a while now but it was only recently that I was inspired to actually put pen to paper (or finger to key as it were). This is because of my recent interactions with the very awesome Lewis Laskin and Nick Spagnolo. Lewis likes to brew a little too much for his own good and Nick often plays whatever he comes up with. However this is basically the worst decision possible for little Nicky. You see even if the deck that Laskin comes up with is awesome Nick is still at a huge disadvantage when playing it because he will have gotten it very recently and wouldn't have had time to properly test it and learn how to play it. Lewis knows how his deck is going to work and how to play it because he was the one who built it and in building a deck you instill it with certain qualities attributes and abilities. There is inherent knowledge inside of a deck of Magic cards and don't try and tell me that there isn't.
I call it the Conley Conundrum; a player who is playing an off-the-wall brew but isn't the one who built it is not likely to do well. Nobody who has played a Conley deck besides Conley has ever really done well with it at its debut tournament. That's not a coincidence and he has been giving his lists to some players who are quite good at slinging spells.
So why does this happen? Well I've already explained that to you; decks have inherent knowledge. A decklist is not only a snapshot in time but an artistic expression. A painter knows what he wants to paint and paints it and then knows what it is that he painted. Another person looking at that painting may have many potential guesses as to what was depicted abstractly in the piece. Magic decks work the same way.
I feel bad for Nick and Lewis to a degree* because they are just better than nearly everyone else at these StarCityGames.com Opens but handicap themselves so often that neither of them put up very impressive numbers these days. Nick put up a Top 8 in Dallas and guess what? He was playing a fairly stock Caw-Blade list. That is all it takes. If you play better than your opponents you don't need fancy gadgets and high-variance medium-impact cards or strategies to compete. You just need a deck that can reasonably win and your brain.
*Less so because I suspect that Mr. Laskin would rather build a sweet deck than win with a known quantity. Although to his credit he did play Caw-Blade at the GP so he may be turning over a new leaf.
And I don't mean to pick on Nick and Lewis as the number of people who do this sort of thing is preposterous. I'm looking at you Adam Boyd. Look at the people who have been doing better in these events than anyone else: Gerry Thompson Alex Bertoncini Edgar Flores and myself. And we all play nearly the same deck nearly every week in both formats.
It has been said before multiple times and people still refuse to listen: it is far more important to do something powerful and know your deck inside and out than it is to have some slight technological edge which isn't even there most of the time.
Patrick Chapin and I—and pretty much every top-notch deck designer I have heard comment on it including Conley and Gerry—have always said that the hit-to-miss ratio for "brews" is much worse than amateur deck designers realize. It has to be by nature as if the good decks were obvious then they wouldn't still be undiscovered. I think that saying nine out of ten rogue designs are bad is extremely generous and I would put that number more realistically around nineteen of twenty. But let's say that it is nine out of ten. That means that if you brew a new deck every single tournament it will take you ten tournaments to come up with one deck that is remotely passable. Then it will be untuned and you haven't practiced with it that much meaning you probably still aren't going to win the tournament. And by the time you tune and practice with the deck it will have become a known quantity and a lot of your edge is lost.
That is a pretty depressing realization but a necessary one to make.
Not to mention that very few people understand the game at a deep enough level to build decks properly in the first place so that ratio may be even worse. And do you know how you get to know a metagame inside and out and learn how the best decks function? By playing the best decks.
Back in my days of (more) arrogant (more) youth I had essentially learned competitive Magic by playing Threshold in Legacy right before and right after the printing of Tarmogoyf. I used to say something along the lines of "Give me Brainstorms and Forces and I'll beat anyone with anything." And it was fairly true. The cards in the deck were so powerful and cohesive and I knew the deck so intimately and the metagame so well that I had an unbelievable win rate in the local Legacy tournaments with the stockest of stock Threshold lists.
I tried some brews every once in a while such as the Magus of the Jar combo deck and Landstill with Scepters but couldn't beat a goldfish if I tried my hardest. The lists were bad; I played poorly and just got crushed over and over. I had moved away from what had made me successful and was dearly punished. I had lost sight of the fact that as long as your deck has the capability to win tightness of play and familiarity with your deck are far more important than the actual cards used.
Plus building decks takes a lot of energy energy that you are much better off allocating towards working on your technical game.
They don't give you extra prize when you Top 8 with a rogue deck; you get the same thing as the guy playing the stock deck next to you. If all you want is the pride of doing decently with a deck of your own design then you have to acknowledge that fact as you are giving up nearly all right to complain when you lose to more powerful strategies (or strategies that the more powerful strategies would have beaten). Would you rather get second in a tournament with a stock list or tenth in a tournament with a rogue one? That is something you have to ask yourself when choosing what to play in an upcoming event.
Even if you are the first to play a deck that has an unbelievable technological edge over the field (which we've established is very unlikely and it will still be untuned and you'll be ill-practiced) you could still just run bad at a tournament and never know that you had broken it. Or you could do semi-well and then the deck is known and there was no point in doing all of that pioneering in the first place since everyone plugged in to the hive mind catches up immediately. So why are you trying so hard to be the first to do something when it is so extremely unprofitable?
Pioneers get arrows. Settlers get land.
Finding a deck with sound theory behind it to improve and tune and practice with is a much easier and more effective way to create decks than starting with a card and building around it or any other of the many approaches to deck design. Gerry Thompson one of the best deck designers of our era has made his career on doing exactly that. The idea that an innovative design has to be something crazy and off the wall with cards that nobody has ever seen played in Constructed is a fallacy. The greatest decks that he has designed have been slight tweaks to existing archetypes that give them a far more powerful endgame new dynamics and/or higher resiliency.
Those decisions are innovative and he puts up consistently impressive performances week in and week out. Finding the right counter suite or adding/cutting a color from a deck perhaps fixing a mana base and adding more of a certain type of card are all realistic and effective means to "create" a deck. You don't have to build around an underplayed card or add Flensermite to your deck in order to be on the cutting edge. In fact those things will almost always leave you behind the curve.
Sometimes the best deck in a format is hated out enough to not be worth playing but it is rare that the metagame gets hostile enough if the deck is as good as the best decks we've had in recent history. A deck like the Naya Shaman list that I made with Ryan O'Connor that he Top 4ed Dallas with could never be "the best deck" because if it ever became such everyone would just start playing Valukut and it would be vanquished. However Caw-Blade and its tricolored variants are so powerful and versatile that they really don't have any horrible matchups. A couple are slightly unfavorable but a lot are auto-wins or mirror matches where skill determines the winner.
If you aren't playing Stoneforge Mystic and Jace the Mind Sculptor in Standard then you had better have a very good reason. Either card availability issues (which can be solved with a credit card at this very website) or priorities other than winning at any cost.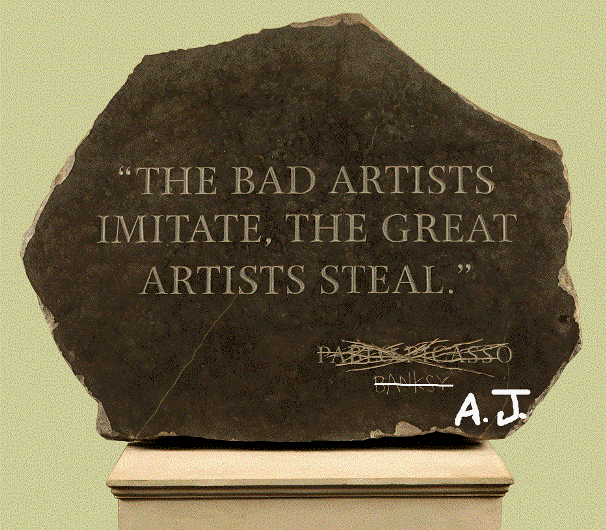 People insist on bringing knives to gun fights. And those always seem to be the people complaining about luck as well. In my experience this is not a coincidence. Just like how the person who works the hardest appears to get the luckiest the people who put themselves in poor positions before the tournaments even begin often seem to have been born under a bad sign.
Now I've played some capital-B Bad decks in my day but look at some of my best Constructed finishes:
2nd PTQ - Faeries in Lorwyn Block
5th Grand Prix Denver - Faeries in Lorwyn Block
19th PT Berlin - Zoo in Extended
8-2 PT Kyoto - tweaked 5cc in Standard
5-1 PT Rome - Boros Bushwhacker in Standard
5-1 PT Rome - Zoo in Extended
A handful of decent performances at SCG Opens - Caw-Blade in Standard
Notice anything? Whenever I played one of the best decks in the format and knew it well which I did for all of these finishes I did reasonably well. However I brewed quite a bit in between those tournaments and put up mediocre (at best) finishes with all but one of them (excluding Legacy) when I scooped the finals of an Extended PTQ playing a rogue U/W Thopter Control build. I then promptly 1-3ed the subsequent GP with the same deck in the same format after my three byes. The PTQ had just been soft.
I ended up talking a whole lot about myself in this article which will probably be taken as arrogance. I was merely giving examples from my own experiences in order to illustrate my points and sadly my own experiences are the only ones I'm intimately familiar with.
I suggest trying to release your stigmas surrounding playing "the best deck." I know one of the biggest reasons people dislike doing so is because they want to avoid mirror matches. However oftentimes the mirror match of the best deck is extremely skill intensive. I wouldn't want to play the Valakut mirror ever again but the Caw-Blade mirror much like the Faeries mirrors of yore almost always goes to the player with more experience. All you have to do is put in the effort.
The only ones who think that it isn't a skill intensive matchup are the people who lose it not even realizing that the loss was 100% on them. Don't be that guy; try and think through every single factor of each play and always reflect upon the decisions you make. That is how you grow. That is how you win.
-AJ Sacher