'Cause Running Shoes Are Made For Running - PT Nagoya 4th

Hello everybody
Most of you will not know me and I cannot blame you for that. My name is Fabian Thiele; I'm from Hamburg Germany and despite finishing 20th at Pro Tour Paris I still describe myself as a casual player. Most of the Magic I play is not DCI sanctioned since we organize our own private drafts with other players from Hamburg including Max Pritsch Nikolas Henckel and Tim Michels and sometimes accomplished Magic players like Jan Rue or Jan Moritz Merkel. I learnt most of my Magic lessons there with my teammates from Team Winterhood.
I played my first Grand Prix in Rotterdam Netherlands and played a total of four Grand Prix and never made Day Two. Last season I tried qualifying for German Nationals which didn't work out for me at all and left me with a Constructed rating of less than 1600. In November 2010 I won a PTQ for Pro Tour Paris and with my finish there I qualified for Pro Tour Nagoya.
But that's enough about me since you all would rather read about my experiences in Japan.
Preparation in Germany
As hinted above I'm not much of a Constructed player. I usually do not put much time into deckbuilding and testing but since Pro Tour Nagoya was coming up I and Max who qualified via PTQ Copenhagen decided we should take the time to learn a little bit about the format.
The first deck we tried was Mono-Green Infect with Glistener Elves Viridian Corrupters Corpse Curs and Putrefaxes and we were quite impressed by it. Once your opponent had five poison counters he had to play around Putrefax which is not that easy.
We tested it against a Mono Red build with Koth of the Hammer Kuldotha Phoenix Tumble Magnet and Tezzeret's Gambit. It seemed like quite a fair matchup because the red deck had some removal for Putrefax and the green deck had Viridian Corrupters for their artifacts.
A white deck joined our testing gauntlet that included Puresteel Paladin Porcelain Legionnaire and some Equipment. That deck crushed the other two which kind of surprised us.
After exchanging decklists and playing a few games we came up with something else: Birthing Pod. We tested Birthing Pod in the green infect deck and it played out so well that we wanted to build a deck around it. Sacrificing a Viridian Corrupter you could get a Corpse Cur returning the above-mentioned Viridian Corrupter to your hand. And since the green deck was on the offensive side most of the time the life you had to pay to activate Birthing Pod didn't matter all that much.
With that love for Birthing Pod we built a blue-based deck with Grand Architect Treasure Mage and Vedalken Certarch that tried to finish the opponent with an accelerated Wurmcoil Engine or Spine of Ish Sah. If you start with Vedalken Certarch Oculus and Grand Architect you will have six mana to spend on artifacts by turn 3. That is a huge deal and seems really unfair.
At first Tezzeret Agent of Bolas joined the Birthing Pod party but as we tweaked the list we found that trying to hit two blue sources for the Grand Architect on turn 3 and also black mana for Tezzeret Agent of Bolas on turn 4 was a little too much because we were forced to play cards like Sphere of the Suns and Mycosynth Wellspring which did little to nothing to actually win the game.
So we tried to find the mono-blue version of this deck and if you had asked me a week prior to the Pro Tour I would have told you I was going to play a Grand Architect/Birthing Pod deck. (You can find a decklist by Ryo Tasaki featuring Grand Architect and Birthing Pod here which is very similar to the list we ended up with.) But that all changed when we finally got to Japan.
Getting to Nagoya and Testing for the Pro Tour
We got to Nagoya on Wednesday which gave us two days of testing in the yet unknown country. For those of you who haven't been on an overseas flight: It's very tiresome. But I made sure to get a couple hours of sleep so when we arrived at Nagoya International I felt rested and tired at the same time. It was nine o'clock in the morning so we had a full day ahead of us. We met up with Simon Grtzen winner of Pro Tour San Diego 2010 at the baggage claim and got to the hotel using a Pokmon train. (It was actually a train with Pokmon painted all over it.)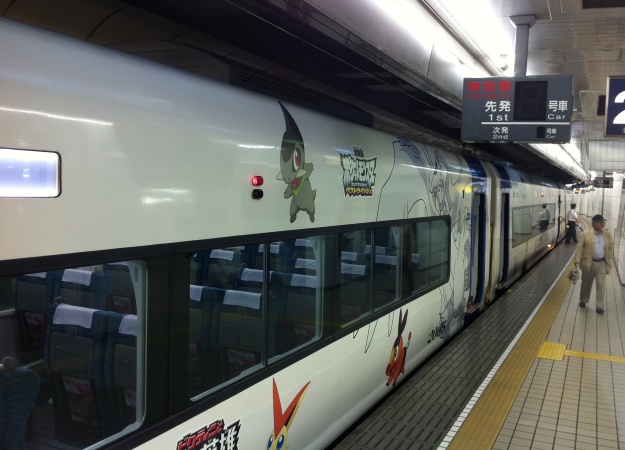 Our rooms were not ready so we decided to grab a bite to eat. Japan is quite Western-ized if you want to call it that so we were able to get some pizza and pasta at a restaurant. I was impressed by the service provided and surprised that giving tips is not customary in Japan. In comparison to typical German service that seemed like a double upgrade. The only part confusing me was that Japanese people do not speak English well so despite our ordering in English the waitress replied in Japanese.
We got back to the hotel and were able to check in. Once we got our luggage upstairs we met with a couple of other Germans also checked into the same hotel and started the final testing. We almost instantaneously agreed that the white deck with Tempered Steel would be the deck to beat since the results of the latest events on Magic Online suggested that. Also in the games we played the Tempered Steel deck just felt really unfair.
Max was still trying to get the Grand Architect/Birthing Pod deck going while the rest of us started playing Tempered Steel against everything else. As it turned out control decks were just too slow to beat those powered-up Memnites Vault Skirges and Glint Hawk Idols. By the end of the day I was 99% certain that I would play Tempered Steel at the Pro Tour.
After an intense day of playtesting and deckbuilding we went back to the hotel. Tired and jetlagged we went to sleep but only after checking the newest results of Magic Online. Tempered Steel was still all over the place.
The next day we met for breakfast and walked to the site Nagoya Trade and Industries Center. It was a 30-minute walk which was kind of nice because we got to see a little bit of Japan. One of the things that impressed me the most was that everything was so clean. There was no trash on the sidewalks and not even cigarette butts because smoking outside is only allowed when there's an ashtray. But that did not keep the Japanese from smoking inside restaurants or cafes.
When we arrived at the site a couple of other Germans were already playtesting so we sleeved alpha versions of our decks and started playing too. We agreed upon intensely playtesting the Tempered Steel mirror. I made an awful number of unnecessary mistakes in those matches which upset me quite a bit. But I knew I had the supposedly best deck in hand so what could go wrong? My roommate Max had settled upon the Grand Architect/Birthing Pod deck which I still liked a lot because it seemed broken enough whilst also having a rogue touch to it. Twenty matches and ten hours later we discussed the last slots of our decklists borrowed and/or bought the last cards we needed and headed back to the hotel.
We asked a cab driver how much the ride to the hotel would be. "1000 yen" he replied after we were finally able to communicate where we wanted to go. The taximeter showed 1080 yen when we arrived at the hotel but since the Japanese people are polite and service-centered all the time we only had to pay 1000 yen which was about the same amount we would have paid for the subway.
We headed back to our rooms and I started questioning the Tempered Steel deck. Wasn't there a Pro Tour in 2007 where everybody thought White Weenie was the deck to beat? It turned out that nobody with White Weenie did well because everybody included hate cards in the sideboard and maindeck. What if this Pro Tour would be the same story?
I and Till Riffert another German Pro Tour competitor played a couple matches of Tempered Steel versus the Big Red deck that could go turn 3 Koth of the Hammer off of a turn 2 Sphere of the Suns and turn 4 ultimate with Volt Charge. With Into the Core and Ratchet Bomb in the sideboard the Tempered Steel matchup seemed more than fine. I wasn't settled yet and was thinking about switching to Mountains last minute.
In the middle of playing we got some visitors. Tobias Grfensteiner and quite a few other Germans were still in need of some cards. "What are you going to play?" we wanted to know. "R/G hate" was the answer. "With a sideboard plan of thirteen land destruction cards to beat control decks" Tobi announced.
As it turned out the land destruction plan with Liquimetal Coating to get value out of Oxidda Scrapmelters and Viridian Corrupters wasn't good after all but they really got me and Max thinking: Are we playing the right deck? Half an hour later Max and I were settled: He would play Grand Architect/Birthing Pod and I would play Mono Red.
That's right. After two days of testing with the white deck I decided Koth of the Hammer and Kuldotha Phoenix would be the right deck for me. I was satisfied with the maindeck which consisted of basically only four-ofs but wasn't sure which fifteen cards would make my sideboard.
After a hasty breakfast the next morning we got to the site half an hour early with me still in need of a sideboard. Thanks to Simon I was able to pick up some Vulshok Refugees from a dealer for 300 yen apiece. The protection from red dude would help fight the mirror while surviving my own Slagstorms. With five minutes left till the start of the Pro Tour I wrote down the following decklist:
Creatures (7)
Planeswalkers (4)
Lands (25) It is a rather straightforward deck with no real innovation. It has burn spells Koth of the Hammer Kuldotha Phoenix—which is actually a burn spell—and more burn spells. As I already pointed out it is able to go turn 3 Koth of the Hammer into turn 4 ultimate which is one of the most unfair things you can do in this Block Constructed format. The only things that are troublesome are greater-than-four-toughness creatures especially Consecrated Sphinx. When your opponent resolves a Sphinx it is an automatic four-for-one because you need two spells to deal with it one of them being a sorcery most of the time so they even get to draw two cards on your draw step. My plan was to simply avoid the Sphinx and hope to play against Tempered Steel all day.
Day One Part One: Block Constructed
So this would be my second Pro Tour. I did some good testing with some great players only to switch my choice of deck in the last minute. Would it turn out to be a mistake? I had no more time left to think about that. After the decklists were collected we were off to:
Round 1: Matteo Orsini Jones playing Bant Control (On the draw)
I lost the first die roll of the day and he started with a Forest. I played a Mountain secretly hoping he would not play the deck he was playing. When he played Seachrome Coast and more blue mana sources I knew this was going to be a hard match. In game one I drew some burn but had to use two at a time on his Heroes of Bladehold. I had Koth of the Hammer waiting in my hand but was too afraid to play him because I knew if the red planeswalker got countered by Stoic Rebuttal I would be dead soon; I had nothing left in my hand to actually kill him. When he resolved the Consecrated Sphinx I waited two or three turns before I conceded because at that point even the red planeswalker wouldn't have won me the game.
Sideboard:
Out: 3 Oxidda Scrapmelter 2 Volt Charge 1 Kuldotha Phoenix 1 Red Sun's Zenith; In: 3 Vulshok Refugee 2 Tezzeret's Gambit 2 Dismember
I was on the play for game two and was able to put on some early pressure. A Koth of the Hammer got countered and it seemed like I was out of gas. He played some Viridian Emissaries and Mycosynth Wellsprings so he had a ton of mana. He even got a Sphinx out but all he did was play more lands. I think it was a Shrine in combination with a Red Sun's Zenith that did the last damage. I was confused when he didn't have any counters or something like Karn Liberated. I still feel extremely lucky when I think about how I won this game but I took it nonetheless.
In game three he took a mulligan but I was not able to get on the offensive again as he was able to stop my efforts with his Stoic Rebuttals Beast Within and Elspeth Tirels. Time was about to run out and I was left with a situation where I had the choice between a) animating a Phoenix and tapping out to deal four damage (he could block one Kuldotha Phoenix with his Sphinx) and b) playing a Koth of the Hammer and hoping for the best.
I reanimated the Kuldotha Phoenix and got in for four points of damage since one of my fliers was blocked by his Consecrated Sphinx. At seven life he drew and did nothing. When I untapped I had a Shrine in play that was five counters away from being lethal. I had a Koth of the Hammer in play and a Tezzeret's Gambit in hand. I didn't get my Kuldotha Phoenix back but instead played the planeswalker made six mana cast Tezzeret's Gambit so the Shrine of Burning Rage was three counters away from lethal damage drew two cards and got the red burn spell that I needed to force through those last points of damage. He didn't have a counter.
What a first match. I seriously think that I would win a maximum of three out of ten matches against Bant Control so I got really lucky. After the match Matteo opened to me that he didn't have a Stoic Rebuttal in hand.
Lesson learned: If you don't win the long game don't play around counterspells.
Round 2: Francesco Cipolleschi playing R/B on the draw
I lost another die roll and the game played out rather slowly. He played Geth's Verdict to get rid of my Oxidda Scrapmelters and Kuldotha Phoenixes whilst looking at my hand with Entomber Exarch. From my notes it looks like a well-timed hasty flier or a Koth of the Hammer finally took the game by itself.
Sideboard:
Out: 4 Slagstorm 3 Shrine of Burning Rage; In: 3 Vulshok Refugee 4 Dismember
I brought in the Dismember because I was afraid of Phyrexian Obliterator. In game two he made me discard a Koth of the Hammer with Despise and we both got in some damage. He was on the play so his Red Sun's Zenith killed me before mine was able to do the same to him. As the game progressed he didn't shuffle one of his Red Sun's Zeniths back into his library and we realized that only after he drew. We called a judge and both got a warning for Game Rule Violation.
In game three he took a mulligan and he didn't do much besides looking at my hand with his Entomber Exarchs. My score sheet says that he took the first single points of damage so probably some Phyrexian Ragers joined his side of the battlefield. A combination of Kuldotha Phoenix and/or Red Sun's Zeniths sealed the deal and I was up 2-0.
Lesson learned: Shuffle your library after using a Red Sun's Zenith.
Francesco would have a lot of bad luck on Day Two as he went X-4 with two rounds to go unable to draw due to unfortunate pairings. He ended up losing both matches thus not making Top 8.
Round 3: Peter Brozek playing Big Red on the draw
I lost yet another roll but the games went rather quickly. I took a mulligan in game one and he used Dismember on my Oxidda Scrapmelters and the first Kuldotha Phoenix but he was not able to handle multiple flying creatures with haste.
Sideboard:
Out: 4 Slagstorms; In: 3 Vulshok Refugee 1 Dismember
When he played out a Koth in game two I attacked and killed it with Kuldotha Phoenix only to play my own copy of the red planeswalker to win the game. I was up 3-0.
Lesson learned: He didn't have Phoenix in his deck so I just won ;)
Round 4: Josh McClain playing Tempered Steel on the play
I finally won the first die roll of the day which didn't help me win the first game. Although I was able to fend off his first round of attackers his Inkmoth Nexus got a power up from Tempered Steel and killed me.
Sideboard:
Out: 4 Sphere of the Suns 3 Koth of the Hammer 2 Shrine of Burning Rage 1 Volt Charge; In: 4 Dismember 3 Ratchet Bomb 3 Into the Core
In game two I burned his entire team and only took two damage. He was out of gas pretty soon and so we were off to game three.
I took a mulligan and didn't lose a lot of life. But I got up to nine poison counters before I was able to deal the last six points of damage.
Lesson learned: It doesn't matter how many poison counters you have as long as it's fewer than ten.
Round 5: Siegfried Kungurow playing R/G hate on the draw
I knew Siegfried since he is also from Germany and I also knew what he was playing so I mulliganed my first hand with multiple Scrapmelters and a Slagstorm. My hand of six wasn't much better. Game one was kind of awkward when he didn't find his third land and instead started discarding on turn 4. I didn't find my fourth land so I dealt three damage to all players with Slagstorm twice. When he hit his third land he played Beast Within on one of my Mountains and another one on my second Mountain on the next turn. With two Beasts on my side of the battlefield he tapped three mana for his own Slagstorm to kill my "animated" lands. Being low on life Siegfried died some time later to my burn spells which I was able to cast off my freshly drawn Mountains.
Sideboard:
Out: 3 Oxxida Scrapmelter 2 Slagstorm; In: 2 Tezzeret's Gambit 3 Vulshok Refugee
In game two he started beating me with Thrun the Last Troll. That guy is annoying as I do not have any answers in my deck. Not even a Ratchet Bomb would finish that guy off. I was able to kill him though with a well-timed Koth of the Hammer which I was able to keep alive to make some mana. I did the last damage with a Red Sun's Zenith.
So I started off the Pro Tour with a 5-0 start and felt pretty good because I had already achieved my goal namely to make Day Two. Unfortunately Siegfried would play 0-3 in draft and not reach the second day.
Lesson learned: If you have more burn than your opponent then it's a fair trade to exchange life for life.
So I went 5-0 in Block Constructed and was more than happy to have made it to Day Two already. I thought that if I was able to win one match in the draft my chances of finishing Top 50 and qualifying for Pro Tour Philadelphia were more than decent.
Day One Part Two: Draft
I sat down at the first draft table with Luis Scott-Vargas and other high-level players. I was nervous and excited at the same time. You can replay my draft here since the draft was covered.
A couple of thoughts on my draft: I probably valued the Blind Zealot a little too highly but I still think it's a decent card and it gave me the opportunity to cut black to the left. In pack 2 I was passed a Hellkite Igniter which I was more than happy to pick. In the third pack I got a first-pick Trigon of Corruption which is one of my favorite cards in Scars of Mirrodin Limited. I picked a Necrogen Scudder over a Turn to Slag because I felt my deck was more in need of good creatures than more removal. I probably should have taken the first Ferrovore over the Panic Spellbomb because it simply has more impact in almost every situation. With Enslave the Dragon and some decent removal in my deck I felt more than confident I could win at least one match.
This is what my first draft deck looked like:
Fabian Thiele
Draft 1 deck
Pro Tour Nagoya Limited
10 Swamps
7 Mountains

1 Perilous Myr
2 Myr Sire
1 Hovermyr
2 Blind Zealot
1 Necrogen Scudder
1 Ferrovore
1 Mortis Dogs
1 Pierce Strider
1 Nested Ghoul
1 Saberclaw Golem
1 Thundering Tanadon
2 Flameborn Viron
1 Hellkite Igniter

1 Panic Spellbomb
1 Ichor Wellspring
1 Burn the Impure
1 Geth's Verdict
1 Volt Charge
1 Trigon of Corruption
1 Enslave
Round six: Shintarou Ishimura playing R/W Suture Priest on the draw
In game one he decided to play first and had a turn 2 Suture Priest which made it hard for me to stabilize. Yet I was able to get rid of his Jor Kadeen the Prevailer that he played a little later and finished him off with one of my Flameborn Virons before dying to the Suture Priest. I think I would have lost if he had metalcraft when his multicolored bomb was still in play.
Game two he again had a Suture Priest on turn 2. He traded off some guys and I took quite some damage off of the Suture Priest and my own Necrogen Scudder which he even blinked away with his Glimmerpoint Stag. When I was down to one life I had the Dragon in hand unable to cast it.
In game three he didn't have the Suture Priest but other early aggression. I was able to get ahead on the board and when he played his Jor Kadeen the Prevailer I was able to Enslave it for the victory.
Lesson learned: Do not forget to make your opponent lose life when you have a Suture Priest in play because every point of damage counts. (Shintarou didn't miss a single one.)
During the match a Japanese reporter took notes as he was writing for the Japanese coverage. He very politely asked me after the match whether he was allowed to put up my name on their website. I agreed because this was my first ever "feature match."
Round seven: Kazuki Kimura playing B/W infect on the play
I won the die roll and decided to go first because I didn't know how aggressive Kazuki would be. My opponent played an interesting color combination for infect but his deck was quite impressive. He had multiple Lost Leonins and a Lashwrithe. I lost game one because he dealt eight poison damage in one attack with the Lashwrithe a Strider Harness a Tine Shrike and a freshly played Swamp. I even held back blockers because I knew that I could get blown out but unfortunately I didn't have any fliers on the battlefield.
Game two I was able to get rid of all his creatures while he continuously drew lands. I finished him off with the creatures I had left over and won the game with zero poison counters.
In game three I took a mulligan and got rather lucky. He had a Copper Carapace and two infect creatures. I dealt some damage in the early game had four lands in play and none in hand. I only had spells with converted mana cost six but I drew the Tanadon which kept him from attacking with an equipped infect creature because my creatures would kill him faster. After I drew two lands in a row he just wasn't able to beat my big threats.
So that's it. I was 7-0 in my second Pro Tour facing off Luis Scott-Vargas in the final game of Day One which would determine which of us would finish Day One with a perfect score.
Round 8: Luis Scott-Vargas playing U/W Control on the play
Luis won the die roll and decided to let me play first. In game one I took a mulligan and he had an early Gremlin Mine so my Thundering Tanadon had to wait until the Mine was gone. I was able to get in some hits with my Hovermyr which he eventually killed with his Gremlin Mine. I got out the Tanadon and I even got to hit him with a Flameborn Viron which brought him down to three life. But when he hit his seventh land he played a Hexplate Golem that outclassed each of my guys. He played a Treasure Mage a couple of turns earlier but didn't search his library so I knew what his big artifact threat looked like. I died a short time after that.
I boarded out the Thundering Tanadon and a Flameborn Viron for two Hexplate Golems against his Gremlin Mine and Hexplate Golem.
In game two Luis tried to poison me with a Blighted Agent an Inkmoth Nexus and a Chained Throatseeker. I was able to defend his attacks and clear the entire board by trading creatures and using my removal. A Flameborn Viron joined my forces and Luis started digging for answers.
It came to the following situation: He was at eight life having no creatures and an Inkmoth Nexus in play. I had the Flameborn Viron and a Hovermyr while at nine poison counters. Luis untapped drew a Twisted Image and cast it on my Flameborn Viron; he drew another card looked at it and smiled. He instantaneously cast his Turn to Slag on my Flameborn Viron. I moved to put my creature into the graveyard until I realized: It had six toughness. I said "Okay" while he frowned and conceded on his next turn. It was kind of nice to see that even the best players in the world make a mistake like that every once in a while.
In game three he again put the pressure on with his infect creatures. I tried to beat them with my removal and succeeded after some back and forth. I was left with eight poison counters after I got rid of his infecting army. With the board stalled I drew my Hellkite Igniter which singlehandedly took him from 20 to 0 within three turns.
Lesson learned: Five damage is not enough to kill a creature with six toughness ;)
Lesson learned: Even the greatest players make mistakes sometimes.
Wow I beat Luis Scott-Vargas the first time I ever played him. I was now 8-0 and the only one in the field with 24 points. I knew that on Day Two I would again play at draft table number one which made me proud and nervous at the same time. Some other Germans also made the cut for Day Two like the Grfensteiner brothers my roommate Max Pritsch Jonas Kstler Kai Fiedler and Till Riffert who kindly lent me most of the Bid Red deck that I played. Simon Grtzen got unlucky and finished 4-4 one match short of making it to the second day.
Excited and tired we took a cab home after we grabbed some Italian food at a restaurant nearby and went back to our hotel. When I knocked at Tills and Kais room I found them playtesting the Tempered Steel mirror. That's engagement on a Pro Tour level. We chatted for a while before we all went to sleep to get some well-deserved rest.
Day Two Part One: Draft
We got to the site a little ahead of time on Saturday and while all the other Germans checked the pairings to find their draft tables I headed off to the first table which was covered here.
I was lucky to open Life's Finale which is a great bomb in Limited. Although I mostly picked blue cards in pack 1 I first-picked a Red Sun's Zenith in pack 2. In the third pack I got a Trigon of Corruption again with a pair of Necropedes. I ended up with a three-colored deck with a lot of artifacts and my favorite card in the set Vedalken Anatomist. I also had some card draw and a Sphere of the Suns so I decided to run only sixteen lands which I still don't know whether or not was a mistake. But the starting hands I drew during deck construction were smooth enough so I sleeved up my deck and was ready to go. My deck had a lot of -1/-1 counter effects and also a Thrummingbird and a Steady Progress to proliferate. Here is what I ended up playing:
9 Island
5 Swamp
2 Mountain

2 Necropede
1 Thrummingbird
1 Riddlesmith
1 Myr Propagator
1 Vedalken Anatomist
1 Spin Engine
1 Neurok Replica
1 Moriok Replica
1 Rusted Slasher
1 Pith Driller
2 Pestilent Souleater
1 Spire Serpent
1 Lumengrid Gargoyle

1 Gitaxian Probe
1 Red Sun's Zenith
1 Psychic Barrier
1 Ichor Wellspring
1 Sphere of the Suns
1 Steady Progress
1 Tezzeret's Gambit
1 Trigon of Corruption
1 Life's Finale
The first three rounds of Day Two were intense to say the least. After the first match I did an interview with Bill Stark; after the second match I did the Deck Tech Video with Brian David-Marshall which you can watch here and my third match went to extra turns. Two of those three matches were in the Feature Match area so the first three rounds were very very tiresome.
Round 9: Tsuyoshi Fujita playing R/W aggro on the draw
This was actually a feature match which you can read about here.
Lesson learned: Sometimes it is not enough to know your opponent's hand.
After the game Tsuyoshi called a Japanese judge as a translator to tell me to keep my head up high and to keep concentrating. What a great player and sportsman.
Round 10: Logan D. Nettles playing U/W on the play
I lost the die roll and Logan decided to let me go first. The game was very close as I got in some hits with my Necropede. I was able to force through seven poison counters with the Necropede and some proliferation. I won the game by dealing lethal damage not poison though with two life left. The Vedalken Anatomist helped a lot to win that game.
After the first game Logan accidentally looked at my sideboard because we both had the same deck box. He felt very sorry for that but I still had to call a judge to give him a warning for "looking at extra cards." I felt a little bad about that because Logan seemed sincerely sorry and even acted kind of scared.
Game two I missed my fourth land drop while Logan played a Venser the Sojourner on turn 4. I couldn't keep him from using his -8 ability so I conceded and we were off to game three.
In the third game I decided to let Logan play first and while he missed his third land drop for some time I had a Gitaxian Probe and an early Vedalken Anatomist that allowed me to play the controlling game. I won the game at fifteen life.
Lesson learned: Accelerated planeswalkers are not fun to play against.
Round 11: Gaudenis Vidugiris playing G/U on the draw
Game one we both took a mulligan and it turned out to be one of the toughest games I ever played. As a matter of fact it was one of the toughest matches of Limited I ever played because Gaudenis is an extremely good player and he had a very good deck.
He had multiple Thundering Tanadons. I crippled them a little with a -1/-1 counter but when he attacked into my Spire Serpent I decided to take the damage three times. As it turned out it was the right decision because he had a lot of combat tricks including Mirran Mettle Withstand Death and Leeching Bite. I waited for the Spire Serpent to get the metalcraft bonus. With his tricks all taken care of I won the first game.
I boarded in a Geth's Verdict for the My Propagator since he mostly had big guys.
In game two I had to take two mulligans and I think that cost me the game. In the middle of the game I looked at his hand with my Gitaxian Probe. I saw a Creeping Corrosion in his hand so I had to stop advancing my board as my hand was stuffed with artifact creatures. Although the Corrosion didn't deal a lot of damage to my board I lost the game to his big creatures.
Game three was very intense again with him taking a mulligan. As we both took our time to make our decisions we went into extra turns with the following situation: He had a Tel-Jilad Fallen a couple of lands and thirteen life while I had a Spire Serpent a Rusted Slasher a Spin Engine and a Neurok Replica. On the second extra turn I realized that I could only win the game by attacking with the entire team. He blocked my Rusted Slasher and I found a way to beat him in case he didn't draw anything on his next turn: I returned my Rusted Slasher to my hand dealing seven points of damage because the Serpent lost metalcraft. Fortunately he didn't draw a creature so when I attacked with my team again he took a total of seven damage from the Slasher and the Spin Engine.
What a close match! I felt very confident after winning such an intense game.
Lesson learned: Playing tightly and playing around the cards that straight up blow you out is tough but doable.
I didn't have much of a break just like I didn't have long breaks during the draft. Now it was time for Block Constructed again and I was hoping to get two wins before I would get two losses as that would give me the chance of drawing into Top 8.
Day Two Part Two: Block Constructed
Round 12: David S. Sharfman playing Puresteel Paladin on the play
In game one he took a mulligan while I kept my hand of seven. I was able to get rid of most of his threats with either burn or Oxidda Scrapmelter. I won the game still having seventeen life.
Sideboard:
Out: 3 Shrine of Burning Rage 3 Koth of the Hammer 4 Sphere of the Suns; In: 4 Dismember 3 Ratchet Bomb 3 Into the Core
I don't think that's the best way to sideboard but to be honest I have never played this matchup before.
I lost game two because I made a big mistake. Having a Sword of War and Peace in play he tapped out for a Puresteel Paladin. I only had three lands in play. My hand was a Volt Charge two Slagstorms Oxidda Scrapmelter and an Into the Core. I had no more lands in hand so I thought it would be better to use a Slagstorm to kill the Puresteel Paladin. I untapped and drew a land. I decided to use my Oxidda Scrapmelter instead on his Sword of War and Peace. He then played another copy of the Equipment hitting metalcraft which allowed him to hit me for exactly lethal damage. I should have burned the Paladin when I could and after that I should have kept my mana open to use Into the Core. The way I played it I just lost to the Sword of War and Peace in his hand.
Game three is told very quickly. I dealt with two of his Heroes of Bladehold but just lost to the third copy of my second archenemy Consecrated Sphinx being the first.
Lesson learned: Don't allow your opponent's Puresteel Paladin to live and also be able to forgive yourself for making mistakes.
I was feeling quite unhappy after that match. But I thought about the events of the day and thought "How on earth could you have kept up your concentration after that tiresome draft?" I tried to focus again because I knew I still had a more than decent shot to make it to the Top 8.
Round 13: Yong Han Choo playing Bant control on the draw
I lost the die roll and when he played a Razorverge Thicket on turn 1 I had a feeling that this was not going to end well. I was able to bring him down to four life but he got it back with Elspeth Tirel so I lost to an unanswered Consecrated Sphinx.
In game two I kept a hand with Sphere of the Suns Koth of the Hammer and two lands. When he countered my Sphere with a Steel Sabotage and my planeswalker with a Stoic Rebuttal I was left with no more action and lost to the Sphinx yet again.
Lesson learned: Hard matchups are no fun to play.
Round 14: Ben Stark playing Tempered Steel on the draw
The games are again told very quickly. In game one I lost very quickly to a double Tempered Steel.
I boarded out my Shrine of Burning Rage which I later found out was a mistake.
In game two he had a Glint Hawk Idol and some other dudes. I tried to burn his team but when I aimed to kill his last threat—I think it was a Hero of Bladehold—he had a Mutagenic Growth and I just conceded.
Lesson learned: You cannot beat the nuts no matter how hard you try.
After the match I chatted a little with Ben who is in first place in the Player of the Year race right now. I asked him whether or not I played it correctly and we agreed that I should have used a Red Sun's Zenith instead of a Galvanic Blast in the early game. But we also agreed that it made no difference seeing how the game played out. Ben and Luis told me that there would probably be one person with 36 points making it to Top 8 and if I won the next two rounds I would be that guy.
After the round I talked to Simon Grtzen who had just arrived at the site. I told him how unsatisfied I was with my sideboarding against the Tempered Steel deck and after considering it for a while he gave me a great piece of advice. As I would board out three of my Koth of the Hammers I needed to have enough win conditions in my deck to actually be able to win the game after I burned the swarm of artifact creatures and Heroes of Bladehold. So I would have to keep in the Shrine of Burning Rage as it is an awesome win condition if you get to play it early on.
After talking to Simon I felt a lot better and tried to focus again in order to win the next two rounds.
Round 15 Shou Yoshimori playing Tempered Steel on the draw
We both took a mulligan in game one and with multiple burn spells I was able to stabilize at eleven life. I dealt the last seven damage with a Red Sun's Zenith enabled by the -2 ability of Koth of the Hammer.
Sideboarding:
Out: 4 Sphere of the Suns 3 Koth of the Hammer 2 Volt Charge; In: 3 Ratchet Bomb 3 Into the Core 3 Dismember
In game two I played a Shrine of Burning Rage on turn 2 and started killing his guys with my removal. He got in some damage and I went down to seven life. But due to the early Shrine and another Shrine I played a while after that I did 21 damage with my two Shrines of Burning Rage.
I probably won that second game not only because of the two two-mana artifacts but also because he drew a lot of lands.
Lesson learned: Sideboarding correctly is a skill that can be learned. Thanks Simon.
After the round I checked the standings to find out I was currently 9th playing the deciding game for Top 8.
Round 16: Robert R. Dougherty playing Puresteel Paladin on the play
This is actually a feature match which you can find here.
I'd like to state the situation that won me the game though:
When I was at six poison counters and five life he had no creatures one Inkmoth Nexus a Darksteel Axe and a Sylvok Lifestaff. I had a Shrine of Burning Rage with nine counters on it five Mountains and a Sphere of the Suns. My hand was Koth of the Hammer and Red Sun's Zenith and I knew I needed an answer to his manland. The Shrine of Burning Rage was the only option I had so I found a way to checkmate Robert.
I played Koth of the Hammer untapped a Mountain and passed the turn without attacking. He now had the option to either animate his Inkmoth Nexus and equip it with both of his Equipment to force me to use my Shrine of Burning Rage on his infecting land or play another threat. If he chose the first option he would have no way to stop me from using Koth of the Hammer's ultimate. If he chose the second line of play I would be able to deal twenty points of damage with the help the Shrine of Burning Rage the Red Sun's Zenith and the mana generated by the -2 ability of Koth of the Hammer.
Lesson learned: When you have the choice between being dead and dying slowly you probably lose the game.
Robert is a great guy and we talked before and after the match. He is one of the inventors of the board game Ascension which I am very fond of. If you have not played it yet you should really try it out. I promised Robert that I would buy every expansion there is which is not a hard promise to keep.
So I made it. I finished eighth in the Swiss of my second Pro Tour. I played and won a game of Magic for more than $6000 which still feels unreal when I think about it.
I will not write a lot about the Top 8 draft since all of it was covered by the official coverage.
But I have the feeling that I need to explain my decision to play Surgical Extraction. To be honest: I can't.
It was a huge mistake and every other card would have been better even a Forest. Nervousness got the better of me. I had 22 cards in my deck and thought I still needed another card. The options were either Septic Rats or Furnace Scamp. I thought that winning the game with poison was not very likely having only one other creature with infect in the deck so I ruled out the Rats. Looking at my deck it looked like a control deck so the Furnace Scamp was not an option.
Then my brain got out of hand: I looked at the Surgical Extraction and thought "Hey I like looking at my opponent's hand and deck and I can board it out games two through five. Looking at the deck doesn't do a lot in matches two and three but would be a huge advantage in the quarterfinals."
You can see that it doesn't make a lot of sense not now and not even back then. Playing an 18th land would have been strictly better but fortunately for me I never drew the Surgical Extraction.
Finishing fourth in my second Pro Tour just feels awesome especially because I now have 23 Pro Points so by simply competing in Philadelphia in September I'll make level 5 which is a great deal for me. I have a decent shot at making Rookie of the Year and if I pick up an additional three Pro Points in two Pro Tours and the National Championships I will be a level 6 Pro Player. I never would have thought that I would achieve this especially with so many good players around.
That's my report on Pro Tour Nagoya 2011. I hope you enjoyed it and maybe we'll see each other at Pro Tour Philadelphia.
Yours
Fabian Thiele
(flashfoe on Magic Online)