As you may have surmised from the title today we'll be discussing the metagame at the StarCityGames.com Indianapolis Standard Open. If you've reviewed the coverage then you'll already have a general picture of the format. As usual I'll be taking the tournament data listed here and charting it for entertainment and education purposes.
Let's dive in with the Indianapolis metagame chart organized by population. Note that I've only included decks with a population percentage exceeding 1% of the field and I've defined Tier 1 as any archetype occupying greater than 5% of the field. The win percentages listed at far right average out the archetypes' win/loss percentage excluding mirror matches due to their tendency to trend towards 50%. The counts on wins losses and draws however do include the results of all mirror matches.
The Indianapolis Metagame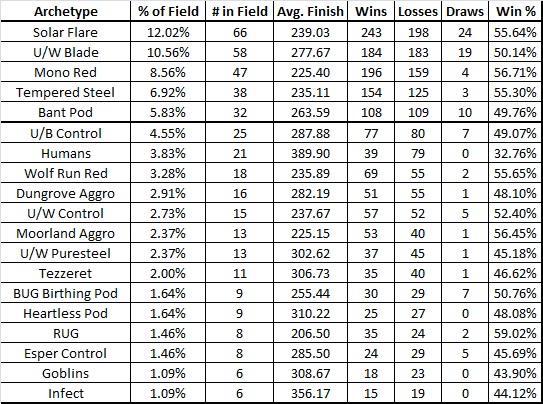 First off a review of the decks that transitioned into Innistrad Standard. Caw-Blade's successor was a lot less impressive but still an ever-present force but not the best of the expected returning cast members. Mono Red Tempered Steel Birthing Pod and U/B Control were all holdovers from the previous Standard format and they performed to varying degrees of success.
As expected the highly-touted Solar Flare archetype showed up in big numbers at the Indianapolis Standard Open. While the Top 8 doesn't reflect its success it was actually one of the more productive decks over the course of the weekend. Among the remaining "new" decks very little sticks out. Heartless Summoning whimpered its way through the tournament despite significant hype from a number of writers and players beforehand. In the end the gimmick doesn't appear to have found a successful home just yet. Grand Architect/Summoning feels like the right direction to go with Architect providing you a duplicate cost-reduction effect and giving the deck some much-needed redundancy.
Kessig Wolf Run received its first trot out for a night on the town splashing into a few mostly mono-colored red decks for its Fireball functionality. Moorland Haunt earned a slot or two in many creature decks but most didn't have enough men to take full advantage of the token machine. Humans touted as a strong and aggressive new tribe underperformed in a big way.
Examining the other numbers on the chart leads to another worthy note. A high number of draws among the top two archetypes indicates that Flare and U/W Blade are going to be decks you want to practice prior to piloting in any major Standard events as otherwise you'll be incinerating a lot of your equity by playing slowly. Solar Flare is complicated with a lot of complex lines so don't plan to play it cold. Bant Pod wasn't far behind these archetypes when comparing draws to popularity so watch out there too. Watching players pilot these decks during my coverage work I definitely saw the stresses and tough decision-making take its toll.
As an aside: if your opponents are playing these archetypes you should also maintain a watchful eye for slow play and not be afraid to call a judge to watch for it. It's a situation open for abuse and there's nothing wrong with trying to make sure you play an honest match of magic.
The last point of interest I'll note is that RUG while occupying a tiny percentage of the field boasted the strongest performance percentage by no small amount. While it's early to draw too much attention to small-scale success I do think it's worth keeping in mind. There's bound to be some kind of playable RUG deck in this format!
Solar Flare – 12.02% of Field – Won 55.64% of Matches

Best finish: William Allman 8th place
There have been a lot of different Solar Flare concepts and ideas posited over the course of Innistrad's early days but there's no concrete starting point yet. Snapcaster Mage or no? Which Titan should you be recurring? How essential is Mana Leak? Which spot removal spells do you play? Think Twice or Divination? These are all important questions that have only begun to be answered and they will be integral to defining Standard.
Looking at the matchups has thus become an exercise in theorycrafting. It makes sense to see Flare taking a strong lead against its U/W competitor as Sun Titan is a backbreaker in the matchup much as it was in Caw-Blade mirrors and Solar Flare is obviously better at putting the big man into play. Mono Red and Tempered Steel trounced Flare all weekend which is equally unsurprising—untuned control decks don't do well against honed aggressive strategies.
I'm a smidge surprised to see Flare beating the Bant Pod decks. Historically these archetypes have done well against slower control strategies but I'm guessing that the Sun Titan synergies with Oblivion Ring and Phantasmal Image are much more devastating when backed by Unburial Rites.
U/W Blade – 10.56% of Field – Won 50.14% of Matches

Best finish: Ricky Allaer 4th place
Equipping a small creature with Sword of Feast and Famine while holding Mana Leak open has become a Standard format tradition and U/W Blade continues its noble heritage. This is another blue deck suffering from Snapcaster schizophrenia but the answer has thus far been pretty positive for Snapcaster. His interaction with Sword itself is very strong and he carries the blade as well.
Against Tier 1 the archetype was mediocre. Solar Flare's tangible edge combined with few ways to handle Mono Red or Tempered Steel made it an embarrassing weekend for U/W Blade. Most of these negative performances likely resulted from the incorrect assignment of roles and the wrong cards—specifically failing to correctly respect Mono Red was a massive error as Timely Reinforcements is not the card it was in this metagame. It buys time but it's not a game-breaker with Koth and Phoenix offering so much staying power to the opponent.
The control elements available to this deck are largely the same as Solar Flare's but the deck has a much more aggressive stance that offers greater utility from Mana Leak. I expect U/W Blade to be a player especially once people start playing Blade Splicer. He's a strong beater against Liliana Stormblood Berserker and both Garruks not to mention an efficient body in general.
Mono Red – 8.56% of Field – Won 56.71% of Matches

Best finish: Davy Doberne 1st place
When your worst Tier 1 matchup is the mirror match…you're looking good.
The story of the Indianapolis Standard Open of course became the resurgent Mono Red deck. Lacking Lightning Bolt but boasting a number of new weapons including Stromkirk Noble and Brimstone Volley Mono Red ran roughshod all over the field before squaring off in a finals mirror match. Mono Red's control matchups boosted its win percentages a victory I'll attribute largely to Koth of the Hammer. The big man has displayed his authority and should become a mainstay in Mono Red edging out Hero of Oxid Ridge on slots. Hero will remain a player of course.
The easy splash of green for Ancient Grudge promises to make things much worse for Tempered Steel players and Mono Red likes all of its Tier 1 matchups a lot at the moment. Expect these numbers to dip as people realize that they should be playing Celestial Purge and giving Shrine of Burning Rage more respect but Mono Red isn't going anywhere yet.
Tempered Steel – 6.92% of Field – Won 55.30% of Matches

Best finish: Greg Norris 6th place
Tempered Steel's performance compares well to Mono Red's with the exception that it lost to most of the Mountain mages. The tradeoff did come at the gain of even better matchups against Solar Flare and Bant Pod so that's something to note. If you expect a lot of those decks in your metagame then Tempered Steel may be exactly what the doctor ordered.
Beating Mono Red is a tough nut to crack. You've got a lot of the same options that white decks are using especially Celestial Purge but if those Mono Red players decide to go with Rootbound Crags and Copperline Gorges alongside Ancient Grudge…it's going to be a tough fight. The most interesting solution I've heard thus far is definitely Indomitable Archangel which is worth trying—Ari Lax ran it at Grand Prix Pittsburgh to some success.
As a result of the problematic Mono Red matchup currently a very popular deck I can't really recommend running Tempered Steel without a reason to expect Mono Red's decline.
Bant Pod – 5.83% of Field – Won 49.76% of Matches

Best finish: Tristan Woodsmith 26th place
Before I continue a disclaimer for bias: I don't like Birthing Pod decks. I think they look gimmicky and vulnerable and just looking at them tends to give me a headache as I try to puzzle out the goals. They're often very complex for what feels like a small strategic edge which is a poor exchange over the course of so many rounds. I respect the why and how of other people enjoying the archetype but I personally don't.
That said Birthing Pod got thrashed this weekend. Tier 1 took it to school with the mirror and U/W Blade being its best matchups at a straight 50%—awkward. Ancient Grudge emerged in a number of archetypes as well making it difficult to keep Pods around for very long. The worst matchups appeared to be Solar Flare as discussed previously and Tempered Steel. Gerry Thompson described "the Tempered Steel problem" himself in his tournament report and it's tough to cover all those angles with Birthing Pod—you only get one activation a turn after all.
Unless you know something others don't as Reid Duke actually might or just really enjoy playing the Birthing Pod deck I'd steer clear. While this matchup only reflects the Bant list none of the others I checked on fared particularly well either.
Nashville and The 2011's
You'll be reading this article on the eve of The 2011's and the Nashville Standard Open has come and gone. That coverage showcased the birth of Wolf Run Ramp piloted by Brian Sondag to victory and recounted here. I don't have the full metagame data for that event organized yet so I can't write much about how these archetypes have continued to evolve and perform. I can say that Wolf Run Ramp is a game-changer—it will have drastic and long-lasting effects on the Standard metagame. Inkmoth Nexus will force people to veer away from Go for the Throat while the mana-heavy Primeval Titan deck will also force a lot of people to go looking for Flashfreezes not Mana Leaks. In control decks I foresee Grave Titan becoming the fatty of choice as players move toward Doom Blade and Dismember making him better and better. Adapting to this archetype will be an interesting challenge for all involved.
Expect Ancient Grudge and Geistflame to gain some stock and Ghost Quarter too—although I don't think Ghost Quarter is a very good answer. Memoricide is pretty big game on Primeval Titan and it can neatly enough answer their Garruks as well if that's what ails you. Sword of Feast and Famine is very strong against the archetype demanding an immediate answer. From the side of Wolf Run Ramp Autumn's Veil may merit consideration as a defensive measure while the mirror will remain very tricky. Sword is the obvious way to get ahead but there may be other options. Splashing colors such as black for Memoricide could yield results and there are other green cards of note worth playing.
I'll be playing in my own 2011 State Championship in Richmond VA as well as the PTQ on the following day. I'm not quite sure what I'll be battling with yet but I'm pretty sure I want it to involve Sword of Feast and Famine!
-Glenn Jones
Coverage Content Manager