So I was going to play the U/G ramp deck I had been testing out but with aggressive decks rampant I couldn't do it. G/W is literally everywhere on Magic Online so I was forced to try and play something different. Cliff Sweeney inspired me at my local FNM with Delver of Secrets and Mayor of Avabruck. He had them both in the same deck and it seemed sweet. I asked for his list but I ended up getting it a little late so I had to make my own version from what I remembered and what I thought would be good. This was a test run of the deck and I believe the deck to have great potential. Mayor of Avabruck is absolutely amazing.
I don't play Magic Online and these were my first videos. Take it easy on me PLOX! :]
I start by saying we are on our second match in this video because I recorded my first video in the wrong resolution and you couldn't see what I was doing. Can you guess what I played my first match? You guessed it G/W.
This first match I got lucky with Ponder and had my opponent play an Oblivion Ring that wasn't really needed. I was able to punish him for that and come back and win.
Nothing too exciting here except me stumbling on how to sideboard; at this point I'm really not liking Slagstorm. I wish it were anything else.
I make a small mistake here by not playing Mayor before attacking. Luckily I don't get punished for it. Again I struggle with the sideboard. I hate being in this situation. It's obvious that the sideboard was made in haste. This is why you need to put thought into your sideboard.
Game 2 when I cast Image to copy Howlpack Alpha I tap my Sulfur Falls instead of Hinterland Harbor screaming at my opponent that I have no red spells in hand. This is minor but something you should not do. You don't want to give your opponents any information.
After this match I play yet another G/W deck and decide to not put it up. I think you've seen enough of RUG vs. G/W.
Week 2
THE POWER 5
Last week's Power 5 card was here.
This time I will be showing you a slam-dunk first pick. Here is the blue power card!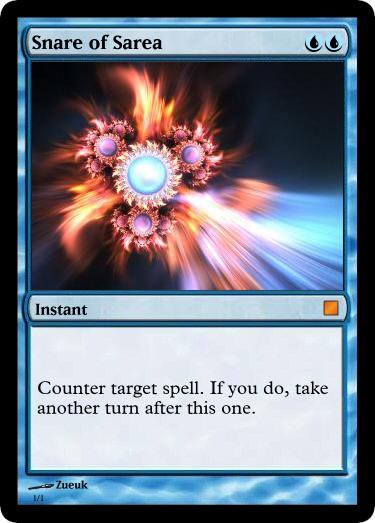 Okay stop drooling…
Yep a first pick for sure! It's not strictly better than Mana Drain but it's kind of the opposite. Whereas Mana Drain is insane early game Snare gets better and better the later the game gets.
Thanks for watching! If you'd like me to do more of these in the future let me know. If not I'll continue writing. :]
Ali the Devastator