This coming weekend will be Dark Ascension's debut in Standard when StarCityGames.com comes to Richmond, VA for the Open Series! I've been brewing and testing a lot over the last few days in preparation for the event, as well as for the coming Pro Tour in Honolulu next week. With Standard as the format on everyone's mind, let's start this week by taking a look at exactly what decks are dominant and some potential candidates that could eventually take the reins. While it's no secret that Delver was Standard's current best deck, Dark Ascension could really shake things up!
Last week, with a bit of luck on my side and some tweaks to Ye Olde Delver, I took down the Standard Open in Washington, D.C. While I wouldn't play the same list card-for-card in the new format, I think it is a great starting point to begin with when testing for the new format. If you have a sweet brew in mind, I would probably throw it up against some form of U/W Delver first and foremost. If you can't beat that deck consistently, then you should probably move on to something else or tweak it until you have a reasonable percentage. Delver really is that important to the current metagame.
One of the biggest draws to U/W Delver is its ability to adapt to anything that the format might throw at it. As we discussed last week, the deck has taken on a lot of various iterations since its Phantasmal Dragon days. Each week, someone finds something new to throw at the deck, and each week the Delver deck fights back. When Day of Judgment was all the rage, cards like Phantasmal Bear and Lord of the Unreal were enough to just run people over. Unfortunately, that didn't last long when Gut Shot and Arc Trail started tearing them down. To fight it, Geist of Saint Traft became the baddest mother on the block. Then, the hexproof theme was pushed even further with Invisible Stalker and Runechanter's Pike. Once people started fighting back with cards like Whipflare, it was time to whip out the Porcelain Legionnaires. But I digress.
So what's next? The answer might be to look at what else got better, rather than what cards people will have for you. For starters, Humans just got a little harder to deal with thanks to this little gem: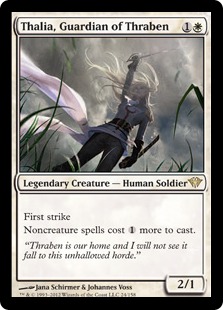 While it might not look that impressive on paper, and it dies to Gut Shot most of the time, I can assure you that this chick is not what you want to be staring at on turn 2 when you're on the draw. If your opponent opens with Champion of the Parish into Thalia, and you don't have a Gut Shot handy, you just might be actually/literally/figuratively dead. While you have a few ways to help contain this kind of opening, Thalia forces you to pay much more mana than you would really like for very little cost to her owner. A 2/1 body with first strike for 1W is a bargain. The built in Force Spikes are a freeroll.
While Thalia isn't quite that backbreaking for Delver decks thanks in part to Gut Shot, it does make most control matchups quite laughable for Humans. While Humans is already resilient against control's mass removal thanks to Doomed Traveler and Moorland Haunt, Thalia presents them with another kind of problem entirely. Imagine if you were playing a deck with Think Twice, and your opponent cast Force Spike for free on every one of your spells. Not looking so good, right? On top of that, she's a Human, which means she interacts favorably with Champion of the Parish. While Thalia forces the Human player to build the deck around her, playing fewer cards like Oblivion Ring and Mana Leak, most of the time she is just game over against an unprepared opponent with anything resembling a slow draw.
With Thalia fitting right into Humans, you can imagine that it will help increase the popularity of cards that do rather well against Humans. This means that cards like Ratchet Bomb, Gut Shot, and Whipflare will probably see a slight increase in popularity. This also means that Porcelain Legionnaire will probably continue being pretty good (but not amazing), and Mutagenic Growth will get a lot better. Mutagenic Growth is a card that I've been heralding as the next Gut Shot for a few weeks, but I'm not sure just how powerful it will be in the new Standard. While I was only brave enough to play a single copy in my Standard deck last week, I just might jam more in order to protect my vulnerable creatures from opposing Gut Shots and Whipflares. When people are moving towards Whipflare and away from Slagstorm, Mutagenic Growth just gets better and better.
So, currently we are under the impression that a few things need to change in order for U/W Delver to stay on top. Do we need to add the new Squadron Hawk to the mix to spice things up?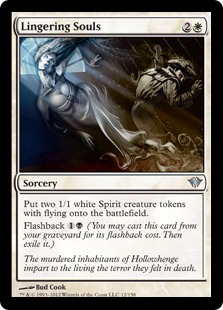 While this card is fine in its own right, I'm just not sure if it's worth splashing another color. While some of you will almost instantaneously jam it into your deck alongside Darkslick Shores and Drowned Catacombs, I don't think you could make a worse move at the moment. The current versions of U/W Delver are already prone to mana issues, since it is so important to have untapped blue mana in the early game. If you start cramming lands into your deck that are conditionally untapped and you begin by cutting Islands to make room for them, then that is just a disaster waiting to happen!
While Lingering Souls is quite absurd, I'm not sure that the current versions of Delver are really where you want to put this card. I think that the similarities between this card and Squadron Hawk are fairly accurate since they give you the same amount of flying power for a similar amount of mana, but the vulnerability of this card to Ratchet Bomb cannot be ignored. If I know the brewers of the format, Ratchet Bomb just got a lot better for those Sun Titan decks, and that is definitely something to keep in mind when trying to present threats to a control deck. If they are able to take care of your entire arsenal with a two-mana sweeper, then something is probably wrong.
While Lingering Souls might not be the answer everyone wants it to be, it could certainly make other archetypes more powerful and even be viable in Standard. Intangible Virtue was already seeing a decent amount of play in various Standard and even some Modern decks. Now those pesky B/W Token decks really have something to write home about. While the tokens themselves can be easily dealt with via Ratchet Bomb, the trick is to put your opponent into a situation where they are forced to use it too early. If they are blowing their Ratchet Bomb to kill half of Lingering Souls because Intangible Virtue is kicking their butt, then that's good for you!
Next up, we have a card that I'm incredibly excited to start brewing with: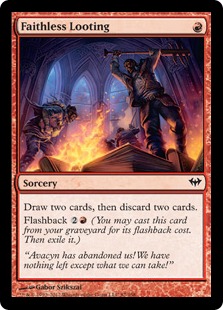 Can we say Careful Study? Can we say strictly better than Careful Study? Well, to be fair, it's in a rather awkward color. This is definitely a card that could singlehandedly build archetypes across a variety of formats. Modern didn't really have a solid discard outlet for a single mana, but now they've got a bit more to work with in Reanimator. In Standard, we've got Unburial Rites, which has already seen a bit of play in various Esper Control lists. Alongside the traditional Forbidden Alchemy, decks planning on bringing back a Sun Titan or Elesh Norn, Grand Cenobite have a sweet new toy to play with. Combine those with Desperate Ravings and you just might have a winner on your hands. While it is not impossible to beat a resolved Elesh Norn, it is no picnic for the average aggro deck.
For reference, here is the Faithless Looting deck we were testing out earlier, with fairly surprising results:
Creatures (9)
Lands (25)
Spells (26) While we didn't change numbers around too much, we did start with a much worse version that relied a bit too heavily on Liliana of the Veil. Thanks to the double black in her mana cost, it made things very awkward and difficult to cast. This version, while still a little rough on mana at times, is built so that you can cast your spells more efficiently. The lack of Shimmering Grotto should signify that Evolving Wilds is infinitely better and gives the deck a much smoother manabase in the process. Alongside Sun Titan, you can even ramp up to Elesh Norn quite easily.
While the numbers are a bit off and I'm sure there are some other sweet cards we could try out, the deck has a lot going for it. There were a lot of situations it could present that an aggro deck just couldn't get out of. With so many early sweepers, the deck was able to buy enough time to cast Unburial Rites on a Sun Titan or Elesh Norn, virtually locking up the game in the process. Whenever I cast Faithless Looting, it almost felt like cheating, and flashing it back on the third turn felt like you were paying its actual mana cost. Desperate Ravings, while probably the weakest draw spell in the deck thanks to the random discard element, was still carrying its weight. It helped create card advantage when you were grinding against Moorland Haunt and allowed you to find sweepers or mana when you were lacking one or both. With so many large, dead draws, playing eight spells that can smooth out your draw is absolutely necessary.
While the removal package is pretty tight, I'm not quite sold on it being perfect. Ratchet Bomb is sweet and allows for some interesting situations with Sun Titan, but it doesn't really do all that much against a Porcelain Legionnaire. This deck doesn't have any targeted removal, which might end up being a real problem should people begin to start playing real aggro decks again. Whipflare is pretty cute, but it just can't do anything against Tempered Steel, which is probably one of your worst matchups. This leads me to believe that Whipflare might actually just be worse than Slagstorm, but Thalia might make that argument null on her own.
The two Day of Judgment are a catch-all reset button to buy you enough time should your opponent get cute with Hero of Bladehold or something similar. Daybreak Ranger decks also have an incredibly difficult time beating a resolved Day of Judgment, since they will almost always have to tap out to cast Thrun, the Last Troll. While you might get screwed on occasion thanks to his regeneration, Phantasmal Images can work wonders when your sweepers can't get the job done.
Speaking of Phantasmal Image, I was really trying to play more in the deck, but there just isn't a ton of flexibility in the numbers. You need to play a decent number of reanimation targets or else your Faithless Lootings will start becoming bricks, and you really can't afford that in a lot of the aggro matchups. Your best hope against a lot of decks is to try and nut-draw them with Unburial Rites into a large monster on the fourth turn. Playing more fatties helps increase this chance, but your draws that don't involve a Faithless Looting will occasionally look absolutely terrible. While Phantasmal Image can help alleviate this problem to an extent, thanks to his ability to actually be cast in a reasonable time frame, he doesn't always do enough. Sure, he will occasionally take care of a pesky Geist of Saint Traft or Thalia, but it's more likely he will rot in your hand until you start to go nuts with Sun Titan.
The singleton Inferno Titan might be terrible, but we wanted to try out a different reanimation target that could end the game quickly. Elesh Norn is better as a sweeper, but Inferno Titan is much better as an attacker. The deck is packed pretty high on the red sources, giving you the ability to get massive should the right time come. With so many draw spells, it shouldn't be that difficult to find him should you need him. There are also some matchups where Elesh Norn isn't enough to finish off all their creatures (thanks to Honor of the Pure). In those corner cases, Inferno Titan can come in handy.
While we haven't really experimented a lot with the deck just yet, I think this is definitely a great place to start. Thanks to Faithless Looting, this could potentially become a whole new archetype. Reanimator hasn't really been a thing in Modern yet, and I haven't seen someone cast a Zombify since Angel of Despair was in the format. Thanks to Faithless Looting, you could see a huge increase in the playability of Sun Titan, Elesh Norn, and any other fatty that people really want to cheat into play. The trick is picking creatures that will still maintain value should they get Vapor Snagged, but that's a different story altogether.
With Faithless Looting getting my sticker of approval for "brew card of the week," I'm still in love with Geist of Saint Traft.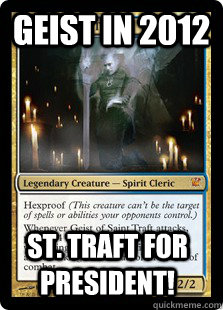 While I don't know if he's right for this country, he's still got my vote!
With that said, Geist of Saint Traft is still the man (or ghost I guess), and I've never seen someone beat a Geist of Saint Traft carrying a Sword of War and Peace. The biggest problem is that he is still (usually) vulnerable to sweepers the turn he hits play. So what do we do about it?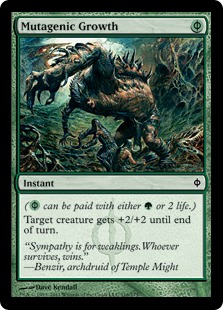 While this card can be awkward at times, it can win games you have no business winning. While doing its best Mental Misstep impression, Mutagenic Growth can counter Gut Shot and even trade with opposing Delvers or Champions of the Parish. While people know you can potentially play it, few people will play around it or even see it coming to begin with. Mutagenic Growth is just another techy card of the week that may save your bacon and could end up being terrible once people realize it's not just a cruel joke. Geist of Saint Traft and Delver of Secrets are both incredibly vulnerable to Whipflare, and Mutagenic Growth can save them for a paltry two life! I'm not suggesting you play the full four Mutagenic Growths in your Delver deck, but rather you try them out and see just how good they can be against a field full of damage-based sweepers and Gut Shots.
While Mutagenic Growth is not always amazing, it can turn Snapcaster Mage into Flame Rift when necessary. There have been multiple games where my opponent thought they were going to stabilize at a reasonable life total, only to have Mutagenic Growth and Snapcaster Mage ruin the party. Mutagenic Growth also allows your Geist of Saint Traft to jam into the red zone with little fear, since most people will be inclined to block with their 2/2s and occasionally even their Hero of Bladehold (woops!). With Snapcaster Mage for the rebuy, you can make combat incredibly awkward for anyone trying to trade creatures and even worse for anyone trying to do combat math in a racing situation. While Mutagenic Growth will rot in your hand on occasion, I'm not sure it will be any more often than Gut Shot or Vapor Snag, both of which can be very bad in a lot of matchups. With the format pushing a lot more towards damage-based sweepers rather than Day of Judgment, you can bet that Mutagenic Growth will punish its fair share of unsuspecting opponents.
For reference, here is a sample Delver decklist:
Creatures (16)
Lands (21)
Spells (23) While probably not quite perfect, I'm more than likely playing something very similar to this in Richmond this weekend. The singleton Negate in the maindeck is to help out against the various Curse of Death's Hold decks that tend to try and ruin your party. Dissipate is a bit intense on the mana front, forcing you to bottleneck yourself in certain situations. With Negate, you can safely cast Delver of Secrets or Porcelain Legionnaire much more easily. While Negate isn't anything special, it acts as a fifth Mana Leak against the decks where you really need a fifth one. Other than that, it might randomly catch people off guard, which is what you need to be doing with Delver in the first place. People expect the same 75 week after week and prepare to beat it time and time again. If you continually throw some well-thought out technology at them, it will occasionally stick.
Other than that, there aren't a lot of odd choices, though the odd ones do have their place. As mentioned in last week's article, a lot of the sideboard cards weren't holding their weight, and I want to try out some new goodies. Steel Sabotage could help out against a variety of matches and is even fine in the mirror for countering Sword of War and Peace, which can be an absolute game-breaker.
Anyway, I should be back later in the week with a bit more insight into Standard and hopefully some updated lists after doing more testing. I really hope you guys liked the Faithless Looting deck, as I'm looking for some major help! It is in desperate need of some tweaking. While there aren't a ton of cards from Dark Ascension that are going to shake up Standard, time will tell which ones will make the biggest impact. We have a new planeswalker, some cool new lands, and even a hate card that is Legacy-worthy. We could be in for quite a bit of fun. Just you wait.
Thanks for reading.
Todd
strong sad on MOL
twitch.tv/strong_sad for streaming!