Hello folks! Having a full collector's set of a Magic expansion is cool. Since the word "collectible" was first added to "card game" we've had people putting together full sets. Of course the way in which many put them together has changed. I can just see what cards I'm missing and then order the rest from StarCityGames.com and boom I've got a set with about fifteen or twenty minutes of work. If I don't want to put in that much work I can just order a complete set complete with mythics.
It used to be a major feat because you had to trade for all of the cards. While you can still do that if you really want it's lost its mystique. In fact a lot of people just compile sets online and redeem them for real life sets. I often do that. I'll just check my cards to see if I can build a set with fifteen or twenty-five tickets and if I can there's no reason not to acquire the cards so I can have a real life set. Sometimes I've done it for the cards such as my Ravnica or Future Sight sets. Other times I do it to add a full set of cards to Abedraft without any hitch (like I did with Shards of Alara). (Abedraft is a giant draftable box of virtually every Magic card ever made). Once in a while I keep the redeemed set together in the hope that someday I can play a Rotisserie Draft.
A Rotisserie Draft is a draft around one set (or sometimes a whole block) that has one of every card in the set available to be drafted. Instead of passing cards around you gather around a table. In a snaking draft order everybody grabs the card of their choice. I love Rotisserie Drafting but it's rare you can find the cards and the people together in one place so I've only done it twice. Because all drafting information is known it creates a powerfully challenging environment.
I have a set of Champions of Kamigawa I redeemed a long time ago just sitting and waiting. I've never gotten a chance to Rotisserie it but I've wanted to for years. Finally last week I got that chance and it was worth it! Today I want to share that draft with you and how it went from beginning to end. It should be a lot of fun!
I managed to grab three other people to agree to a Rotisserie draft but I felt we needed another. In a four-person draft if everyone drafts a two-color deck then two colors are not fought for. That means two players are fighting for both of their colors but the other two players are just fighting over one color and it disrupts the draft. Having a fifth person means that every color is split twice although you do have to watch for people looking for a splash. I managed to find a fifth and we moved into the drafting!
If I'm drafting in the last spot and have two picks in a row I can look for splashes. Perhaps I have a solid U/W deck I might want to splash red and grab Yamabushi's Flame and Glacial Ray before someone else takes them. I need to look for cards that shout "Splash Me!" to my enemies and take them off the table.
I had a pre-draft strategy. I wanted a Black/Green Spiritcraft deck. I knew what I would draft early to force my colors. I didn't want to draft first at all because I didn't want to possibly be the last person to select my second color. I didn't know if any of my competition were drafting with their eyes towards a certain deck. I was. I had certain cards I needed to draft in order for the deck to work. Here were my targets:
1). The engines: Kodama of the South Tree Thief of Hope and Soilshaper were the good triggers.
2). The cogs: Hana Kami Long-Forgotten Gohei both aspects of Iname Devouring Greed.
3). The wheels: As many soulshift creatures as I could snag.
4). All of the good arcane spells especially the removal ones. Kodama's Reach Rend Flesh Swallowing Plague Kodama's Might etc.
5). As many spirits as I could shove into the deck
Now that you know my plan and my targets let's move to the draft.
Here is the entire set of Kamigawa laid out on my office table with me looking over the cards: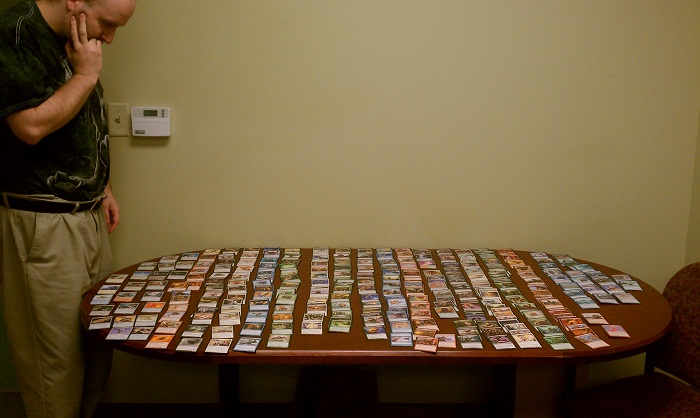 Here is just a view of the cards from a different angle: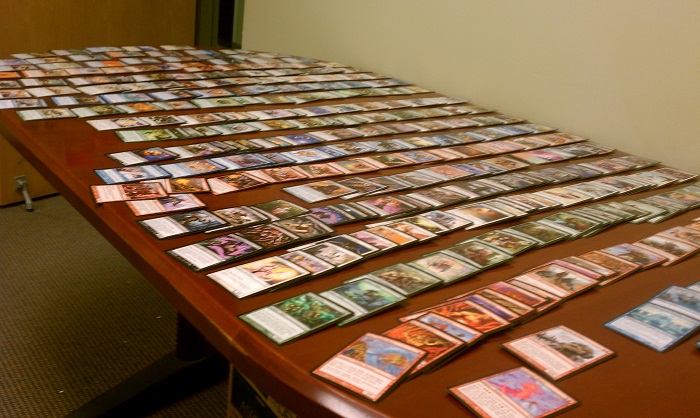 We rolled for who went when and I had a solid place:
Steve
Mike
Hamir
Abe
Liz
(None of their names are actually their real names. I don't know why but they thought it would be cool if I changed their names in the article. I guess some people still want to be anonymous.)
From third place I could force my colors (hopefully). Here we go:
The First Five Rounds
Steve went first and took the card we all expected to go first—Kokusho the Evening Star. There was no question that the Dragons should all go very early. In fact Mike took Keiga the Tide Star and Hamir took Yosei the Morning Star as expected. This was perfect. Now I could force the draft and shake things up. I grabbed…Kodama of the North Tree. Why? With a triple green it said "This is my color seriously." If my plan didn't work it was a perfectly fine beater. It also pushed back the Jugan the Rising Star pick. Knowing that you were facing another person who grabbed triple green I was making Jugan and the other green person less likely to want to embrace the color. If Jugan was around after a few rounds I might've nabbed it since it is a Spirit after all. But my focus was on other cards and first-pick Kodama forced colors without giving away my strategy. It was a perfect choice. With red wide open Liz took Ryusei the Falling Star and the first round was done.
By the end of the first round we knew a lot. Everybody took a five- or six-cost creature that was one of the best ones in their color and everyone chose a different color. Liz now had the toughest pick in the draft. If she took her second color now then she could choose who to fight with. However it could be a while before she picked again and by then the best red in her color could've disappeared. A simple pick of two burn spells really dashed the color. On the other hand she could get the second best card in another color. You can go either way and justify it but she took Glacial Ray which I totally understand. I was next and I knew exactly what card I was taking: Rend Flesh. By taking Rend Flesh I was sending a signal that black was not open. I had both of my colors set. I also wanted to send a flare to Steve. I wanted him to feel comfortable taking some removal off the table now but not in a way to hurt me. Black in this set is loaded with removal and we needed to move these cards off the board before someone moved in with a splash.
Hamir was the second player to find another color. He took Meloku the Clouded Mirror and you could see Mike actually grimace as he wanted Meloku. Mike decided to put a stake in another color and grabbed Godo Bandit Warlord. Steve took Befoul and ended the second round. (Thanks Steve for following my plan.)
The third round began and here were our colors—Steve B Mike U/R Hamir W/U Abe G/B and Liz R. Steve needed to decide if he wanted to fight me for both black and green or just take another black card. He did the expected and slid into white. He drafted Konda Lord of Eiganjo. Mike followed with Sire of the Storm and Hamir selected Gifts Ungiven. It moved to me and I had a few choices. Since Liz was clearly going to be green I wanted to remove a choice from her. Kodama of the South Tree joined my team. Liz rallied with Jugan and we ended the round.
Everybody was in two colors and things were taking root. Liz began by taking Kumano Master Yamabushi. I took Swallowing Plague. Hamir added Hikari Twilight Guardian to his stash and Mike took Tenza Godo's Maul. Steve was the one who bursted the bubble and grabbed Sensei's Divining Top. The fifth round began with him stealing Rend Spirit from the black cards out there. Yamabushi's Flame and Eight-and-a-Half-Tails left the board. I considered and selected Kodama's Reach. I wanted to remove anyone from sliding into green for it or any chance of Liz taking it to back up her triple green. She finished with Moss Kami and we had completed the first five rounds. Here are the cards people had after five:
Steve: Kokusho Befoul Rend Spirit Konda Sensei's Top
Mike: Keiga Godo Tenza Sire of the Storm Yamabushi's Flame
Hamir: Yosei Meloku Gifts Ungiven Hikari Eight-and-a-Half-Tails
Abe: Both Kodamas Swallowing Plague Rend Flesh Kodama's Reach
Liz: Ryusei Jugan Moss Kami Glacial Ray Kumano
Everybody was on the way to good decks. What I needed to do was to take my engines soon but that would display what deck I was drafting to everyone else.
The Next Five Rounds
Liz started us off with Sakura-Tribe Elder. This is an obvious need with her expensive creatures and Kodama's Reach off the board. I take the card I needed the most—Thief of Hope. It told people what I was doing but it also was vital to my plans. Hamir grabbed Cage of Hands and Mike took Teller of Tales. Steve finished us with Hideous Laughter and Nagao Bound by Honor. He probably saw that I was taking arcane/Spirits and wanted the last real removal spell which happened to be a sweeper but expensive and not reliable. Pull Under was still out there but I was not taking it anytime soon. Meanwhile Mike and Hamir took Petals of Insight and Honden of Seeing Winds. Each wanted to draw cards! I grabbed Hana Kami so Liz wouldn't be tempted. She finished with Azusa and grabbed Pain Kami at the top of round eight.
I looked and considered my options. Mike was building a strong Spiritcraft deck himself so it was time to draft Long-Forgotten Gohei before he did. It was an essential card for my deck and the only enchantment or artifact I really wanted. Hamir took Reciprocate and I felt like that card may have fallen for white. Mike added the powerful Soul of Magma to his deck and Steve finished us with that Pull Under after all.
Round nine began with Sensei Golden-Tail leaving the board. Following it were Earthshaker and Eerie Procession. It arrived to me and I wanted to round out my deck now. I took He Who Hungers on the backswing in order to give me flying a soulshift creature and a sacrifice outlet on the board. Liz took a double dose of red in Ronin Houndmaster and Hearth Kami. I finished the tenth round with Devouring Greed. The other cards taken were Innocence Kami Tatsumasa the Dragon's Fang and Horobi Death's Wail.
After ten picks:
Steve: Kokusho Befoul Rend Spirit Konda Sensei's Top Sensei Pull Under Hideous Laughter Nagao Horobi
Mike: Keiga Godo Tenza Sire of the Storm Yamabushi's Flame Teller of Tales Petals of Insight Soul of Magma Earthshaker Tatsumasa
Hamir: Yosei Meloku Gifts Ungiven Hikari Eight-and-a-Half-Tails Cage of Hands Honden of Seeing Reciprocate Eerie Procession Innocence Kami
Abe: Both Kodamas Swallowing Plague Rend Flesh Kodama's Reach Thief of Hope Hana Kami Long-Forgotten Gohei He Who Hungers Devouring Greed
Liz: Ryusei Jugan Moss Kami Glacial Ray Kumano Sakura-Tribe Elder Azusa Pain Kami Ronin Houndmaster Hearth Kami
Another Five
We took a five minute break while Steve went to the bathroom. Then he returned and grabbed Kiku Night's Flower. Mystic Restraints and Azami Lady of Scrolls are also gone by my pick. Time to windmill my power! I took Iname Life Aspect now and Death Aspect after Liz grabbed Order of the Sacred Bell and Frostwielder. The 4/4 flying Uyo Silent Prophet went to Hamir while Mike took Kiki-Jiki Mirror Breaker. Steve wheeled both Samurai Enforcers and Seizan Perverter of Truth.
The rest of that round went quickly. Hanabi Blast isn't great but it's removal so Mike took it. Hamir followed with Soratami Mirror-Guard. Mike was clearly concentrating on flyers now. It was my turn and I had my major cards in stock. Steve had been staying away from the cards in black I wanted later because he's generally been grabbing creatures with toughness greater than two for Hideous Laughter. Except for Kiku who was clearly taken for power and Sensei Golden-Tail for helping his creatures every guy he has is at least three defense. Mike was assembling a control deck with red removal blue stall and card drawing. I had to worry more about Liz taking my good green now than Steve taking my good black. I snagged Kami of the Hunt. She finished the round with Initiate of Blood and then snaked Kashi-Tribe Reaver. I took Rootrunner on the reverse to remove more of the good green cards away from Liz.
Jushi Apprentice went to Hamir to draw cards himself and for activating Azami. Mike added Blind with Anger to his pile. Steve finished the first fifteen by going in an odd direction. He grabbed Konda's Banner and Takeno Samurai General. That was clearly why he wanted Sensei Golden-Tail. And the Samurai would be big enough to survive the Laughter nice. Mike took the first truly expensive creature off the board with The Unspeakable. Hamir added Soratami Mirror-Mage to his list. For my last card I grabbed Burr Grafter and Liz finished the top fifteen with the final pick of Honden of Infinite Rage.
After fifteen:
Steve: Kokusho Befoul Rend Spirit Konda Sensei's Top Sensei Pull Under Hideous Laughter Nagao Horobi Kiku Samurai Enforcers Seizan Konda's Banner Takeno
Mike: Keiga Godo Tenza Sire of the Storm Yamabushi's Flame Teller of Tales Petals of Insight Soul of Magma Earthshaker Tatsumasa Mystic Restraints Kiki-Jiki Hanabi Blast Blind with Anger The Unspeakable
Hamir: Yosei Meloku Gifts Ungiven Hikari Eight-and-a-Half-Tails Cage of Hands Honden of Seeing Reciprocate Eerie Procession Innocence Kami Azami Uyo Soratami Mirror Guard and Mirror-Mage Jushi Apprentice
Abe: Both Kodamas Swallowing Plague Rend Flesh Kodama's Reach Thief of Hope Hana Kami Long-Forgotten Gohei He Who Hungers Devouring Greed both Inames Kami of the Hunt Rootrunner Burr Grafter
Liz: Ryusei Jugan Moss Kami Glacial Ray Kumano Sakura-Tribe Elder Azusa Pain Kami Ronin Houndmaster Hearth Kami Order of the Sacred Bell Kashi-Tribe Reaver Initiate of Blood Frostwielder Honden of Infinite Rage
You can see several decks coming together now. Steve had a bit of a Samurai theme going on. Liz was building around pinging creatures for enough damage to kill them. She had four ways to deal one damage to something plus Glacial Ray. My B/G Spirit deck had all of the engines in place save a few minor ones that were still out there. A Wizard-ish U/W Control deck is forming and finally we have a control/burn with an equipment subtheme as well. Things were shaping up.
For the rest of the draft we'll just fast sim.
I took Gale Force immediately. It was not an arcane card but it was very powerful against a lot of field and I had few flyers to kill. Then Wicked Akuba was my next pick. The powerful two-drop might not have been on the board for much longer. I also snagged the good spells that were left like Kodama's Might and Soulless Revival before sliding into my remaining engines (Soilshaper Kami of the Waning Moon) and before adding high quality dudes such as Gibbering Kami. As a result I had virtually every Spirit in my colors while also getting all of the Spiritcraft triggers and most of the good arcane spells. Remember you only have to have a 40-card deck. Here was my deck:
Abe's Rotisserie Deck
1 Kodama of the North Tree
1 Kodama of the South Tree
1 Rend Flesh
1 Swallowing Plague
1 Iname Life Aspect
1 Iname Death Aspect
1 Kodama's Reach
1 Kodama's Might
1 Soulless Revival
1 Gale Force
1 Thief of Hope
1 Hana Kami
1 Long-Forgotten Gohei
1 Devouring Greed
1 Kami of the Hunt
1 Soilshaper
1 Gibbering Kami
1 Wicked Akuba
1 He Who Hungers
1 Rootrunner
1 Burr Grafter
1 Kami of the Waning Moon
1 Wear Away
9 Swamp
1 Okina Temple to the Grandfathers
7 Forest
Cards that just missed out include Waking Nightmare and Cruel Deceiver. I had cards like Venerable Kumo Vine Kami Feral Deceiver and Scuttling Death but they all cost too much or had too little impact on the board. I got the deck I wanted with the powerful cards I hoped for. Every card save Gale Force was an arcane spell or Spirit (or Long-Forgotten Gohei but I think it counts).
Liz grabbed a few more cards in her style and called it a day. Here was her final deck:
Liz's Rotisserie Deck
1 Ryusei the Falling Star
1 Jugan the Rising Star
1 Glacial Ray
1 Kumano Master Yamabushi
1 Moss Kami
1 Sakura-Tribe Elder
1 Azusa Lost but Seeking
1 Pain Kami
1 Ronin Houndmaster
1 Hearth Kami
1 Order of the Sacred Bell
1 Frostwielder
1 Initiate of Blood
1 Kashi-Tribe Reaver
1 Honden of Infinite Rage
1 Crushing Pain
1 Yamabushi's Storm
1 Akki Lavarunner
1 Sokenzan Bruiser
1 Seshiro the Anointed
1 Orochi Sustainer
1 Budoka Gardener
1 Kashi-Tribe Reaver
1 Hall of the Bandit Lord
1 Shinka the Bloodsoaked Keep
7 Mountain
8 Forest
She worked on her theme and added the removal spells that supplemented it. The Akki Lavarunner when flipped doubled red damage which included all of her ping-things. She also got some Snakes and ran with Seshiro which was good on his own but also pumped a few other Snakes in the deck.
My other competition was Steve. He added some nice Samurai to his deck and finished it off with a few other powerful black cards.
Steve's Rotisserie Deck
1 Kokusho the Evening Star
1 Befoul
1 Konda Lord of Eiganjo
1 Rend Spirit
1 Sensei's Divining Top
1 Nagao Bound by Honor
1 Hideous Laughter
1 Pull Under
1 Sensei Golden-Tail
1 Horobi Death's Wail
1 Kiku Night's Flower
1 Samurai Enforcers
1 Seizan Perverter of Truth
1 Konda's Banner
1 Takeno Samurai General
1 Oathkeeper Takeno's Daisho
1 Kitsune Blademaster
1 Samurai of the Pale Curtain
1 Konda's Hatamoto
1 Nezumi Graverobber
1 Cursed Ronin
1 Nezumi Ronin
1 Bloodthirsty Ogre
1 Shizo Death's Storehouse
8 Swamp
8 Plains
His Samurai deck had some nice synergies and a lot of removal. Befoul Rend Spirit Pull Under Hideous Laughter and Kiku were all strong at removal. Then add in Bloodthirsty Ogre and we had a removal heavy draft deck. In addition there were several powerful Samurai synergies including Konda's Hatamoto Golden-Tail Oathkeeper and Takeno. Black offered some useful Samurai to round out his deck and he had five non-Samurai. He almost pulled Horobi out since he wanted to equip and use Golden-Tail on his creatures but he left it in thinking that cards like the Ogre Kiku and using the Golden-Tail on opposing creatures would make it very powerful.
Hamir drafted a U/W Control deck and he was one of two that did not compete with me for cards. Let's take a look:
Hamir's Rotisserie Deck
1 Yosei the Morning Star
1 Meloku the Clouded Mirror
1 Gifts Ungiven
1 Hikari Twilight Guardian
1 Eight-and-a-Half-Tails
1 Cage of Hands
1 Reciprocate
1 Honden of Seeing Winds
1 Journeyer's Kite
1 Eerie Procession
1 Innocence Kami
1 Azami Lady of Scrolls
1 Uyo Silent Prophet
1 Soratami Mirror-Guard
1 Soratami Mirror-Mage
1 Jushi Apprentice
1 Ghostly Prison
1 Kitsune Riftwalker
1 Mothrider Samurai
1 Soratami Rainshaper
1 Cut the Tethers
1 Soratami Seer
1 Time Stop
1 Eiganjo Castle
8 Plains
8 Island
Hamir and I had hosers for each other. He had a protection from Spirits/arcane guy and the very hoser-ish Cut the Tethers. Since virtually all of his creatures fly I had Gale Force. That'd be a nasty surprise. He had the deck I had to watch out for because a simple Cut the Tethers was massive against me. His deck was solid all the way through.
Mike's Rotisserie Deck
1 Keiga the Tide Star
1 Godo Bandit Warlord
1 Sire of the Storm
1 Yamabushi's Flame
1 Tenza Godo's Maul
1 Teller of Tales
1 Petals of Insight
1 Soul of Magma
1 Earthshaker
1 Tatsumasa the Dragon's Fang
1 Mystic Restraints
1 Kiki-Jiki Mirror Breaker
1 Hanabi Blast
1 Blind with Anger
1 The Unspeakable
1 Reweave
1 Brutal Deceiver
1 Battle-Mad Ronin
1 Kami of Fire's Roar
1 Orochi Hatchery
1 Counsel of the Soratami
1 Hinder
1 Soratami Savant
1 Minamo School at Water's Edge
8 Island
8 Mountain
Mike only ended up with decent removal. He had some great card drawing and clearly embraced his role as a control-style deck. I thought he might take a third equipment for Godo but he decided to go in a different direction taking Orochi Hatchery as his other artifact. His deck didn't end up as Spirit-y as it was looking for a while. He still had some nice engines but not as many cards to abuse it. Perhaps he'd like to trade Yamabushi's Flame and Hanabi Blast to Liz for Glacial Ray alone and then he could add Dampen Thought to his deck.
We played a few duels with the decks. I ended up randomly paired against Liz and Hamir. We only played one game but I managed to win them both fairly easily. Liz's removal was countered by my massive soulshift abilities. Hamir's deck was too slow against mine and I was able to attack into him too much. A Hana Kami/Rend Flesh engine began and I took out Meloku and two Soratami with it before I died. (You play a good arcane spell and then sacrifice Hana Kami to return it. Then you lose something with soulshift and recur Hana Kami to sacrifice to grab the spell to….) He didn't draw his hosers—yay!
Then we decided to just play one big multiplayer game and call it. Steve's deck played very smoothly with Samurai and love in equal measure. I managed to Wear Away his Oathkeeper. Meanwhile Liz had her nice "I deal lots of damage in small clumps" set up going and Hamir was building into a flying horde. Mike was doing little since he had mana problems at first. Later on he would develop a bit too. My Spirits were cute but underperforming. Then I pulled a trick. I played Iname Death Aspect and loaded my graveyard with Spirits. I spliced Soulless Revival on a recurred Wear Away to take out a Tenza. I return Iname Life Aspect to my hand which I just retrieved. I played it sacrificed it to He Who Hungers and soulshifted my whole graveyard of Spirits back to my hand including the Hana Kami I just sacrificed to bring back that Wear Away. It was nasty. The Inames were awesome together. I won that game. I played a bunch of my guys out and Devouring Greeded Hamir and crushed Steve with Thief triggers. The Greed sacrifices cascaded into soulshift triggers and kept me going. I was at 40+ life and Liz and Mike were the only ones left. They called it due to my powerful board condition.
I waited for this day for years and it was worth it but now I want to draft again! Maybe this time I draft an Ogre/Demon deck or a Dampen Thought deck. This was a lot of fun—I hope you had as much fun reading it as I did drafting and playing it!
Until Later