GP Manchester Preview And City Guide

For the second year in a row the powers that be at Wizards of the Coast have been kind enough to grace our fair isle with a Grand Prix and while it might be Sealed yet again* and the killing blow to Dark Ascension sealed before Avacyn Restored is released…at least it's not M13 sealed! And having a GP is much much better than not having one so like all well-behaved British players I'll show my appreciation for the thrown bone and attend it.
*Seriously we've not had a Constructed format at a British GP since Lorwyn block. Go on let us have a bash at something other than Sealed next year please Wizards?
What can I tell you about Manchester our host city? Well it's the third largest city in Scotland the famous home of The Beatles and the Guinness brewery. Sights of note include the castle once home to Mary I the Forth and Tyne bridges and Mallard once the fastest steam locomotive in the world.
Okay I'm sorry—as it turns out I know nothing about Manchester. Except that it's in "the North" so I won't understand a word any of the locals are saying (but find them hilarious and endearing) and be shocked at how cheap the drinks are. I've never even been to Manchester before. So let me hand you over to some natives who I've enlisted to tell you where to eat drink and go out while you're there.
Now introduce yourselves please to our nice readers…
Kat: Hi! My name is Kat Donohue. I'm pretty much your average Joe when it comes to Magic but my love of the game and the friends I've made playing it push me to do the best I can. I've been playing Magic for just over two years now and also dabble with World of Warcraft. I'm a student of History and Archives at the University of Aberystwyth Wales and a hardcore music fanatic. Don't be a stranger; come and say hi! I love meeting new people. Don't worry I don't bite. :D
[Not sure if Kat is just being modest by not mentioning this but she also has been known to do some pretty awesome card alters—check these out!]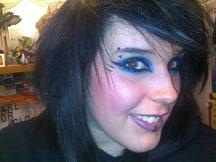 Michael: Hi everyone my name is Michael Maxwell. I lived in Manchester for four years recently while at university so I know a little about things to do sights to see and most importantly places to drink around the city center. As a Magic player I am (like I guess many of you are) a PTQ grinder with a few Top 8s a few nationals appearances and some Day 2s at GPs but I have yet to post a big finish or make it to the Pro Tour. I also have a column Fact not Fiction over on manaleak.com [UK Magic site] so check that out if you're looking for advice on Constructed/are bored/are the editor of a large MTG strategy website…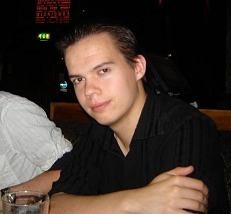 General Event Info
Official WotC GP Manchester page
Official Gordian Knot Games GP Manchester page (side event details)
Getting Around
Kat: I'm sure you're all wondering how to get to the venue and get around Manchester. Well no matter where you are coming from (be it the airport or the train station) the easiest way to get to and around Manchester is by bus/tram. With the main bus station (actually several stops) located right in the center of the city you'll find it hard to get lost. This being said it is best to get around the center on foot.
Alternatively to get to the venue from the city center take the tram. This can be boarded at many stops in the city center and at the two main train stations. You want to make sure that you're on the Altrincham/Eccles line so you're heading the right way. You can get off at either St. Peter's Sq. or Deansgate-Castlefield. Both are a two-minute walk from the venue—you can't miss it! If you're walking the easiest way is to follow the tramline (obviously sticking to the pavements!).
To familiarize yourself with the trams here's the network map. Far simpler than those tubes in London ;) [Navigating the tube isn't hard honestly...]
Also this is a great map of the city center which includes the tramlines and is nicely color-coded. This can also be picked up from the newly built Information Centre located in Piccadilly Gardens.
Michael: Manchester has one of the best city center public transport services in the country. The concept of a timetable is non-existent as there are frequently multiple buses lined up at every stop you walk past. You will literally never have to wait more than two minutes for a bus! If you're staying on the outskirts of the city then there is a tram service that will take you straight to the city center (Piccadilly Gardens is the central hub for buses and trams) no more than ten-minute walk from the venue.
The venue itself (Manchester Central or the GMEX as it was formerly known) is right in the city center and therefore within walking distance of as many takeouts restaurants bars and pubs as you can shake a stick at. As such I'd advise against driving to the venue if you can avoid it; parking can be difficult and expensive if you don't know where to go while public transport is cheap and regular with walking being a realistic option for the most part.
[Michael very kindly made his own highlights map for you. Here it is:]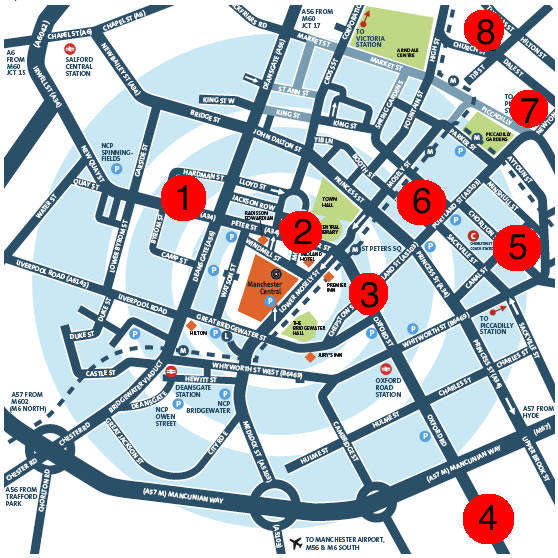 Map Key
1: Deansgate area (bars and clubs)
2: Subway
3: McDonalds
4: Curry Mile (Indian Restaurants)
5: Canal Street
6: China Town
7: Fanboy3 (Magic store)
8: Northern Quarter (bars)
Food
Michael: As mentioned above the central nature of the venue means there are many places within a five-minute walk of the venue. Most of these places can be found on either Oxford Rd or Peter St. For quick meals during the tournament there are Subway and McDonald's nearby along with plenty of supermarkets where you can pick up sandwiches pastries drinks etc. For evening meals as well as all the pubs/bars and plenty of pizzerias there is both a Chinatown and the famous Curry Mile.
The Curry Mile is as the name suggests a long stretch of Indian restaurants each trying to outdo each other both in terms of cheap deals and eye-blindingly bright signs. It's around a half hour walk from the venue but all the buses from Oxford Rd will take you straight there (ask for Rusholme). The map above has some of these locations marked on it.
Kat: Food glorious food! Every Magic player wants to be well fed before during and after a tournament. Like all major cities you will find your typical fast food restaurants (McDonald's Burger King Subway) which are situated all over the city center and primarily in the Food Court. Obviously though most of you will want to fill up on something more wholesome at some point. You have great Oriental food in China Town which ranges from buffets to proper "order-from-the-menu" restaurants.
You'll also find Italian Mexican Indian American and Caribbean restaurants dotted around the whole of the city. The best thing to do is just go for a wander and see where you end up! Saying this I can't recommend Wasabi enough (one located is in The Printworks and one in China Town) which serves up in my opinion some of the best sushi and Japanese food you'll find. Other places high on my recommendation list are Barburitto and Rice.
Nights Out
Michael: Being a city center in England there's a plethora of places to go celebrate/commiserate your results come the end of the day. If it's a pub you're looking for then head down Oxford St or Peter St and you'll quickly come across quite a few with the Grand Central being a favorite of mine (great if you like rock/metal music). There's a Wetherspoon's nearby for the cheap and cheerful option and then there are other chain bars such as Walkabout and Revolution too. All of those are a ten-minute walk from the venue but if you're willing to go a little further then you have almost endless options.
A few clubs that might be worth looking up depending on your tastes are Satan's Hollow (metal) 5th Avenue (indie) 42nd Street (indie) and M2 (pop). The Northern Quarter is a large area of fairly trendy bars the Deansgate area has lots of cheesy clubs which will be filled with students and Canal Street is the gay district. Although the Deansgate area is particularly popular with students anywhere you go is likely to be packed with them (Manchester is one of the biggest universities in Europe). The upside of this is that many pubs but particularly the bars and clubs have very low prices to draw them in (5th avenue has £1 beers most nights Font Bar has £2 cocktails that sort of thing). Southerners will no doubt be delighted to hear that they shouldn't have to pay anywhere near £3 for a pint all weekend [Yes we are! :D].
Kat: Manchester is home to the world famous Gay Village but obviously this isn't everyone's taste. The popular places to go are The Printworks Northern Quarter and Oxford Road which is home to some of the best student nightclubs and live music acts. Of course Manchester is known for its diversity in culture so it's not going to be hard to find something completely different. Jazz clubs salsa nights and drag acts are just some of the things you're going to find in this amazing city.
Some places you might want to check out are Satan's Hollow and Zoo for your rock heavy metal and alternative music (where you're most likely to find me moshing away); 5th Ave Entourage Tiger Tiger and Sakura are for something more mainstream. If you just want a couple of drinks and a (reasonably) quiet night Manchester hosts a range of pubs some of them being the best in the UK. Ones to note are Grand Central The Salisbury The Garrett and Sinclair's. Wherever you go you'll not be disappointed so after a long grueling day of dealing with bad Sealed pools or even going undefeated take the time to experience what Manchester has to offer.
Other Things to See/Do
Kat: As most of you know (or should know!) Manchester is the home of the legendary Manchester United Football Club. Visiting the stadium and the Mega Store is a popular thing to do for tourists and it's easy to access via the tram network. (If you're a Man City fan I'm so very sorry.) There are many other things to see in Manchester: Manchester Museum The John Ryland Library and Manchester Art Gallery hold some of the best collections of historical interest and art in the UK. If shopping is more the type of thing you like to do Manchester Arndale is the best place to go. Walking round Manchester you might see what looks like a huge Ferris wheel; I highly recommend you have a go on it which is called The Big Wheel. Presenting you with outstanding views of Manchester and beyond it's a great way to see the city from a great height.
Michael: Old Trafford is of course the home of Manchester United and is a short tram ride out of the city center; they provide stadium tours (check in advance) and there's a superstore where you can buy all sorts of merchandise. Eastlands (home of noisy neighbors and Arab billionaires alike) on the other hand is a total dump and avoid it at all costs (not that I'm biased at all…) [That'll be United 2 City 0 then!]. There's a cinema right next door to the venue and for all your Magic or other gaming needs check out Fanboy3 on Newton St a great store which is home to Britain's largest PTQs.
That's all on Manchester for today; we all look forward to seeing you there at the GP soon—if you have any questions or additional suggestions please leave them in the comments below!
Kat Michael and Dan
P.S.: Last-Minute Sealed Practice!
Dark Ascension Sealed is dead now to American readers but for those attending this GP it's still a Real Thing. As such I thought you may like a practice pool to have a play with before you come to at least give you the illusion that you've done some testing. Have a crack at this:
To use the Sickbrew Sealed widget click (don't drag) individual cards from the pool into either the Junk Pool or Deck sections. You can click multiple cards at a time to move them all at once! Sort by cost rarity and color.
Doomed Traveler
Darkthicket Wolf
Unruly Mob
Cloistered Couth
Loyal Cathar
Gatstaf Shepherd
Silverchase Fox
Hamlet Captain
Hamlet Captain
Thraben Heretic
Niblis of the Mist
Midnight Guard
Lambholt Elder
Kessig Recluse
Elgaud Enquisitor
Briarpack Alpha
Silverclaw Griffin
Grizzled Outcasts
Prey Upon
Silver-Inlaid Dagger
Hunger of the Howlpack
Travel Preparations
Increasing Savagery
Haunted Fengraf
Hollowhenge Beast
Wild Hunger
Favor of the Woods
Kessig Recluse
Lumberknot
Kindercatch
Grim Flowering
Nevermore
Break of Day
Spare from Evil
Feeling of Dread
Selfless Cathar
Ray of Revelation
Grasp of Phantoms
Increasing Confusion
Bone to Ash
Chant of the Skifsang
Claustrophobia
Forbidden Alchemy
Curse of the Bloody Tome
Curse of the Bloody Tome
Silent Departure
Dream Twist
Shriekgeist
Stormbound Geist
Headless Skaab
Invisible Stalker
Secrets of the Dead
Mystic Retrieval
Gravepurge
Dead Weight
Tragic Slip
Wakedancer
Rotting Fensnake
Rotting Fensnake
Bitterheart Witch
Diregraf Ghoul
Manor Skeleton
Death's Caress
Unburial Rites
Curse of Oblivion
Heretic's Punishment
Into the Maw of Hell
Torch Fiend
Faithless Looting
Fling
Bloodcrazed Neonate
Infernal Plunge
Crossway Vampire
Scorch the Fields
Increasing Vengeance
Talons of Falkenrath
Chalice of Life
One-Eyed Scarecrow
Executioner's Hood
Cobbled Wings
Diregraf Captain
Diregraf Captain
Sulfur Falls
I think this is a very reasonable (though not totally busted) pool which contains two decent and wildly different decks. Can you find them? Post your builds in the comments and I'll post the one I made Top 8 with in a bit—this was my pool at a recent GPT you see.
P.P.S: Relevant Cards to Bring and Have Signed by Artist Volkan Baga
Volkan Baga is the confirmed attending artist for GP Manchester. Here are the most relevant thirteen cards (for both tournament and Commander play in my opinion) to bring to have signed/altered. Be sure to check you've got the right printing for Mox DiamondTeferi and Elspeth Knight-Errant!