I love formats with good easy mana. I like it when you can cast whatever you want easily. I also love tribal decks. Despite that I'm pretty sure I'm going to hate the printing of Cavern of Souls.
Until proven otherwise I'm going to assume that Standard is going to revolve around uncounterable Titans particularly Primeval ones usually with another kind or two in the deck.
I still can't really believe Cavern of Souls is being printed as is. The Titans seem completely unprintable if they have the line "can't be countered" and this land gives it to them for free. There just aren't other great answers.
Discard is the most obvious and least effective solution. Because Titans will just work decks built around them can afford to play more of them. Without a very real clock if your plan is to make your opponent discard their Titan they will just draw another. Appetite for Brains and Despise don't even hit Green Sun's Zenith.
I think the format will be all about trying to outrace Titans or trying to go over them. Before I get to ways to do that I want to discuss Zac Hill's reasoning on printing it briefly. I agree entirely that Snapcaster Mage is too good and that hate for him has to be basically incidental because he's so cheap that dedicated hate is unlikely to put you ahead.
The problem is that I think Cavern of Souls is powerful hate that's slightly mistargeted. Snapcaster doesn't particularly care. He's happy to give flashback to a bounce spell or a card draw spell or a burn spell or whatever instead. This card really punishes control decks that might incidentally play Snapcaster Mage because it's a good card rather than the oppressive aggro-control or tempo decks that take full advantage of everything Snapcaster Mage has to offer.
Mana Leak really isn't the problem. Mana Leak like Force of Will isn't a good card. It's good enough to play in maindecks but it's always one of the first cards I look to side out any time I don't absolutely need it. It's a valuable check on people trying to do ridiculous things but it's not the kind of broken card people build around. I think Mana Leak does a lot more to balance the game and make real games get played than to lead to boring Forbid style lockout games.
If Magic sells better when counterspells are bad so Wizards is incentivized to print less of them I get that and that's fine but it's not because Mana Leak is doing unfair things or operating above the curve. It's very balanced compared to other reactive cards. I'm sad that I can expect Mana Leak to not get printed again for a long time if ever although I'd be reasonably happy to see it replaced by Miscalculation.
Maybe I was traumatized more than others by Valakut but I really think Magic is at its worst when ramp decks like that dominate. They do exactly the same relatively non-interactive thing every game and the mirror is about the worst possible. I would hate for Wolf Run Ramp to be the best deck by a significant margin after Avacyn Restored comes out.
With that said let's start to think about what we can do about it.
First option: kill them before it's too late.
If you can't stop the Titan once it hits you just have to kill them before that. I've been very impressed by Angelic Destiny against any kind of G/R deck and Wolf Run Ramp is no different. Mirran Crusader and Geist of Saint Traft are the ideal targets but just about any creature will do. Spectral Flight is an option I have less experience with but it might also get the job done in a pinch at least in some matchups.
I worry that cards with "Hero" in the name are too midrange but it's possible that aggressive decks with Hero of Bladehold Hero of Oxid Ridge or Hellrider can just come out fast enough to kill them before they can cast a Titan. Hero of Bladehold has the advantage of being difficult for red to kill.
Hellrider is generally a better card than Hero of Oxid Ridge but the fact that Oxid Ridge is a Human may be a strong selling point in Boros aggro which gained a huge number of potential red Humans and can really take advantage of the mana fixing offered by Cavern of Souls. Rally the Peasants is another card that might let you steal a game before a Titan kills you if you can find a way to not lose to Whipflare and Slagstorm.
Something like:
Creatures (23)
Lands (23)
Spells (14) Making that list was awkward. There are too many cards that are interesting and I'm not sure which are great but it also looks like there are easily enough options for either color to be mono-color without losing much card quality. White humans is a known quantity but I wonder if red has a reasonable new tribal deck—although without Champion of the Parish or a reliance on Cavern of Souls for mana I guess there's not much need to stick to Humans.
Creatures (23)
Lands (22)
Spells (15) This deck feels soft to Whipflare and Slagstorm but that's not a difficult issue to address in sideboarding.
Another option to fight Titans is to play black for discard in an aggressive strategy. Zombies is the most obvious deck for this path but another option that I'm curious about is a black/red deck with a significant undying/sacrifice a creature theme. I suspect this is a fun gimmick deck rather than a serious contender but I'm curious to consider our options.
For creatures to sacrifice we have Gravecrawler Butcher Ghoul Geralf's Messenger Demonlord of Ashmouth Pyreheart Wolf Hound of Griselbrand Black Cat Traitorous Blood Act of Aggression Zealous Conscripts and Flayer of the Hatebound.
For sacrifice outlets we have Altar's Reap Fling Disciple of Griselbrand Falkenrath Aristocrat Demonlord of Ashmouth Bloodflow Connoisseur Bone Splinters and Mortarpod.
And then there's Blood Artist.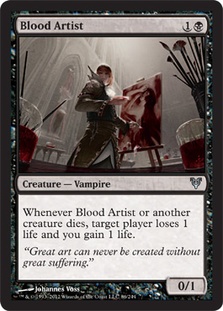 This guy probably shouldn't be on my list of cards I'd like to try to have in play in Constructed but I've had some very good experiences with Falkenrath Noble and the 2/2 flying body often didn't matter.
Most of these cards are really bad and it seems difficult to get the numbers such that the synergies work. But unexpectedly there are actually enough Zombies that are on theme that Gravecrawler can work and Gravecrawler with Bloodflow Connoisseur is "almost" as good as Gravecrawler with Carrion Feeder.
If you can add Blood Artist into the mix you actually have something. And Demonlord of Ashmouth if he's no trouble for you is the kind of card Wolf Run Ramp can have trouble dealing with. This isn't a direction I'd expect to be greatly successful but at the very least there's enough support here for an interesting casual/FNM worth Flayer of the Hatebound deck.
Creatures (27)
Lands (23)
Spells (10) The best way to try to go under Primeval Titan will probably be with Delver of Secrets which is awkward if the purpose of Cavern of Souls was to push Snapcaster Mage out of the format. We won't be able to rely on counters to stop Titans which means we need to focus more on aggression to try to kill them before they can cast it.
One way to do this is to move back to a Champion of the Parish / Delver of Secrets build. Cavern of Souls can actually help with the mana here making it easier to cast whichever threat you happen to have on the first turn.
Creatures (18)
Lands (21)
Spells (21) I think Lingering Souls pushed this deck out of the format but I think Lingering Souls might largely get pushed out of the format by Wolf Run Ramp which would make something like this a possibility again. It's the most aggressive Delver build and its good draws can be extremely scary. Since it's a Delver deck its sideboard is also extremely powerful.
Of course it's possible that Delver will be able to adapt through less radical changes.
The other option as I mentioned is to try to go over Wolf Run Ramp. This could mean literally flying over them with Angelic Destiny or Sigarda Host of Herons or it could mean simply having a better end game.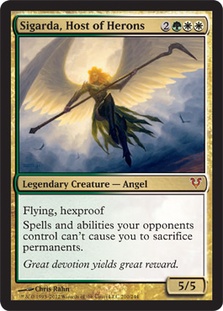 Unburial Rites is a card and strategy that stands to gain a huge amount of ground if Cavern of Souls pushes counterspells out of the metagame in general. While it can't protect Unburial Rites itself Frites' worst matchup by far is any kind of U/B control deck and if those decks can no longer compete with Wolf Run and get pushed out Frites could be extremely well positioned.
The monsters it can Reanimate range from Titans to Elesh Norn all the way up to new fatties like Avacyn Angel of Hope Griselbrand and Gisela Blade of Goldnight. Wolf Run Ramp would have enormous difficulty dealing with any of those creatures in play and if they're consistently hitting play on turn 3-5 it's hard to image Wolf Run Ramp competing. Luckily for them sideboarding Grafdigger's Cage isn't out of the question.
Another approach could be to just build a bigger board control deck. Some Esper Control decks have already moved away from counterspells entirely in the maindeck and this is another strategy that would love to see Cavern of Souls force everyone else to remove their counterspells as well.
As long as you can deal with whatever it leaves behind if you have removal for a Titan and a more powerful end game you might just not care about the Titan. Curse of Death's Hold is a solid answer to Inkmoth Nexus as is Elesh Norn but even dedicated answers like Ancient Grudge or Geistflame can easily do the trick.
What about Heartless Summoning? There's a card that got a lot of new toys. Griselbrand doesn't even need to hit play if you have Necrotic Ooze or Havengul Lich and Faithless Looting.
Maybe I'm not seeing the big picture. Maybe I'm not dreaming big enough. Maybe I'm only seeing the boogeymen of the past when really the future is about even bigger threats. It's entirely possible that Giants will be too small to name with Cavern of Souls. It might all be about naming Angel Praetor or Demon.
Last week when I wrote about Griselbrand I said he would force people to start playing counterspells again. Now they can't do that. It doesn't work. It really makes me wonder how one can properly fight a Griselbrand deck. I've cast enough Karn Liberateds to think eight doesn't sound like that much mana.
I don't know if I should be more afraid of Titans or other monsters but either way I miss Mana Leak already.
Thanks for reading
Sam
@samuelhblack on Twitter