Innistrad was a blisteringly fast synergy format I loved to draft. It may be one of my favorites of all time alongside Ravnica block and pre-Saviors Kamigawa block. Dark Ascension slowed it down a little but it was still quite fast and centered on synergy.
Now with Avacyn Restored we find that the titular Angel has also restored a moderate pace to draft. While Innistrad had between 54-77% two-power creatures in the two-drop common slot (depending on how you count creatures like Unruly Mob Village Ironsmith and Stitcher's Apprentice) in Avacyn Restored this number has dropped to about 45%.
Innistrad had over 50% of its creatures capable of three or greater power spread over its three- and four-drop common slots but in Avacyn Restored there are only seven among 22 creatures or 32%. Then when you get to the five-drop slot you have the same six creatures with three or greater toughness. Because of the relative lack of three-power creatures in Avacyn Restored that third point of toughness matters a lot more.
However it's not just the percentage; it's the number. Check out how the curve has changed between Innistrad and Avacyn Restored for common creatures.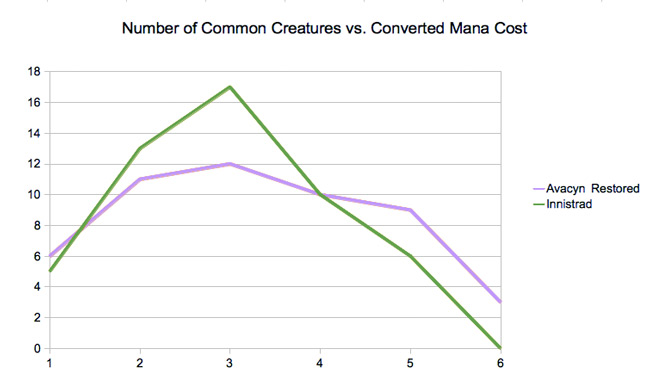 Although both sets have the same 51 creatures at common for Innistrad they're clustered around two- and especially three-drops. Avacyn Restored on the other hand has fewer two- and three-drops but more five- and six-drops. As such the importance of a low curve is slightly downplayed resulting in a slower format.
Now that we know a little bit about Avacyn Restored's context we'll be better equipped to evaluate its cards for Draft (aka the "best" format).
Cards That Look Terrible But Are Great In Draft
Not all cards can be Cavern of Souls prompting a dozen articles about how every Constructed format will be thrown into chaos. In Draft cards are evaluated very differently. I remember nine years ago when I thought that Skyhunter Patrol was terrible because you only got two power for four mana. Blech!
What I didn't realize was that the context of Draft requires a very different perspective. In actuality Skyhunter Patrol was awesome: not only was it an evasive creature but both of its abilities flying and first strike paired very nicely with the equipment that was abundant in Mirrodin. Additionally paying for points of toughness in Limited is much more relevant; the amount of toughness you have defines how killable you are. Not every Limited deck has a playset of Terror. You have to play a lot of awkward situational removal as we have certainly learned from Innistrad block.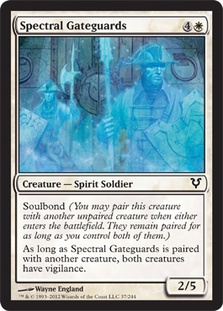 It's not even as big as Thraben Purebloods and we all remember what an all-star that card was. So how can I be serious?
Well the context is totally different. In that format five-drops were mostly notable for not being three-drops. By the time you could play a five-drop you were in pretty bad shape if you hadn't been jamming cheaper guys every turn. Especially if your opponent was transforming Werewolves into creatures that could take down a 3/5 with ease.
In Avacyn Restored Spectral Gateguards blocks almost everything. There are only five creatures at common that can kill it without assistance and some of these are so top-heavy they can be dispatched with a cheap bear of some kind. With only one common creature that has more than two power white is going to love drafting the Walls and Fliers archetype—or more specifically to AVR Walls and Angels. This is the perfect format for Spectral Gateguards; not only are there fewer two- and three-drops to be afraid of but when other colors play five-drop commons they're frequently 3/3s with unexciting abilities.
Secondly the ability of this card is not irrelevant. "Walls and Fliers" just wants to stabilize until it plays a huge angel and if that huge angel also has vigilance you'll feel even safer.
Other cards that are probably better than they look on similar principles include Galvanic Alchemist Geist Trappers (which can even block Angels!) and Angelic Wall. One of the most undervalued cards in Mirrodin Draft was Steel Wall as pros of the time liked to debate. Angelic Wall costs another point of mana but I'm of the opinion that flying will be very relevant in this format.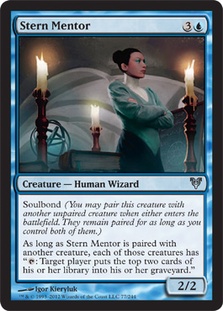 You know how in Innistrad Draft something always "goes wrong" when you try to draft the mill you deck? Perhaps the worst I've seen involved a maindeck Laboratory Maniac and Memory's Journey during the Top 8 of a Draft 1k. Ouch.
Now imagine how good having two Curse of the Bloody Tome on the table would be if your opponent had no Kessig Cagebreakers Moorland Haunt or flashback cards to thwart you. And what if you only spent one card on both Curses? That would be awesome! In fact if you remember what it was like to draft triple Ravnica you might remember that the mill archetype was quite viable with all the Vedalken Entrancers running around. It keeps you from dying and doubles as a win condition? Sign me up!
I don't foresee mill being a viable archetype in Avacyn Restored but this card can function as a win condition by itself in a deck that's otherwise composed of Walls and Fliers. If you have a Nephalia Smuggler you can even get really fancy and mill six cards per turn.
Perhaps too fancy.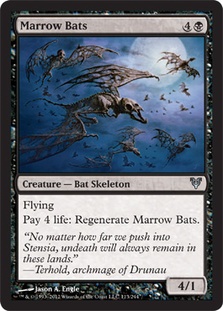 Five mana and you only get one toughness? Seems pretty lame.
Well wait a minute. If Walls and Angels is a viable archetype then maybe this Bat isn't so bad after all. It's expensive to regenerate but if your opponent has a handful of Angels not an army of Scrapskin Drakes it might be a reasonable solution. And if your opponent has no fliers it's just as good as an Air Elemental! Assuming you don't expect Ghoulflesh or Guise of Fire that is...
Another way to evaluate this card is by comparing it to Zombie Cutthroat. Remember when the best Draft card in every color was Zombie Cutthroat? This is a pretty different situation because the format isn't full of 2/2s for three and regenerating isn't the same as providing a permanent boost to power and toughness. Perhaps most importantly Marrow Bats doesn't have the element of surprise that made Zombie Cutthroat such an interesting addition to the format.
However simply threatening to kill a flier while you're tapped out at no cost to your board position can to be a headache for your opponent. It's like you've turned all of their fliers into Vexing Devils! Best of all the choice is yours.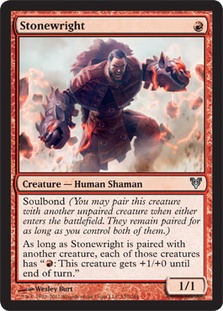 I've never played Firebreathing but I think I'll usually play Stonewright.
Soulbond is a much more powerful mechanic than I initially realized. Well not more powerful than I believed at first when the clumsy reminder text led me to believe you could switch the bond to any newly played creature. Still soulbond creatures are like equipment that costs nothing to equip to a second creature. If that creature dies as a Firebreathing creature is likely to do with its high power-to-toughness ratio the Stonewright is free to bond with a new creature.
Remember how I was complaining about Avacyn Restored's slow awkward creatures with more toughness than power? Stonewright gives you a way to break through with that extra point of damage. And if you have to trade your creature no big deal. It's not like you two-for-oned yourself because you can give the Firebreathing to the next creature you play.

Shuko was a great card in Limited because it was "always on." After attacking with it you could move it to a blocker for free. While soulbond isn't quite as versatile the fact that it's virtually free to pair a new creature seems very powerful.
A better comparison might be equipment such as Piston Sledge Demonmail Hauberk or Grafted Wargear. The fact that you have to be careful of how you equip them makes them a little awkward to use but the effect can be very powerful. Like soulbond these equipment are "free" to move—but with a catch. You need to play by their terms and move them only when they allow. However if you think ahead about what you'll be able to equip and when it's worth it they can swing the game in your favor.
Because Firebreathing does cost mana to use Stonewright seems a little trickier to use. But with proper finesse it's a card that can give you many incremental advantages over the course of the game.
Wingcrafter is another excellent example of a highly playable one-drop with soulbond. Although...did anyone actually mistake this one for unplayable? If the ground is gummed up with 2/3s doesn't that make fliers amazing?
Imagine you just spent seven mana on the biggest baddest Angel you can reliably get your hands on in a draft. Sure it's not common but it's not super rare. And it's so sick it's called "Archangel." Yeah it's like leader of the Angels. Right?
Now imagine that thing gets eaten by spiders.
Wow. Embarrassing.
If this happened on the first day of school...well you'd probably just have to flee the scene and get a note from your parents because there's no coming back from that.
Uh what?
Anyway Clinging Vines was one of my favorite cards to maindeck in Dark Ascension Sealed because it dealt with a lot of the bombs you should otherwise fear. Bloodline Keeper? Dead. Olivia Voldaren? Not anymore. Galvanic Juggernaut? Dust. Butcher's Cleaver? Hope it's on warranty.
In Draft it wasn't nearly as worthy of being maindecked because you weren't sure if your opponent would reliably be playing fliers or artifacts.
That is to say it wasn't a format full of Angels Demons and Ghosts. (i.e. not Avacyn Restored). Now this spell kills a significant number of the threats in the format. Flying seems like one of the most relevant abilities in the format plus the type of creature you'd most want to enlarge with equipment. Eaten by Spiders makes that dynamic very awkward. Let's not even discuss what happens if you try to get the advantage of flying with Angelic Armaments.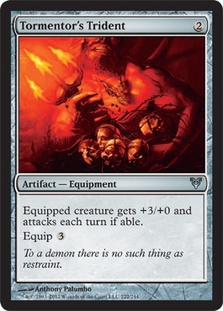 When I first read this card I said "Wow Tormentor's Trident is awful."
It's a Greatsword that's slightly cheaper to play. But in return for that one point of mana (you frugal spender you) you're forced to either move the equipment or keep running your creature into the opposing board. And we all remember what a travesty Bloodcrazed Neonate usually was.
Seems pretty terrible.
Although you know what? I'm not so sure anymore.
After analyzing the spread of common creatures and their size per cost Tormentor's Trident seems like one of very few ways to repeatedly get through Walls. If it's on a creature that flies intimidates or is otherwise unblockable it can be quite the clock. Perhaps that's why it's uncommon and has a negative ability while the toughness-boosting Vanguard's Shield is common. After all the common run seems to be all about creatures that don't effectively kill each other.
Signing Off
I hope I've prompted you to revise your perspective on the cards in Avacyn Restored. Instinctually we compare new cards to old ones to assess their strength but no card exists in a vacuum. Do you remember when Savannah Lions was worth money? Good times.
If you played in the Prerelease I hope you had fun! After having that experience and reading the assessments from Avacyn Restored Week at SCG I'll be interested in hearing what you plan to do differently for the weekend of the release.
Love and battle
@JackieL33 on Twitter