"Maga Traitor to Mortals you for 30."
"Descendants' Path trigger resolves? Reveal Emrakul the Aeons Torn. It shares a creature type with my Eldrazi Spawn. I will put it into play."
"Reanimate targeting Griselbrand."
"End of your turn activate Sensei's Divining Top and miracle cast Reforge the Soul."
This will not be your normal set review. I'm not going to go through every card in the set and tell you how it could be marginally playable. Legacy is both a bigger and smaller set than all the others—bigger because of the available card pool yet smaller because of the demands that the format places on the power of any card that might be called playable. This makes my job a lot easier since the bar for entry to being Legacy playable is so high that maybe three cards make the cut from any given set.
Avacyn Restored is different. There were about ten cards that caught my eye as realistic contenders. I guess that's what happens in a set where Wizards decided to reprint two cards on the banned list though. Before we get to the new Time Walk [Temporal Mastery] or Wheel of Fortune [Reforge the Soul] though I want to get to the most exciting card of the set. I'm sure everyone spotted this one for the powerhouse it is. I give you…Misthollow Griffin.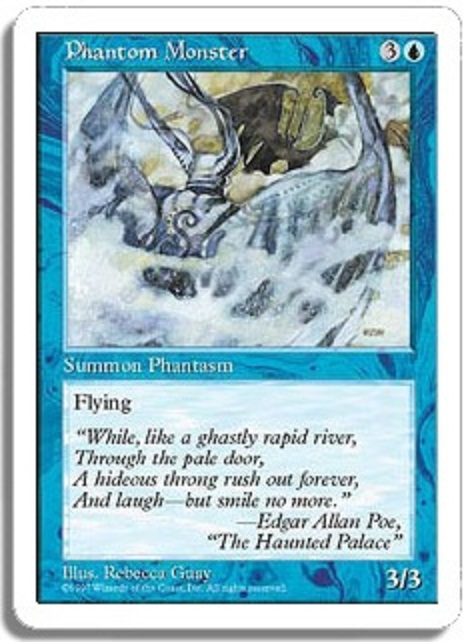 … Wait hold on.
Much better. So what's getting the people going about this 3/3 flier for four? Well it probably has something to do with its interaction with Food Chain. How does this work?
Step 1: Get to three mana.
Step 2: Resolve Food Chain.
Step 3: Get to four mana.
Step 4: Resolve Misthollow Griffin.
Step 5: Exile it to make five blue mana.
Step 6 through 1000: Recast it from exile and exile it again netting one mana of any color for each iteration.
Step 1001: Resolve Maga Traitor to Mortals targeting your opponent.
The reason why Food Chain isn't a real deck right now is that it's a bad Elves deck. It's a creature-heavy combo deck that can kill an opponent in a turn with its namesake card (Glimpse of Nature or Food Chain) but which can just flood the board with creatures and attack an opponent to death if there's too much disruption.
I don't want to play a ton of creatures in a combo deck. The best support cards for a combo deck are those that increase its velocity and resiliency. Those cards are usually cantrips discard spells and counterspells. Creatures are none of those except for cards like Elvish Visionary and Coiling Oracle which are terrible "replacements" for Brainstorm. Even though Food Chain "wants" you to play a lot of creatures my first instinct is to make a Food Chain deck with no more than eight.
The goal here is to make a deck that isn't a bad version of Elves (too many creatures) Aluren (too many combo pieces in the deck) or Dream Halls (too much mana/too many pieces required to assemble). My goal in making this list was to play a bunch of cantrips and counters play no support cards that aren't necessary to assemble or protect the combo and to not have a viable backup plan. With that said…
Creatures (18)
Lands (20)
Spells (22) Naturally as soon as I decided to make a Food Chain deck with no more than eight creatures the decklist ended up with eighteen. Let's get into the decisions behind this decklist:
4 Food Chain + 4 Misthollow Griffin: Your combo. You want to see these cards. You can't win without them.
2 Maga Traitor to Mortals: Since people are far less likely to fight you over your Magas than your Food Chains or Griffins it doesn't seem optimal to play four or even three. This deck doesn't care about its life total or its opponent's life total so it can play a longer game if need be. Since the deck plays Worldly Tutor there are an effective six Magas in the deck. Given that there are no ways of directly Tutoring for Food Chain it seemed better to play more cantrips and fewer Magas than four Magas and fewer cantrips.
4 Birds of Paradise + 4 Noble Hierarch: Although they look innocuous enough there's a lot of thought behind these.
First of all the opportunity cost: they're here because Ancient Tomb and City of Traitors are not. This deck could have Intuition and Fierce Empath for Emrakul the Aeons Torn but this is not the metagame for another terrible mana base.
Second the obvious upside: nowadays my favorite non-RUG decks are the ones with mana bases that can beat Wastelands. These cards ask you to play a lot of colored sources which is fine since you want to play a fetchland + basic land game as much as possible. You want a ton of shuffles for Ponder and Brainstorm but you don't want to lose turns to Wasteland. Beyond not losing turns to Wasteland by playing a basic-heavy mana base you also get to jump ahead a turn in a deck that wants to cast a 3 + 4 combo.
Third the hidden upside: these are your Daze protection. I thought about playing Elvish Spirit Guide as "Daze protection" but I realized that this deck can afford to play around Daze in order to resolve Food Chain against counter-heavy decks. From there it can play around Daze on Misthollow Griffin with three lands a Birds or Hierarch and a Food Chain in play by tapping and then sacrificing the one-drop to cast Griffin. It is necessary to sequence your spells as laid out as you can't sacrifice a creature to Food Chain in order to pay for Daze.
Finally I have no idea if eight is the right number for this type of effect. Maybe the deck wants five or six or ten. Eight seemed like the right number given my experience with the U/G Natural Order/Show and Tell deck a combo deck that also wanted to resolve key spells at three and four mana. That deck also had eight one-drop accelerators and I was happy with how it turned out.
4 Worldly Tutor 4 Brainstorm 4 Ponder 2 Preordain: I have no idea how many of this type of card the deck wants. At the start of building a blue combo deck though I'd rather have too many cantrips than too few. Given that this deck wants to assemble Food Chain + Misthollow Griffin + Maga Traitor to Mortals without a way to Tutor for Food Chain four Worldly Tutor and ten cantrips is a good starting point.
4 Force of Will 4 Vendilion Clique: The protection. Vendilion Clique is in the deck over Pact of Negation because it's mana-positive on the turn where you kill them occasionally letting you combo an opponent with only three lands. Daze isn't playable in this deck and Spell Pierce / Dispel aren't castable off of Food Chain mana.
There are a few reasons to play Food Chain. First off it's a combo deck that doesn't get stopped by removal. Killing a mana creature is the best value that someone can get against this deck a fact of which many people are likely to be ignorant. Second it doesn't care about its or its opponent's life total. When it kills it kills for infinite. Third it doesn't have to attack. Moat and Meekstone are irrelevant and Humility only stops Maga's triggered ability.
Under Humility Maga will come into play with X +1/+1 counters meaning that he'll be big enough to either kill them or force them to Jace ultimate you. Fourth the deck plays Force of Will allowing it to interact with the other unfair decks. Hive Mind Sneak and Show and High Tide are the most successful combo decks in the format. If you'll notice almost every successful combo deck in Legacy right now plays at least Force of Will for protection.
You could play this deck with Imperial Recruiter and a worse mana base but I'm not convinced it's worth it at all. Besides the fact that no one owns Imperial Recruiter I genuinely think that having a pure two-color deck is superior. It takes up slots that don't contribute speed or resiliency things that are very important in a "slow combo" deck—something that isn't killing on turn 1 or 2.
If Food Chain and Misthollow isn't your thing though I have another combo deck for you.
Creatures (12)
Lands (20)
Spells (28) Here's how it works:
Step 1: Resolve Descendants' Path.
Step 2: Resolve something that makes Eldrazi Spawn.
Step 3: Cast Emrakul off of the top of your deck.
Step 4: Draw your card then take your extra turn.
Step 5: Smash!
Since Descendants' Path lets you cast your Emrakul as opposed to simply putting him into play the combo is fairly immune to Jace the Mind Sculptor or sorcery speed removal. Since your opponent is (ideally) up against an Awakening Zone they're going to have to Plow each and every one of your Spawn while your trigger is on the stack lest you get to freeroll an Emrakul and win the game on the spot.
The card choices are fairly straightforward: Enlightened Tutor is the best card in the deck since it Tutors up both halves of the Awakening Zone + Descendants' Path combo. Sensei's Divining Top lets you find Emrakuls a bit faster and lets you cast one of your eight Tutors and cast the card on the same turn something that Mirri's Guile and Sylvan Library don't allow for.
Awakening Zone and Descendants' Path both trigger in your upkeep so you can stack Path first and Zone second letting Zone resolve and give you an Eldrazi before you let Path resolve (or Worldly Tutor for Emrakul and then cast it for free). Having a bunch of chump blockers will buy you a decent amount of time against a lot of threat-light decks although you will have to swallow a 0% matchup against most other combo decks. Really though that will always be a peril of playing Savannahs.
The backup plan is to put Pattern of Rebirth on an Eldrazi Spawn as a weird sort of Natural Order. This one is pretty straightforward. You can Enlightened Tutor for either side of this combo as well making Awakening Zone a surprisingly strong in this deck. Since you put Emrakul into play with Pattern of Rebirth though you don't get to take another turn as you do with Descendants' Path. Keep that in mind.
Savannah is actually worse than Horizon Canopy in a lot of situations with this deck. Getting an extra draw is a big deal in a deck with eight top-of-the-deck Tutors. If you're tight on mana you'll generally want to fetch basics over duals. Of course it's still nice to have Savannahs but it's not as mandatory as you might think.
It's possible that the right home for the Descendants' Path combo is in G/W Enchantress where you can Tutor up Awakening Zone and Descendants' Path with Sterling Grove. You could also incidentally just hard cast an Emrakul the Aeons Torn with Serra's Sanctum and some spare Eldrazi Spawn.
If you decide to sleeve up Argothian Enchantress I would suggest testing Abundant Growth as well—it doesn't ramp your mana which is a big deal in a pretty top-heavy deck but it does replace itself in a deck that wants to dig to an Enchantress effect by turn 3. I'm no expert on this sort of thing but if a deck wants Mirri's Guile it might also want a card that cycles for one early and draws an extra card in the early combo stages.
What's that? You're still not impressed and want a simple update on a proven deck? I hear ya. Times are rough for those that want to beat RUG. Perhaps this will help: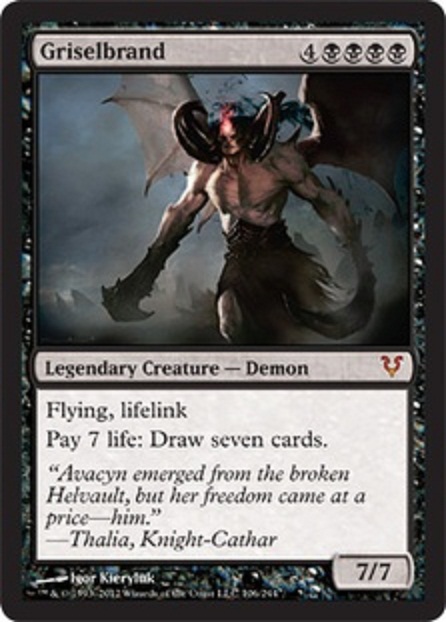 I know that this is supposed to be Avacyn's big party but Griselbrand is definitely the superior monster when it comes to the Cadillac of formats. Avacyn Angel of Hope may have "Reanimate me!" written all over her but she doesn't do anything that Reanimator needs to do.
Griselbrand though…
For quite a while Reanimator has struggled with having the right fatty against the right deck. Jin-Gitaxias served as the all-purpose fatty for a while but his shortcomings are unavoidable: doesn't have an immediate effect is pretty small can't kill them on his own can't block anything and can't race anything.
Griselbrand is a much better all-purpose fatty. He will always draw you at least seven cards. He won't make them discard their hand but if you got this into play who cares what their hand is? You have a flying lifelinking 7/7 that offers you the same rate as Yawgmoth's Bargain. What are you afraid of? If they have a removal spell that takes out Griselbrand you get to draw seven (or fourteen) and then probably gain seven back right away. Not a bad deal.
When they don't have a removal spell though you get to kill them in three hits. They can't attack into him with a swarm of low-power creatures to push damage through. They can't laugh at you from behind their two Tarmogoyfs.
For those of you that are still playing Reanimator my ideal creature configuration in a post-Avacyn Restored world is:
1 Platinum Emperion
1 Inkwell Leviathan
1 Terastodon
1 Elesh Norn Grand Cenobite
2 Griselbrand
1 Jin-Gitaxias Core Augur
1 Iona Shield of Emeria
For those of you who are looking for a decent Reanimator shell I would recommend Milton Figueroa's. It's from a while back but I fundamentally agree with wanting eight creatures eight ways to bin a creature ten ways to bring it back and nine pieces of disruption. His list is below. For those of you who would rather not play combo decks I have good news and bad news about Thunderous Wrath and Vexing Devil.
The good news is that they provide great rates as burn spells.
The bad news is that they're too conditional a restriction that justifies their absurd rates.
A lot of people asked me what I think of Vexing Devil in Legacy Burn. After all if the deck wants Flame Rift and Lava Spike surely it wants four damage for one or a 4/3 for one right?
Not quite. You see Burn is only capable of succeeding in Legacy because it can sidestep a reasonable percentage of the field's interaction. If people can trade one-for-one too much with Burn's cards they collectively become much weaker. Lava Spike is not an impressive card when it drops your opponent to eleven. It is a very impressive card when it drops your opponent to zero.
The problem with Vexing Devil is that it gives your opponent a free way to interact with you. If they don't have a removal spell or a blocker they're going to take four damage. However they will very often have a removal spell or blocker so your Devil will resolve and then trade with one of their cards leaving them sitting pretty on twenty life as they develop their mana base and start casting more powerful spells.
The power of Vexing Devil can only be realized by a red deck that wants to play a lot of creature-based threats forcing an opponent into a no-win decision. Since the best rates on Legacy Mono Red cards are on burn spells though Vexing Devil would be part of a relatively sparse corps of red creatures. If you wanted to build a creature-heavy Legacy Mono Red it would probably want to play Jackal Pup. I don't want to play a deck that wants to play Jackal Pup. Not in a format where I can do the same basic thing but cast Lava Spike instead.
Thunderous Wrath suffers from the problem of being an actual mulligan in your first eight cards. You will never assemble six Mountains in play so it may as well not have a casting cost. Given that your goal is to end the game after four or five draw steps Thunderous Wrath can be best understood as a card where a third of the time you look at it you get to immediately Lava Axe them for one mana. The other two-thirds of the time it does nothing and you will lose the game with them on three life and zero Rift Bolts in your deck. Not exactly ideal.
A little more real talk before we get back to the positives: Temporal Mastery will not change a single blessed thing about Legacy. Every smart person I know wants to cast Brainstorm to put two lands on top of their library and shuffle them away. It is not "as broken as Flash-Hulk" as a former economics and Vintage writer for this very website would have you believe. It will not get Brainstorm banned it will not itself get banned and I haven't bothered buying them. I have however bought playsets of Misthollow Griffin and Food Chain and Reforge the Soul.
Speaking of Reforge the Soul I really want to play that card in a Storm shell. Here's what I think the card has going for it:
Draws you a new seven cards at instant speed. This is going to be very relevant against black disruption decks which can otherwise keep you off of cards in hand as a resource.
Threatens to draw you a new seven cards at instant speed. If your opponent has a Force of Will they will lose it one way or the other. The downside of course is that you lose your hand as well so sculpting a good combo hand will go to waste if they let it resolve.
Fills your graveyard for Ill-Gotten Gains or Past in Flames or Cabal Ritual.
Encourages you to play Sensei's Divining Top in your storm deck slowing it down but letting you beat an opponent on card quality going long.
The downsides of course are appreciable as well.
Potentially draws opponents with no countermagic into hands with countermagic.
Plays poorly with Doomsday as you either want to set up a hand that can win with a Doomsday or you want to set up a graveyard that can win with Reforge the Soul. Reforge also doesn't go in any Doomsday stacks as there are plenty of ways to draw a nonexistent card with Laboratory Maniac in play.
Forces you to play red whereas most Sensei's Divining Top storm decks want to be U/W/B and fetch their basic lands.
Both slows you down and gives you an uncertain kill. In general if a combo deck is slower it ought to be more confident of its capacity to kill their opponent when their fundamental turn rolls around. This encourages you to play with cards that slow you down yet it "only" draws you seven cards.
If you were so inclined you could start here:
Lands (18) …or here…
Lands (17)
Spells (43) …or here.
Lands (13)
Spells (47) Regardless of your angle it's hard to ignore the presence of an unrestricted Wheel of Fortune in Legacy. However it ends up seeing play I expect it to show up in a StarCityGames.com Legacy Open Top 8 decklist in the next month. A card with the words "draw seven" printed on it is just too tempting.
There are several other cards that have sorely tempted me in the last few weeks. Most of them have the word "miracle" on them somewhere. Still I haven't found a deck that wants Terminus Banishing Stroke or Devastation Tide. Here's why:
Terminus is exactly the sort of catch-up effect that a Counterbalance deck wants. After they cast it they get to lock up the stack and sit on a stable board. The problem of course is that they have cards like Terminus in their deck so their Counterbalance curve is probably more than a little messed up. It's possible that the answer is to cut Force of Will but I'm pretty sure the best answer is actually to cut Counterbalance.
It's hard to know whether Sensei's Divining Top is ready to return to Legacy just yet. The advantage that it provides against blue decks is undeniable but such a deck must be able to deal with a daunting list of threats in order to make it as a control deck. I don't believe that miracles put that archetype over the top.
Banishing Stroke for instance is a worse Path to Exile—a white (and let's face it probably blue) control deck cares little about the artifacts and enchantments it will face. The cards that beat it are almost always creatures. As a result Terminus is worth a second look while the smaller Terminus is not.
Devastation Tide looks like the sort of card that combo decks would want until you realize that bounce spells are meant to be Tutored up not cast from the top of your deck. Besides what deck wants to pay five mana to bounce everything but lands when you can just cast something like Ad Nauseam or Dream Halls for five mana and win the game? Five mana is a lot in Legacy and that's before we start talking about the playability of Daze and Spell Pierce and Pyroblast. If only they had recosted it as an Upheaval reprint…
Last but not least I want to believe there's a home for Angel of Jubilation. She stops such an odd cross-section of cards that it's hard to find a home for her that she doesn't incidentally hurt. After all what blue deck wants her when she shuts off Force of Will and fetchlands? What Maverick deck wants her when she shuts off Qasali Pridemage? Perhaps this Angel will herald the return of the much-maligned Mono-White Flickerwisp deck.
I don't know whether a four-mana 3/3 flier can breathe life into a long lost archetype but I do know that there's a slew of combo decks on the horizon. Some of them have potential most of them are bad but all of them are fun enough to attract some players.
Brace yourself.
@drewlevin on Twitter
P.S. For those of you looking to be the villain in Providence this weekend here's the RUG deck that I would play:
Creatures (12)
Lands (19)