It's hard to pinpoint the exact moment that a trade starts to hit a wall.
For me it usually happens when I'm trying to trade for a card I don't particularly care about. For example at the Avacyn Restored Prerelease last weekend someone opened a foil Misthollow Griffin. While I'm not personally a big fan of the card enough people believe in its combo potential to make me think it will remain a desirable foil. Also the seller seemed even less enthused about the card's potential than me. After playing him in the second round of the event (he had opened his Griffin in his morning flight) I asked him if he would be interested in making a deal. He was.
Fifteen minutes later I found myself sitting across from him eyes glazing over watching him slowly flip through my trade binder. He had asked me about ten or fifteen different cards at this point and I had finally told him to just let me know when he was ready to make me an offer.
After a while he took two copies of the card Soothsaying out of my book and started to examine them.
"These cards are about a dollar each" he said looking them up on his phone.
"I don't think they're quite that low on most sites" I replied. "I need a buck fifty each for my Soothsayings. The card is amazing in Commander and I've never had a problem trading it at that price. In fact almost everyone who takes the time to read the card ends up trying to trade for it."
He thinks for a moment. "Yeah okay that's fine" he said.
After flipping through the book for a few more minutes he came back to the two copies of Soothsaying sitting on the table. He held them up to the light examining them closely and looking for any imperfections that might hurt the value of the card.
"I can do a buck fifty on one of them and a dollar on the other. It's a little scuffed up."
"No thanks" I replied.
"Excuse me?"
"I'm sorry but I generally don't discount any of my cards based on condition" I told him "not unless they're in truly bad shape. Most players don't care about condition at all and I can always find someone who will take the card at full value."
"So even though this one is worth less—"
"Yup. I'll be happy to trade either of those for a buck fifty each or both of them for three dollars. Otherwise we can find a different card that you're happier with."
In the end that's what we did. My trading partner—a nice guy whom I've traded with before and will be happy to trade with again—ended up settling on a Gauntlet of Power in exchange for his foil. For my part I was left with some interesting thoughts about card condition.
...
Condition is interesting. Most of the time it's a non-factor in making purchasing or trading decisions but there are times when it matters more than almost anything else. For example this is StarCityGames.com's buy price for a Revised Tundra:
Tundra – NM - $80.00
Tundra - SP - $70.00
Tundra – MP - $60.00
Tundra – HP - $30.00
Whoa–that's a $50.00 difference between the best and the worst condition!
So how "mint" would your Tundra have to be to get you the full $70.00? How beat up is HP? What about other ways of denoting condition: what's VF+? NM-? What about PSA 10 or BGS 6.5? What should you do with your beat up cards? Your near mint ones? Should you get your cards professionally graded?
Let's talk about condition.
How to Judge Condition
No matter what scale you're using there are four main qualities by which all cards are graded:
Surface – This covers scratches scuffs and blemishes on the front and back of the card.
Edges – This refers to nicks dings and creases on the edges.
Corners –This refers to regular corner wear—usually rounding that eventually becomes whitening.
Centering – In order for a card to be flawless it needs to be perfectly centered. If a card's borders are off by more than 5% it will not be considered a perfect card by the professional grading services. When most people grade Magic cards however centering rarely comes up and usually isn't a barrier to having a card considered "mint."
[Editor's note: For StarCityGames.com's own grading scale check this page.]
Casual Grading
If you are buying a card online the first thing you need to do is figure out what the seller's grading scale is. Why does that matter? Well check out this common scale:
- Mint
- Near Mint
- Very Good
- Fine
- Good
- Poor
- Played
Here's another equally valid grading scale that I see on eBay all the time:
-Mint
- Near Mint Plus
- Near Mint
- Near Mint Minus
- Very Fine Plus
- Very Fine
- Very Fine Minus
- Good
You see the difference? In one scale a "good" card is likely going to be in reasonably decent shape. In the other it could have been stepped on by a boot and left out in the rain. Think of it mathematically; if you're trading for a card that's a "7" it's important to know whether it's a 7 out of 10 or a 7 out of 100. (And yes some people do this to be deliberately deceptive.)
Honestly all of the plusses and minuses generally end up as a whole mess of nonsense anyway. No one has the same standards so one person's VF- is another person's NM. And because most consumers don't care there's not a lot of lobbying for increased accuracy. If you're buying a card between HP and NM individual grading is going to vary wildly.
If you're trying to grade you own cards for future sales here's the simple and general scale I like to use. It's based on StarCityGames.com's grading policy and I like it because it's both clear and intuitive.
Mint (M)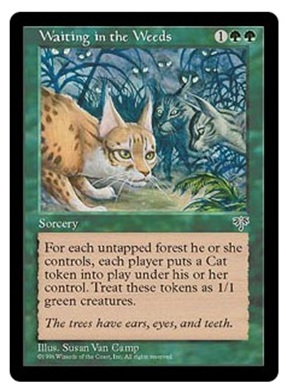 Is my card mint?
Your card is not mint. Even if you use a magnifying glass to search for every possible imperfection there is something that you missed. I don't care if you pulled your card out of a brand new pack and triple-sleeved it in a perfect vacuum your card is not mint. And if you try to sell it as such you're only going to leave yourself open for complaints from picky buyers. That's why this picture is taken directly from Wizards' own site—that's the only place you're going to find truly mint cards.
Near Mint (NM)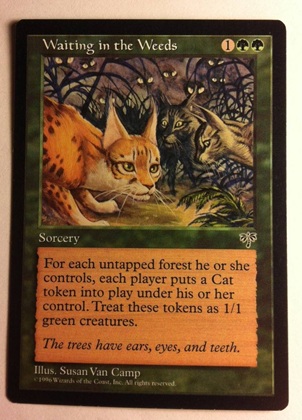 Is my card near mint?
Your card is only near mint if you can't see a single thing wrong with it. Either you just pulled it out of a pack or it has lived a very charmed life. There's room in this grade for a little bit of scuffing or a tiny ding but that's only if you're a super observant person. If someone sitting across from you can see an imperfection in your card it's not near mint.
Slightly Played/Very Fine (SP/VF)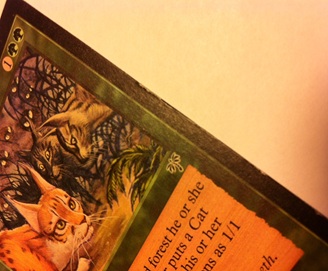 Is my card slightly played/very fine?
Probably. This grade encompasses most cards which probably includes most of your trade binder. SP/VF is a very forgiving grade; your card can have a couple edge dings some slightly rounded corners a few scuffs…you know the things that happen to cards over time even if you're a careful person using sleeves.
Damage on an SP/VF card is still probably not noticeable by someone sitting across from one unless they're looking really hard.
Moderately Played/Fine (MP/F)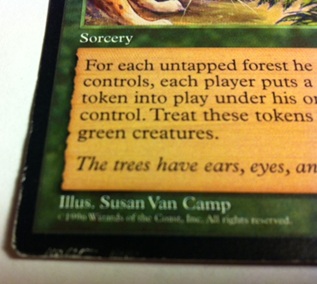 Is my card moderately played/fine?
It is if you think it's got some problems. These are the cards that tend to cause grumblings in online/mail trades where one person doesn't mention condition and then the other person gets a card with like ten edge dings and is upset but may or may not say something about it. MP cards are visibly worn: slight whitening lots of edge dings shuffle creasing binder creasing and other corner and border wear.
You can generally spot these cards as damaged from 3-4 feet away without any trouble though some moderately creased cards may look good until you pick them up.
Played/Heavily Played/Good/Poor (HP/G/P)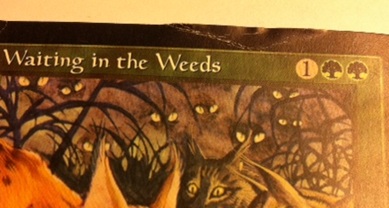 Is my card played/heavily played/good/poor?
All four of these things mean the same thing: your card is in awful shape. Dirt discoloration creasing water damage rips bends tears creases and worse. I would never buy or sell a card of this grade sight unseen as many of them will not be tournament legal.
Mauled by a Cat (MBC)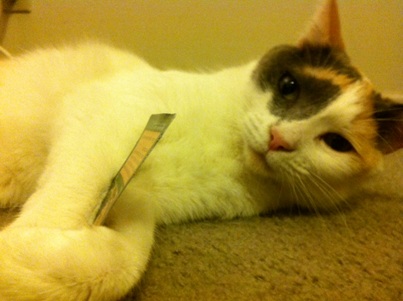 Has my card been mauled by a cat?
If you have to ask the answer is probably yes.
Professional Grading
There are two major companies that will professionally grade Magic cards for you. These cards are given a grade and then put into a plastic holder that cannot be cracked without voiding the card's valuation.
No matter which service you use grading an expensive card in excellent shape will contribute significantly to its value. For example a gem mint PSA 10 Unlimited Black Lotus sold on eBay for almost $6000 last month. Several other Unlimited copies of Black Lotus that were billed as "mint" on eBay only sold for around $1500.
Of course grading won't help you much if the card isn't in virtually perfect shape. A PSA 7 Unlimited Black Lotus—equivalent to near mint condition—only sold for $1250.
The most widely used grading service is the Professional Sports Authenticators. They will grade your card from 1 to 10 without fractional numbers.
If you want PSA to grade your cards the cost is $15 for each card worth under $500 $35 for each card worth between $500-$2000 and $65 for each card above that.
The other company Beckett runs the BGS grading services. BGS is generally cheaper than PSA; they don't distinguish between cheap and expensive cards and you can get a single card graded for just $9 if you're willing to take their slow (up to 45 days) service. If you want to use their more reasonable ten-day service it's still just $14/card.
Unlike PSA BGS uses fractional grades. PSA goes straight from a 9 to a 10 for example while BGS will give cards a 9.5 if they're mint but not absolutely flawless.
I tried to research which of the two companies does a better job but the internet is full of anecdotal evidence pointing in both directions. Most people feel like BGS is harsher but that may just be a result of the fractional grades. PSA is the older company and still widely held as the industry standard but the price difference is probably enough to make BGS a better option for anyone who wants to get their cards graded.
Even still it does not make sense to get any of your cards professionally graded unless they're from one of Magic's earliest sets. While I believe there is a bigger-than-reported collectors' market for Magic cards most only care about visible damage. If someone is putting together a set of Urza's Saga they're not going to pay for a PSA 10 Tolarian Academy—they'll likely just trade for one that looks nice out of someone's binder.
It's also important to note that PSA and BGS 10 aren't the same as "pack fresh." It's possible to open a card straight from a pack and have it grade out at a 7 or lower due to off-centering factory imperfections or scuffing/damage sustained in the pack.
How Much Does Condition Affect Value?
The inattention most players give to condition is one of the most baffling things about the rise of value trading. Time and again you'll see traders—especially novice ones—consider card value as the only variable when making a deal. These are the traders that need to look up every single price and balk at giving up a single nickel even if it's a great trade for them. More often than not these players don't even consider condition when evaluating cards.
But they should.
Let's go back to Tundra. StarCityGames.com buys MP at $60 and sells at $100 they buy SP at $70 and sell at $110 and they buy NM at $80 and sell at $120. If you're the kind of person who needs all the values to even out this price disparity should be in the front of your mind whenever you're acquiring cards.
It matters with lower value cards as well though obviously not to the same degree. For example SCG will buy a NM Jace Beleren for $2.00 and sells it at $4.99. SP only gets you $1.50 and sells for $4.49. An MP nets you just $1 and sells for $3.99.
Condition matters most on cards that appeal to the collectors' market. Most people who are looking for a set of Seachrome Coasts could care less about condition; they just want to jam them in a deck and get playing. But the only reason anyone trades for say a Beta Shivan Dragon is because of how rare and cool they are. And for that condition is crucial. That's why an MP Seachrome Coast still costs $13.99 87% as much as the NM version while an MP Beta Shivan Dragon is just $99 a full 50% discount on the NM price.
Alpha and Beta cards are also unique because people want to put together sets of the earliest Magic expansions and so few copies of those cards in NM condition still exist. Beta was released before anyone knew these cards would ever be valuable and no one played with sleeves. Cards like Shivan Dragon and Lord of the Pit are especially hard to find in great condition as well because those were Magic's earliest bombs and likely saw a lot of play. This is also why it's far easier to find a NM Force of Will than a NM Jester's Cap; most Caps went right in decks while most Forces stayed in bulk boxes until years later. When buying collections from that era I find far more copies of Force of Will hanging out with the other uncommons than I do in the remnants of decks.
Overall this is a good rule of thumb to use when evaluating condition especially when buying cards or collections:
Standard/Modern Staples
NM: 100%
SP: 90%
MP: 85%
HP (not tournament legal): 50%
You should probably not give much if any discount when trading these cards unless they show significant surface wear—you will always find a taker at full value that doesn't care about condition. If the card isn't tournament legal it's only worth about half the price of retail to someone building a casual deck that will be happy to get a card they otherwise couldn't afford.
Legacy Staples
NM: 100%
SP: 85%
MP: 75%
HP (not tournament legal): 60%
For older cards like Mox Diamond City of Brass etc. you'll get more people caring about condition. People who play Legacy like their deck to look good and it becomes harder to move these mid-level cards in bad condition (though you'll be able to get a little more for the crappiest level cards simply due to increased demand and StarCityGames.com.) For expensive staples like Force of Will or Wasteland I wouldn't discount at all due to condition; demand for these is always very high.
Commander/Casual Staples (Non-Foil)
NM: 100%
SP: 80%
MP: 70%
HP: 50%
The drop-off comes faster here—these cards are generally in greater supply and the casual community is more likely to care about card condition.
"Pimp" Cards (Foils Foreign etc.)
NM: 100%
SP: 75%
MP: 70%
HP: 65%
When dealing with collector-grade cards the drop-off is extra steep but not quite as deep. Most people who want these cards will only be seeking NM copies but at a certain point it will become affordable enough for people to be interested anyway. If someone absolutely has to have a Korean Gilded Drake for their cube they may be tempted by your MP one because it's the only copy of the card they've likely ever come across.
What Should I Do With My Damaged Cards?
As you can see from the buylist prices most online Magic stores discount heavily for condition when they make acquisitions. Damaged cards take longer for them to sell and come with added risk as their customers might not agree with the store's grading methods. In most cases any visible wear is going to cost you 30-50% of the price of your lower value cards. Because these percentages are often a lot lower than my own it is usually a bad deal to take.
If you must sell your SP or lower cards I suggest doing it in person. Buyers often have some personal leeway and you can go over each card separately instead of just getting an invoice sent to you. Otherwise I would only sell NM cards to stores via their online buylist.
Why shouldn't you just take the hit? Well when Modern was announced and the Ravnica shocklands went through the roof I attempted to sell about fifty of them to a dealer via their buylist. I made the transaction in person and about twelve of them were flagged for condition. I opted to hold onto them instead managing to get full value for every single one on the trading floor. I cannot stress this enough: most people don't care about condition so taking any kind of discount for your played cards is often leaving money on the table.
Damaged cards are also risky to use in online trading. I'm currently dealing with a trade-by-mail involving this exact issue; I made a deal and sent out some cards that my trading partner didn't think were in satisfactory condition. Because these cards were only in part of a larger deal we're both probably going to have to take more time and spend more money re-shipping cards to make everyone happy.
So what should you do with your damaged cards?
- Put them in your competitive decks. Do you really care about a nick or a ding on your Misty Rainforest? Unless it's a foil in your $10000 super deck I'm guessing not. Make sure that your cards aren't marked but otherwise it's best to put them to use.
- Sell them individually online. During an online trade people often have personal attachment to the cards going in both directions and not being clear enough about condition may hurt you. In sales however I've found that most people don't seem to care. I've sold thousands of cards in online auctions over the years and my grading has often been vague simply because my eyes glaze over after the seventh playset of Brainstorms and I'm not as good at checking. Often I will simply state that the cards may contain a small amount of visual wear and will be between MP and NM in condition. Surprisingly this rarely affects my ability to sell the cards.
- Trade them! This is the best option. When trading you can both see each card in person before the transaction is complete. Remember to check the cards coming back from your partner to you—if you're trading in order to sell cards to a store's buylist make sure you're getting NM stuff coming back in exchange.
Final Notes on Condition and Trading
Card condition will always be a fantastic opportunity for arbitrage when trading Magic cards.
No matter how "collectable" the game gets there will always be a segment of the population that will not care about dings scrapes and dents. To them functionality is the only important aspect of a card and they will trade for what they need as long as it is tournament playable.
At large events you'll always run into the "condition guy" when trading. Similar to my story at the top of the article this guy will examine every single card you own in the hopes of shaving a couple dollars off the value of your pile. This is eternally annoying even though he is certainly right to do this. As someone who thinks trading should be both fast and fun I rarely spend much time on card condition unless it's blatantly terrible but other high-end traders are more stubborn than I.
The next time you encounter this guy though think of it as an opportunity! Once he starts asking for discounts due to condition in a trade that genie is out of its proverbial bottle. Let him have your NM staples—he'll have to give you full value for them after all—and ask for his SP cards in return. In deals like this you can pick up cards like Force of Will and the dual lands on the cheap and take them back to your home store where the local grinders will probably be more than happy to give you full price for them.
Until next time –