A few weeks ago I wrote an article about "the fire." I talked about what it means to have the fire and how I had lost and rediscovered it. Though I didn't play at Pro Tour Avacyn Restored it had reignited my desire to win in competitive Magic. The SCG Invitational this past weekend in Indianapolis was the first big test to see if I was deluding myself or if it was real.
I had the fire but would it sputter and fizzle out or remain lit?
You see I've been able to light the fire before.
I've been able to reignite the fire before.
But until last weekend I'd never been able to maintain a lit fire for over four hours without having to call a doctor. That changed in Indianapolis. I changed in Indianapolis. And now I want to share my story in the hopes that you too can remain lit-erate.
As soon as I got back from the tournament a friend of mine came up to me with tears in his eyes and said: "Brian I was just terminated from my job." I immediately gave him a high five to his confusion. "Why are you celebrating my unemployment?" he asked.
"Because you just got the fire" I responded.
"No I GOT fired."
"Oh. Well it's basically the same thing."
McDonalds lost a fairly invaluable member of their team and my friend learned a fairly valuable lesson about life and the fire. He's fired up about finding a new job and I'm going to help him remain lit throughout the process.*
My process began in Roanoke last week. I drove up to spend a few days testing for the SCG Invitational. I was pretty locked in on playing Delver; I just wasn't sure whether I was playing Blade Splicers or Geist of Saint Traft and what my sideboard was going to look like. Despite playing a decent amount of Delver in the past year I wasn't very confident about playing it. I'm not really a very good tempo player and the comparisons to Caw-Blade have always seemed hollow to me. At the same time I knew the deck was by far the best deck and I couldn't really justify sleeving up anything else.
Instead I focused my time on testing for Legacy. It seemed that Griselbrand was basically the best possible thing you could be doing in the format but I wasn't sure I would be able to find the cards I needed to rock a combo deck based around Innistrad's thugliest Demon G-brand. I don't own very many Legacy cards and being able to find the cards you need within a few days isn't always feasible.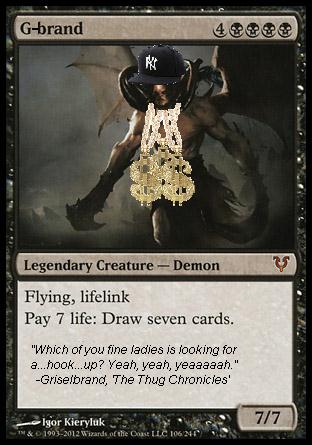 Legacy Testing
My goal was to find a fair deck that could compete with the degenerate combo decks that were dominating the format namely Reanimator and Sneak and Show. Additionally I needed to have reasonable game against Maverick James and RUG Delver two fair decks I also expected to see.
I started with a few blue-based tempo decks that weren't RUG Delver as that is a deck I can't see myself ever playing. It's just not really my style of deck and I don't enjoy the game play associated with it. One possible deck was Gerry's mono-blue deck from his article last week but that deck seemed way too metagamed to play in a very open format like Legacy. Another option was Merfolk but I was scared to play it against the non-combo decks and I wasn't even convinced that Merfolk adequately beat the Griselbrand combo decks anyway. It had some level of disruption but the clock wasn't blazing fast and I wasn't sure it could really finish the game in time.
I ended up taking the question to Twitter: "I wish I knew what to play in Legacy for the Invitational…"
A number of people had some very interesting suggestions but Cory Massimino a friend of mine and lifelong troll chimed in with the suggestion of Esper Stoneblade.
Despite Stoneforge Mystic being a near and dear friend to my heart the deck was pretty bad in the current metagame. You're tapping out on turn 3 for Lingering Souls and your opponent is attacking you with the Griselbrand they put into play the prior turn. Cards like Swords to Plowshares do nothing against some decks while cards like Lingering Souls do nothing against…every deck.
I was skeptical of his suggestion and initially dismissed it but the more I thought about what to play the more I thought about Stoneblade. For some reason I couldn't get the deck out of my mind. Every time I thought about Legacy I saw Stoneforge Mystic's stoic 1/2 frame staring at me. I ended up saying to the Roanoke guys that I wanted them to beat me senseless in testing so I could stop considering Stoneblade an option.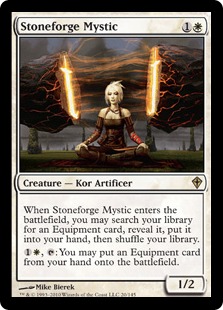 I put together the Stoneblade list that I thought would be best suited to beating a combo-oriented metagame. Instead of slow grindy cards like Lingering Souls I wanted versatile cards like Spell Pierce Vendilion Clique and good old-fashioned Counterspell.
My first list was U/W and looked like this:
Creatures (14)
Planeswalkers (3)
Lands (24)
Spells (19) I shudder every time I gaze upon that unsightly sideboard.
Regardless I tested with the deck and I kept winning. I went 3-3 against Reanimator in preboard games and Griselbrand even entered play in all six games. I didn't have Karakas in my deck yet at the time. Post board it only got better with Surgical Extractions and the like. I was beating Sneak and Show pretty handily I was destroying U/R Delver and I was winning more than 50% against BUG Control. I didn't test against either Maverick or RUG Delver but I knew how those matchups played out based on how many times I'd faced them in the past.
I cut the black cards which were basically just discard spells and I also cut Lingering Souls. I thought that Lingering Souls was atrocious in the current metagame. It's fine against Maverick it's good against RUG Delver but it's a stone blank in any combo matchup and glacially slow even in the matchups it's passable against. I wanted cards that were quick disruptive and useful in every matchup. While the discard spells mostly fit the criteria I trimmed them for a better mana base.
The Humilities in the sideboard were because I felt like the card was amazing in the metagame. There are very few heavily played combo decks that aren't based around creatures and the Griselbrand combo decks are usually just straight dead to the card. If they cast Show and Tell and you put in Humility it's very tough to lose.
This led to me trying unsuccessfully to build a Humility deck. I couldn't figure out how to make the deck and how to win the game after Humility entered play against a deck like Maverick. Thopter/Sword seemed like the best win condition with Humility but takes up so many deck slots that I wanted to be Counterspells and disruptive threats like Vendilion Clique and Snapcaster Mage instead. Win conditions like Jace and Elspeth seemed so clunky when you're already basing your game plan around resolving a four-mana enchantment.
I gave up on that idea (although I will probably revisit it again) and settled on playing Stoneblade. The day before the tournament I added black back into the deck for a better sideboard plan and the discard spells since I got scared and wanted more insurance against combo decks.
Throughout this process I was told countless times by a number of people that Stoneblade was awful and I should stop considering it. This continued all the way up to the beginning of the Legacy portion of Day 1 of the SCG Invitational. By that point I had something to prove with the deck. Stoneforge was my squire-with-benefits and I wouldn't let those heartless naysayers besmirch her name without putting up a fight to defend her honor. It was time to get my 2/2 for WW with first strike and protection from black on.
I had this feeling that I was going to do really well with Stoneforge and prove the haters wrong. Todd Anderson was the only person who legitimately believed that Stoneforge could be viable. Everyone else dismissed it.
They dissed Stoneforge Mystic. That was a Stoneforge Mistake.
Here is the deck I played:
Creatures (13)
Planeswalkers (1)
Lands (23)
Spells (23) Turns out the deck was too leJitte to quit.
Standard
If there is one thing I love it's Delver of Secrets. It's a high variance card that frequently leads to matches of Magic that aren't fun for either player. Where do I sign up? Where can I get more of this? Fun has no place in Magic. There's nothing more awesome than a turn 1 Delver that either blind flips or never flips. It's my heartfelt desire that WotC prints more 3/2 fliers for one-mana with huge built-in variance swings so Magic can become even more fun for everyone.
So about those bannings… I reaaaally wish they had gotten rid of the bug.
Anyway despite my unbridled hatred toward the D of S I was originally on Delver for the SCG Invitational but Brad Nelson slowly talked me into taking the plunge with the five-color Frites deck he had been working on all week. I was afraid to play Delver. I was going to play some stock Delver deck in a tournament where I might have to play a mirror against one or more of the 20+ players who were better at playing the deck; that just seemed like a bad idea to me. If I ran into one of these better Delver players I was probably going to play worse and lose.
I would rather attack the format from an unexpected angle.
I had no clue how good the Frites deck was. I was only able to get in a few games with the deck before the tournament but I felt like it was a better choice for me than Delver. Brad was adamant that the deck was awesome and I took his word for it. My one contribution was being stubborn about keeping Gavony Township even if it meant a slightly worse mana base. Out of the five or so matches I had played with the deck beforehand I won two where Gavony Township played a big role. Having an effect like that in a deck with Lingering Souls is huge.
I ended up playing this list:
Creatures (17)
Lands (24)
Spells (19) I won't go into much detail about the deck since I'm sure Brad will talk about it himself but the big change I want to make moving forward is to add in Combusts or Dismembers to the sideboard to deal with Hero of Bladehold and to a lesser extent Restoration Angel. Hero is a huge problem for the deck when backed up by cards like Vapor Snag to keep Elesh Norn Grand Cenobite off the table.
The Tournament
I had two byes to begin the tournament. I used that time to fuel myself for the upcoming battles. I went up to the girl working the register at Burger King and said "Give me some chicken." She replied "Crispy or fire-grilled?" Upon hearing the words fire-grilled my body burst into flames and I stared at her with a burning look in my eye. She gulped and silently punched the fire-grilled button on her register. No more words needed to be spoken. The fire was still there.**
I'm going to focus on some of the more interesting situations that happened over the tournament and ignore the more straightforward rounds.
Round 3: Ben "Cheese With That" Wienburg G/R Aggro
Ben tried to fight "the fire" with a miracled Bonfire of the Damned but fell one point of damage short.
Win 2-1
3-0
Round 4: David "Jack" Bauer U/W Delver
Win 2-1
4-0
After the Standard portion Brad and I were a combined 6-0 with the Frites list which he dubbed "Solar Frites." I was feeling good at this point but at the same time I was nervous about the Legacy portion coming up.
Round 5: Jeff Hoogland B/W Stoneforge
I mulled to five game 1. Having read the excellent article Reid Duke wrote on mulligans I decided to keep the following hand on the draw against an unknown opponent:
Brainstorm Brainstorm Force of Will Counterspell Stoneforge Mystic
Would you keep? I did and would again. Regardless I lost and then lost again game 3 due to mana issues.
Loss 1-2
4-1
You may remember Brian Sondag as the Justin Timberlake of Primeval Titan (he's bringing Titan back) when he won an SCG Standard Open with what we now know as Wolf Run Ramp. Unfortunately for Brian my deck was more N'Sync than his was this round.
Win 2-1
5-1
Round 7: Jeff Darran "Duran" Show and Tell
I got to beat Jeff with the classic turn 5 cast Sword of Feast and Famine equip attack untap hard cast Batterskull play that I remember so fondly from Standard. And I got to do it twice!
Win 2-1
6-1
Round 8: Adam "Kobra" Cai Grixis Delver
Adam double Wastelanded me all three games but I was fed up with it by game 3 and kept five lands Brainstorm Batterskull and fought through the LD. Suck it Wasteland!
Win 2-1
7-1
After Day 1 I was sitting pretty at 7-1. This was the best I had ever started at a SCG Invitational and in fact one of the better starts I've ever had in a tournament as I generally lose early and claw my way back. I was excited about capitalizing on this opportunity on Day 2.
Round 9: Ronnie Ritner U/W Delver
Game 1 demonstrated the power of Gavony Township. I curved out Birds of Paradise into Lingering Souls into flash back Lingering Souls and then I did nothing but activate Gavony Township and/or attack for about five turns in a row until he finally died despite him having a lot of Restoration Angels.
Game 2 was a nailbiter that I was lucky to win. I had to go for an Elesh Norn Grand Cenobite and hope he didn't have Vapor Snag Mana Leak or Sword of War and Peace and he managed to have none of them.
Win 2-0
8-1
Round 10: Shaheen "Never Lose A SCG Draft Open" Soorani Esper Planeswalker Control
Shaheen died to the transformational sideboard plan of Strangleroot Geist and Sword of War and Peace just the way we scripted it.
Win 2-0
9-1
Round 11: Michael "Ain't No ShipitHolla Back Girl" Hetrick RUG Pod
A quick Elesh Norn both games put Michael away in very short order.
Win 2-0
10-1
At this point Gerry Thompson and I were the only X-1s and we had not played each other yet so we knew we were going to get paired. I was really worried about the matchup since Gerry had Hero of Bladehold and I had no real way to beat the card. My hope was that he wouldn't think to side it in (unlikely) or that he wouldn't see it in postboard games. I really needed to win game 1.
Round 12: GerryT U/W Delver
I am 0-X lifetime against Gerry and I generally mull to oblivion and get destroyed badly every time we play. This was no exception. I mulled to five game 1. I didn't win that game. True to form I mulled again game 2 and Gerry crushed me with Hero of Bladehold just as I had hoped wouldn't happen.
Loss 0-2
10-2
I'm still 0-X against him. I'll get you next time Gerry T! You may be one step ahead but are you prepared for me to be two steps behind? I bet you're not.
After GerryT bagged my hopes of being atop the standings I was back to playing Legacy. I needed to go 2-2 in Legacy to Top 8. I felt good about my chances but at the same time I didn't want to get overconfident and tried to focus just on the matches at hand.
Round 13: Kyle McDaniel Reanimator
I had two very good hands and won without much fuss.
Win 2-0
11-2
Round 14: Michael Jacob Sneak and Show
I beat Michael pretty bad in game 1 by stripping a Brainstorm from an otherwise weak hand and having my one-of Karakas. I lost a quick game 2 and in game 3 I kept:
This hand has maximum disruption and a Karakas. After a good solid six-plus draw steps and two Brainstorms later I had never hit a third land and ended up dying to Through the Breach on Griselbrand on my turn draw 14 then Sneak attack + put in Emrakul twice to kill me through Karakas on his turn.
Loss 1-2
11-3
We played three good games but he was eventually able to cook me with the 'goose in game 3. This seemed to be the worst matchup I played in the event. Without Engineered Explosives or Lingering Souls I was relying pretty heavily on Batterskull game 1 and Perish games 2 and 3 to get the job done for me and that's not a good spot to be in against this deck.
Loss 1-2
11-4
Game 1 Costa double Wastelanded me early to try to screw me on a mulligan to six. It worked.
In game 2 it looked really bad for me at one point. I was down to just a Sword of Feast and Famine and no hand against his four cards and plenty of life. Thankfully his deck was slow and I had time to draw out of it and successfully race a Scavenging Ooze.
Game 3 I had complete control of the game most of the way through. Matt had Pernicious Deed but I was able to keep him from ever getting more than a one for one out of it by attacking one at a time with Mutavault. I had Surgically Extracted Raven's Crime and Life from the Loam and eventually I stuck a Jace to further hammer it home. Unfortunately I couldn't muster enough to finish the job through his Pernicious Deed before time expired on our match.
At the end of turn 5 of extra turns I had a Mutavault in play with a Vendilion Clique Snapcaster Mage Swords to Plowshares and Surgical Extraction in hand. Matt was at three life and had no board and no cards in hand. There was no series of draws he could make that would pull him back into the game. I asked if he would be willing to concede since a draw knocked us both out of Top 8 and he couldn't possibly stop me from killing him the following turn. After some deliberation he agreed and I finished in 7th place.
Win 2-1
12-4
Top 8 Quarterfinals: Michael Hetrick RUG Pod
Having easily dispatched Hetrick earlier in the tournament I felt fairly confident about this matchup. Unfortunately he got out to a very quick 2-0 lead against me by virtue of the nut Birthing Pod hands in both games to my mulligans and weak starts.
I felt a little flustered at this point but I knew the matchup was good and coming back from being down 0-2 wasn't out the question so I buckled down and tried to play good Magic. Game 3 was fairly lopsided in my favor. I had an Elesh Norn in hand but had to make sure that I could cast it and not die to his Hound of Griselbrand + a potential Zealous Conscripts in hand. If he Conscripted my Elesh Norn with an undying Hound he could deal nineteen damage to me in one turn. I managed to get him to a point where he would have to chump with his Hound when I cast Elesh Norn and he conceded on the spot. Even though he wasn't dead yet he probably had no outs. To anyone who watched live I wasn't trying to slow roll him; I just wanted to make sure I didn't let him one-shot me by being careless with Elesh Norn.
I felt that I played game 4 very well. He got an early Strangleroot Geist that both of us Phantasmal Imaged. This shut me down from Reanimating the Elesh Norn in my graveyard since his Phantasmal Image would die and could come back as Elesh Norn Wrath my board and legend rule the Norn and he could stack the trigger so that his original Strangleroot Geist came back afterward as a 3/2. In essence Reanimating Elesh Norn would do me more harm than good.
I needed an Arc Trail so I could get rid of the Image and clear the way for my Elesh Norn or a second Unburial Rites so I could just bring it back twice. A few Faithless Lootings later I drew an Arc Trail but since Hetrick had a Hellrider at that point I needed to wait until I had enough mana to cast both Arc Trail and Unburial Rites in the same turn so that I could kill Hellrider in the same turn I brought back Elesh Norn. He Metamorphed his Hellrider in the meantime and did a whopping thirteen damage to me in one turn leaving me at a precarious three life.
In the process of that attack I was able to trade with his Phantasmal Image though which gave me the window I needed to Unburial Rites the Elesh Norn. His Image came back and copied Hellrider. I untapped and Arc Trailed the Image and Hellrider and brought back Elesh Norn killing everything he had except for his Metamorphed Hellrider. Still at three life I was dead to any haste creature or Clone but I had him on a one turn clock myself. He didn't kill me and I was able to Mulch into an Ancient Grudge to off his Metamorphed Hellrider the following turn. That was game.
At this point I was feeling very good going into game 5. Sadly Hetrick had an exceptional draw against me was able to get the double red to cast Hellrider despite a low count of red mana and an Arc Trail on his Birds of Paradise and quickly finished me the following turn with a Strangleroot Geist and a Phantasmal Image on Hellrider.
On turn 3 of game 5 I had an interesting decision. My hand was all lands and Mulch and I ended up casting Mulch to try to dig for action. I could have played Gavony Township and sat on it instead just using it every turn on my Birds of Paradise and Avacyn's Pilgrim. I don't advance my game plan by using Gavony Township but I prevent myself from quickly dying to the double Hellrider start and make it tough for him to attack me. As it turned out Mulch hit nothing and I lost badly shortly thereafter. I'm still not sure what the right play was but I regret not using the Township since it would have been better for me in hindsight. My gut told me to use the Township but I ignored it and ended up regretting it. Always listen to your gut.
I was pretty disappointed losing this match. This was my best possible matchup in the Top 8 and I felt very favored in it. I also wanted the trophy. I wanted to win the tournament so badly to prove to myself and others that I am a capable Magic player. I feel like I have built up a reputation of being a jokester but a mediocre player and I wanted to prove people wrong. I fell short this time but I will be back.
I had overall fairly weak draws against Hetrick mulling in four out of five games and Hetrick drew very well against me having the nut Birthing Pod start against me in three games and the double Hellrider start against me in two games. That's Magic though. You can never say who is going to win a match without actually playing it out because you never know just how the cards are going to fall.
Hetrick also played very well against me. After he beat me I felt like he was going to win the tournament since he seemed to be really on top of his game. I was rooting for him in the finals to beat the Delver menace but it was not to be. Delver took down another tournament.
Did I mention how sad I am that they didn't ban Delver?
As usual my favorite part of the tournament involved events beyond the scope of the actual tournament itself. As weird as it may sound my happiest moment of the weekend was going 3-0 in a team draft with a weak deck because I kept ripping a Cathedral Sanctifier exactly when I needed it to stymie my opponent's game plan. I would have six mana and a Cathars' Crusade in hand but I couldn't play the Crusade without also playing a creature in the same turn otherwise I would just die to my opponent's board. That meant I needed to draw Cathedral Sanctifier so I could play both.
I would yell out: "I need to draw the worst card in my deck." Then I would rip the top card it would be the Cathedral Sanctifier and I would start to laugh. Get Sanctified! When you run well you run well…
Before I conclude this article I want to address one final thing:
Tournament Coverage and Twitter
Theodore Roosevelt had a great quote:
"It is not the critic who counts: not the man who points out how the strong man stumbles or where the doer of deeds could have done better. The credit belongs to the man who is actually in the arena whose face is marred by dust and sweat and blood who strives valiantly who errs and comes up short again and again because there is no effort without error or shortcoming but who knows the great enthusiasms the great devotions who spends himself for a worthy cause; who at the best knows in the end the triumph of high achievement and who at the worst if he fails at least he fails while daring greatly so that his place shall never be with those cold and timid souls who knew neither victory nor defeat."
What does this quote mean? It means that Teddy Roosevelt had serious issues using periods and starting new sentences. It also means that it's easy to be a critic and sit at home watching coverage on Twitter and harass the players who are playing for making mistakes. Give credit to the players who are actually out there playing who are putting themselves in front of thousands of viewers whether they err or not to play a game we all love playing. I'm tired of seeing people constantly attack the players playing on camera for how they play or mistakes they make.
It's easy to sit at home on your high horse and show how badly others are playing. However if you think that you haven't made those exact same mistakes at some point you are deluding yourself. It's easy to screw up especially in a high-pressure situation like being on camera playing for thousands of dollars. It's much easier to see the right play in a game of Magic when you're removed from the game. It's like looking into a snow globe versus being inside the snow globe. If you're inside a snow globe your vision is limited and you can only see what's in front of you. However when you're outside the snow globe looking in you can see everything more clearly.
It's honestly offensive to me to see people constantly attacking the commentators or the players. Grow up. Learn some respect. It's not easy being a commentator and it's not possible to play perfect Magic. This isn't to say that you can't point out mistakes misplays or things you disagree with; in fact I encourage doing so but there are certainly ways to do it that aren't downright cruel.
I'm not sure why so many Magic players feel the need to constantly be negative toward each other and life in general but that's not a very healthy environment and not something I want to be a part of.
Let's build a better community and stop being assholes to each other. I'm honestly tired of it and I hope you are as well. This goes for Magic Online too. I'm at the point where I report anyone who does anything unnecessarily mean on Magic Online because I'm tired of dealing with it. It's not hard to treat people with respect and there's no reason we should tolerate anything less.
Anyway I hope you learned something from this article. Make sure your fire always remains lit. If you're anything like me your seventh favorite alternative rock band from the 1990s remains "Lit."
Thanks for reading
BBD on Magic Online
*This story is untrue.
**As is this one.