Since the nature of core sets changed with M10 this time of year has been an exciting one. It used to be that a new base set only released every few years and served as little more than a list of what cards were going to be legal in Standard. Core sets were viewed as a necessary evil; pretty much just a place to put Constructed staples from years gone by along with whatever other basic cards were viewed as necessary for new players to understand the game. Boxes sat gathering dust on retail store shelves. No one was cracking packs for hot new cards—because there weren't any—nor were they busting them to draft because core set Limited was a snore fest.
Thankfully that time is behind us and now core sets get to be awesome. Not only are they jam-packed with sweet new cards but they're built with Limited in mind and play out as well if not better than many expansions in Draft. I had a blast playing in the M13 Prerelease this past weekend and I probably wouldn't have gone to a Ninth Edition Prerelease if you had paid me.
An interesting wrinkle in the release schedule of the new core sets that people seem to have to be reminded about every year is the period of several months during which both the old and new core sets are legal. Sets are legal in Standard when they release but there's only one time that sets rotate out of the format and that's with the release of the new large expansion in the fall. So until we make our way back to Ravnica in a few months we have both M12 and M13 to deal with along with both Scars and Innistrad blocks.
This overlap period is the biggest that Standard is going to get so it stands to reason that right now is when we'll see the most powerful versions of any decks that the format is going to produce. We have all the tools we're ever going to have to abuse say Birthing Pod or Infect or Phyrexian mana. So what are we going to do with them? What new toys are going to find their way straight from packs of M13 to tournament play? And what exciting reprints are going to join them?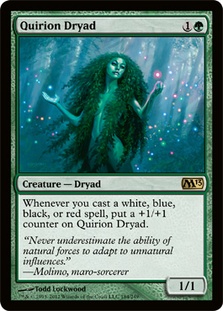 No one who has followed my Magic career should be surprised that the card I'm most excited about returning is Quirion Dryad. A while back I wrote an article about the best decks I'd ever played (an article that I wish I'd broken up into parts to give me more time to talk about each deck but maybe I'll have to revisit the topic again in the future). One of the decks on that list was Super-Gro. To save you the trouble of digging through that article to find out what I had to say about it I'll just revisit it here:
Creatures (15)
Lands (14) Extended of days gone past was much like the Legacy of today complete with dual landsForce of Wills and incredibly powerful cards and combos. One such combo was Illusions/Donate which first reached prominence in the Necro-Donate decks that were slowly dismantled by bannings (none of which ever seemed to do enough). After the various components were bannedDonatewas thought by most to be a dead deck but it resurfaced and won Pro Tour New Orleans in the hands of—who else?—Kai Budde. I played a similar U/RDonatedeck in that event but our version was inferior to the winning deck particularly in the heads-up match (in which Kai defeated me playing for Top 8).
This isn't aboutDonate though—not exactly. It's about the environmentDonatecreated in the following Extended season which was one of combo and anti-combo decks. One such anti-combo deck was Miracle Gro a ten-land U/G deck designed by future Hall of Famer Alan Comer to combat the combo decks by applying fast pressure backed up by counterspells. The deck was reminiscent of Alan's mono-blue Turbo Xerox deck from years before which cheated on land by playing tons of cantrip effects to give it more action in the later turns of the game. This deckbuilding principle has become a cornerstone of modern Legacy but at the time it was still very strange to see decks with such low land counts.
Alan's Miracle Gro deck was very successful and became extremely popular among players looking for an answer toDonate. It surpassed Donatein popularity if not success and became the deck to beat in the format. This spurred the popularity of Sligh decks which were strong against Miracle Gro because of the deck's reliance on small creatures and lack of removal to fight againstJackal Pups andBall Lightnings.
One day not long before GP Houston I got a message fromBen Rubintelling me he had a deck that was the sickest ever. He wasn't kidding—he sent me anApprentice.dec file called "sickestever.dec." It was a different take on Miracle Gro that cut the weaker creatures likeWild Mongrel Gaea's Skyfolk andWaterfront Bouncer and added white forSwords to PlowsharesMeddling Mage andMystic Enforcer. I was immediately interested. I hated Miracle Gro because so much of the deck felt underpowered while this deck cut all the chaff. We tinkered with the list a bit and moved the Meddling Mages to the sideboard in favor ofMerfolk Looters to help with filtering and to accelerate the deck to threshold.
The deck was a thing of beauty.Swords to Plowsharesgave you an enormous edge against Miracle Gro since you could actually remove their creatures while they could do essentially nothing to yours while also giving you the early defense you needed against mono-red. Meddling Magewas the nail in the coffin for any kind of combo decks andMystic Enforcerjust did it all. In the pseudo-mirror he was a huge board-dominating threat. Against red he was a creature far too big for any of their burn spells to kill who usually demanded aFireblastthat you could happilyForce of Will. Even against Oath he dominated the game because you could lock down the Oath player's mana withWinter Orb and they couldn't make theirMorphlingbig enough to deal with him.
At the Grand Prix all but one player piloting the deck made Day 2. Both Ben and I made Top 8. We were in separate brackets and it seemed like the perfect ending that we should meet in the finals but Ben lost in the semifinals to Josh Smith who was playing a U/G/B anti-Gro deck sporting Powder KegPernicious DeedDiabolic EdictandSubmerge along withWastelandto punish our low-land mana base. I could not avenge his loss in the finals sadly and sickestever.dec had to be content to go home without a trophy.
Super-Gro completely supplanted Miracle Gro in the metagame after that tournament and went on be a dominating presence in the format culminating in Alexander Witt winning the Master's Series at Pro Tour Nice with the deck after making his way through a single elimination grinder—a particularly impressive feat given that everyone was gunning for it!
Quirion Dryad was the iconic centerpiece of the strategy serving as a cheap threat that could quickly grow absolutely massive thanks to the density of cheap and free cards in the deck. In the right environment Dryad is a powerhouse; it's potent enough that it has even made its presence felt in Vintage!
If there has ever been a time for Quirion Dryad to shine in Standard it's right now. The existing Delver shell of cheap cantrips and Phyrexian mana free spells isn't quite the Gush plus Force of Will insanity we got to play with ten years ago but that's okay—we don't have to beat decks with Oath of Druids anymore either.
What else combos well with a bunch of free spells? I'm certainly not the only one to mention this guy…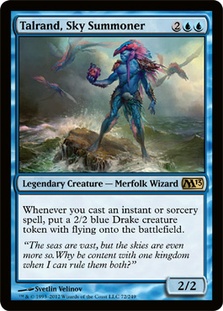 Talrand has gotten a lot of hype already and I think he certainly has the potential to be a major player in Standard at least in the short term while Gut Shot and friends are still around. I think people are being a little Magical Christmasland-y with how powerful they expect him to be since you're probably not going to still have a fistful of spells when you play him even on turn four—and just how much life can you really afford to pay with Phyrexian mana just to make Drakes?
Here's what I envision the first version of Dryad-Gro I'll try to play looking like:
Creatures (17)
Lands (20)
Spells (23) I like playing a bunch of Phantasmal Images in the maindeck because they're excellent proactively with your own Dryads both pumping the original and giving you another huge monster to grow. They also serve as a way to kill opposing Talrands if they do resolve which I expect to be an important battle to be equipped to fight since almost every deck is adopting Cavern of Souls now. That's why I only have a pair of Mana Leaks for countermagic; it's pretty terrible to sit back with mana untapped just to see your opponent drop a Cavern and make you waste your turn. This deck is much more interested in proactively tapping out to continue to grow a Dryad and Misstep is your best protection from Vapor Snag ruining that plan. I haven't really been a big fan of Delver decks but Quirion Dryad is probably the best thing that could have happened to get me to try out the strategy since I do love to smash with giant monsters.
Speaking of giant monsters—I've gotten a lot of inquiries about how I plan on updating my Naya deck with M13. Will I be adding Thundermaw Hellkite? What about Thragtusk? The short answer is that I don't really know and that I really need to wait to see how the metagame shapes up. The current build is pretty heavily skewed toward beating Delver and other than Quirion Dryad Delver doesn't seem to have many new tools from the set. My inclination is that if Delver decks adopt Dryad en masse that I might want to change some things because that thing can make it really hard to profitably attack on the ground. That said Dismember gives you a reliable way to keep it from getting out of control and if it does get too big Zealous Conscripts finally has a good target to steal in the matchup.
If I absolutely had to make an M13 version of Naya Pod today with no more information—like say I was going to play in the SCG Open Series this weekend in St Louis—I'd probably play something like this:
Creatures (32)
Lands (24)
Spells (4) This is very very similar to my previous versions with the only changes coming in the sideboard with the exception of a Thragtusk replacing a Geist-Honored Monk. I'm not sure if Thragtusk is worth a maindeck slot over the Monk which is just super powerful with Cavern and the various Township effects though it's certainly quite tempting for all the Restoration Angel tricks you can do with it. I do think that there will be a lot of people trying to play very aggressive decks using Rancor though and I think you probably want to have access to more than just Huntmaster for life gain there. Thragtusk also gives you a five-drop that's much better against Bonfire than Geist which could be important if that card becomes as popular in reality as the hype in articles would have you believe.
In the sideboard there's two more Thragtusks for exactly those aggro matchups I was talking about. I also added a second copy of Celestial Purge since people always love to try to make mono-red decks work in the early weeks of a format and there are certainly a lot of powerful tools for Goblins in the environment now thanks to the combination of Warchief plus Krenko and Goblin Grenade. It can't hurt to be prepared eh? Additionally Celestial Purge helps you hedge against Zombie decks which have also been quite popular lately (at least online).
Sublime Archangel is a card in the sideboard that I'm not sure about but I certainly want to try it. One of the defining characteristics of green mirrors in Standard right now is the miserable board stall they can degenerate into which can frequently just mean a staring contest until one player draws Bonfire. Sublime Archangel is intended as a way to break these open giving you the ability to attack for huge amounts of damage in a single swing preferably in the air. It's important to note that the Archangel leaves you somewhat vulnerable to Zealous Conscripts since your opponent can just steal it and hit you with it for a similarly huge amount so I'm not entirely convinced it's the right choice—I just included it because it's something I'm thinking about. Thundermaw Hellkite could serve a similar purpose but I think Sublime Archangel is the bigger breaker; it's also cheaper and is much easier to cast since you're likely to Cavern on Angel but only Cavern on Dragon to troll your opponent.
It's worth noting that if people are trying to play Quirion Dryad decks the value of Thalia increases dramatically. She's been less powerful against the Restoration Angel versions of Delver that play more land and have legitimate creatures to play but against Dryad decks that rely heavily on cantrips not only for their consistency but to power up their board presence she's a monster.
It's probably somewhat surprising to people that I'm not hugely excited about Rancor. Sure I think Rancor is going to be a good card but Rancor doesn't really go in the kind of decks that I like to build which are more midrange board control decks than beatdown machines. If anything the reprinting of Rancor just makes me want to play Blade Splicer plus Restoration Angel even more since I'm going to have so many more creatures to blank with first strike.
But I *am* excited about the new Ajani and Rancor plays well with the big fellow. I'm not quite sure how to build with him but he certainly seems sweet. And he definitely combos well with Sublime Archangel one of the other cards I'm itching to play—super exalted plus double strike makes an opponent dead very very quickly. What might an Ajani deck look like?
Creatures (29)
Planeswalkers (4)
Lands (23) This deck is just a sketch but it aims to take many of the powerful elements from Naya Pod and push them in a more aggressive direction thanks largely to Ajani. The threat of Ajani giving any of your creatures flying and double strike can force your opponent to take very conservative lines of play for fear of just dying at any time. I included Knight of Valor in part because I think he's been largely overlooked as a solid two-drop who happens to be a Human but also because Exalted works especially well with the double strike offered by both Ajani and Silverblade Paladin. Similarly Rancor not only gives you an extra four damage when you send the enchanted creature to the air with Ajani but also gives you the trampling power to get past chump blockers. With Sublime Archangel Rancor and Ajani you can literally one shot someone out of nowhere even through a Birds of Paradise or Lingering Souls token left back to block.
I'm excited to see how the new Standard environment shapes up in the next month or so through SCG Open Series and I can't wait for M13 to get on Magic Online so I can start brewing and testing for the World Magic Cup. I've been itching to play Standard for a while now already and a new set just makes it worse. I want to play with all the toys!
That's it for this week. Since I can't play with M13 yet on Magic Online I'm going to have to content myself with Cube for now. I'm going to be playing a *lot* of Cube while it's online since it's one of the formats for the Player's Championships coming up at PAX and I'm likely to be streaming a lot of it so be sure to drop by my stream over the weekend and say hi while I try to learn the format.
Until next time
bmk
Twitter: @bmkibler
Facebook: www.facebook.com/briankiblermtg
Stream: http://www.twitch.tv/bmkibler