Rancor: Rancor (Rang-ker) is definitely the Lightning Bolt / Mana Leak reprint of the set. While it was not nearly as universally beloved when it was first printed (it is an aura...), Rancor proved to be a monster in tournament play and has since developed almost legendary status...
This week, we've been reviewing M13 with an eye to new brews. We discussed the red and blue cards Monday and the black and white cards Wednesday. Today, we will be finishing this first pass of the set, covering the green cards as well as the artifacts, gold, and land. Plus, we'll talk a bit more about Battle of Wits...
Green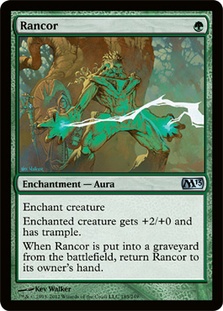 At level 1, Rancor is already a two-power haste creature that is very difficult to block (since even if they block, you trample over). If you liked Goblin Guide, you will love Rancor (assuming you are open to Forests as well as Mountains).
Rancor is good in much the same way Lingering Souls is in that it is a fine card (one mana to give +2/+0 and trample and sorcery speed Midnight Haunting) that happens to draw you another card that happens to be better than cards that normally get printed (if the creature dies, you draw a copy of Rancor, while Lingering Souls draws you another Midnight Haunting that only costs 1B).
One obvious creature to put Rancor on is Strangleroot Geist. No one wants to block a 4/1 trampler with undying; and even if they do block it, you can just Rancor it again. You do need to be careful, however, since a removal spell on your Geist in response to your Rancor still counters the Rancor.
Another possibility is to use Rancor in an Infect deck.
This list is derivative of Sam Black's Infect deck he discussed here, and I share his interest in keeping the deck fully in "Viridian Corrupter mode." Anything that pumps power is particularly exciting on an infect creature, since they effectively have double strike. Cathedral of War (one of the top ten cards of the set, in my opinion) is another perfect example. The mana is really hard for U/G or U/B, and neither red nor white are really more enticing than Cathedral of War (though I will admit, I love an Angelic Destiny...)
Of course, another possibility is to go back a little closer to Rancor's roots, Mono-Green Stompy:
There are lots of good options for a Mono-Green Stompy deck, so what we really need to do is answer questions like do we need any removal, whether Gut Shots, Dismembers, or artifact removal? Do we want more cheap creatures and Overrun (which is still legal for three more months)? Do we want to splash a color, perhaps instead of Dungrove Elder? Do we want more durability (like Young Wolf or Elvish Visionary) or more power (such as more Silverhearts)? Do Swords have a place maindeck?
No matter what Rancor decks end up succeeding, there are going to be a lot of secondhand consequences. For instance, Revoke Existence is going to rise in popularity, if only because of perception. The reality is that spending two mana to deal with Rancor is not a great deal. Really, the way to beat Rancor is to play instant speed removal (like Doom Blade or Galvanic Blast or Vapor Snag), though Dungrove Elder and Thrun certainly put a damper on that plan.
Elves had been in a very strong tribal place for years until this last one, when they kind of slowed down a bit. M13 begins the picking back up with a number of great Elves (that are versatile enough to end up in tons of non-Elf decks).
Arbor Elf is yet another call-out to the returning shocklands, even if he is not usually as good as Llanowar Elves. Elvish Visionary wasn't really used outside of dedicated Elf decks before (aside from Block), but it is possible the format is friendlier to him now. I know I'd want to try one in any slower Green Sun's Zenith deck, though it's possible Strangleroot Geist is just too good to not focus on all the time. You don't always draw the Geist however, so having more two-drops is valuable.
Yeva, Nature's Herald is an easy one to overlook, but that is an exciting body for such a powerful ability. Obviously, Yeva doesn't lock people out the same way, but Teferi was often real good as a 3/4 flash creature for five. Imagine him coming out a turn earlier and being that much bigger.
Thragtusk is pretty amazing. The latest Obstinate Baloth and Loxodon Hierarch, this one throws in a dash of Mulldrifter and just a pinch of Grave Titan for good measure.
A 5/3 that gains you five life would actually be better than an Obstinate Baloth at four, so the question becomes is the token worth the extra mana? At least that would be the question if Obstinate Baloth was legal. Given that it's not, the real question is can Thragtusk cut it in the new world now that five is the new six?
Which doesn't even tap into other colors yet, when we start talking about Thundermaw Hellkite and Zealous Conscripts...
Thragtusk is absolutely backbreaking for aggressive strategies, as he provides a huge life boost, a reliable blocker that trades with most, and then another body to follow, Kitchen Finks-style. Normally, cards like this are not particularly good against control. Thragtusk, on the other hand, fights through Doom Blade, Day of Judgment, Slagstorm, and Vapor Snag like a champ.
The first home that comes to mind is in Birthing Pod (as he is a great Tutor target, plus gives you value when he is coming and going). Additionally, Thragtusk is absolutely fantastic with a number of common Pod cards like Restoration Angel, Cloudshift, Phyrexian Metamorph, and Green Sun's Zenith.
I am not sure what it looks like, but I kind of imagine some kind of a Bant midrange deck being born to take advantage of Restoration Angel and Thragtusk in a control shell. Even Vapor Snag on Thragtusk is pretty exciting.
Maybe this is just another Birthing Pod deck, but it might also just use a few Birthing Pods for value, Kibler-style. Of course, maybe people just go full-blown psycho:
Personally, I am not convinced you can just stick a couple Thragtusks in random three-color control decks without going all out with tons of crazy combos. I mean, Restoration Angel is so good, it would be easy to just play a few of those. Of course, every time I let my mind wander in that direction, I end up somewhere like:
Thragtusk is an easy card to put in the wrong places (likely the preceding deck!), but it is powerful and we should err on the side of trying it in "too many decks" rather than not enough. You can click here for a more in-depth discussion on the card.
Wolf Run Ramp certainly gains quite a few new options.
Ranger's Path is one of the most exciting, as getting land into play is exactly what you want to be doing. It will take on new meaning with shocklands, but even now it ramps you straight into seven (perhaps as early as turn 4), which is super nice with Green Sun's Zenith.
While Mwonvuli Beast Tracker has an awkward textbox, it does have a variety of Standard applications, not the least of which is fetching Primeval Titan. Only putting the creature on top is not super strong, but it does have the added versatility of finding Thrun, Elderscale Wurm, Acidic Slime, and even Silklash Spider out of the sideboard.
It is worth noting, if you happen to be playing B/G Wolf Run, finding Grave Titan and Glissa is also an option.
Speaking of Elderscale Wurm, talk about a card that is getting overlooked. People went nuts for Platinum Angel, but Elderscale Wurm perversely looks worse because its ability kicks in earlier. Would it look flashier if it said that it prevented all damage that would reduce you to below one? Instead, it keeps you locked at at least seven so that if anything goes wrong, you aren't auto-dead.
It does have the strange weakness of "life loss" (such as that caused by Vapor Snag), since Vapor Snag would reduce your life total to six (thereby turning off the Wurm). Hopefully three months from now, there will be a lot less Vapor Snagging going on. It is a 7/7 trampler, though, which means it can end the game in a hurry!
Here is a very rough draft that is not so much build to maximize chances of being the final list as it is a way to try a bunch of the new cards:
This list surely has nowhere near enough removal, but at least it gets us data about all sorts of new cards!
Without Stomping Ground, Farseek just isn't worth it. By the time Stomping Ground is legal, Primeval Titan will be rotating out, and it will be back to the drawing board.
Farseek is a very powerful card, however. In formats where Shocklands are legal, it is actually significantly better than Rampant Growth (letting you Rampant Growth for dual lands). There is nothing wrong with just jamming four Farseeks in your random midrange and control decks (at that point).
Sure to be a popular sideboard card, Silklash Spider would totally be a maindeck monster if not for Thragtusk putting even more pressure on the invaluable five-spot. Still, the ability to lock out all Lingering Souls, Delver of Secrets, even Restoration Angels is not to be underestimated. Silklash Spider has such a big toughness, people sometimes mentally underestimate it (since they feel like they must be paying too much because they aren't using all that toughness). The secret is, you are getting it for free as you are just paying for the ability. As a side note, Doom Blade continues to improve. Straight-up Delver has got to be even more interested in Doom Blade-types than they were.
Another in the "check back when Return to Ravnica drops" department, Flinthoof Boar is basically as good as Watchwolf (easier to cast but third point of power is less reliable) but with the upside of a very affordable haste kicker.
Still, even without Stomping Ground, Flinthoof Boar is a worthy consideration for Standard play, particularly in a R/G aggro deck. Perhaps something along the lines of:
Well, it is an answer to Snapcaster Mage, that's for sure. Obviously it hoses a few random graveyard cards like Unburial Rites, but the question becomes is it possible to play a deck that actually wants to spend two mana to lock players out of Snapcastering?
Maybe?
I am not sure what the deck would look like that would be in to this sort of thing, but maybe it is some kind of random Jund deck.
This card could be huge in Modern, as it provides a very maindeckable solution to Gifts Ungiven for Unburial Rites and Iona or Griselbrand.
Before you ask, no one plays the existing Ground Seals in Legacy because of Exhume...
The last time Quirion Dryad was reprinted, it didn't really have the support for a full on grow deck. The recent printing of a bazillion cantrips makes this a much more realistic option than it once was.
Quirion Dryad is usually only going to be small a turn before he goes full-blown Tarmogoyf. Within a couple turns, he tends to win fights against most creatures in the format. He gets so big, it isn't even clear you don't want a Rancor or two to help bust through!
If you play a version with Strangleroot Geist instead of Bonfire (or red), I could totally see adding a little Rancor action (with Dismember instead of Incinerate).
Talrand, Sky Summoner is kind of a hot one, as he can totally take over a game on his own when he lives. Even in matchups where he isn't likely to live long, you can use Probes and Gut Shots to get extra fliers immediately. In fact, sometimes you just have a mana open, letting you play a one-cost card and get yet another flier out of the deal despite their removal spell.
This may be a little out of place in the green section, but the more I think about it, the more Talrand looks like he might be the hottest rare or mythic blue card in the set. There is a boatload of competition at the four-spot, but I suspect Talrand will make it.
The Stampeding Wildebeests redux is definitely a bit milder (one less power and no trample), but WotC wouldn't have started with this version. They would have at least considered Stampeding Wildebeests first.
Did they make this new version because the Wildebeests having trample was too easy with Mwonvuli Beast Tracker? Did they just determine that five points of power was too good, given how a particular deck they were working on turned out? Or were they just trying to clean up the set and wanted a version that could bounce any creature, not just green ones?
Want some ideas on what to return? How about Mwonvuli Beast Tracker, Elvish Visionary, Zealous Conscripts, Strangleroot Geist, Huntmaster of the Fells, Snapcaster Mage, Acidic Slime, Archaeomancer, Blade Splicer, Solemn Simulacrum, Borderland Ranger, Brutalizer Exarch, Trinket Mage, Treasure Mage, Entomber Exarch, Kessig Malcontents, and Viridian Corrupter for starters?
Stampeding Wildebeests wasn't really about his stats; it was about his ability. This new version is even more so.
The new Plague Rats; I am not actually sure this guy isn't playable. After all, if you played a nearly mono-green deck, you might want to play a full set of Phantasmal Images and Phyrexian Metamorphs to copy Strangleroot Geists, anyway. Having the ability to copy your Timberpack Wolf is actually pretty exciting, and Green Sun's Zenith can let you find even more....
It's too bad the only Standard legal Lords are Mayor Avabruck (when things are going well) and Adaptive Automaton (if you are desperate). We do have a fairly above average number of Wolves, but it is just hard to justify playing the Automaton unless we have even more Garruk and Wolfir action (which could be right).
Gold
The core set gold card, and it's a doozy! Nicol Bolas, Planeswalker is one of the most powerful things you can do for eight mana, actually showing up in tournament play back when it had to compete with Cruel Ultimatum!
Although Cruel Ultimatum is better (from a Standard perspective) than any of the super expensive spells currently in Standard, it is not like Nicol Bolas, Planeswalker is without competition. Karn Liberated and Griselbrand are very powerful end games depending on what you are trying to do.
Why is Nicol Bolas, Planeswalker good? It is sort of like Karn Liberated. Sure, for seven mana there are cards that have a bigger immediate impact, but once one starts falling behind a Karn, they are very unlikely to catch up. He can win from nearly any position.
If Nicol Bolas, Planeswalker hits play and isn't dealt with immediately, it is extremely hard for the other player to get back in it. Even if they have the ability to answer Nicol Bolas, Planeswalker, you still get your choice of permanent Control Magic or Bramblecrush.
The thing is, when you drop Karn, the most immediate impact you can have on the board is to remove a single attacker. When you drop Nicol Bolas, Planeswalker, he not only steals their best guy; he potentially offers you an additional blocker.
Of course, this is Nicol Bolas, Planeswalker we are talking about. He wants us to play Grixis...
Artifacts
Despite how much people love this card, it isn't usually what you want to just jam into your decks. It is definitely not an Eldrazi Monument.
Most of Akroma's Memorial's tournament success has been in Hypergenesis, suggesting we should keep an eye on the combo potential of the card. Giving your creatures haste is definitely the big one (since haste is the best ability in Magic), and if you use Treasure Mage, you could get a single copy much more reliably.
The classic dilemma is why are you paying seven mana for a card that doesn't give you any more cards or any more power? You have to want a lot of the abilities pretty bad...
Hey, sometimes mono-color decks are desperate for an off-color creature, and this one is not half bad.
What is sure to be one of the most popular Johnny cards in the set, Gilded Lotus is one of the best ways to ramp up to eight or nine, particularly if you don't mind skipping six.
What a lot of people forget about Gilded Lotus is that it is actually not that bad of a card in random decks, as long as two things are true:
You have something really big worth ramping into (of course).
You have a way to spend to spend the three mana the turn you play it.
If you can play Gilded Lotus on turn 5 then immediately Slagstorm with it, that is a pretty incredible tempo play. Not only have you swept the board; you are threatening Nicol Bolas next turn.
Obviously, if you want to go nuts, you can set up some kind of a crazy combo deck using Clock of Omens, Gilded Lotus, and a couple of Solitons. Alternatively, you could add in a Myr Turbine instead of the second Soliton. Now you can spend mana to make dudes (without coming out ahead on them being untapped), and you can tap dudes to net two mana.
If you can ever hit the critical mass of five Myr, you can start making Battlespheres. The first Battlesphere makes five more guys, so if you have just one more artifact (such as the Clock itself) you can tap it and the Soliton to untap the Turbine, which can then make yet another Battlesphere (by tapping the first one and its Myr). Yes, this is definitely a little overkill, but some people just like to win in style.
Somehow, I suspect Nick Spagnolo and Brad Nelson are going to try Grand Architecting out their Gilded Lotuses, since that is just how they roll...
I am not sure if I can really see Gem of Becoming in Constructed, as it neither ramps you nor draws cards at a super-efficient rate. It is definitely possible, as it is still a three-for-one, but Gilded Lotus has a bit more raw power if you are just into super expensive mana fixing. I am going to love this card is draft, however.
Sometimes you just want a Millstone, and this one is not bad (comparatively). I would not want to just rely on this as a victory condition in a random control deck (since Titans and planeswalkers have so much more impact on the board); however, it is probably at its best as a sideboard card for control on control matchups (particularly when your control deck has little to no artifacts game 1). Alternatively, you could just Turbo Fog people and use this as a victory condition (but I wouldn't recommend it).
One of the most important Treasure Mage targets in recent sets, Staff of Nin gives you a threat you can Treasure for that can take over a game against control (drawing extra cards), has an immediate impact on the board (dealing damage), and doesn't die to creature removal.
It's tough to want to rely on it maindeck in a strategy that is not already abusing artifacts in some way since it has so much less impact than one of the current "sixes," but once you are playing cards like Grand Architect and Treasure Mage, it does offer a powerful new dimension.
I generally like Nihil Spellbomb > Surgical Extraction > Grafdigger's Cage > Purify the Grave > Tormod's Crypt in Standard, since the extra mana from it costing actual zero is not nearly as relevant as it is in Legacy. The extra utility the other options provide is well worth it.
Still, if you are not black or white, it only has to compete with Cage and Extraction. It's very possible that Cage hurts you too much to want to board it. If your specific problem is quantity, like Splinterfright and Boneyard Wurm, Tormod's Crypt might be your solution.
While Stuffy Doll is always quite popular (particularly in group games), its Constructed applications are generally limited to decks that hope to set up some combo with it and a red spell that deals a ton of damage. As fate would have it, Standard has multiples available:
This build attempts to play a passable U/R Control game, but if it sticks a Stuffy Doll, it can just kill someone out of nowhere. Blasphemous Act and Into the Maw of Hell are each thirteen damage, and Harvest Pyre will often kill in one shot.
It looks a little silly and is quite vulnerable to Vapor Snag, but I think it might actually be worth exploring. It's not like you are using a bunch of terrible cards or anything, and it does look like it might be faster than Wolf Run. Mental Misstep helps with Vapor Snag (though Dismember is still a problem). Curse of Death's Hold is brutal, but we could always play Witchbane Orbs (plus Ratchet Bomb and alternate victory conditions help). Memoricide removes any chance of comboing, but you can still play a U/R Control game (and if you happen to face Memoricide, you might be able to counter it).
Land
A great new option for red decks due to a low opportunity cost. If you are playing multiple colors, it is very probable this doesn't make the cut. However, if you are Mono Red it is not like you need 23 Mountains in your deck, and a hasty creature that can follow up a sweeper is exactly the right type of effect.
An excellent card; I suspect many will underestimate its power initially, as they are not used to liking tapped colorless lands. That said, it is sort of like a 1/1 indestructible creature (at times), and all of the extra points can really add up. Sure, you aren't always going to want to attack with just one guy and sometimes it will screw you, but overall, I think it is going to be a great card in a variety of places such as Mono Red, Infect, White Weenie, some Mono-Blue Architect deck, and more.
To conclude, I'd like to take a first stab at Battle of Wits. As Jon Finkel, William Jensen, Eric Froehlich, and Brock Parker have all demonstrated in high-level tournament play, Battle of the Wits is a real strategy and can win. If you have ever won a tournament with Battle of Wits or know someone that has, please speak up in the forums and share any insight you might have on the strategy.
The biggest limiting constraint I see in the new Standard for Battle of Wits is the mana. There just isn't a deep enough supply of mana fixers to support a quad-size deck. As a result, my first attempt is just U/B (needing black for the Tutors and removal).
We mostly just want to play a quasi-control game, living long enough to use one of our many, many Tutors to find a Battle of Wits. It is probably too ambitious, but here is an attempt that adds white as a third color for more card quality:
The new Standard format kicks off this weekend with the SCG Open Series in St. Louis. Historically, few have new technology figured out on day one, but those that do enjoy a major advantage of strategies their opponents have literally never played against, as well as an opportunity to prey on a field that hasn't yet adapted to the new set.
What will be the first cards to break out from M13 and post Top 8 results?
What will be the first new archetype to emerge from M13 and make Top 8?
Join me on Monday, when we find out and jump into the first major brew session of the new format!
Patrick Chapin
"The Innovator"