I didn't play in a physical tournament this past weekend. That's not really news but it is unusual. Instead I played a lot of Magic Online.
I lost a lot.
I've drafted M13 less than any set I can remember this far into the set's release. This isn't meant to say anything negative about the set; I actually think it's very good. I've just been working on other formats since there aren't any M13 Limited tournaments coming up soon.
I've also been losing a lot in Standard. Battle of Wits isn't really a strategy I expect to win with a lot but I've also been losing with Kurt Crane's Elves and Cedric Phillips' Bant Pod. I blame green—specifically mana guys. I keep putting myself on the wrong side of the Birds of Paradise versus Gut Shot matchup for no reason not to mention exposing myself to Bonfire of the Damned.
I want to try being on the right side of Gut Shot for a while.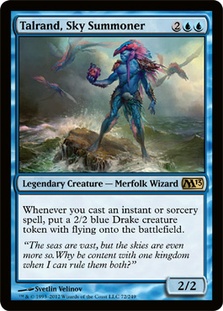 Talrand Sky Summoner is a powerful card. You know that.
Talrand goes over the top of most things. If you stick a Talrand it doesn't matter much what you did in the game before that; he'll probably win.
So why do people bother with Delver of Secrets and equipment in decks that are just trying to win with Talrand anyway?
Several reasons of course. If you're playing a ton of spells to support Talrand why wouldn't you play Delver of Secrets? It's awesome. And that new Augur of Bolas guy works well with Talrand but he doesn't do anything by himself so we need some equipment.
But what if we don't? It's not too surprising I hope to see me advocating a blue spell deck without Delver of Secrets or equipment but this is a new take.
The reason I've been playing Blade Splicer and Restoration Angel is because it's been the best way to beat green decks. They can't attack through a wall of Golems and then I can win with Sphinxes and planeswalkers.
These days green decks have forced each other to go bigger and bigger and I'm not sure that an army of Golems is big enough anymore. Birthing Pod and Gavony Township are great at going bigger than Golems. Zealous Conscripts makes the plan to stall for a big finisher a little risky. Thragtusk can be hard to race.
I have a theory—I haven't tested it yet because I'm only just building this deck but I'm about to test it—that Talrand can beat all that stuff.
Maybe big dumb green guys are last week and this week we have to respect green decks that go even bigger like Kurt Crane's Elves. Maybe. I hope so. Enter Gut Shot. I want to slow all the green decks that rely on mana creatures enough that Talrand can take over.
Actually I want to use Gut Shot to slow everyone down not just the green decks. If I can kill a Delver or any other creature that's going to attack me that's just as good.
Note that I'm not cutting Delver to trick people and I'm not cutting it because I think people are playing tons of answers to it or anything like that. I'm cutting Delver because it doesn't further my game plan. The Delver plan is its own plan that takes a lot of deck space and I think I can just win with Talrand.
So how do I want to do this?
First of all I absolutely have to play the maximum number of cantrips. Not only do I have to play them but I have to play them a little differently than other decks. Sometimes I'm going to have one of them and I'm not going to cast it because I'm going to hope to save it until turn 5 when I have a Talrand. Obviously if I don't have enough lands or a Talrand it's reasonable to cast them to find him but if I can afford to I'm going to wait.
4 Ponder
4 Thought Scour
4 Gitaxian Probe
Next I'm serious about Gut Shot. I think it's better positioned now than it ever has been and it's awesome to have a lot of free spells for Talrand.
4 Gut Shot
Next before I get too far ahead of myself let's get the most obvious card out of the way.
Remember that Talrand isn't Delver of Secrets. Snapcaster costs more mana than a spell but aside from that it gives me just as many Drakes as any other sorcery or instant would—more even because it's likely targeting a cantrip. Similarly Augur of Bolas if he hits is as good as a spell. (Of course once you're playing Augur suddenly things being actual instants or sorceries in your library matters again so now the Snapcaster Mages and Augur of Bolas aren't exactly as good but I think I can still get pretty good odds on my Augurs.)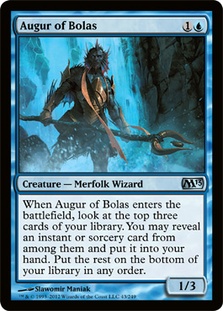 Actually I have a little more to say about Augur specifically that I'm not just playing it because "that's what you do." I think it's very good in this deck and it's serving a very specific role. I don't have Restoration Angel or equipment so I'm not getting any more value out of it than the 1/3 body but that's something I need. I'm not playing Blade Splicer or very many bodies in general. It's extremely important to have a body that can stop Strangleroot Geist Gravecrawler and even just random Llanowar Elves from getting a lot of free damage in early.
Next I know a lot of people have been moving away from Mana Leak lately but I want to respect Bonfire of the Damned.
Remember that thing I said above about how not playing Delver of Secrets wasn't about metagame positioning? That was a lie. Just as Gut Shot is insane right now so is Bonfire of the Damned and if my plan is just to make a bunch of 2/2 Drakes I'm already exposing myself to the card a little more than I'd like to so I'm not just going to let it resolve whenever they try to cast it.
Moreover Thragtusk. Seriously. That's not the only one. There are a lot of powerful spells that I just can't see letting resolve. Besides I'm not playing any three-drops so my Mana Leaks will be awesome.
I've been talking a lot about Talrand being in this deck but there's still the question of how many. Three is a popular number of Talrands to play since he is a legend after all but just as with Geist of Saint Traft I'm serious about wanting this guy in play. If I'm building my entire game plan around him I better actually have him.
And the final four-of just to keep it real obviously:
I understand the theoretical claim that without Delver of Secrets a deck might not be so into tempo and Unsummon might not be that great but this card has just always been awesome for me. Tempo is a very real thing in Magic particularly these days and it's another awesome cheap spell for my deck that wants cheap spells—do I really think I need to justify Vapor Snag to you these days?
What I might need to do is explain why I want it over Unsummon. Ordinarily this wouldn't be a question so I would feel comfortable not mentioning it but one might look at this and think "Incremental damage doesn't matter since you're trying to win so big and you're pretty interested in saving your own guys so maybe you should play Unsummon instead." That line is entirely reasonable. I do plan to cast Vapor Snag on my own guys even more than normal and I don't care that much about the life. However I've found that when I want to bounce my own guy instead of my opponent's it's in matchups where the one life I lose really doesn't matter. But honestly I've sold myself on turning one of the Vapor Snags into an Unsummon. I love options.
Finally I want some more spells; I like having a good mix of Snapcaster/Augur/Ponder targets and I want more sweet cards for my Talrands (ways to protect and trigger them) so I have an assortment of one-ofs: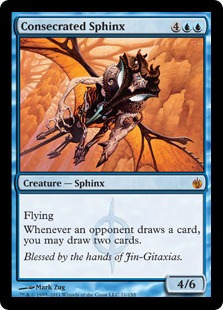 1 Mental Misstep
1 Mutagenic Growth
1 Dismember
1 Faith's Shield / Duress
1 Consecrated Sphinx
Ok Consecrated Sphinx might not really work with Talrand but I'm not sure I can trust an army of Drakes to get me out of every possible situation so I just feel more comfortable with a top end here. (Let's pretend that I can play a six-drop with nineteen land because I actually think I can.)
The spells feel pretty obvious to me. Mutagenic Growth is worse without Geist of Saint Traft than it is in decks with him but as I said I have the fear of Bonfire of the Damned and want to be able to save my Talrand when I tap out for it. Mental Misstep is a hybrid Talrand protection/fifth Gut Shot. Dismember: I mean with so much library manipulation how can I not want one of these?
Finally Faith's Shield / Duress. I don't know if I'm splashing white or black. I mean I do; for now I'm splashing white but I want to talk about the option.
I really like the idea of setting up Talrand with Duress. I think one Duress main and three in the board with some optional black removal in the board would be a sweet splash instead of white here. My problem is that without any of the three-mana creatures I don't think I could ever beat Zombies with a black splash. I considered just sideboarding some Batterskulls but I don't think that's enough. Also I don't think there are enough control decks right now that I really need Duress. If you expect more control and fewer Zombies black over white is very good.
I'm not even playing Moorland Haunt because I don't think the creatures do enough for me and I'd rather have more Cavern of Souls to maximize the uncounterability on my Talrand.
So my current decklist in total:
Creatures (13)
Lands (19)
Spells (28) My sideboard is a little odd. With so many Gut Shots main I want the ability to become very good against control decks where Gut Shots are bad after board so I'm kind of overloading on Jace Memory Adept / Blue Sun's Zenith / hard counters / Surgical Extraction. I also want to respect Zombies and Birthing Pod which basically accounts for the rest of my sideboard.
As always take the sideboard with a grain of salt and remember that it can adjust very quickly based on what decks I'm seeing or expecting at the time.
I feel really good about this deck. I might be wrong but I think I'm actually onto something here.
While writing this article I took a break to listen to Gamestate with Stephen Flavall Glenn Jones Cedric Phillips and Adam Ragsdale and I played some two-player queues while I was listening. The deck felt very good. (The program was also entertaining and I recommend checking it out.)
For the first time I'm going to experiment with writing about a deck and recording an event with that deck in the same day. If you're interested in this deck check out the video going up tomorrow. Also note that I'm writing this article before recording the video since I want the article to be the theory that went into building the deck untarnished by actual results. I'll include reflections on the deck's actual performance and potential changes at the end of the last video.
Thanks for reading
Sam
@samuelhblack on Twitter