Return To Innistrad

We are nearing the end of a Standard season. The future is a mystery shrouded in the fog of confusion nestled in the bosom of uncertainty. We are but lowly explorers, meandering around directionless but destined to one day stumble upon greatness. I really don't know precisely what that means, but I like how it sounds. My English teacher always told me to cut out the flowery language. I tried it once, didn't inhale, and immediately gave up on that ignoble pursuit.
What I do know is that the next set WotC has developed to capture our minds and hearts is in one of the most beloved locales of Magic lore: Ravnica. I have no idea what sweet new cards and mechanics will we find there, but today I want to focus on the past, not the future. During this season, the old stuff tends to get pushed aside and forgotten as we focus on the new toys we haven't had a chance to tinker with yet.
Before we dive head first into that gaping crevasse, I want to spend one moment going over the old set and what lessons we can learn to apply to a new Standard format. We will have one out of three sets of Return to Ravnica block this fall, but we will still have a full three sets of Innistrad. I'm sure that many of you are familiar with this game, but that means Innistrad is likely to be the dominant block in Standard after rotation by virtue of having a significantly larger card pool.
If Innistrad is going to be the dominant block in Standard, is there somewhere we can look for lessons we can learn to carry over to the new Standard? Why, yes, yes I believe there is, and I am so glad you asked!
I'm what you might call a Block-flow Connoisseur. I love me the sweet, delicious taste of some Block Constructed and have partaken in my fair share of Block on Magic Online. Although I haven't played in a while, there was a point in time where I honestly wondered if I had played more of the Innistrad/Dark Ascension/Avacyn Restored Block format than anyone else in the world.
I share this not to give you some insight into my sad little life, but rather to hope to build a bit of credibility when discussing the Block Constructed format and everything I have learned. If these cards become the major players in Standard, it's definitely important to understand the ideas, tricks, and tools that repeated exposure to Innistrad Block Constructed has taught me.
Well then, let's dive in, shall we?
If you're wondering how much play Delver of Secrets sees in Block Constructed, the answer is essentially none. I can remember seeing only one Delver cast against me in the countless matches I've played in the last 3-4 months. Delver doesn't reliably flip because there aren't a lot of powerful instants and sorceries to combine with it in the block.
Frankly, Delver isn't very good in Innistrad Block alone. Let's look at some of the tools that Standard Delver abuses: Vapor Snag, Gut Shot, Ponder, Gitaxian Probe, Mana Leak, Mutagenic Growth, Dismember, etc. Notice a pattern? None of these cards are from Innistrad. Dark Ascension's Thought Scour is the only major player in current Delver lists that will survive the rotation.
Delver is a card that really thrives on a bigger card pool. Without a critical mass of cheap instants and sorceries that have a relevant effect on the game, it's hard to build a successful Delver list. Unless Ravnica gives us some serious tools, I don't see the Insect being a dominant force.
Let's Go Green
If you watched the World Magic Cup last weekend, you probably saw some Block Constructed being played. You may have noticed that basically everyone was playing the same deck: Jund. Since Jund (splashing Restoration Angel because honestly, why not?) is the consensus best deck and since Block is a format that people don't really play often, I can't say I'm surprised that most players just picked up the top deck and went with it. For a format that has such a limited card pool, I have been impressed at how diverse and fresh the Block metagame has been over the past year, so don't let yourself be convinced by this one event that Block Constructed is a "one deck only" kind of format. The Block Championship at Gen Con was won by a Bant deck, for example.
However, there is one thing to learn from this. Green is the dominant color in the block. Bant, Naya, Jund, G/R Aggro have all enjoyed the label of best deck in the format at one time or another. What do these fine decks share in common? They are all base green decks. With the exception of Bant, which offers a much more aggressive approach, these decks all utilize the same basic game plan, which is to use Borderland Ranger and Huntmaster of the Fells along with removal to grind out the game. It's the classic midrange approach, and it's the marquee strategy of Innistrad.
What is the takeaway here? Three-color base green decks have dominated Innistrad Block Constructed. If Return to Ravnica does indeed include the Ravnica shocklands to help fix the mana base, then I would expect to see decks like Naya, Bant, and Jund as early frontrunners. The Guild theme of Ravnica could also help to cement this by letting you take a few Guild colors and smoosh them together into a powerful three-color shell.
Beat Out The Bonfire
Bonfire of the Damned is the single most powerful card in Innistrad Block and definitely one of the top three cards in Standard. The raw power of this card can't be denied. However, people still have a lot of misconceptions about Bonfire. As I expect that this card is still going to be a powerhouse in Standard after rotation, I'd like to clear up some of these misconceptions and offer some suggestions on how to beat the heat this fall. My first suggestion is to root for the Lakers. My second suggestion is to read the next few paragraphs.
The first misconception is that Bonfire is only good if you miracle it. BZZZT! WRONG. Bonfire is still good if you cast it for X=2 or X=3 from your hand. Most often, this is how Bonfire is going to be cast. Let's say an average game ends on something like turn 8. Let's say your opponent isn't going to miracle a Bonfire they draw on turn 1 or 2 or maybe even turn 3. If this is the case, then your opponent is going to have seen more cards in their opening hand and in their first few draw steps than they are in the last five or six turns of the game. Statistically, they are more likely to have a Bonfire in their hand than miracle one off the top unless a game goes particularly long.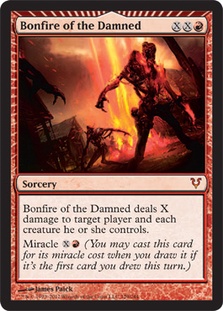 This leads to the next misconception, which is that you can't play around Bonfire. This is also incorrect. Keep in mind that your opponent is going to cast Bonfire from their hand a good percentage of the time. It is possible, through both deckbuilding and play throughout the game, to play around these Bonfires. It's hard to play around a miracle Bonfire, but there's no reason to overextend into one sitting in your opponent's hand. Remember that a Bonfire in hand is worth two of your guys in the bush.
X=2 is basically the optimal casting cost for a Bonfire from the hand. It's easy to reach the five mana necessary to cast that and do so in a relevant time frame to have it affect the game. Therefore, the key to beating Bonfire is to play around your opponent being able to get maximum value from a five-mana Bonfire.
So how do we build our decks to play around this? The easy and obvious solution is to play creatures that don't eat it to this two-point Bonfire. For a while in Block, the best deck was G/R Midrange. One of the reasons this deck succeeded was it played both Strangleroot Geist and Hellrider, two creatures that cost less than Bonfire for two and yet both shrug it off.
How do we play the game to avoid Bonfire? If it sounds simple, it is, but the key is to not overextend into it! This means if you play a Huntmaster of the Fells, you probably just want to pass the turn and flip it the following turn instead of playing out another creature. A 4/4 trampler and 2/2 Wolf is much harder to effectively Bonfire than a 2/2 Human and a 2/2 Wolf. Also, if you expect your opponent has a Bonfire in hand, it's not always right to flip your Ravager of the Fells back to a Huntmaster by virtue of playing two spells or via Restoration Angel. Sometimes the best thing you can do with a Restoration Angel is not use it.
It can also be right to not cast a card like Huntmaster of the Fells if you already have something like a Borderland Ranger and Avacyn's Pilgrim in play. If your opponent has access to a Bonfire for two the next turn, then you're just offering up more value for a play they are already likely to make: casting that Bonfire to clear your board and dome you for two. Let them cast the Bonfire first, and then follow up with the Huntmaster later.
One of the most valuable things I've learned from playing Block Constructed is how to play creature mirrors against decks where both players have access to Bonfire of the Damned. It can be a delicate balance of using effects like Gavony Township to put yourself out of range of their Bonfires versus adding to the board to make sure you stay ahead with what is in play. It's important to keep track every time they reach a new Bonfire plateau and play to minimize that effect. "My opponent hit seven mana, so he's now in the Bonfire for three range." These are the kinds of things to constantly think about in these matchups, and I suspect that this kind of game play is going to be a very important aspect of Standard in the Return to Ravnica environment.
Keep an Eye Out for W/R Humans
Usually in new formats, aggro decks begin as the frontrunners. This ideology has held true in Innistrad Block Constructed, as every time a new set has been released the best deck for the first few weeks has always been W/R Humans. After a while, people figure out the format and come up with ways to beat the deck, but regardless, I wouldn't be surprised to see this same trend play out in Standard in the post RTR environment.
If you're looking to sleeve up a powerful aggro deck the first few weeks, W/R Humans offers a brutally fast clock, with starts like Champion of the Parish into Gather the Townsfolk into Silverblade Paladin. That Champion is attacking for eight damage on turn 3. With cards like Champion of the Parish and other creatures that benefit from other creatures being in play, like Silverblade Paladin, Hellrider, and Lightning Mauler, the best way to fight the deck is to play enough removal spells to keep them off their creature synergies and then close out the game with good board cloggers, like Huntmaster of the Fells.
It's possible that this deck won't get many new tools since the Boros (W/R) Guild comes in Gatecrash, the second set, rather than Return to Ravnica. Regardless, this would certainly be a deck I wouldn't count out in the first few weeks after the rotation.
What Control Decks?
Control decks have not thrived in Innistrad Block Constructed. The two control decks that have experienced some level of success are U/W/R Miracles and Grixis Control, although neither have had a huge impact on the format even though Miracles did win the Block Pro Tour.
The Grixis deck consists a few Lone Revenants, some card draw and filtering, and the rest of the deck is mono-removal spells. The entire deck is designed to kill every single creature that hits play, but it struggles to beat strategies that don't interact in this fashion, such as decks that can just deal 20 to the face with burn spells or rely on planeswalkers to create incremental advantages. While this deck should experience success in a pure creature metagame, I don't expect it to thrive in Standard, where more diverse strategies typically emerge.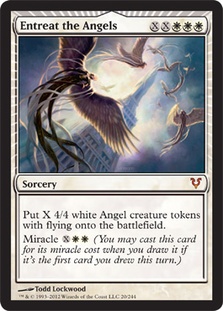 Miracles, on the other hand, I think will be a key player in the upcoming Standard environment. Miracles thrive in situations where you have more ways to control your draws and manipulate the top of your deck. Terminus and Entreat the Angels see play in Legacy for this reason, as Sensei's Divining Top and Brainstorm both help you cast the miracles when you want them most.
This deck should improve a lot with a larger card pool and likely won't have interactions like Snapcaster Mage and Mana Leak to punish playing expensive sorceries when you do have to cast them from your hand. Also, cards like Ratchet Bomb and Day of Judgment rotating means that the Angels from Entreat the Angels will be more likely to survive. Sever the Bloodline is still a problem, but I'm skeptical that Sever will see a lot of play due to its expensive mana requirement.
I expect to see a lot of Terminus and Entreat the Angels in the weeks to come.
Hopefully that gives you some insight into what the Block Constructed landscape for Innistrad looked like and an idea of what to expect from Standard moving forward. It's obviously impossible to predict exactly what will happen once hundreds of new cards are introduced into the card pool, but it's certainly useful to have a solid framework of what currently works as a baseboard to jump off from.
There is one last thing I'd like to talk about. This is unrelated to Innistrad Block or what the future of Standard may hold after rotation, but I think it's very relevant to the current Standard environment.
You see, there is this certain card that I don't think is seeing as much play as it should. This card is a complete and utter beast and isn't commanding the kind of respect it deserves as it dominates board state after board state. I don't always chew gum, but when I do, I prefer two pieces of SpearMint.
Who is this beast of burden that has broken free of his shackles to bring terror upon the Standard countryside? It is the one and only Thragtusk. This hairy gentleman is what I like to call "the nut above average" for control and ramp strategies, and I feel like he should be seeing a lot more play than he currently does. If you play Cavern of Souls on Beast, Thragtusk completely wrecks decks like Delver and Zombies, and as we saw from the World Magic Cup, these are the two popular Standard strategies.
Thragtusk doesn't win you the game by himself, but what he does do is buy you a significant amount of time. So where are the decks that use Thragtusk to buy the time they need to set up for an overwhelming end game?
Reid Duke's winning Wolf Run Blue list from a few weeks back is a good start, but I think the deck should simply play four copies of Thragtusk and two or three Phantasmal Image and just smash face. Playing and copying Thragtusk certainly buys enough time for Primeval Titan to take over a game.
I had the pleasure of playing a Brad Nelson designed Trading Post deck the other day, and I was really impressed with the deck. It wasn't really the Trading Posts that impressed me. The part that really stuck with me the most was simply Phyrexian Metamorph and Thragtusk and how those two cards by themselves can completely crush Delver if you have Cavern of Souls to make sure they resolve.
Likewise, I tested out a Bant Control deck for a bit that utilized Thragtusk with Phantasmal Image and Restoration Angel, and while the deck as a whole was a disappointment, the interaction between those cards is such an oppressive force for aggressive decks to deal with that if I'd had any sort of an actual end game I would have won significantly more games.
All in all, I'm really surprised that this Beast hasn't become more of a burden for Standard players yet. I know that I don't want to play a Standard deck that doesn't include four Thragtusks to complement a "going big" game plan, but maybe that's just me.
Maybe it should also be you.
Thanks for reading,
BBD on Magic Online