Hello readers! My name is Keyan Jafari and I am a gamer from San Diego CA. When I'm not spending the majority of my time either working or in school I play Magic: The Gathering. Whenever I get the chance I play at Our Playz Pair A Dice Games or San Diego Games and Comics depending on what part of town I happen to be in at the time. I started playing Magic during M12 and quickly found myself wanting to play competitively after taking down my first Game Day tournament with no sideboard Goblins.dec featuring the cute combo of Goblin Grenade + Reverberate. Needless to say I didn't think that deck was good for too long.
Preparation for this Open began about a month in advance. Since there are very few SCG Opens this close to home I knew that I really wanted to take this tournament down. I originally started with a 16-land Delver deck based off of one that I had seen featured in a SCG Premium article (Side note: if you don't have Premium I highly recommend the investment!). I had a lot of success with this deck both on Magic Online and in testing against local ringers but felt that the deck was too reliant on drawing a Runechanter's Pike to actually close out the game so I decided to move on.
As I was searching the internet for some sort of inspiration I ran across Caleb Durward's PTQ winning decklist and that's when it hit me: Talrand Sky Summoner and Phyrexian mana spells were still legal in Standard at least for a couple more weeks. After a lot of testing and tweaking here is the list I came up with for the tournament:
Creatures (16)
Lands (18)
Spells (26) The exact numbers on each card took me a very long time to get to where I wanted but I felt going into the tournament that this list was going to give me the best chance at a win. So now let's talk about the card choices:
Creatures (16):
4 Delver of Secrets
4 Snapcaster Mage
4 Augur of Bolas
3 Talrand Sky Summoner
1 Phantasmal Image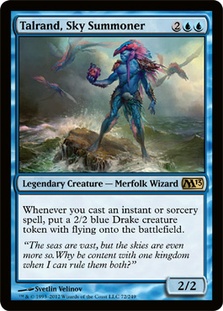 I feel that by now everyone understands the inclusion of 4 Delver and 4 Snapcaster so I won't worry about those. However a full set of Augur of Bolas and Talrand in the main board is something that is clearly different from traditional Delver decks and the main Phantasmal Image was to deal with opposing Geist of Saint Traft.
While testing Augur of Bolas absolutely blew me away! His 1/3 body size was extremely relevant in many matchups (able to really slow down early aggression); he almost always replaced himself with another card in your hand and he helped fuel the Talrand army in the late game by providing more instants or sorceries to create Drakes. In other words this guy does it all! Imagine playing a turn-two Augur of Bolas against Zombies and see how it feels when you hit a Celestial Purge or Timely Reinforcements. Exactly.
Talrand in the main board was a decision made based on the fact that if you untap with him then you are almost always going to win that game. Being able to cast your usual slew of spells AND get a 2/2 flyer is insanely powerful and most decks can't come back from even just two Drakes. Talrand also does an amazing job of catching you up when you are behind by making you a large number of Drakes that can both attack and block. I definitely would not run fewer than three Talrand because you almost always want to see one but running the full set almost assures that you will see too many.
Spells (26):
4 Gut Shot
4 Gitaxian Probe
4 Ponder
4 Thought Scour
4 Vapor Snag
3 Mana Leak
3 Runechanter's Pike
As you can see with Talrand and a low number of land we definitely want to max out on the number of cantrips in the deck. Ponder is an obvious four-of in Delver decks while Gitaxian Probe and Thought Scour have both fluctuated in numbers over the course of the evolution of Delver in Standard.
Thought Scour not only draws more cards but also helps push Runechanter's Pike over the edge by making it huge! Gitaxian Probe provides information allows you to cycle and often creates a 2/2 flyer with the help of Talrand. It may be unconventional but it is sometimes correct to just hold your Gitaxian Probes until you have a Talrand in play in order to immediately have an army that requires dealing with.
Four Gut Shots was a concession to Infect and Naya both being fairly popular as you basically always want one in your opening hand against those decks to deal with a mana dork or early infect creature. Depending on local metagame you could run a Dismember over the fourth Gut Shot. Gut Shot does work very favorably with a turn 4 Talrand though so don't overlook that.
Mana Leak is probably the worst card in the deck seeing as Cavern of Souls is running rampant but I couldn't bring myself to play fewer than three just to be a safety net against the decks that you want them against (various control and what not).
Lastly 3 Runechanter's Pike. This card is an absolute BEATING for all of your opponents turning 1/3s into moving trucks! If you aren't making an army of Drakes with Talrand then Pike is definitely your win condition. This card is absolutely nuts with the rest of the deck seeing as there are 23 instants and sorceries and the ability to have any random Augur become a huge threat is not to be overlooked.
Runechanter's Pike is also the reason for running Inkmoth Nexus over Moorland Haunt. With Inkmoth Nexus you really don't care how many times your opponent blinks a Thragtusk or if they grabbed all four of their Glimmerposts with Primeval Titan—because at the end of the day they're still going to just take ten poison counters from an Inkmoth suited up with a Pike.
This scenario came up for me numerous times in the tournament. I had an opponent at 35+ life at the end of the game with myself being at 8. Little did he know that I was on the Inkmoth plan the entire time and I simply dropped a Pike equipped it and killed him!
Land (18):
4 Seachrome Coast
4 Glacial Fortress
2 Inkmoth Nexus
8 Island
The mana base is fairly straightforward with the only real difference from traditional Delver being the Inkmoth Nexus over Moorland Haunt which was discussed above. However if you pay attention you will notice that I ran the full set of blue-white lands without a single white spell in the main deck.
This is a mono-blue Talrand deck but like with all Delver decks you can use all the help you can get post-board vs. Zombies. The white splash was entirely because of the Zombies matchup and allowed for 4 Celestial Purge and 2 Timely Reinforcements out of the board. Hitting either of those with Augur is amazing and being able to Snapcaster back either is devastating for your Zombies opponent. Though I definitely wouldn't skimp on the number of Celestial Purges feel free to cut back on the number of Timely Reinforcements if you don't feel they're necessary.
So there you have it! A quick rundown of the 'U/W' Delver deck that I took to a first-place finish at the SCG Standard Open in Los Angeles! The reason I left out sideboard decisions was frankly because I don't think I have ever seen two Delver players sideboard the same and chances are that I couldn't convince some people to make the decisions I made!
R1 Naya Aggro 2-0W
R2 Naya Pod 0-2L
R3 Infect 2-0W
R4 UW Control 2-0W
R5 Naya Pod 2-1W
R6 Delver (Geist) 2-1W
R7 Delver (Geist) 2-0W
R8 Delver (Geist) 2-1W
R9 Delver (Geist) 2-1W
Top 8
R1 BUG Zombie Pod 2-0
R2 UW Midrange 2-0
R3 Delver (Geist) 2-0
Why should you care POST rotation?
Clearly a large part of this deck rotates in a very short amount of time so why should you care? Isn't the long awaited death of Delver knocking on our doorsteps at this point? In all honestly I don't think so. Obviously Delver is going to change and possibly becomes worse or for all we know become better. But what does Return to Ravnica do for this deck specifically? Let's look at what rotates from my specific list from Los Angeles:
Creatures:
1 Phantasmal Image
Spells:
4 Gitaxian Probe
4 Ponder
4 Gut Shot
4 Vapor Snag
3 Mana Leak
Land
4 Seachrome Coast
4 Glacial Fortress
2 Inkmoth Nexus
That's a pretty hefty list of cards to lose! However what cards do we get out of the new set to replace the all-powerful Phyrexian spells? Obviously no free spells BUT we do get access to some pretty sweet new spells such as:
Are these cards good enough to keep the Delver menace alive? In my opinion yes. Delver of Secrets is such a powerful card that I don't think it can be ignored.
The current situation that Delver is in reminds me a lot of the U/W/R Delver deck that was very popular in Modern. Obviously the lack of the far superior burn spells in that format decreases the power of the Standard deck; however even in Modern we don't have access to one of the best cards from the Delver decks: Ponder.
So even without the consistency of Ponder we see that the deck was successful in Modern and let's be honest Serum Visions really isn't very good so it can't be thanks to that. So if Delver is to survive in the new format without some of the best cards of the current lists what would a possible list look like?
Creatures (16)
Lands (21)
Spells (23) This list is obviously a rough draft and will certainly change once the cards are actually available to test with but I still feel that Talrand is very powerful.
He is very reliant on you untapping with him alive which seems very difficult to do in a format full of Pillar of Flame and Mizzium Mortars so is it correct to be running any number of him at all?
Only time will give us that answer but until then I feel that untapping with Talrand almost assuredly wins you the game especially when you can untap and overload a Mizzium Mortars to blow up their team and get a Drake. Just watch out for an overloaded Mizzium Mortars coming back at you (thank goodness for Spell Pierce errrr Izzet Charm).
Geist of Saint Traft also seems very well positioned if everyone is relying on Pillar of Flame and Mizzium Mortars because of the two only the Mortars can hit him—if you haven't been holding onto an Izzet Charm for the three turns that Geist was already on the table.
So there you have it! A possible Delver deck for the coming format a rundown of some of my favorite cards and a review of a deck that I hope can survive the rotation!
I would like to just take the time to thank the following: all of my friends for their continuous support and always helping me to improve my game Kurt Samson for listening to me ramble on about my crazy deck ideas at 1AM Ryan Jerry Chris Omar Guillermo James John and everyone else who I can't simply fit here for helping me tune this deck and make it the best it could possibly be and lastly I would like to congratulate my good friend Ben Brueseke for his stellar finish in the StarCityGames.com Legacy Open in LA! Nice work bud!
Thanks for reading!
Until next time
Keyan Jafari
Keyan926@yahoo.com