Return to Ravnica had its tournament debut this past weekend with SCG Open Series: Cincinnati giving us our first look at the new cards in action. In some years prior the first tournament of the new format has had relatively minor updates to existing strategies. This time around however Ponder Mana Leak Gitaxian Probe and the Titans are all banned while Jace Architect of Thought Lotleth Troll Mizzium Mortars and shocklands are all legal. Many cards in Return to Ravnica are going to take a while for people to figure out how to use correctly. Some however are already set to dominate.
Spoiler: Jace Architect of Thought wins the first major tournament day one of being legal.
This new Standard season is unreal exciting and not just because of the rotation and not just because of the return of a real Jace. Return to Ravnica goes in some very different directions than decks have been meaning we are looking at a format that is very different from what we have been seeing.
We have barely scratched the surface of the new format but to understand where it is going next we need to understand the starting point. Here is the metagame of the Top 32 of SCG Cincinnati weighted by finished.
Top 32 of SCG Standard Open: Cincinnati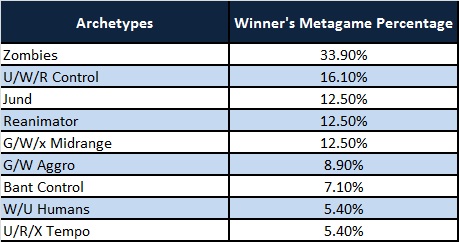 For the purposes of this chart I merged B/R Zombies (the most popular) with Jund Zombies and B/G Zombies. I also divided the various G/W and Bant decks up between Aggro (contains Silverblade Paladin) Control (contains Supreme Verdict) and Midrange (everything in-between). The U/R/x Tempo decks contain what is left of Delver and frankly one of the two of them was playing a "Delver-less" Delver deck making it clear that the archetype needs a new moniker assuming it even survives.
Let's start with the first bigger winner of the new format U/W/R Control as piloted by SCG Invitational Champion Todd Anderson:
This breed of control deck also piloted to a respectable finish by Brad Nelson is a U/W Control deck splashing red for Pillar of Flame. The combination of Pillar of Flame Azorius Charm Detention Sphere Supreme Verdict and Terminus give the deck an abundance of defensive cards that actually work against Zombies. We then use the new dynamic duo of Jace and Tamiyo to gain a winning advantage until a miracled Entreat the Angels puts the game away.
While Entreating is going to be the most common path to victory Tamiyo letting you loop Pillar of Flame is also a big game and when push comes to shove Jace can use their best victory condition against them. While our primary victory condition is a miracle (and we play seven total) it looks like Todd and Brad were on the same page as we discussed in previous weeks about abandoning Temporal Mastery. It is cute and definitely reasonable but Temporal Mastery was always at its weakest against aggro. The new Standard format is ripe with aggro so moving towards Detention Sphere and Pillar of Flame seems perfect.
Syncopate is a very mediocre counterspell but if you just want a passable two-drop that gives you an added dimension it is the best of what we have. Dissipate is a better card to be sure but when you need a two-drop for your curve you need a two-drop.
Snapcaster Mage is not exactly at his best here but with Pillar of Flame and Azorius Charm to flashback you will be able to get another removal spell most of the time. Against people where removal isn't good you still cantrip from the Charm as well as sometimes set up another Entreat or Syncopate going long.
On the topic of Azorius Charm it is important to keep the life gain mode in mind when you are racing with Entreat.
For a primer on Jace Architect of Thought and why he and Tamiyo are going to be the tag team card draw engine for control decks in the new format click here.
This build is straightforward powerful and consistent. It will evolve but this is the starting point for control in the new format and U/W/R Control will probably be the best control deck most of the next several months.
The first successful Reanimator deck of the new format this build gives up on the mana creatures that were popular in the Frites decks to make room for Grisly Salvage and a selection of removal.
Thragtusk is one of the absolute best creatures in the format and one of the best cards against Zombies so it's no surprise to see him here. Centaur Healer on the other hand is a bit more surprising. We want a critical mass of creatures we actually want to hit with Salvage but it is interesting to see him get the nod over Huntmaster of the Fells for instance.
As anticipated Angel of Serenity has (so far) lived up to the hype taking the top spot as Reanimator target of choice. Griselbrand is still awesome and a fine fifth and sixth target but Angel of Serenity completely takes over the board. Even if they have a removal spell you are gaining massive tempo by bouncing their guys not to mention drawing extra cards. Then going long you have a pretty unbeatable "big" plan against removal-based decks.
This deck is the real deal but it's also very vulnerable to hate. It's not all-in on the graveyard but if you want to beat it every Rest in Peace Purify the Grave Tormod's Crypt and Cremate goes a very very long way.
As predicted Jund Midrange is back! Unlike the previous generation's Jund we don't have actual Bloodbraid Elf into Blightning to end games in frustration. Rakdos's Return is an important part of the equation but it isn't nearly as fast.
As we have discussed in previous weeks Olivia is absolutely awesome right now. An awful lot of people have almost no outs to her and she can win the game on her own. Even against people that can kill her she makes for a great six-drop (letting you ping when she comes into play).
The mix of Pillar of Flame Mizzium Mortars Dreadbore and Sever the Bloodline isn't surprising but it adds up to a lot of sorcery speed removal. I like the one Dead Weight in Lauren's deck for added early game plays that work with your Rakdos Keyrunes. Rakdos Keyrune is certainly the best of the bunch as a 3/1 first striker can take over a lot more boards than the other bodies can both on offense and defense.
Huntmaster and Thragtusk are obvious inclusions as they are just at a higher power level than most of the cards in Standard. The added life and blockers they give you go a long way towards beating the Zombie decks that are so popular right now.
Farseek is another gimme as there just aren't enough good things to do on the second turn. It makes our mana very reliable so that we can support Kessig Wolf Run and still have above average mana consistency.
Wolfir Avenger versus Borderland Ranger is an interesting debate. My early money is on Borderland Ranger but once you have Strangleroot Geist the aggression the Avenger offers goes up in value.
In addition to having Borderland Ranger West's build also featured a bunch of Garruks which seem solid. They are just strong cards that let you play a good midrange game. While both players had Underworld Connections in their board West also found room for one maindeck. That it is optional is a big plus but he does have eight life gain creatures to help pay for those extra cards.
Jund is one of the most resilient strategies in the new format and is likely to improve as people tune their lists to the format that develops. The challenge this week is adapting to the U/W/R Control decks that punish them for having so much removal. At least Mizzium Mortars kills Entreat the Angels and Pillar of Flame kills Jace. It is worth noting at this point the lack of Bonfires present.
Now for the bad guy of the format at least week one:
Why call these all Zombies and not just B/R Aggro Jund Aggro and B/G Aggro? It isn't just that they all have Gravecrawler; it is that they descended from a deck that people were already used to calling Zombies. This makes it easier to communicate usefully about the deck by continuing the tradition. Remember deck naming is about being able to communicate ideas usefully. When I say B/R Zombies you know what I mean.
Beginning with the B/R list it is no surprise to see Rakdos Cackler and I am sure @Smi77y is delighted to see Blood Artist make it another day (which is obviously much stronger when coupled with Falkenrath Aristocrats). Bump in the Night is a fun twist however giving you a Lava Spike that you might actually flashback going long. Thragtusks have a way of slowing the game down so having a longer plan is important.
Underworld Connections out of the sideboard is a nice plan against the removal of Jund and control decks. Abrupt Decay might have to make its way into Jund decks with how popular Underworld Connections is looking. Control already has access to Detention Sphere.
Rakdos Lord of Riots is another sweet new tool out of the sideboard. It is relatively easy to trigger him so if 6/6 flier is good against your opponent he gives you a very different dimension than some of your other big creatures.
The Jund Zombies list adds Lotleth Troll and Dreg Mangler which is no surprise passing on Rancor and letting us go with a mana base we can actually introduce to our mothers with a straight face.
Vraska out of the board is interesting as far as giving us noncreature threats goes. Deathrite Shaman is more of a question mark. Its value as a sideboard option against graveyards is solid but does it have enough raw power to maindeck?
Finally we have the B/G Zombie list which makes the interesting choice of Crippling Blight over Tragic Slip. Not being an instant seems pretty big but it is just such an absolutely incredible answer to Thragtusk that I expect it to become industry standard (at least among non-red variants). It is so good against Thragtusk that I wouldn't be surprised at all to see even the B/R and Jund versions adopting some number. You still have to race the Thragtusk and will lose on the spot if they play Restoration Angel but it is a very clever innovation.
Knight of Infamy appears to be picking up a little steam. G/W Aggro decks are fairly popular and he is a great weapon against them. If he continues to grow in popularity he will only further push people down the path of Sublime Archangel (to go over the top).
Speaking of G/W Aggro...
Kauffman's build is definitely focused more on raw card power than synergy though he does have all the usual double strike plus pumper action that we have come to expect out of non-populate G/W decks.
Loxodon Smiter Wolfir Silverheart Strangleroot Geist Silverblade Paladin and Sublime Archangel make for a variety of hard-hitting threats that aren't always easy to deal with. Rancor is standard but Selesnya Charm is an important addition. It gives us instant speed counterplay and trample is a real big game in this deck. That it also kills Olivia is very important and if nothing else it gives us an instant speed threat. If anything causes Olivia to die down in popularity it is likely to be the widespread adoption of Selesnya Charm.
In addition to the Top 8 decks we just covered it is also worth checking out the 9th place finisher's Bant Control deck.
If anything is going to give U/W/R Control a run for its money as go-to control deck I think it will be Bant. This is partly because Bant is the other three-color U/W combination that has a two guilds in Return to Ravnica (unlike Esper) but it's also because Thragtusk is just that good.
In a world where we don't have access to good two-mana countermagic Farseek becomes a much more appealing route to go. It helps power out our walkers and sweepers and also helps set up Sphinx's Revelation and an Angel of Serenity end game. We don't even have many creatures to recycle but Angel of Serenity is just that strong.
It's a little funny but it's sometimes going to be right to target your Thragtusk in play. You will get a 3/3 now and if they can kill your Angel you get another five life and two blockers. Once we're going down this path I'd really like a third Angel since if we get two of them they recur each other. This does push us to wanting more targets though such as a couple Elvish Visionary or Borderland Ranger. Even Huntmaster of the Fells could be an option as Farseek plus Borderland Ranger means the slash wouldn't take all that much.
What do you think of the week one decks? Which ones will have staying power and which will be fads that are obsolete in a few weeks? What cards are people still sleeping on?
By the way be sure to check out the coverage of the Team Grand Prix in San Jose this weekend. I'm competing with Josh Utter-Leyton and David Ochoa and it's going to be a really fun tournament.
Ok I'm out but first...
Top 10 Cards from Return to Ravnica So Far
10. Underworld Connections
9. Dreg Mangler
8. Selesnya Charm
7. Mizzium Mortars
6. Lotleth Troll
5. Angel of Serenity
4. Rakdos Cackler
3. Detention Sphere
2. Shocklands
1. Jace Architect of Thought
Patrick Chapin
"The Innovator"