The History Of Selesnya: Part Two

Welcome back to part two of my Selesnya retrospective. Selesnya week may be over but my loyalties run deep. I only had the space to cover decks up until the Modern era last week but I can't allow my guild to go underrepresented. This week I'm going to discuss the most important W/G decks of the last ten or so years since the release of Mirrodin. Keep in mind that I'm covering only straight W/G decks with perhaps a sideboard splash at most so Naya or Bant decks won't be featured. I'm also only covering decks that were particularly successful or influential so don't be hurt if I don't talk about your favorite deck.
That being said—on with the show!
W/G Decree Control
Creatures (4)
Lands (27) This is the only featured deck in this series that I played to a top result myself though I like to blame that on being greedy with my mana and playing all kinds of colors in my green decks. The setting for this particular deck was US Nationals in 2004. The tournament took place at the absolute high point of Skullclamp's impact on the Standard format to the point that the card was banned starting on the Saturday of the event. The problem was that the tournament started on Friday so Skullclamp got one final send-off courtesy of the USA.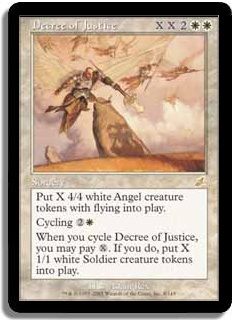 Yes this is basically a mono-white control deck splashing for Oxidize. That probably looks very strange to the casual observer. It's important to keep in mind that the big deck to beat going into the tournament was Affinity of course but there were also Skullclamp Goblin decks Skullclamp Elf decks and various Tooth and Nail decks—some with Skullclamp. Does splashing for Oxidize make sense yet? Mostly this was a big spell control deck that relied on Wrath of God and particularly Akroma's Vengeance to wipe the board clear of pesky creatures along with everything else. The sheer quantity of mass removal effects helped to fight against the card advantage provided by Skullclamp but Oxidize nipped that problem in the bud.
The big innovations with this deck in my mind came in the Tooth and Nail sideboard plan and the use of Decree of Justice as the primary finisher. When I was sent this list (by SCG's own Michael Flores) it included Akroma Angel of Wrath in the place of the Decrees. After playing around with the deck a bit I decided that I wanted a win condition that wouldn't clog up my hand like Akroma did. Decree of Justice can be cycled in a pinch against aggressive decks and it actually also serves as a way to play around opposing mass removal since you can make the tokens during your opponent's end step. The combination of Decree and Eternal Dragon gave the deck an incredibly smooth play pattern. If you wanted a finisher either of them could kill your opponent but much of the time you could just cycle them away to continue to build your board and set up your long game. It really was a minimalistic win condition package.
The Tooth and Nail sideboard was the trump against opponents who were looking to do the same thing. Temple of the False God control decks existed in a number of forms during that time and I wanted to have the best plan for the mirror match. This is generally a good policy in deck construction and selection—when you have a good deck even if it's somewhat off the radar you want to have a plan to beat someone who came up with the same idea you did. In this case the plan was to use Reap and Sow to both pin our opponent's mana and accelerate our own. Tooth and Nail found Darksteel Colossus to win or Duplicant to take out an opposing Colossus while Mindslaver allowed for all kinds of shenanigans. It was absolutely awesome for me all tournament.
Sadly I lost to Affinity in the Top 8 piloted by future WoW TCG World Champion Billy Posthlewait. I made many jokes during the match about how he should be disqualified for playing with a banned card but they were not enough to keep him from drawing multiple Skullclamps in three of the five games which was enough to dash my hopes of making the US National team that year—hopes that had to wait for eight more years to come to fruition. Thankfully Skullclamp hasn't been legal to crush dreams ever since—except in Cube where you can all relive my pain.
The setting: the 2004 World Championships in San Francisco California. Despite the Skullclamp ban Affinity remained a major threat in Standard thanks to Arcbound Ravager Cranial Plating and friends. Various decks had sprung up to attempt to beat it from Goblins to U/R March of the Machines / Obliterate to U/W Control with maindeck Relic Barriers (played by yours truly to absolutely no success in the event). The most successful of all of these decks was W/G Astral Slide played by 15-year old Julian Nuijten.
Julian's finals match against Aeo Paquette (playing Affinity) was quite the lopsided affair and that should come as no surprise looking at his decklist. The deck featured many of the same anti-Affinity tools I had used at US Nationals earlier that year but supplemented them with Astral Slide in combination with Viridian Shaman and Eternal Witness. Astral Slide with either of those two creatures meant an endless stream of removal chipping away at the opposing side of the board. In fact he had so much artifact removal—especially after sideboarding –that he could frequently just aim them at the opposing lands and leave his opponent with zero permanents after a Wrath of God. That's a pretty tough position to come back from to say the least.
One of the most notable elements of Julian's deck is the inclusion of Rampant Growth. Rampant Growth is frequently seen in competitive decks these days but wasn't highly regarded at that time in Magic's history—even Terry Soh's three-color Slide deck from the same Top 8 didn't play Growth. It seems obvious now that the difference between a Wrath of God on turn 3 and turn 4 can be a matter of life and death but somehow mana acceleration in control decks wasn't yet the norm back then. It certainly made the sideboard that much more powerful with Plow Under generating a backbreaking advantage against other control decks and Rude Awakening an aptly named surprise kill for an opponent who might tap out for something like Tooth and Nail.
Overall Julian's deck is a striking example of finding the right tools for the job. Many attempts to metagame against the elephant in the room do so at the expense of playing with actual powerful cards—like my Relic Barriers or the Germans' March of the Machines. It is truly rare that a format is so narrow that it's right to resort to such measures. I was probably still feeling quite clever for playing maindeck Relic Barriers in my Block Affinity deck that I played to finish second at GP New Jersey just a few weeks before Worlds but I certainly shouldn't have played them in Standard. Julian's deck though has only Viridian Shamans that might be dead outside of the Affinity matchup but even they can attack and block if it comes down to it. He found a way to play a hateful metagamed deck without sacrificing card quality and synergy and came out on top as a result.
Ghazi-Glare
Katsuhiro Mori's victory with Ghazi-Glare at the 2005 World Championships came during a time when I was away from tournament Magic so unlike all of the previous decks I've discussed I don't have firsthand stories to tell of its success. Mike Flores does an excellent job of setting the scene with his article discussing the deck on the mothership here.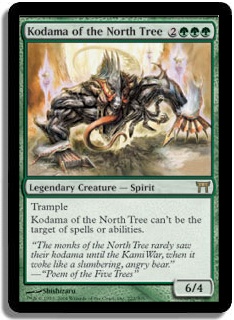 This deck does have a few elements that jump out at me even as something of a disconnected observer however. One is the choice of Kodama of the North Tree as one of the deck's major threats. Now I mentioned before when talking about the W/G Decree Control deck that it's important to recognize that when you have a good idea that others may have that idea too and to be prepared for it. Well if Flores' article is to be believed the Ghazi-Glare deck wasn't a known quantity prior to the World Championships. And yet here we have the perfect threat for the token/Glare mirror—a six-power trampling shroud creature!
I don't know where Kodama stood in terms of the creature hierarchy in general at the time but playing a full four of them between deck and sideboard seems to indicate an understanding that it could play an important role in say a matchup full of token creatures and targeted effects that threaten to neutralize larger creatures. Similarly playing Greater Good in the sideboard indicates an awareness of importance of having a plan for someone who can go toe to toe with your primary plan—an awareness that paid dividends for Mori when he faced Frank Karsten's dedicated Greater Good deck in the finals.
Another thing I really like about this deck is how it exemplifies the idea of a multi-pronged assault. I'm a fan of proactive decks but I hate playing tunnel vision beatdown decks. I vastly prefer decks that can apply early pressure and follow it up with some kind of powerful mid to late game trump like my PT Austin deck. This deck can have aggressive creature-based openings that force the opponent to react and deal with what's on the board and can also essentially lock the game up thanks to Glare plus Vitu-Ghazi or Selesnya Guildmage. This kind of strategy forces your opponent to deal with multiple angles or risk losing to whichever one they're unprepared for. Say what you will about Mori's ethics and warning history but this deck is a work of art.
W/G Aggro
We have to jump forward quite a few years before we find another notable W/G deck—at least one that I have anything to say about! This deck is from Shards of Alara Block Constructed which was perhaps one of the most miserable formats ever to exist thanks to Bloodbraid Elf. Over half of the competitors at Pro Tour Honolulu played with the cascading hasty Elf Berserker with the vast majority of those playing some variant of Jund and others fitting Bloodbraid Elf into some kind of control shell. While none of them made Top 8 with the deck a European contingent including Yann Massicard and Rasmus Sibast among others played this simple looking W/G beatdown deck to a stellar finish in the Constructed portion posting a 66% win rate against the field which is incredibly impressive.
The deck took advantage of one of the few edges it could find against Jund: a consistent mana base. The ability to actually always cast your spells on time was a huge boon for this little beatdown deck that could. In a world where three- four- and even five-color decks were the norm this sleek two-color machine (yes I know there's a Rafiq in the deck but it's just one card!) was able to always get off to the races early while opponents would frequently stumble.
In addition to that the deck was built to exploit the weaknesses of Jund or at the very least not play into its strengths. Valeron Outlander's protection from black allowed it to attack or block against Putrid Leech or Sprouting Thrinax with impunity as well as dodge Terminate and Maelstrom Pulse. Dauntless Escort eased the pain of opposing cascades turning Bituminous Blast into Terminate a very expensive one-for-one removal spell as well as potentially brick walling an army of Bloodbraid Elves hoping to attack. Behemoth Sledge—especially on the aforementioned Outlander—helped make up the life lost from the ever-annoying Blightning and put the pressure on the Jund deck to find an answer.
This is also notably one of the first decks to make heavy use of future all-stars (and close friends of the show) Noble Hierarch and Elspeth Knight-Errant. I remember testing for that tournament with Ben Rubin and we went so far as to try to fit Noble Hierarch into our Jund decks because it was so incredibly powerful in a format with little reasonable low-cost removal. Ultimately it was too difficult but it made enough of an impression on us that it made its way into our deck for the next tournament. Elspeth too is such a powerful card either on offense or on defense and stands as the planeswalker that was probably the most underrated for the longest part of its lifespan in Standard. I'd argue that it's still underrated in pretty much every format in which it's legal but I'm probably a bit biased on the matter.
W/G Tokens
Last but certainly not least we have the most recent addition to the Selesnya history books. More of you probably remember the context for this deck better than the others I've discussed but I suppose ought to set the stage anyway. The early formative tournaments in the Innistrad Standard format were won by G/R Wolf Run and U/B Control decks. The Wolf Run decks started to shift over to heavier green Dungrove Elder based decks to compete with the control decks trading their red sweepers for mana creatures. At the same time W/U Human decks started cropping up to fight both of those.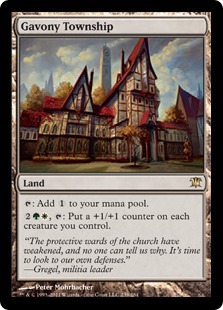 Enter W/G Tokens. Martin Juza had posted a list very close to the one he ultimately played in the GP on our testing group forum and I was immediately excited since the deck had so many elements I liked. Mana creatures allowed the deck to accelerate into turn 2 Mirran Crusaders which were absolutely devastating against the heavy green and black decks in the field. Mana acceleration also gave the deck a natural advantage against the similarly built but slower W/U Human decks which were out in force at the GP. But on top of that the deck had an extremely powerful mid and even long game thanks to a suite of planeswalkers and Gavony Township.
While this isn't the only deck to use Gavony Township by any means it was the first deck that really demonstrated to me just how good the card is. I think Township much like Elspeth is still incredibly underrated. A lot of people seem to view Township as a good card in the deck because of its synergy with token generators like planeswalkers but it's really the mana creatures that make it so good—or rather the Townships that allow the mana creatures to do their job.
One of the dangers in any kind of deck using mana acceleration is the risk of drawing too much mana and not enough action. Gavony Township is a land that makes all of your excess mana creatures much more valuable. Once I started playing with Township in my Standard green decks I almost immediately went to four copies and never looked back. I've even taken to trying to find ways to fit the card into my Modern green decks—I played one in my sideboard to fetch with Knight in creature matchups at GP Columbus! The card is that good. This was the first deck that truly demonstrated that and Juza got the GP title as a result.
It was actually the success of this deck and its reliance on mana creatures that led to the rise of Gut Shot all over the place in Standard. Thanks a lot Juza for ruining all of my fun.
Anyway that's it for my look back at the history of Selesnya in tournament Magic. I'm sure a number of you are going to chide me in the comments for leaving out your favorite deck and I hope you do because the world needs more players who are passionate about the Selesnya guild.
No promises whether I'll write an article for next week—I'm up in San Jose already for the Grand Prix and testing for the Pro Tour. If inspiration strikes I'll see you next week. If not I'll be back the week after that hopefully with tales of how I took home my third PT trophy.
Until next time
bmk