I normally wouldn't run out decklists two weeks in a row but making a new Jarad list excited me enough to get right on it. I already have a Golgari deck in the Nath list I created back in June but Jarad was just SCREAMING to be made. I made Nath into a budget deck on two axes: both in cost of cards and the CMC of each card being not greater than five. I decided to run it a little differently with Jarad. I went through my boxes of foils and pimp cards and built the deck out of only what's in there. Like I did with Geist of Saint Traft I wrote this as I was doing things so that you get a bit of stream-of-consciousness reporting and insight.
I'll break this down first in everything that I pulled out and then how I ended up building it. I have one 1600 count box labeled "Foils" which includes commons and uncommons and another called "Foil Rares." I have a full set of Zendikar foils and then full foils sets of everything (including core sets) from Scars of Mirrodin forward. Many of the best cards from those sets are already out in decks so I'm expecting the pickings to be slimmer than they might otherwise be. Note that any promo cards like FNM foils or FTV cards are in the rare box (which is why you'll see Skullclamp for example on that list).
Before we get there I'll tell you how Trostani did last week. First of all it was a laugh to play. It's certainly not one of the decks I have that I'd call serious and it generated quite some hilarity amongst the other players and spectators.
I played five or six games with it and all of them save one where I just drew land after land had good moments. It turns out that Restoration Angel Minion Reflector and Pelakka Wurm are nice together. I did it twice once with Trostani in play and once without. The latter two already on the battlefield I flashed in Restoration Angel triggering itself and Minion Reflector. I put Minion Reflector on the stack first then Resto Angel targeting Pelakka Wurm. Pelakka Wurm Blinked gaining seven (or eighteen€"four for the Angel seven for the Wurm). Minion Reflector resolved and I paid two making a copy of the Angel and did it all over again. Because you don't create the token until Minion Reflector's ability resolves you don't have to target a Pelakka Wurm that's going to Blink out and counter the ability due to illegal target (like it would if you had two Restoration Angels come into play at the same time and try to target a single creature).
I lost a game to Melvin's Horobi deck while I had more than 150 life. I had a tough time keeping a creature on the board and despite cycling through every creature he killed (by using Greater Good) I couldn't find an answer before he killed me with general damage. From Horobi. I did actually find an answer in Duplicant (he wouldn't be able to recast Horobi) but once again Withering Boon was a blowout€"but that wasn't the biggest blowout of the day.
Playing with Melvin Nate (Zedruu) and Sandy (it was an aggressive deck but I forget the general) I got Trostani plus Serra Avatar and some copy/Blinks going. Wall of Reverence and Serra Avatar don't have to be out long for things to get absurd even without Trostani. Before too long I was at 1544 life with Melvin and Sandy eliminated. Nate had randomly hit me with Zedruu for two earlier in the game. He cast Elspeth Knight-Errant and Gisela but I wasn't too worried because I cast Storm Herd. Unfortunately he cast Sun Titan on his turn bringing back the Detention Sphere in his graveyard. I had no sacrifice outlet for the one he targeted. He then proceeded to jump Zedruu twice and killed me with general damage. I'm sure I'll remember that one for a long time.
The deck pretty much performed as I'd expected but those two losses while at high life demonstrated that generals might be problematic. Mass Calcify was dead every time I drew it (I was hoping for more of a white version of Plague Wind) so I've already swapped it out for Terminus which partially helps with the general problem. I swapped out Karmic Justice realizing that most of my relevant things that people want to blow up are creatures and put in the excellent suggestion from Austin Lavinghouse in the forums: Somberwald Sage.
Crackdown was an MVP every time I cast it as was Crovax. There were a few cards like Mimic Vat which I was looking forward to playing but never saw. I don't have to tell you how good Lurking Predators and Greater Good are. I look forward to playing the deck more in the upcoming weeks.
Back to Jarad (that's Ja-ROD as I was told at the Pro Tour by Trick Jarrett which I think is pronounced Ja-RET) the first thing I did was move outside. It was a beautiful Saturday morning as I was writing this in Central Florida with the temperature at 72F. Next thing was to put on some music (we have the house sound system wired for outdoor music) and then get a drink (water for now). Final thing before getting started was putting down some playmats in order to keep any outdoor grime off the cards.
I planned on going with some graveyard recursion theme since it's clearly suggested by Jarad. Let's see what I came up with.
I first started looking through the commons and uncommons box. I saw in the black cards a potential Zombie subtheme which makes some sense with Jarad. Somewhere around Hideous Laughter I realized that the deck would be more defined by the rares since they're the more significant cards so I grabbed that box. Here's what I came up with out of it: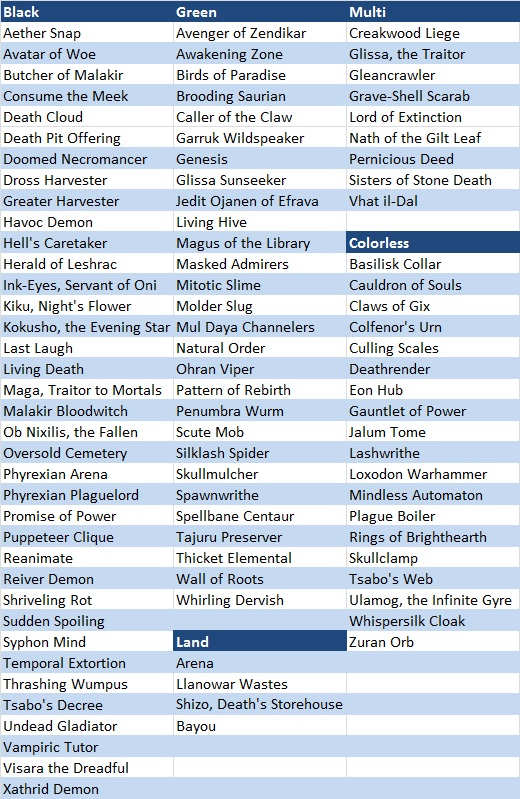 That's already quite a list. My first thought was that my board control is a little weak with only Pernicious Deed and Plague Boiler for the whole board and Death Cloud Reiver Demon and Havoc Demon for creatures. I thought I might actually have to play Death Cloud although I don't really like it that much.
I didn't see too much on this list that would take me off my original idea so I continued to run with it. Off this list I pulled off to the side some that I definitely wanted to play:
Black: Chainer Greater Harvester Kokusho Living Death Oversold Cemetery Phyrexian Arena Reanimate Reiver Demon
Green: Garruk Genesis Masked Admirers Mitotic Slime Silklash Spider
Gold: Lord of Extinction Pernicious Deed
Colorless: Plague Boiler Skullclamp
Land: Bayou (it's an altered art one by the way) Llanowar Wastes Shizo
Next step was to go back to the older non-rares. Remember that I was scanning through and pulling out things. This isn't the whole list of what's in the box.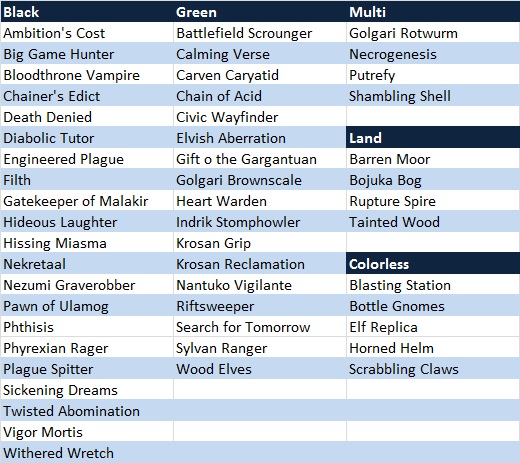 At this point I started wondering if I had a viable deck just with the cards on the table without going in for the new ones. Could an old school deck hold its own with these newer cards? I started staring at the Avenger of Zendikar on the top of the green stack and the Creakwood Liege next to it. Then I started thinking about how good Blood Artist would be with them. Then again this format is about restrictions in deck construction€"wouldn't it be a kicker if the deck could actually stand up against newer stuff? Since I had Worldwake and Rise of the Eldrazi in here I also looked through the Zendikar box to see what I could come up with. Otherwise I was going to go with what was currently on the table.
From the Zendikar box I pulled Blood Seeker Ravenous Trap Eldrazi Monument Sorin Markov and Carnage Altar. Sorin was a card I might not otherwise play so stayed tuned to see if it actually makes it in.
I needed a creature base first and I knew I was playing Avenger and Creakwood Liege. Glissa seemed good if I had nice things to recur with it. Bottle Gnomes Elf Replica and Scrabbling Claws are good but I went back to the artifact pile to see if there was anything else. Chromatic Star looked worthwhile because it's a cheap cantrip as is Lifespark Spellbomb. Mindless Automaton went there as well.
I picked Vhati il-Dal and Graveshell Scarab from the gold stack; Avatar of Woe Dross Harvester Havoc Demon Hell's Caretaker Ink-Eyes Twisted Abomination Undead Gladiator Withered Wretch Xathrid Demon and Visara from the black pile; and Civic Wayfinder Elvish Aberration Golgari Brownscale Sylvan Ranger Nantuko Vigilante Heart Warden and Indrik Stomphowler as definites from the green pile. That made 32 creatures including the artifacts and legendary ones so I started looking at our available noncreature cards.
I wanted the sacrifice outlet of Blasting Station so that was a must. Necrogenesis would give us more dudes to sacrifice to things plus some graveyard hate. As I grabbed the black pile to look for removal I saw that I hadn't pulled Filth which was a must. For spells I picked up Phthisis and Ambition's Cost. Natural Order (sacrifice a token to get Boom Tube!) and Pattern of Rebirth made it from the green pile.
I'll say this just once so that I can clear the thought from my brain: this deck so wanted Mikaeus SOOOOOOOOOO badly. Moving on€
I was up to 54 nonland cards and realized that there was a box of DCI Judge Promos in the closet. I pulled Sword of Fire and Ice Sword of Light and Shadow Bitterblossom Maze of Ith and Dark Confident out of it. That made 58. I was pretty sure I wanted 37 lands that Maze of Ith being a non-mana producer. In two colors with a modest cost curve 36 should be okay. That meant I had four cards left to pick. I had to have Nezumi Graverobber for Reanimation. The deck was still pretty weak on card draw so Promise of Power came in bringing it to 60. I added Magus of the Library and Ohran Viper to go to 62 but Sorin seemed just jank so that gave me one more card. Butcher of Malakir seemed like the right call for more creature control.
I counted the cards in the stack. It was 65. I added up the decklist. It was 60. I facepalmed and set out to figure out what the mismatch was. Turns out there were 65 cards in the pile and on the now-corrected list meaning three cuts. Ravenous Trap was the first one that came to mind as just a little too cute. I cut Hell's Caretaker because I remembered that it had been pretty disappointing in the past. I thought about going down to 36 lands. My first thought was that I shouldn't do it but with a low curve and only two colors I decided to give it a shot.
I pulled the Rupture Spire because I didn't want any enters-the-battlefield-tapped lands. 36 green symbols and 57 black ones meant of my 31 basic lands I'd have thirteen Forests and eighteen Swamps. At the very last minute (actually while I was putting away the cards I'd pulled out) I realized that I had no targeted creature removal so I grabbed Nekrataal swapping it in for Lifespark Spellbomb. There were enough other cantrip artifacts for Glissa who's just a minor part of the deck. I sleeved it up with Legion's "Pure Jank" sleeves which seemed appropriate. The final list is below.
We'll see how it runs and if it can indeed get there against a newer generation of cards. As it stands it looks fun and challenging enough to play which is all I want out of a deck anyway.
Creatures (41)
Planeswalkers (1)
Lands (36)