It is no secret that different Magic users, personally and individually, enjoy the employment of different kinds of magical spells. Some, like Brian Kibler, find great satisfaction in the summoning of Fantastick Creatures; others are diviners, evokers, or invokers. Others, puzzling though it may seem to you or me, actually like that icky combo feeling washing over them as they win: a kind of sewage of victory that comes fast and frequent. Different Strokes for different Geniuses, I guess. Of all the magi, wizards, or wannabe planeswalkers populating the Riptide Laboratories and Ivory Towers of Dominaria, few if any feel the passion or kinship of the aficionados of Mono. Black. Control.
How amazing, on its face, is a Phyrexian Obliterator? It kind of makes you wonder... WotC too understands the existence of this passionate community and tries set after set to toss its engineers a tool. See what you can do with this.
Ironic— though triumphant—when the MBC specialist does something spectacular (like Phillip Johnson with his Pristine Talismans back in Seattle last June) with or without a seemingly obvious Obliterator.
Mono-Black Control has been everything from boogeyman in the early years of the Pro Tour (for what else would you call the relentless draw and merciless cleanup that was the partnership between Necropotence and Nevinyrral's Disk but the MBC Titan of Myth) to prodigy (in the triumphant hands, say, of a Jon Finkel), to Duane Johnson (filling arenas once or twice a year to prove he's still got it, especially on the mic). We actually stand at a singular moment, today, when control decks dance a razor's edge of low/no permission and the re-upping Gambler's Ruin that FOR ONE MORE WEEK the community as a whole forgets how much they used to like Cavern of Souls.
1. If Your Control Deck Isn't Gonna Play Permission Anyway...
Personally, I've felt myself shackled a mite by all this white horning in on my perfectly good blue. The problems, though, are that with an early emphasis given to the Azorius, Supreme Verdict and Sphinx's Revelation are just much better than control elements available to non-white aspirants.
The shift noted in this deck's title, though, actually comes from Pro Tour champion Tomoharu Saito, who has been posting Bant deck lists featuring both Sphinx's Revelation and Staff of Nin (in, you know, a non-200+ card deck). While anyone who viewed my recent Cube-esque Standard attempts knows I love a Sphinx's Revelation (often going to that card first on an Increasing Ambition), I actually saw more staying power and even Rakdos's Return comeback capability from Staff of Nin.
There's no getting around the compact efficiency of especially increasingly large Revelations; however, if the primary Name of the Game is resource advantage, Staff of Nin—comparably costed, especially early on—performs a comparable if less explosive end.
So mise well try the Maximum Number of Staff of Nin, amiright?
The white mage's shackles fall equally to Supreme Verdict. I've personally found it challenging to forge a Destroy All Monsters deck in Standard sans white, as the best of the sweep options seemed to be Barter in Blood.
Except...
If you want to go all-in on Swamps, Mutilate does any awfully good Day of Judgment impression.
So I had my alpha run MBC deck with a Destroy All Monsters bent and the re-adoption of the underplayed Victim of Night at the two (a rule breaker). I won my first match easily by beating some little guys.
Next up was a Grixis Control. I won the first game in a long, drawn-out exchange of cards. Cards; you know, "cards"—the fundamental currency of Magic: The Gathering since the time of Weissman.
In Magic, there are many possible fights. As you get better and better, you can eventually shift resources both internally and in the other mage's face (for example, cards for life or cards for time), but Magic at its rawest strategic strata of economic exchange is at the cards level. I drew more cards than he did. None of our cards were particularly outstanding on their own, but I had like three Staff of Nins poking away and one Liliana or another grinding away and eventually he conceded to this slow and arduous methodology.
You can do that if the battlefield is "cards."
However, if the opponent changes the battlefield on you, mere "cards" will no longer be an effective measure of who is ahead. For example, if you're ahead everywhere, your opponent has no cards, draws and plays an Upheaval, plays a land and passes with seven, probably you'll be left about even and all your preexisting card advantages will have evaporated. Your nets will be the same cards-wise, but it will be like the crash predating the Great Depression: two paupers in the same ditch, one of them used to be rich.
You may have noticed in some of my Cube-esque videos this week, I said something like "Cyclonic Rift cures all ills." Players whose primary game plan is on the battlefield based on eking out incremental advantages in the resource "cards" will find themselves at the zero point following an overloaded Cyclonic Rift (which gets worse with a Rakdos's Return, but that isn't 100% necessary to illustrate this point).
A deck like the MBC I was playing, whose focus is on resources—cards specifically—generally can't thrive in the case of a stark shift in strata. I realized this immediately in the second game when my Grixis Control opponent played out Nicol Bolas.
Short story: Back to the Drawing Board. Nicol Bolas, when you're a board control deck focusing on resource advantage, is essentially a Stage Three trump and strata-shifter. You answer it or it beats you. I didn't find the tools in MBC straight to answer it.
3. Simple Solutions to Expensive Problems
I don't know about you, but when problems arise, my favorite solutions are the cheap ones. Stuff like seat belts or adding unique 1-800 numbers to the ends of TV ads. It turns out that while a Liliana or another Liliana is kind of an embarrassing threat next to big Nic and the card advantage and defense of a Staff of Nin (and its ability to poke for one) kind of wilts next to the Bolas "+" ability...you can just kill it if you stretch to accommodate Dreadbore.
Cheap, easy—I know!
I tried to keep the spirit of the MBC (at least there are still 20 Swamps) while incorporating Dreadbore and Rakdos Keyrune.
Rakdos Keyrune is perhaps the most underrated card in Standard. I didn't start out a huge fan of Keyrunes in general, but Rakdos Keyrune both 1) beats the hell out of Thragtusk on offense or defense and 2) attacks control players with primarily sorcery speed removal at a time when they can't, you know, easily remove it. Rakdos Keyrune is an absurd difference maker in that it's so cheap to include, actually helps you advance a board control game that wants to get to 6+ mana, and both solves (for you) and creates (for your opponent) game-deciding problems.
Pro Tip: When attacked by multiple bad guys, you can activate Rakdos Keyrune, first strike kill the first Thragtusk body, and then tap the Keyrune to Tragic Slip another attacker, even if it's a huge Angel or other attacker with as much as thirteen toughness!
Creatures (3)
Planeswalkers (6)
Lands (24)
Spells (27)
So I was suggesting this to a good friend of mine playing in a big tournament this weekend when...
"Let's be honest. What do you think the chances are that I am not playing a Thragtusk this weekend?"
Trolls clamoring for something other than Thragtusk, this is for you. MBC fans waiting patiently for the next Vampiric Tutor-for-Stromgald Cabal turn 2, this is the best I could do. I'm sorry to sully your Swamps with red mana.
I think it's fairly clear that we live today in an uncertain and unstable metagame climate when camps RE: control can be so divided as to ask why one has Counterspells at all, all the way to going full-on Shaheen Soorani's first PTQ win Rewind. Is this a midrange format? Better, what's the solution to a midrange format*? I don't think you want to be the guy with ones and twos in a format full of Fog Banks, threes, fours, and fives—all with big butts.
Clearly defined formats can give rise to effective, often narrowly targeted solutions, reframing the roles of boogeyman and predator. But in unstable formats with no clear leader... The more unclear, the more unstable, the closer strategies are in power to one another... The more likely you can go out and play whatever. Sure, you still want to be able to get a return on your cards, but here playing a consistent resource-gathering strategy that's very good against creatures—in a world where almost every kind of deck wins, eventually, with creatures—can be a perfectly viable choice.
But there are trade-offs:
You'll probably lose most of the games (in particular game 1s) against any kind of true Over the Top strategy. Yes, yes, after weeks of playing almost nothing but "Cube," the irony is, if I were actually battling an opponent with Battle of Wits or Door to Nothingness [with the above], my only route would be to try to race them.
You know, with my two Vampire Nighthawks, four Keyrunes, and an eight.
[tumbleweeds]
The incorporation of Dreadbore gives you play against the Nicol Bolas, Planeswalker they might side in, but it should also give you some strategic guidance. Like maybe you shouldn't blow your Dreadbore on Olivia Voldaren (even if she's looking a little scary now) because you know what might be coming. "Play," remember, is not the same thing as "you can ignore this..." A card like Nicol Bolas is still trump; you just have an out or four now.
You can actually exhaust the average Reanimator deck with this deck. You have sufficient time because they don't typically kill you immediately with their Angel or 5/3. You can actually run through every one of their threats with a series of Dreadbores, Mutilates, and Tragic Slips [which themselves look really lethal when combined with the aforementioned Dreadbores and Mutilates] (remember, you're actually drawing 3+ cards per turn at some point). The exception, of course, is a Craterhoof Behemoth Reanimator deck.
I went over some Craterhoof Behemoth rundowns with a couple of Pro Tour Champion / Hall of Fame compatriots who will remain nameless when working on this this week and got the same answer from both of them: "Sure, in Australia." I consider it further reinforcement of the breadth and variation of possible deck choices that 1) Craterhoof Behemoth seems quite viable at the same time that 2) some very good players might dismiss it regardless.
In my experience, after enough play you may find yourself with at least grudging respect for the targetable and hasty Overrunner; yes, as Black or Rakdos Control you are obviously in a much worse position to grind and trade with a Craterhoof Behemoth deck as they "go off" (as opposed to a traditional Standard Reanimator, whose definition of "going off" is to get a guy they could have reasonably casted 1-2 turns earlier). You might very well be dead. If you survive, it might be on a turn where even if you have the Mutilate it's either too small to deal with a 5/5 (and all its buddies), but you're going to get hasted on the flashback anyway.
In this case, you really have to rely on one of your three Cremates and a pair of crossed fingers. But again, if you aren't dead, you can long-term play Destroy All Monsters quite effectively, as you might against traditional Reanimator. You just draw so many cards, many of which remove their cards, while Staff of Nin makes you look good and Lingering Souls or Avacyn's Pilgrim much less so.
Trade-offs go both ways, though. What you get in return is a much more robust game—especially game 1—against aggressive decks. I think it's a fair criticism of my recent Cube-esque decks that they aren't particularly good against beatdown. I think the Door deck had like a 25% win rate against Selesnya in game 1. Awesome grinding against Thragtusk and Jace, Architect of Thought, but Gore-House Chainwalker, not so much. Things might get better after board, but like I told one Twitter follower who predicted a "95% beatdown" FNM, I just wouldn't play Battle there.
Not surprisingly, you have fast—and increasingly faster—reaction with Tragic Slip and Pillar of Flame, a fast catchall answer in Dreadbore, and a legitimate sweeper in Mutilate. Beatdown, here, is much less a problem. So if you want to trade Battle of Wits games for Sublime Archangel games, I think you will be proportionately ahead going Rakdos. The one area I kind of dislike is the tension between Sign in Blood and not having Thragtusk and / or Sphinx's Revelation as a catch-up card on the life resource. Vampire Nighthawk and Griselbrand make up somewhat, but I'd rather leave you with the generic comment beloved former Apprentice Number One (and multiple GP / SCG Open / SCG Invitational Top 8 competitor) Josh Ravitz falls back on when I complain about not enough life gain:
Just play better.
Fast and consistent removal while drawing extra cards actually gives you a buffer of life by not losing the life in the first place, so you might not need to gain it back as much. Also, it might be important to find new and initially unplanned ways to win (quickly):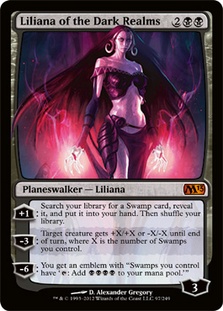 Games frequently get to the point where you have 10+ Swamps in play (and Liliana 4's ultimate isn't any kind of ultimate here). Have you ever given a Vampire Nighthawk +12/+12? Kind of like an ultimate in and of itself.
Last note: Slaughter Games over Rakdos's Return... This was a toughie for me and is probably not at all settled. Rakdos's Return can actually kill big or near-ultimate planeswalkers; Slaughter Games solves different problems (like you can head a Craterhoof Behemoth off at the Unburial Rites). You know, make 'em play fair.
LOVE
MIKE
* Snap answer: "Over the Top" / combo.