Sometimes you can't control the things that happen in your life. For better or worse, we have to accept that fact. However, there are a million other things happening to you every day that you can control and change for the better. This is something I've had a very difficult time grasping throughout my entire life, as I continually try to fix the things that are out of my hands. I suppose it's only fitting that I also consistently ignore the problems in front of me that are within my influence.
But times are changing.
In my life. In Standard. We can't take things for granted anymore. Everything is moving too fast, and we have to adapt or die. Just this past weekend at Grand Prix Charleston, I found myself at a crossroads. I like to think that I have good ideas. After all, I do play a ton of Magic and am constantly trying to figure things out for myself. However, sometimes you have to accept that others around you are right and you're wrong.
Well before the tournament began, I found myself contemplating the difference between Purify the Grave and Rest in Peace in U/W Flash. GerryT had been advocating Rest in Peace, while I had been playing with Purify the Grave and felt like it was fine. The drawbacks for Rest in Peace were many, but Purify wasn't always strong enough against the Reanimator decks. I thought that something was missing...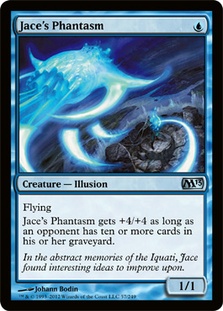 Jace's Phantasm is a great example of my weekend. Don't let me fool you, as this was not a wise decision. Over the course of the weekend, I came to the realization that I had four dead cards in my sideboard, and that's not a good feeling to have when you start off 8-1 in a Grand Prix. Day 2 is a much tougher game, and your opponents are all going to be prepared for what you're trying to do. The trick is to use every resource at your disposal to gain an edge. In my case, I didn't listen to Gerry, or wrote him off because I had played a lot with the deck myself, or was just stubborn (or all of the above). I ended up playing Jace's Phantasm instead of Purify the Grave or Rest in Peace on a whim, and my results showed it. I ended the tournament at 9-5-1.
I just wanted to be different.
This can be a dangerous mindset to have when preparing for a tournament. I see it all the time with "brewers." You probably know a few. They're the guys who build decks just to deviate from the norm, or the ones who put an incredibly rogue spin on a known strategy. This happens all the time, and I'll occasionally do it myself when I think it will give me the best chance to win the tournament.
I also do it a reasonable amount just because I want to stand out.
This is a problem that I recognize I have, and one that I'm actively working on regulating (much like my many other vices). It can be incredibly dangerous, but winning with something of your own design is a feeling that I won't soon forget. However, just because something makes you feel good doesn't mean it's your best course of action. Sometimes you do things that aren't smart just because you enjoy them. Sometimes I put Cavern of Souls on Homunculus before I cast my Craterhoof Behemoth just to have a sweat.
You might say that I have a gambling problem.
But how can I be sad when Standard is so diverse! This past weekend there were two Standard Grand Prix on opposite sides of the pond, and the talk of the town was large monsters. Martin Juza won GP Bochum with Brad Nelson's #HoofThereItIs, a Reanimator deck that churns out a ton of mana creatures and accelerates into Craterhoof Behemoth with Unburial Rites and Somberwald Sage. Brad Nelson himself placed in the Top 16 of GP Charleston with the same deck, missing Top 8 after losing the last two rounds in a row.
But the true story of both tournaments is the fact that a bunch of different archetypes are coexisting and putting up results. Everything from G/W Humans, B/R Zombies, Junk Tokens, Reanimator, and U/W Flash made Top 8 in Charleston, with the brain-eating horde taking it all down with an interesting spin. The difference?
Going Big!
Ignoring your opponent is a concept that many of you are no stranger to if you've kept up with my column over the last few weeks. I've even tried Ethereal Armor...but that's beside the point. We need to go bigger than Thragtusk, plain and simple. Our aggressive decks have to ignore it or do something overwhelmingly absurd to punish people for tapping out. This can be done a multitude of ways, and people are finally starting to figure out what it takes to beat everyone's least favorite Beast in Standard.
Thragtusk is the pinnacle of interaction. Every game that your opponent plays Thragtusk, the worst thing you can possibly do is spend two or three cards killing it. That's exactly what they want you to do because then they get full value out of their card and you fall very far behind. However, if you take the opposite route and choose to ignore it, then their card doesn't get nearly as much mileage. The way to do this is with fliers, unblockable creatures, trample, first strike/double strike, or overwhelming large creatures like everyone's favorite Beast: #HOOF!
While I wouldn't necessarily consider Thragtusk the best card in Standard, it's the card that literally everyone should have in mind when constructing their decks. Can you beat Thragtusk? Can you beat Cavern of Souls casting said Thragtusk? If so, how? What other cards are you vulnerable to? If you play against a Restoration Angel on Thragtusk, will you just fold, or do you have enough staying power to punch through? How much does the five life they gain matter? Will you be able to attack if your opponent casts Thragtusk without your creatures dying miserably?
These are all questions we need to ask when building a deck for Standard, and even more so when that deck is aggressive. This is one of the reasons why I like G/W Humans, as the deck can be built a bunch of different ways. One route focuses on Rancor with cards like Fencing Ace, while the other says screw it and accelerates with Sublime Archangel and Wolfir Silverheart. These two strategies are wildly different, though they look similar and are vulnerable to some of the same cards, but both do a great job of punching through that oh-so-annoying Beast!
Unfortunately, these strategies are incredibly vulnerable to Supreme Verdict, which is seeing a lot of play from the various U/W/x decks.
On the other hand, B/R Zombies featuring a million large monsters with haste as well as creatures with undying and the ability to return to the battlefield are much harder for those decks to deal with. These strategies are much less vulnerable to Supreme Verdict, which says a lot for an aggressive deck! Geralf's Messenger along with Diregraf Ghoul, Gravecrawler, and Knight of Infamy make for a pretty sweet suite of early aggression, while Hellrider and friends clean up after everyone else has left the party. Honestly, I'm incredibly excited to test the decklist that won Grand Prix Charleston, as it seems to know exactly what it wants to do: get 'em dead.
For reference:
Creatures (26)
Lands (24)
Spells (10)
While gigantic fliers aren't necessarily new, they're exactly what the doctor ordered. For weeks, I've been building my aggressive decks wrong, failing to incorporate a late-game plan and just crossing my fingers and hoping not to play against a Thragtusk deck. Well, this deck laughs in Thragtusk's face and keeps attacking.
While I don't agree completely with a lot of the card choices and think the deck probably wants one more land, I do love the theory behind the deck and am ecstatic that something innovative won the tournament, though I was rooting for GerryT and Brad Nelson to take it down (after I was out of contention, of course!).
Speaking of Brad Nelson and his awesome #HOOF deck, this is another example of going over the top of Thragtusk. Having a proactive strategy against Thragtusk is hugely important when it's the defining card of the format, and this deck has that in spades. When you're actively happy when your opponent taps out for Thragtusk, then you know you're doing something right. Brad Nelson put a ton of work into his deck for the Grand Prix, and his Top 16 performance as well as Juza's win in Bochum should reflect that. Craterhoof Behemoth is a frightening card, and one that interacts favorably with one of the better (yet underrated) cards in Standard: Lingering Souls.
While it's often forgotten about, most Reanimator strategies use it to buy themselves a ton of time against the aggressive decks, but it still acts as a reasonable threat against most control decks. When you have the ability to use Gavony Township alongside it, Lingering Souls can be downright threatening. With Craterhoof Behemoth in the format to go absolutely bonkers with it, Lingering Souls should be getting much more respect than it currently is.
Hopefully this past weekend's breakout decks will get some love over the next few weeks and we'll have some sweet technology for the SCG Invitational in Los Angeles.
Choosing the Right Deck
While this may seem simple enough, the theory behind picking the right deck for a tournament is something lost on many competitors, including myself. This is why the best teams in the game continually put up results. They take every bit of information leading up to the tournament to put together the best version of the best deck, but which tournament you're preparing for matters just as much as what decks you test against.
For example, a Pro Tour tournament will provide you with very different obstacles than a StarCityGames.com Open Series. Not only will the opposition be vastly different, but the deck selection of the field will be much harder to gauge.
I think that I'm very good at picking decks that allow me to outplay the average opponent. Generally speaking, blue-based tempo or aggro decks are awesome against opponents who continually walk into your counterspells and various tricks. At the Pro Tour level, this isn't necessarily the case, and you should base your deckbuilding decisions around this. Frequently, the best deck in the format will be a known entity, and better opponents will be more prepared to fight these strategies than your average opponent. This is one of the reasons why I have a pretty awesome track record on Day 1 at Constructed Grand Prix tournaments but generally do pretty badly on Day 2. My opponents are stronger, their decks are better prepared to beat mine, and I typically play decks that could be considered easy to "hate out."
For example, I started off Grand Prix Atlanta (Legacy) with an 8-1 record but ended up going 2-4 on Day 2 and not even cashing. I was playing Reanimator, and most people weren't prepared to beat a turn 2 Griselbrand on the first day. My sideboard plan of Show and Tell was solid against the plethora of Grafdigger's Cages and Tormod's Crypts, but the opponents I faced on Day 2 came prepared with things like Gilded Drake in addition to these cards to invalidate my strategy entirely. While I was aware that Reanimator hate existed, I thought the sideboard plan was phenomenal when it really wasn't all it was cracked up to be.
I also started off 8-1 at Grand Prix Columbus (Modern) playing U/R Splinter Twin, another one of my favorite decks. Again, my opponents on the first day were underprepared, giving me an easy pass into the second day where I fought off Torpor Orbs and Combusts until my eyes started to bleed. Even though I was comfortable piloting the Splinter Twin deck, I expected most of my opponents to have very little hate or give me enough time to find my answers. However, the plethora of discard effects along with the hate cards were too much for me to handle, and I ended up doing poorly as a result.
Grand Prix tournaments are tricky because they feel somewhat similar to a SCG Open on the first day of competition, but you should never take that into consideration when selecting your deck if you actually want to win the tournament. Powerful yet vulnerable decks are great when the majority of your opponents don't know how to fight you, but you need to realize that this will generally backfire when your deck isn't strong enough to fend off the hate from a stronger player.
I never want to be dead to a single card or deck, especially when I expect my opponents to be reasonably skilled. This is a fairly common mistake that people make, and one that Team #SCGBlue made at Pro Tour Return to Ravnica in Seattle (Modern) with Nivmagus Elemental Combo. While the deck had an incredible win percentage against non-Jund opponents, the fact that Jund was the most-played deck (by the better teams in the tournament, no less) was not something they could control. This could have been easily avoided by playing it safe, but who's to say their results would have been much better with a weaker but more consistent deck?
Sometimes it's right to gamble on a tournament. Sometimes you need to do the most abusive thing allowed in a format to take advantage of the underprepared, especially when you don't feel like you can play toe-to-toe with LSV in a mirror match. However, when the competition is stiff and the best removal spells in the format (such as Path to Exile, Abrupt Decay, and Liliana of the Veil) are strong against you, it's hard to justify playing something so fragile. The gamble to play something like Nivmagus Elemental Combo is something I will likely do in the future, but only when I feel like the hate being thrown at me won't be nearly as backbreaking.
In Charleston (Standard), I played U/W Flash. I love the deck and will still play it regularly on Magic Online because it's the type of tempo-control deck that I love. Unfortunately, I played against Cavern of Souls nearly every round at the Grand Prix, which basically blanked my entire counterspell suite and made Essence Scatter (which I considered the best counter in the deck) virtually unplayable. I hope that the Cavern trend prompted by U/W Flash's success will slow down. I still chose to play U/W Flash at the Grand Prix because I assumed that most people wouldn't catch up.
I was wrong.
...
Over the next few weeks I'll be traveling a lot for the holidays and for upcoming tournaments. I'm excited to brew for Standard since this past weekend's results were definitely a shot in the arm. Craterhoof Behemoth and Falkenrath Aristocrat might actually push Thragtusk decks into the Tier 2 range, which would be a refreshing change. I don't think Thragtusk or Cavern of Souls need to be banned, but they do make for some incredibly boring game states. There is nothing I like less than running two creatures into each other over and over only to have them cast Unburial Rites, gain a million life, and do it all over again. And then just when you think you've stabilized...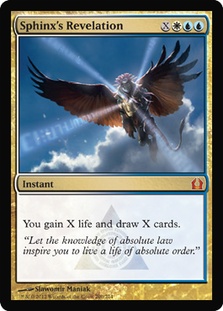 While these cards are fun to play with, they are miserable to play against. When you have a card like Cavern of Souls dominating the format, it's hard to justify playing counterspells to help solve the problem. Without a hit-all discard spell like Thoughtseize, it becomes much more difficult for decks to interact with both Sphinx's Revelation and Thragtusk. I think that this is a problem that's not easily rectified, and the only answer is to kill your opponent before they can use either of them to gain a significant advantage (easier said than done).
While my original dislike of the format is at an end, I do think that Standard is starting to become incredibly like solitaire. When both players are trying to continually outdo one another with bigger and bigger spells, the games come down to deck and card selection much more than play skill. While I do appreciate the fact that mulligan and sideboarding decisions are becoming much more important, I think in-game combat and deck interaction should be the focus of future sets if we ever want this to be a truly amazing format. I've already witnessed enough 0-0-1 draws to last me a lifetime.
Thanks for reading.
strong sad on Magic Online
@strong_sad on Twitter