Welcome to the third and final installment in my ongoing series on Magic promos. You can find the first part here and the second here.
As I've stated before, the idea behind this article series is to take a look at the history of every promo in Magic and shed light on which cards are the most interesting and valuable. I always run into interesting promos when trading, and this information is very helpful when attempting to figure out what something is worth on the fly.
I'm going to try and address all of the remaining promos here, but there's a reasonable chance that I'll miss some of the more obscure ones. There are—no joke—thousands of different promo cards out there. Because of this, I am also going to ignore non-English promos for now. Japanese promos probably deserve an article of their own some time, but that information isn't going to be very useful to most of you. I will also be passing over oversized promos and boxed set promos. Again, there are lots of things I can cover in future articles. If you come across any others that I've missed, though, please let me know in the comments.
Judge Foils
The judge foil program is one of the savviest things Wizards of the Coast has ever come up with.
The Magic Organized Play program needs a large community of judges in order to succeed. Keep in mind, too, that not everyone can handle the job—judges have to be intelligent, quick, detail-oriented, fair, and amiable. They basically need to have the skill set of both a mathematician and a salesman in order to succeed.
In general, people like this are incredibly employable. The skill set that makes for a good Magic judge is the same one that makes for a good lawyer or business owner. It's also crucial that the judge program doesn't have much turnover, either, because the learning curve is so steep.
Instead of having to pay an elite workforce hundreds of thousands of dollars, Wizards came up with a brilliant solution: judge foils. Along with a travel stipend, Wizards rewards their judges with foils that cost them fractions of a dollar to print but which are worth hundreds of dollars on the secondary market. The company gets their dedicated work force for almost nothing, and the judges have a weekend job that is both fun and decently profitable.
In consulting with my good friend and Level 3 judge Eric "Raging" Levine, I've been able to unravel just how these foils are distributed.
It used to be that each judge got the same packet, regardless of level—10 foils for a Grand Prix and 20 for a Pro Tour. You'd get 2 each of the newest foils at Grands Prix and 4 each at Pro Tours. This year, the distribution has changed at the Grand Prix level. Instead of a flat 10 foils for everyone, you get 5 per judge level (up to level three).
There are other ways to get these foils, too. They are given out (usually in packs of five) to all judges who register for and attend regional judge conferences. They are also distributed as gifts to regional judges who are doing good work by their coordinators and given out at some large tournaments like the WMCQ.
Four judge foils—Memory Lapse, Balance, Dark Ritual, and Dark Confidant—were sent out in mailings where all judges received one copy in advance of their wide release in packets. Wizards then waited a few months before releasing any more of these in order to let people cash out early if they wanted to.
Level 4/5 judges often have early access to foils, and Level 5 judges can help determine which cards are printed as upcoming foils, as well as which cards might get the 'old border' treatment.
Prior to 2009, judge foil packs could contain pretty much any judge foils from throughout the history of the program. Most judges disliked this—it added a lot of variance to each event, and it devalued all the foils over time. Cards that started out in the $100 range kept getting cheaper every single year as more and more of them made it into circulation. Since most judge foils kept getting distributed, many people disliked buying or trading for them.
From 2009 on, judge foils have only been given out for a year before being discontinued from regular distribution. They used to rotate packets at each Pro Tour, but now it happens somewhat randomly in order to give each card a roughly equal circulation. They have also increased the number of foils printed each year—from 2001 through 2008, three to five new judge foils debuted each year. Since then, each year has had between seven and ten new foils. This has caused the overall price of each foil to rise in value because each card has a smaller print run.
These days, judges sometimes do get 'throwback' judge packs featuring older foils at some special events. At this point, though, it is rare enough that the price isn't affected. A few judge foils—Demonic Tutor and Decree of Justice, I believe—were also inserted into a few premium Helvaults. Not enough of these were added into circulation to affect the price of each card all that much.
In general, judge foil prices follow a very predictable arc. They are at their highest price right when they first come out and supply is at the lowest point. The price drops consistently over the next year as more and more of them are released into the world. After about a year, the foil's price hits a nadir. This is when it makes the most sense to buy them. Over the next several years, with the card out of circulation, the prices tend to steadily rise. As of right now, the judge foils I would be looking to pick up are Doubling Season, Goblin Welder, Sword of Fire and Ice, Xiahou Dun, the One-Eyed, Flusterstorm, and the others released in late 2011 and early 2012.
Taking a look backwards, the first judge foils were released in 1998. Things started off with a bang: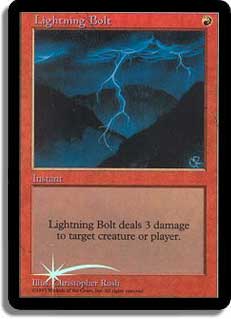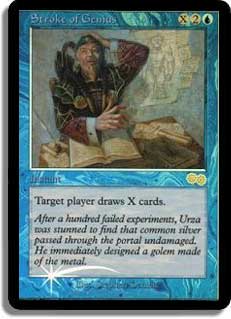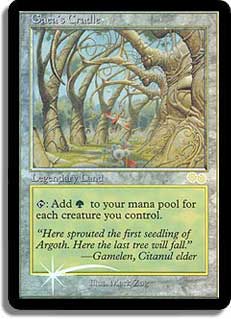 The Stroke of Genius is only worth $20—no one really plays with that card much anymore—but the other two are still worth a ton. The Bolt sells for $50, and the Cradle is worth a whopping $200. As a reserved list card, this is the only foil copy of Gaea's Cradle we'll ever get.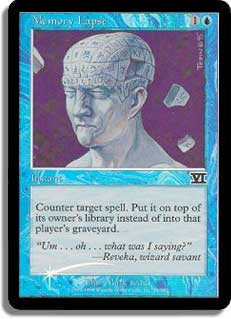 This card has the ignoble honor of being the cheapest judge foil ever. Not only was it given out in a mailing, but it was the only judge foil released that year. When I asked about it on Twitter, one of my followers said, "I remember 1999. You couldn't swing a dead possum without hitting a judge foil Memory Lapse." Combine that with the fact that it doesn't see any play in anything, and you have the recipe for a $2 card.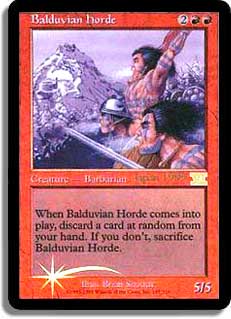 This card was initially given out at Worlds in 1999, which is why it has the 'Japan 1999' stamp on it. For some reason, Wizards then decided to make it into a judge foil. Perhaps they had a ton left over? Regardless, they all have the 1999 stamp on it, and they're all worth just $3.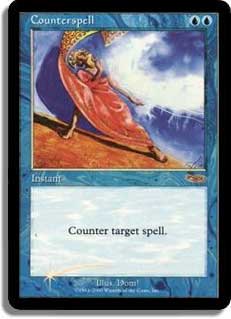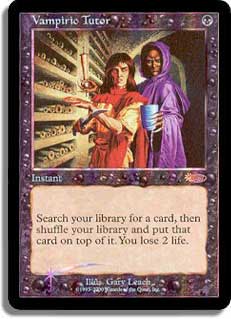 The new millennium brought us two new judge foils. The Counterspell sells for $20—there are lots of nice Counterspells out there—and the Vampiric Tutor is worth a whopping $60. Both cards are very desirable for Cube and Commander players, two markets that have caused many of these early foils to go up in price quite a bit over the past few years.
2001 gave us four foils, but none of them were standouts. Ball Lightning and Tradewind Rider sell for $10 each. Hammer of Bogardan is worth just $3. The only one with long term value has been the Oath of Druids, which books for $25 because of Vintage.
2002 had no new judge foils at all, but 2003 brought us three excellent cards: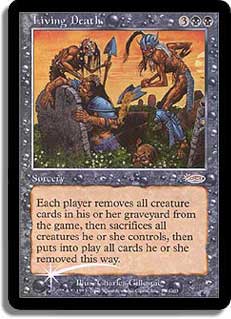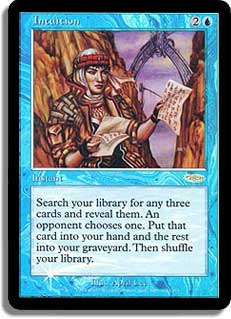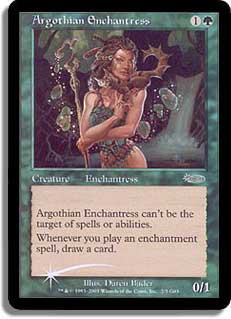 The Intuition sells for $100, the Enchantress for $40, and the Living Death for $30. These are the last three judge foils printed with the old frame and shooting star logo. The start of 2004 coincided with the advent of the modern card frame.
2004 brought a whopping six judge foils for the first time, including a new version of Balance that was mailed out to every judge in the country. I seem to remember a lot of fanfare surrounding it, too.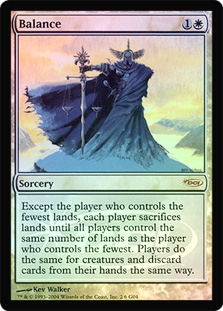 This was the first alternate-art judge foil. In fact, for two years it was the only alternate-art judge foil—we wouldn't see another until Exalted Angel in 2006. Today, though, this version of Balance is worth just $25. A ton of these were given out in packets, and another foil Balance with equally fantastic art was printed in From the Vault: Exiled. Both of those factors worked to devalue this card.
Armageddon, Time Warp, Hermit Druid, Deranged Hermit, and Phyrexian Negator were also released in 2004. Of those, the Armageddon has the most value today at $50. It is the only foil version of the card ever printed.
2005 brought four more excellent foils. Leading the way is Sol Ring, the only foil copy ever released using the card's original, iconic art: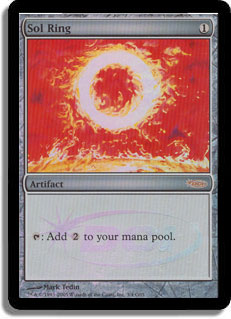 That one still sells for $100 and is one of the most popular judge foils of all time. If you ever see one for trade, pick it up—it'll move fast. The others from 2005 were Regrowth, Mishra's Factory (Autumn Art), and Gemstone Mine. They're all pretty good, but Regrowth has shown an especially robust amount of growth recently. A few years ago, you could pick these up for just $15. Now it's worth $50.
Starting in 2006, judge foils switched over to alternate art—at least on most cards. The spiciest one this year was Pernicious Deed, which still sells for $60. Rob Alexander's masterful alternate-art Exalted Angel still goes for $40 as well. Grim Lavamancer and Meddling Mage haven't held up as well, selling for $12 and $10 respectively.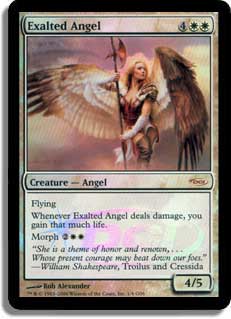 2007 continued the trend of both good and bad judge foils. The best was Vindicate, which is currently worth a whopping $80. The worst is Ravenous Baloth, which sells for just $5.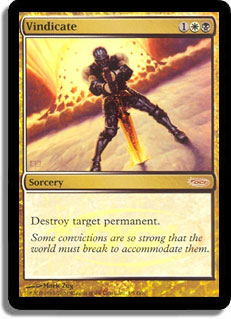 2007 also brought us Cunning Wish, Decree of Justice, and the first set-art judge foil in two years: Yawgmoth's Will.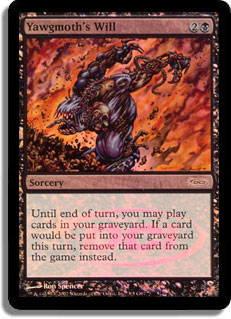 In 2008, we got one of the premier judge foils of all time: Demonic Tutor. This is still the only foil copy of the card ever printed, and because of that it sells for a whopping $120.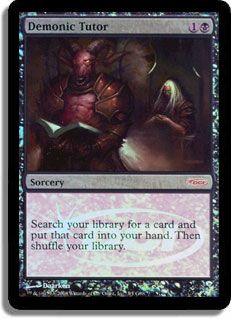 2008 also gave us Mind's Desire, Living Wish, Orim's Chant, and Goblin Piledriver. All of these have alternate art.
The floodgates opened in 2009, easily the most lucrative year in judge foil history. In addition to Maze of Ith (still $200) and Survival of the Fittest ($90), all five of the original Onslaught fetchlands were printed as judge foils. They book between $80 and $130 each.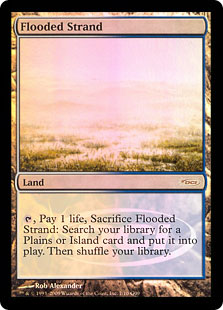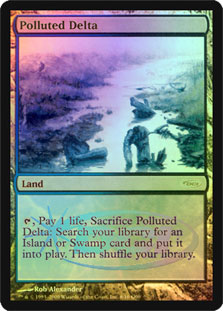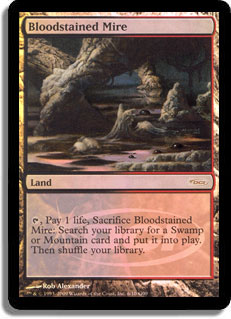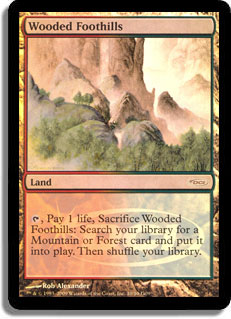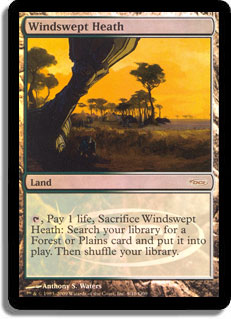 Also released in 2009 were Stifle and Burning Wish.
The payouts in 2010 couldn't live up to 2009's historic windfall. The best of the bunch was the judge foil Wasteland, which sells for $100. Sinkhole, Land Tax, and Natural Order go for $50. Wheel of Fortune sells for $40. Phyrexian Dreadnaught sells for $25; Thawing Glaciers goes for $20; and Morphling—the former 'best creature in Magic'—goes for just $10.
2011 brought several changes to the look of the foils. Sword of Fire and Ice was released using the old border and artifact color, even though Sword of Fire and Ice was originally printed in a modern frame. Ditto for Dark Confidant, which leads the 2011 judge foils in current value at $80. Mana Crypt, Bitterblossom, Vendilion Clique, Goblin Welder, and Doubling Season were the other 2011 foils.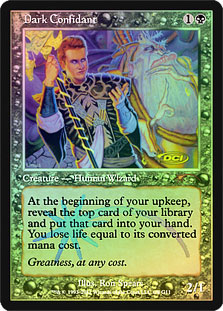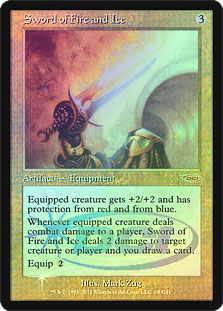 Starting with Mana Crypt in the second half of 2011, the DCI watermark was discontinued and a small DCI logo was instead added to the bottom of the art itself along with a shooting star expansion symbol. This only lasted through the end of the year, though.
So far, 2012 has brought us eight new foils. Two were printed with the old border—Noble Hierarch and Sword of Light and Shadow. The Hierarch sells for $50, while the sword is worth just $40. The others all have the shooting star expansion symbol as well as the ghastly shooting star watermark. The most valuable judge foil of 2012? That would be Karakas, which is selling for a whopping $150.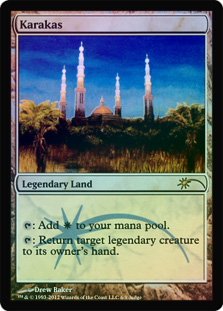 The other foils this year were Karmic Guide, Sneak Attack, Command Tower, Xiahou Dun, the One-Eyed, and Flusterstorm.
Game Day Cards
Starting with M10, most local game stores have held a 'Magic Game Day' tournament four times each year. Game Day happens one month after the release of each set, and it is always a Standard tournament designed to showcase the latest metagame. Each participant gets a full art non-foil uncommon, while the Top 8 participants each get to go home with a full art foil rare.
Game Day continues the tradition of full art cards from the defunct States program. In general, this style of promo is incredibly popular. People who dislike foils tend to love the full art uncommons, and people who do love foils adore the full art foil rares. One might think this would lead to these cards having serious premiums attached to them, but by and large they do not. This is generally because Game Day Top 8 foils tend to be Standard role players, not powerhouse rares.
In general, the Top 8 foils are harder than normal to acquire in trade because of emotional attachment. People tend to overvalue cards that they've won because it represents that victory much like a trophy.
The first Game Day was for M10 in the summer of 2009. For some reason, though, the promos for that event were from Alara Reborn. My guess is that they were going to launch game day a few months earlier but decided to move the festivities to August so that it would better align with the 're-launching the brand' campaign that went along with M10. By that point, though, the promos had likely already been printed.
During this very first Game Day, the participation card was a Standard foil common, albeit with alternate art. There was no full art participation card.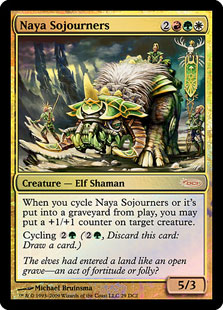 Because this card is unplayable, it retails for just $1.
The very first Game Day promo was a bust as well: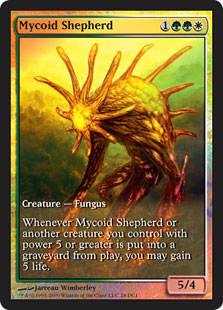 This Naya rare saw little or no play, and even now you can pick them up on Star City for just $3.
From Zendikar through the present day, Game Day rewards haven't changed. Three of the cards currently retail for $10 or more: Kalastria Highborn at $10, Black Sun's Zenith at $12, and Emeria Angel at $20.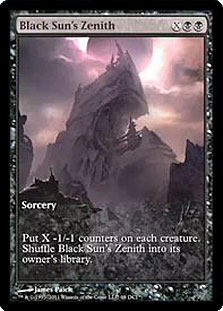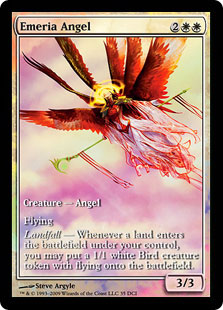 Others have had windows of being worth more—Dungrove Elder and Tempered Steel both spent some time over $10—but their prices fell after the cards rotated out of Standard. Even still, I never have trouble trading any of these rares relatively quickly.
The participation cards generally end up falling into one of two groups. The playable promos end up being worth $3-$4: Strangleroot Geist, Memnite, Diregraf Ghoul, and Dryad Militant still are.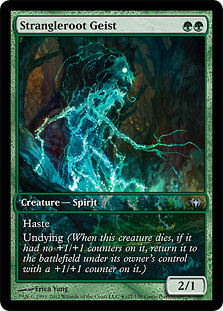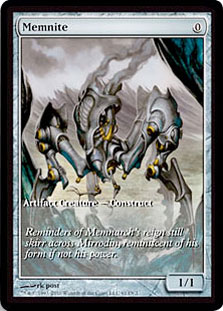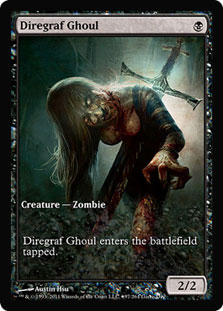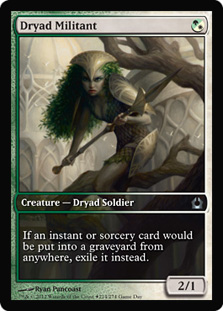 The less playable cards—think Latch Seeker from Avacyn Restored—end up retailing in the $1-$2 range.
To date, none of these cards has broken out of this pricing model, but I expect that will change as time goes on. Invariably, a 'power' uncommon will show up in one of these printings and will easily crack $10. If this series had been a thing when Shadowmoor was legal, for example, I could see a full art Kitchen Finks retailing for $20+ right now. Could Dryad Militant be the first?
Two-Headed Giant
Back in 2005, Wizards was exploring new multiplayer events and decided to have a 'global tournament weekend' similar to Game Day. The format was Two-Headed Giant, and the players on each team in the Top 8 received a foil copy of Underworld Dreams featuring the original art from Legends.
It's hard to believe now, but there was a time before mass reprinting that Underworld Dreams was a $25+ chase card. I don't have any price data reaching back that far, but I believe it was the release of 8th Edition in 2003 that tanked the market. By the time this card came out, then, it wasn't all that desirable.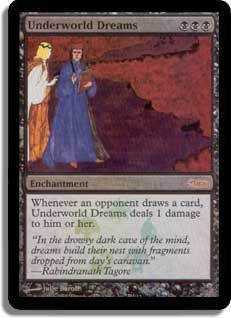 You can get this promo now for just $2, which is kind of low considering how neat it is. This is still the only Two-Headed Giant foil—the format never got all that popular, except among a small crowd of people who absolutely adore it. One of my favorite local stores still holds a monthly Two-Headed Giant FNM Sealed event in lieu of Draft, which is beloved by many of its regulars. Personally, I use it as an excuse to do something non-Magic related one week every month.
Fifteenth Anniversary Promos
Magic turned fifteen the year that 10th Edition came out. In addition to the release party that gave us Reya Dawnbringer, two cards were specifically released as 15th Anniversary promos.
The first—and most common—is the 15th Anniversary Kamahl, Pit Fighter.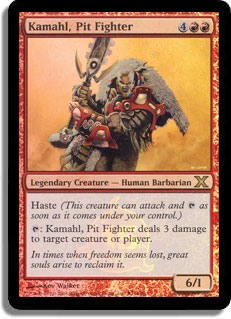 This card was released in a 10th Edition Starter Box that came with two booster packs, the promo, and some basic lands. A ton of these were printed and sold, and the card is worth just $1.50 today.
The second card is quite a bit rarer, but it's still not all that valuable. It's the 15th Anniversary Char, which combined alternate art with a variation on the 'starburst' foiling process that is generally loathed.
The only way to get the Char was to attend tournaments at either Origins or Comic Con that year. Of course, both events were pretty widely attended, and Char hasn't seen all that much play since the printing of this promo. Because of that, the card sells for just $5 today.
Both cards have the same 15th Anniversary watermark on their text box.
Comic Book Inserts
In 1994, Armada Comics put out two issues of a book called 'The Shadow Mage.' Each contained a promotional card—the first issue's card was Fireball, and the second issue came with Blue Elemental Blast.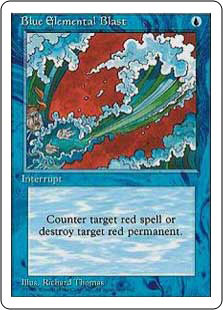 These cards are very similar in appearance to 4th Edition cards. They don't have alternate art, and they have a standard white boarder. They differ from 4th Edition based on the copyright date—these two cards say 1994 instead of the 1995 date present on all 4th Edition cards.
Because of this, people often get these cards confused with cards from Summer Magic, a short-printed subset of Revised that has the 1994 copyright date. Summer Magic cards can be worth thousands of dollars.
How can you tell an Armada promo from a Summer Magic card? Simple—the comic book copy will have the copyright date on a different line than the artist credit. A Summer Magic copy has both on the same line.
Both of these comic book cards retail for $3, and neither is a very desirable promo. The Summer Magic variants are worth around $200 each.
Starting in February of this year, IDW has included a promotional card along with each (monthly) issue of their book. So far, the promos have all been non-foil, and they've all had alternate art.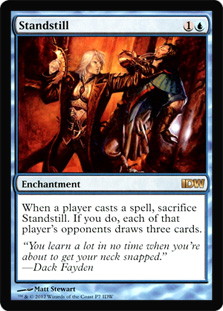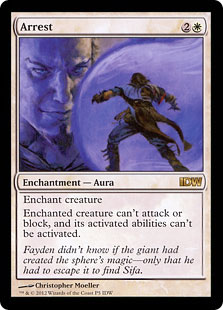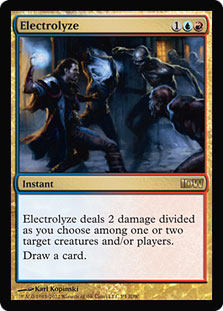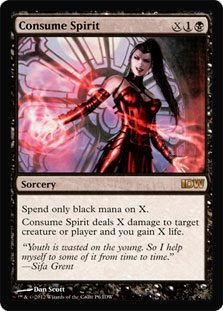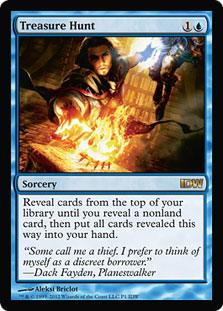 To date, the only standout promo has been, well, Standstill. It currently retails for $15. The others have more or less hovered in price around the comic book's MSRP of $3.99.
I expect the playable cards from this run to rise in value. The print run is far lower than the FNM promos, and many people who dislike foils are interested in obtaining them. Standstill is obviously one of the better cards they could have chosen for this, and there was a small run on the comics when it came out. Expect that to continue if they keep giving IDW interesting cards to print.
Player's Guide Foil
The Mercadian Masques Player's Guide came packaged with fat packs for the set (the very first fat packs ever!) and along with that month's issue of The Duelist Magazine. Most of the Player's Guides have long since been destroyed, but the same can't be said for the promo that came with all of them: a foil version of Warmonger.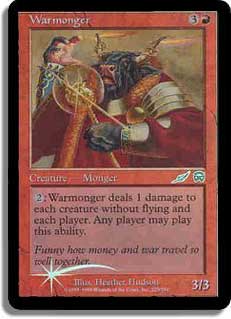 The only difference between this and the normal foil Warmonger is a little feather logo next to the expansion symbol. This promo retails for $0.50 and is a bulk card for all intents and purposes. It may be the least desirable promo ever made.
Oh, wait, I forgot about the Gateway Curse of Wizardry. Nevermind.
Magazine Inserts
We covered Nalathni Dragon in week one, but there was also another promo put out by The Duelist—this one in 1999. By this time, the Magazine was less popular and this promo is much rarer. Check out this alternate art Scent of Cinder: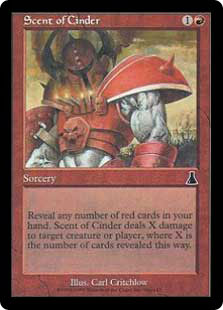 Even though this card doesn't see much play nowadays, the promo is still worth $8. Mostly, I think, because of how awesome it looks.
In 1999, Wizards started a new Magazine called Top Deck. Seriously—did no one tell these guys about the internet? Top Deck predictably lasted fifteen issues before being shuttered, which was enough time to produce two different promos: a foil Lightning Hounds in Issue #2 and an expansion-symbol-free Spined Wurm in Issue #14.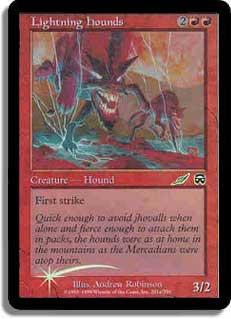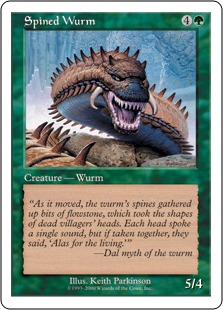 The Hound looks like it's from the same 'set' as the Warmonger, and it has the same feather next to the expansion symbol. It is also worth just $0.50. The Spined Wurm is a 6th Edition card in all respects except a lack of expansion symbol. That one sells for $3, mostly because I doubt the Magazine had more than a few thousand subscribers at that point, and most of them probably mixed the Wurm in with their random commons.
Play Magic 2009 Promo
Wizards had a booth at a number of conventions throughout Europe in 2009 as well as at New York Comicon. At each stop, they gave out a nifty foil Steward of Valeron that also acted as a business card for the website: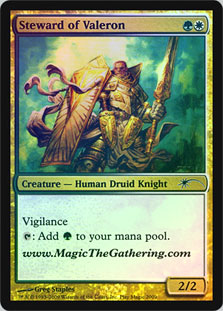 English is just one of the languages this was printed in, but it's the one I'll focus on here. The card currently books for $3.
APAC/Euro Lands
I'm breaking my rule on US promos only by talking about these lands. Originally, they were only available to people overseas—APAC lands were distributed in Asia/Australia and Euro lands in Europe. They were given out in 'boosters,' each of which contained five lands. There were three boosters of each—15 total APAC lands and 15 Euro lands.
The APAC lands were distributed along with Tempest. You had to buy a box of boosters (limit six per store) and then mail the UPC code to Wizards in order to get a set. I believe all three boosters of APAC were available simultaneously.
The Euro lands worked slightly differently. If you bought a box of Nemesis, you got a blue booster. Prophecy got you a purple booster. Invasion got you the red booster.
In 2008, a small number Euro lands (all red and purple boosters, I believe) were sent to US retailers to act as buy-a-box promos. I do not believe any APAC lands were distributed this way.
The clear-wrapper APAC booster sells for $30, while the blue and red boosters go for $40 each.
The blue and purple Euro land sets sell for $20 each while the red one is worth a whopping $50.
Breaking the boosters open, we find the following prices for each individual land:
APAC Blue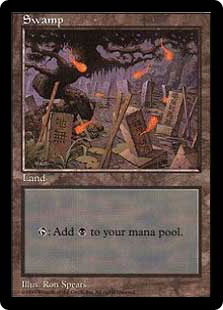 APAC Clear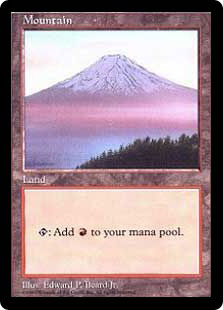 APAC Red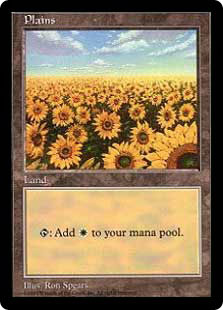 Euro Blue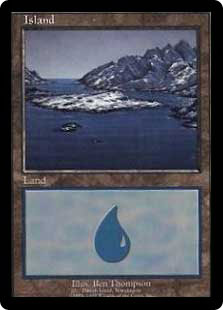 Euro Purple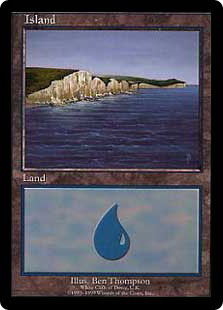 Euro Red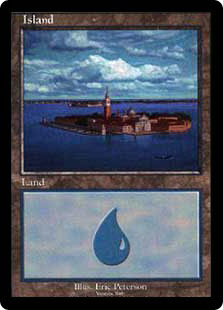 I've included pictures of some of the standout cards from each pack. As usual, aesthetics and rarity both contribute to rarity, as does the fact that Islands always command a premium. In general, the cards that portray iconic, real-world locations are worth the most.
Planeshift Alternate Art Foils
Planeshift is the only set in Magic history to include alternate art foils that could only be cracked in booster packs. Here they are in all their glory: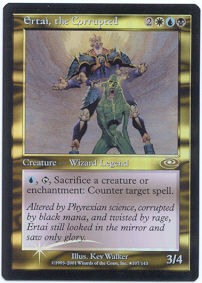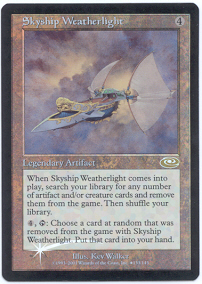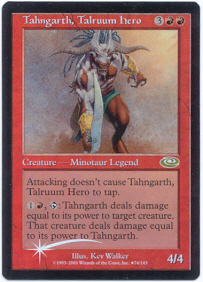 The Skyship sells for $80, while Tahngarth and Ertai book for $100 each. This is probably because the latter two can be used as Commander generals, even though they are both subpar choices from a strategy perspective.
It's important to note that there are plenty of foil copies of each card with the normal art. According to Wizards, you got one of these alternate foils in every ten or so boxes of Planeshift, giving them a rarity level similar to a contemporary foil mythic. Because of that, I actually think these cards are a bit overvalued, especially considering the fact that you have to really stretch to play them even in very casual decks. Why are they so expensive? Mostly because of how cool they were at the time. This was the first time Wizards did anything like this, and collectors got really into it. These cards have been in the $50-$100 range for over a decade now, and at this point their value is what it is. It's not like they're making any more of them, after all.
GURU Lands
In 1999, Magic started up the GURU program as a way to introduce new players to the game. If you wanted to be a guru, you could send away for a kit that included demo decks, registration slips, and a way to mint other gurus. For every player you registered as a guru—which, at that time, meant mailing WOTC a slip of paper with all of their personal information—you got one point. Ten points got you a booster pack and a basic land.
As you can imagine, most people didn't have the tenacity to get to ten GURU points, and even that got you only one single land. The program wasn't very successful, and it was discontinued after less than two years. At this point, you might think it would be largely forgotten by now.
Except for the fact that these were the lands you got for participating: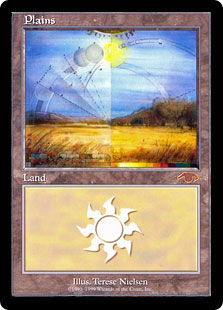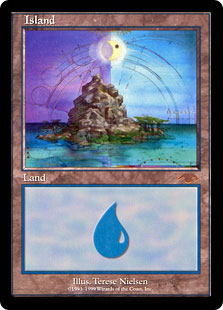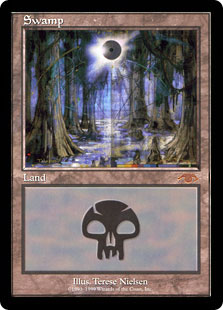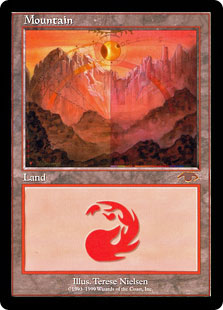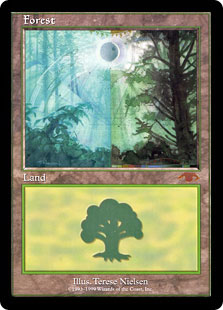 In my opinion, these are nicest basic lands ever made. Their price reflects that. The Islands sell for $200; the Swamps go for $120; and the others sell for $100 each. And you know what? That feels fair to me. Terese Nielsen, who did all of the illustrations, said that she was given free rein to do whatever she wanted with these lands. The fact that they are the only stylized basic lands ever printed is a large part of why they're so popular. Their not being foil (though the expansion logo is) helps as well—collectors of all stripes love these.
The GURU lands hit all of the promotional card sweet spots. They are massively rare, amazingly pretty, and can be played in any deck. A collection of GURU lands is truly the crown jewel of any promotional card collection.
Until next time—