Ten. Ten people opened the Door over the course of Grand Prix Charleston and got sucked into…the abyss? The Void? The Blind Eternities? Hell, I dunno—they just died!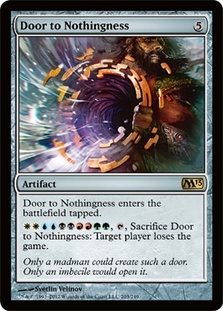 Man, what a great feeling it is to Door your opponent. It's almost as good as ultimating your opponent with Nicol Bolas, Planeswalker, which is almost as sweet as untapping with Griselbrand and drawing cards to your heart's content. By the way, did I mention all these cards are in the same deck with some other sweet spells? In case you've been hiding under a rock, here is the Five-Color Control deck I played to a 15th place finish at GP Charleston.
Creatures (6)
Planeswalkers (4)
Lands (27) I almost made Top 8 with this bad boy, but unfortunately I lost my win and in to Junk Tokens. Game 1 I just flooded out, which can happen. Game 2 I Nicol Bolas ultimated my opponent, and in game 3 I flooded out again but had a Sphinx's Revelation, so I wasn't worried. Sadly that Revelation drew me four lands and a Farseek with a Chromatic Lantern for my draw step. I was a pretty sad panda, but at least I made Top 16.
Ok, enough ranting. Let's talk about this deck.
How It Evolved
After Wizards spoiled Battle of Wits and Door to Nothingness, I tweeted:
"Wait wait… First Door to Nothingness and now Battle of Wits... I'm never winning another match in Standard."
I originally planned to just play Battle and Door at SCG Standard Opens, but thankfully Thragtusk showed his face and not many aggro decks carry two spears. Thragtusk made everyone think twice before playing an aggressive deck, which in turn slowed the format down. The format then became a war of who could cast more Sphinx's Revelations, Thragtusks, or Unburial Rites. I decided I wanted to go over the top of all of them, so I started out with a Grixis list that played Nicol Bolas and Gilded Lotus, but I quickly moved from that idea to add Thragtusks, so the deck became four-color. When you play four colors, you might as well just play all five colors, amirite?
I found that ramping into Tusks and Bolas was neat, but it wasn't over the top enough. That's where Griselbrand came in. I could make it uncounterable against the U/W Flash decks if I sandbagged Cavern of Souls since they very rarely countered my ramp spells and kill very slowly without Runechanter's Pike. This worked against some decks, but against the Unburial Rites decks I could be grinded out with Thragtusk and Angel of Serenity. They could just keep going and going. So I decided to go WAY over the top and play Door to Nothingness. After all, I was playing Chromatic Lantern and could still activate Door without the Lantern if I needed to.
Surprisingly, it worked! I suddenly felt like I was favored in the Reanimator matchup. We both could have absurd life totals and boards could be super clogged up, but as soon as Door to Nothingness entered the battlefield, it didn't matter how many cards they had in hand or what life they were at. They had to kill me next turn or destroy the Door in some fashion. People didn't have many ways to do that, and the most common way, Detention Sphere, I could destroy with Abrupt Decay. I kept grinding with the deck on Magic Online until I was satisfied with the list, and that's how this deck came about.
Why All the One-Ofs
First of all, I like to have options, which you get from playing a varied assortment of one-ofs. I also want to cast whatever I want whenever I want. This is a tapout control deck. I never want to have a Tamiyo in play and be stuck holding two more in my hand. I would much rather have any other planeswalker like Vraska, Garruk, or the boss himself, Nicol Bolas. I want to jam threat after threat or even two in one turn because my opponent tapped out.
Also, as I'm sure you know, the more planeswalkers you have out, the stronger they are and the harder it is for you to lose the game, and it's all about not losing the game with this deck. You just need to stay alive until you can jam your monster threats that can easily clean up a game. Making your threats almost immune to Slaughter Games doesn't hurt either. Also, don't cut the Kessig Wolf Run. If you've played ANY games with the deck, you know how good the card is in it. It turns every Thragtusk or Souls token into a must deal with threat! If you get to the midgame, you should have enough mana to abuse Kessig Wolf Run.
Little Synergies
Kessig Wolf Run works wonder with Lingering Souls. It can even act like a mini Vault of the Archangel if you want to kill an annoying Sigarda, Host of Herons or Angel of Serenity. Kessig Wolf Run also works very well with Garruk, Primal Hunter, drawing you close to a million cards.
This is nothing new, but Tamiyo and Lingering Souls work very well together. Attacking with all your tokens then drawing four or more cards is a huge game changer; not enough people abuse these two cards together. It may simple, but I had many people not see this interaction for whatever reason.
Kessig Wolf Run and Vault work well together as well, allowing you to alpha strike, gain a lot of life, and do a massive amount of damage. This only came up in two of my matches, and they were both against Bant Midrange decks. You probably will very rarely use both against a control deck, but hey, the option is there if you need it!
Some Tips and Tricks
Some of these might be obvious, but I'm going to try to cover everything.
Changes
Before I talk about some of the changes I made to the list from GP Charleston, I want to let everyone know this deck will be a big contender in Standard. Some of the cards will change, but Four- or Five-Color Control is back and is just going to get stronger after the next set is released and it gets more playable cards. Other decks can adapt, but so can you. What deck can adapt better than a five-color deck?
Alright, moving on to the changes! Cut Oblivion Ring—that card was just horrible. I was stupid for not running Detention Sphere. Originally, I thought I wanted the Ring for opposing Detention Spheres, but in hindsight it was incorrect. Catching multiple threats and being immune to other Detention Spheres would have been amazing. Actually, I probably would've made Top 8 if I had run Detention Sphere. You also have Abrupt Decays to destroy Spheres if you need to. Vraska wasn't very impressive throughout the tournament, as was Vault of the Archangel. In my recent testing, Alchemist's Refuge has been very good, and I've replaced Vault with it for now. Angel of Serenity was also extremely subpar. I've replaced her with a different Angel!
Don't be afraid to change the list completely and test it out. I even have been playing a list with no Thragtusks, instead playing Augur of Bolas, a Pike, and more instant and sorceries. Unfortunately, that list is a dog to the original list, but I'm not finished with it just yet.
Creatures (6)
Planeswalkers (3)
Lands (26)
Spells (25) This is the current list I'm testing, and things will change depending on how the format plays out. I'll try to keep you guys updated through articles, Facebook, Twitter, and hopefully some streaming!
Before I go, I want to say sorry to my readers for not being a very active writer lately. I've gone through some rough patches in life recently, including coming out of a five-year relationship. So I just wanted to say thank you for reading and thank you for all the kind words I received about this deck. There are plenty of haters out there, but you guys more than make up for them. Please go out and kill some people with Doors!
Ali, the Fevered Dream
P.S. Huge thanks to the people who pushed me to play again, write this article, and lent me their ears when I needed to vent, especially Justin Parnell and Cory Nunez. You guys are awesome, and I'm honored to call you my friends.
P.P.S. Keep a Door count. :]