"Success! I finally have the second piece of the puzzle! Once I was able to locate the volume, which was no small task in and of itself, it was only a matter of snagging the book. The Giant Spider guarding the cave where it was hidden was not happy about it, but I managed to slip through his nets (for what it's worth, I was under the impression there were no Giant Spiders in Ravnica!). Now I am one step closer to my goal: uncovering the identity and origin of this 'Jace' fellow…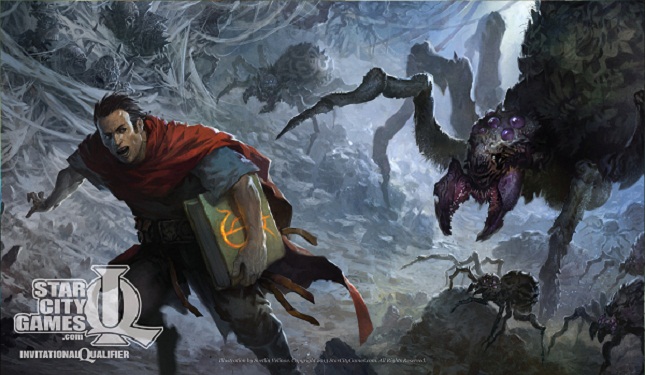 For some reason, I enjoy the caves and drainpipes of Ravnica. Call me crazy, but I see the appeal of the Golgari.
They have the Selesnyan view of nature but without the stuffiness. They have the Gruul sense of freedom without the mindlessness. They have the power and Cunning of the Dimir but none of that awful maliciousness and selfishness. They have a lot I can appreciate.
Not only that but Golgari celebrates the individual, and it's the only guild I believe that truly does. Clearly Azorius and Boros would prefer you fall in line. Even the Rakdos, who seem to revel in individuality, express it by dressing the same, behaving the same, and going to the same places. The Golgari accept all different forms of life because they believe all life is unique and beautiful.
The other guilds wish to use their followers. Izzet wants your time and energy. Orzhov wants your money. They will all use you for your body, your belongings, and your connections, and then they will discard you. But the Golgari will Reclaim what has been discarded. After all, Zombies really want you for your brains."
–research notes, journal XI, page 396
---
It's Golgari Week ladies and gents, so let's raise a glass to life! And also death! Green-black necromancers are on top of the heap today, scavenge gets its moment in the sun, and everybody smells what The Rock is cooking! Golgari had a steady stream of support from the time Duel Decks: Izzet vs. Golgari came out right on through the Prerelease and the start of brewing season.
One card in particular signaled the start of the dominant force of the format in Zombies: Lotleth Troll. And while I typically tell everyone not to feed the trolls on The Newsening, if you've come armed with the 2/1 for two to do battle, perhaps you could feed it a corpse or two. Golgari's Twitter army sure seems to want to do so:
golgari ! twitter.com/day9tv/status/…

— Sean Plott (@day9tv) September 29, 2012
The Golgari Swarm. Zombies. Scavange. The Guilds of Ravnica. What is already dead can never die.

— Elroy Ng (@semnos) September 30, 2012
Turns out that all you need to win an #MTGRTR prerelease is a hyper-aggro pure Golgari deck whose curve stops at 4 mana...and a lot of luck.

— Byron Calver (@ByronosaurusRex) October 1, 2012
I don't know if I'm the exception or what, but I demolished the Rakdos decks I faced last weekend. #Golgari

— Golgari Glen Ross (@GolgariGlenRoss) October 2, 2012
Did first draft with Return to Ravnica tonight. Loving golgari and Pack Rats are better than expected. #MTG

— Chay Linseman (@ChayLinseman) October 4, 2012
also if I don't get Vraska I will MURDER SOMEONE THAT'S LIKE WHAT I WANT MOST FROM GOLGARI SKLDFHJSDK;AHGF

— Aya Kashino (@SinensisSoiree) October 2, 2012
Redditors are awesome. This morning a poster shared his #Golgari flag he took to the #mtgrtr prerelease bit.ly/QnySWi #soawesome

— Trick Jarrett (@TrickMTG) October 2, 2012
Got to scavenge onto my opponent's unleash guy to swing in for lethal. Ahhhh yeah.

— Caleb Durward (@CalebDMTG) October 4, 2012
#Golgari: When you scavenge, declare which parts of the dead creature you are going to scavenge onto the target. #RTR

— Dave Guskin (@davetron) September 27, 2012
Just won a 44 minute game doing all 24 with Deathrite Shaman. Then win game 2 in 3 minutes. #MTGRTR #golgari

— Justin D-Z (@justin_dz) September 29, 2012
Commitment. #mtg #2012 #ravnica #golgari #magic #nerd #geek@ varm's card shop instagr.am/p/QLLIsfCcPX/

— Pablo (@Regulate007) September 29, 2012
Midnight prerelease was a hit! #golgari for the win! Abrupt decay is pretty good but lotleth troll is the boss! Instant creature pump!!

— ?? ?up??sou (@herkamurjones) September 29, 2012
Went golgari, opened lotleth troll, abrupt decay, and jarads orders

— Ryan Lackie (@ThingsILack) September 29, 2012
You attack with lotleth troll killing the blocker to trample for lethal to win the unwinnable game. #goodfeeling #awkwardatprerealease.

— Ken Bearl (@kbearl) September 30, 2012
Anyone finding a reasonable answer to Lotleth Troll in standard that isn't white? Guy is a tough beater! #mtg #mtgrtr

— HappyVikingGames (@HappyVikingGame) October 2, 2012
Curious if Lotleth Troll could be good in Modern with Graverawler and Bloodghast. they are all cheap and effective beaters

— Rich McCann (@LawM4ge) September 27, 2012
Pitching Vengevine(s) to Lotleth Troll and then getting them back by casting 2 Gravecrawlers from the graveyard seems sick in Modern. #mtg

— David Campano (@dcampa93) October 1, 2012
RTR completely changes Golgari in cube

— Colegrove Withers (@OldManWithrz) September 30, 2012
golgari needs a spider, maybe they get one in sinker #MTGRTR

— Jonathan Barron (@tasteofmtg) October 1, 2012
There will be times you might live before you love. There'll be times you'll like the commenting, that's precisely why you'll love the bug. But tweet it anyway! Tweet it anyway!
Reuben Bresler
Coverage Coordinator and Twitter Admiral for StarCityGames.com
Listen to the @InContention podcast! It's the official podcast of the StarCityGames.com Open Series with @kstube, @affinityforblue, and myself. Listen in at InContentionMagic.com. Our most recent episode, Charlesomething, can be foundhere.