Back on Halloween, my article "Three New Magic Artists I'm Watching" was published on This Here Site Here (hat-tip to The Ferrett). At the end, I asked about the favorite new Magic artists my readers were enjoying, and the consensus was clear. Help me out, Noah Bradley?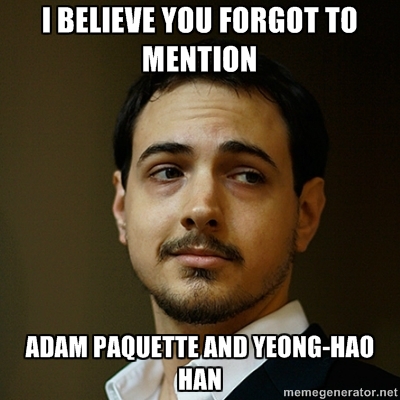 In the case of Yeong-Hao Han, I outsmarted myself. I knew that he had made his debut in Commander with Minds Aglow, a product released in the space between New Phyrexia and Magic 2012, mostly because I'd written about him before in my article on Magic illustration's "one-hit wonders." (Quick update on that list: Yeong-Hao Han and Slawomir Maniak are off the list; Ironbrush, sadly, remains on it.)
Just because I knew that, however, doesn't mean that anyone else did.
As for Adam Paquette, I flat-out whiffed. I noted his contribution to From the Vault: Realms—the gorgeous Shivan Gorge—and so I left him off the list. "Before the threshold," I thought to myself. Just one problem: I was getting my From the Vault releases mixed up. FTV: Realms came out this year—August 31, to be exact—and Mr. Paquette's actual debut was in Innistrad with his basic lands. Ugh. Excuse me while I go smack myself in the head with a board a few times.
Yeong-Hao Han and Adam Paquette both are worthy artists, and it's clear that Magic players—at least many of the ones who read my articles—love them, so call this Part 2 of New Magic Artists I'm Watching. I'll start with the older of the artists (in Magic terms), Yeong-Hao Han.
Yeong-Hao Han
As I mentioned topside, Yeong-Hao Han debuted in Commander with one card, Minds Aglow. Then it was waiting...waiting...waiting...until a pair of special project illustrations: Basalt Monolith for the Magic Online Cube (as seen in this Arcana column from Daily MTG) and Maze of Ith in From the Vault: Realms. Once Return to Ravnica made its debut, though, the floodgates opened. His take on Mind Rot, a funny little bookend to Minds Aglow, was only the beginning.
In addition to Mind Rot, Yeong-Hao Han created three illustrations for cards that aren't basic lands: Steam Vents, Underworld Connections, and the 8/8 Elemental token with vigilance.
Yeong-Hao Han didn't stop with the token and rare slots. He also crafted a cycle of basic lands, making his visual aesthetic an undeniable part of the set and the setting.
A pack with Mind Rot in a common slot, Underworld Connections or Steam Vents for the rare, the Elemental for the token, and one of his basic lands would make four out of sixteen pieces of cardboard in one Return to Ravnica pack bearing his art. Not bad! (My best is three of four, missing only the token.)
Judging from these images, Yeong-Hao Han already has a signature "look" with his pieces. His colors tend to be desaturated—not quite washed out and certainly not borderline monochrome in the manner of previous "New Artist I'm Watching" Sam Wolfe Connelly—but at the same time his hues are not nearly so bold or eye-catching as those used by many other artists, such as fellow "New Artist I'm Watching" alumnus Noah Bradley. Here's an illustration of the continuum, with Yeong-Hao Han in the middle showing more tonal range than Sam Wolfe Connelly but less "pop" than Noah Bradley.
Outside Magic, Yeong-Hao Han is one of the cofounders of Lonely Few, an indie game developer for iOS most notable for their title Brainsss, which unfortunately became a case study in how even a seeming success in Apple's App Store can be a disaster when opportunity cost is taken into account. The other cofounder of Lonely Few, Rod Green, is quoted as saying, "Realistically a game like Brainsss makes absolutely no commercial sense."
Before Lonely Few and his Magic freelance illustrations, Yeong-Hao Han developed a strong resume in the field of video game art, joining a major studio the same year he got his BFA and leaving two studios/projects (Pandemic Studios, his first gig, and Project Offset under Intel) just months before each shuttered. His knack for concept and environment art shines through in his Magic work, and while I hope he finds incredible success with Lonely Few's next project, I wouldn't mind seeing Magic illustrations from him for years to come.
Adam Paquette
I'm still kicking myself over missing Adam Paquette in the first run-through, but fortunately for me, the best cure for that is looking at awesome illustrations. This awesome Australian artist (he lives in Sydney, New South Wales) has been working with Wizards on the Dungeons & Dragons side of things, creating gorgeous landscapes and other works for various settings. Clicking around the portfolio on his website (caution: sketchbook blog post not work safe due to tasteful nude illustrations) showcases his work for Wizards and others: sometimes fantasy, sometimes science fiction, and more than once in the slipstream between the two.
As I mentioned above, Adam Paquette didn't make his debut for the game we share until Magic 2013, but all through Innistrad block and into Return to Ravnica, his landscapes have defined the looks of the various settings. How much so? Despite my sincere love for his work, I really hope he doesn't have a cycle of basic lands in the block after Return to Ravnica because he went four-for-five on having a basic land illustration in Innistrad, Avacyn Restored, and Return to Ravnica. (The Forest? Just Return to Ravnica.) It's too much of a good thing.
No, Alan Jackson, "Too Much of a Good Thing" is not a good thing!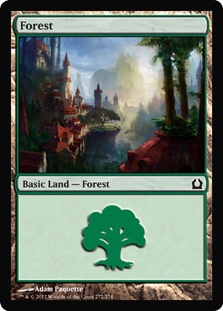 "Alone"
With so much heavy landscape work—even spells such as Grim Flowering and Thunderous Wrath look like landscapes, and don't get me started on Trading Post—Adam Paquette risks being typecast if he hasn't been already. As Druid's Familiar and the Goat token that goes with Trading Post prove, though, the Aussie can pull off fuzzy-wuzzy faces as well...provided they're in a tasteful landscape setting. It'd be interesting to see how he'd handle an indoor or otherwise artificial setting. Perhaps Gatecrash will provide insight.
In an odd coincidence, Adam Paquette, like Yeong-Hao Han, is involved with video game development. His page on Gorilla Artfare lists him as the creative director of Epiphany Games, and while I haven't heard of any of their titles, that art for Frozen Hearthlooks gorgeous. With Adam Paquette around, though, I wouldn't expect anything less.
Conversation Starter: Time to Rename Psychographics?
To finish, I'll take a look at an idea that I've been kicking around a while. A recent Mark Rosewater "Drive to Work" podcast focused on the three psychographic profiles currently nicknamed Timmy, Johnny, and Spike (and named in that order—the first two by MaRo, the last by the Brand team). Three cute, useful nicknames...and all three unequivocally male. Melvin and Vorthos continue the trend.
From StarCityGames.com's editor Lauren Lee to Gold pro player Jackie Lee and World Magic Cup duelist Gabriela Ruiz of "Hello Kitty Toting an Automatic Rifle T-Shirt" fame to the Lady Planeswalkers society and kitchen tables I'll never see, it's clear that these male psychographic names—which Mark Rosewater noted in his podcast have power because they enable and shape discussion—do not reflect the whole of Magic's player base. Magic players are also Tammy and Julie and Sue, Martha and Vistra. (I cribbed that last name from the suggested female names for dwarves in the Dungeons & Dragons 4th Edition Player's Handbook.)
Early in October, I presented a "Magic Challenge" on Twitter, calling for new gender-neutral names for the various psychographics. Drew Humberd answered, and with one change ("Sam" for "Shawn"), here is his series of gender-neutral psychographic names:
Terry (Teresa, Terrence)
Jamie
Sam (Samantha, Samuel)
Mo (Maureen, Maurice)
Vin (Lavinia, Vincent)
There are other names that could be used ("Jackie," for instance, with Jackie Lee and Jackie Robinson).The point doesn't lie with these specific names but the possibilities that exist within them for a more inclusive understanding of Magic's player base. I'm interested in your constructive thoughts in the Facebook comments below. Just remember to keep it civil, whatever your side. Disagreements are fine. Insults are not.
As always, thanks for reading.
-- JDB
@jdbeety on Twitter