Limiting Chance is a series that uses mathematics and probability to investigate aspects of Limited play. In this article, I focus on mana development and what it tells us about spell costs.
Mana
Magic's mana system is a brilliant piece of game design.
It provides a balanced way for the game to contain a spectrum of card strengths.
It adds variance to the early game. (How many lands will I draw early when I need them?)
It adds variance to the end game. (How many lands will I draw late when I'd prefer spells?)
Happily, that richness isn't dictated by an awkward set of rules. Rather, it's constructed from the natural mechanics of shuffling a deck and drawing cards.
Understanding the full consequence of a spell's mana cost often escapes newer Magic players. Because mana development is integrated so cleanly into the game, discerning the impact of mana cost is a challenge. Yet that understanding is a cornerstone of many crucial Magic skills. Players must understand mana development before they can evaluate card quality, build a mana curve, or even judge early game states.
To build a better understanding of mana cost, in this article I investigate basic questions of mana development. When can I expect to miss my first land drop? How much land am I likely to have in play on a given turn? On what turn can I expect to cast a given spell? I introduce the concept of turn cost, a useful tool in expressing a spell's true cost.
In all of this article's calculations I use a 40-card deck with seventeen lands. I assume a starting hand of three lands and four spells. Results are averaged between games on the play and games on the draw.
Missing Land Drops
On what turn can I expect to miss my first land drop?
Generally, I want to hit all my early land drops. I want reach a reasonably high mana count fast to cast all of the spells in my hand and so my spells are not outclassed by my opponent's. I know I'll inevitably miss a land drop, but how early should I expect that to occur?
Using the Magic Probability Toolkit I've calculated the chance for each turn that I will have missed at least one land drop by that turn. Here are the results.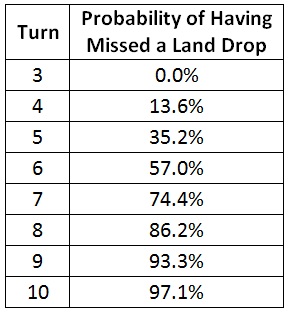 Because I'm assuming a three-land starting hand, the chance of missing my third-turn land drop is zero. Missing my fourth land drop is fairly unlikely. That will only occur in one of every seven games. The odds become more likely for my fifth land drop: one in every three games. I should not expect to hit all my land drops up to six. By then, the probability of having missed a land drop is over 50%.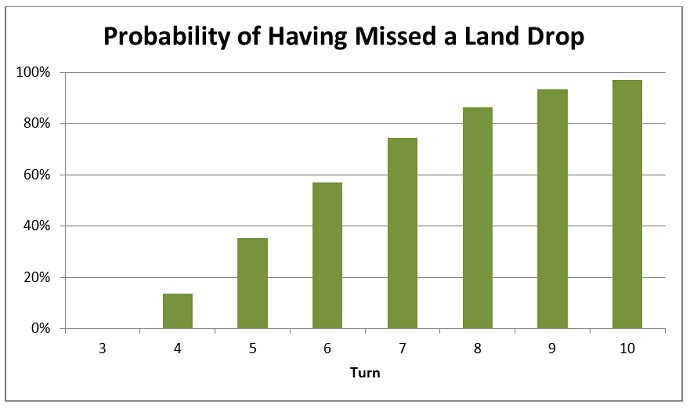 Based on these numbers, six mana feels like a turning point. Before six, I have a solid chance of hitting every land drop. That means I'm usually only waiting one turn for each mana up to five. After that, I should expect to wait two turns, or even three, for each point of mana.
Thinking of a spell's mana cost in terms of how long I have to wait to cast that spell is a useful idea. Obviously, I must wait at least a number of turns equal to the spell's casting cost (barring mana acceleration). But how much longer? The above table gives the probability of having to wait at least one extra turn. Later, I look closer at how long that wait will be.
Lands in Play
Here's another question relevant to mana development: What is the average number of lands I have in play on a given turn? These are the results from my program, again assuming a three-land starting hand of seven cards.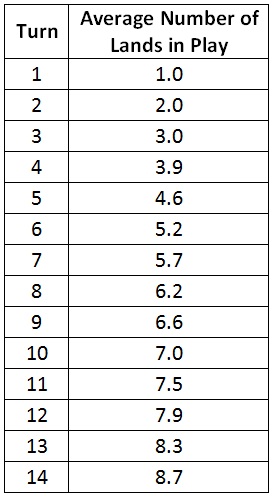 According to these numbers, I will hit six mana on average around turn 7 or 8. I will hit seven mana around turn 10, and I can expect to play Utvara Hellkite on about turn 12. Hopefully the game will last that long. Twelve turns is a long time to hold a blank card in my hand if I drew it in my opening hand.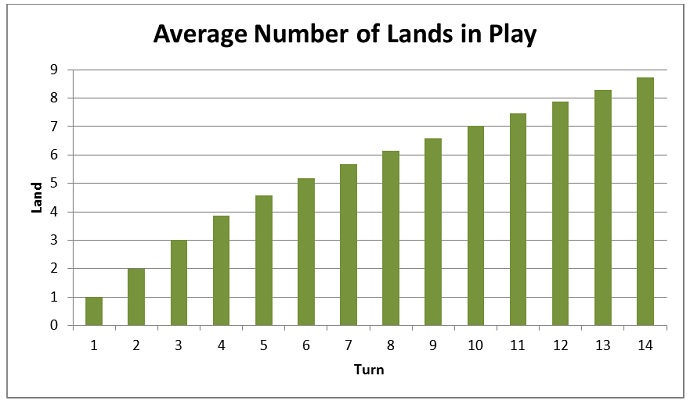 Mana Growth Rate
From the above graph, I can tell that the rate of mana growth falls off over the course of the game. For the first three turns, the graph grows at one land per turn. That makes sense since I did this calculation assuming a three-land hand. After that, the rate of growth decreases.
I can chart the rate of mana growth by subtracting the average number of lands each turn from the previous turn.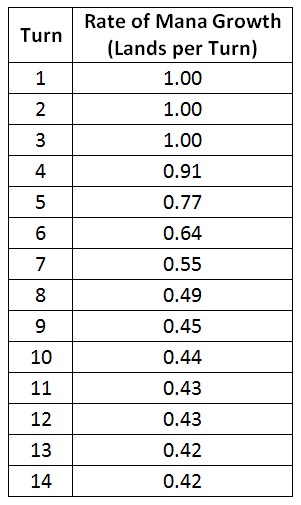 The rate of growth drops over the course of the game. By turn thirteen, I'm playing about 0.42 lands per turn. (It's no accident that 0.42 is about the same as the deck's land ratio: seventeen lands over 40 cards.) If I divide one by the number of lands per turn, the result is how many turns I have to wait on average, for my next land: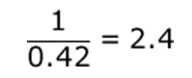 By the end game, I'm waiting about two-and-a-half turns for each mana.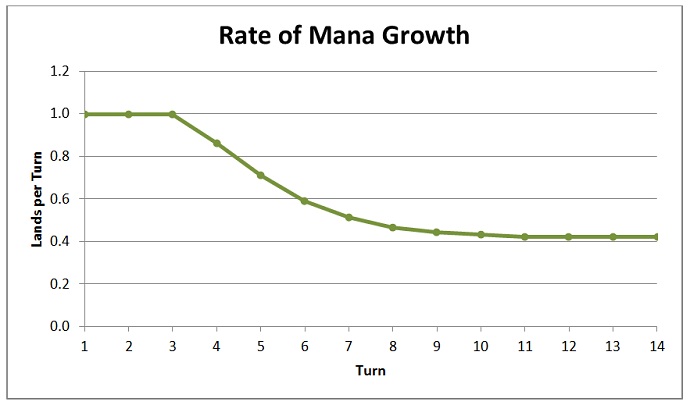 Turn Cost
When players talk about the cost of a card, they usually talk in terms of converted mana cost. How much mana does that card cost? Once someone has played enough Magic, that person develops an intuitive feel for what that cost really means. How long will this card sit in my hand uncast? How much of an opportunity cost am I paying when I could have a cheaper spell in play now? How likely is it that the game will simply be over before I can cast this spell?
Mana cost is actually a very non-linear payment scale. The difference between six and seven mana is much larger than the difference between one and two. That's a hard concept for new players to grasp.
I would like to introduce a new method for measuring the cost of a spell: expected casting turn. Instead of measuring the cost of a spell in terms of mana, I will measure the cost in turns before the spell can be cast. The spell's turn cost, instead of its mana cost. While not perfect, turn cost is much closer to a linear scale.
The downside of speaking in terms of turn cost is that it depends on more than just the characteristics of the card itself. It depends on my deck's land count, on the colors of those lands, on the amount of acceleration I have, and many other factors. I will investigate the effect of those factors in later articles. For now, to get a baseline understanding of turn cost, I will consider only the converted mana cost of a spell. I will use a standard seventeen-land deck, and I will continue to assume a three-land starting hand.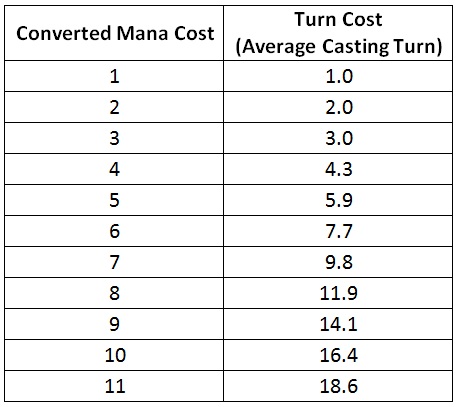 So five-mana spells have a turn cost of about 6, six-mana spells have a turn cost of about 7 1/2, and my seven-mana spells have a turn cost of about 10. Eight-mana spells won't be castable on average until turn 12. Finally, I shouldn't realistically expect to cast Worldspine Wurm before turn 18.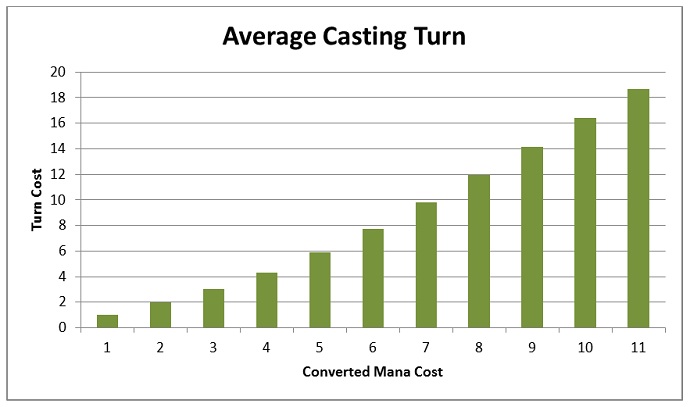 Casting Turn Distributions
Average casting turn is a valuable tool for measuring the cost of a card, but it's not the full story. Sometimes I'll be able to cast the spell earlier. Sometimes I'll have to wait much longer. It will vary depending on how quickly I draw my mana. For each turn, there's a probability of that turn being the spell's casting turn. Let's look at a few of those probability distributions.
Six Mana
This is the probability distribution of the casting turn for a six-mana spell. Each bar in the graph represents the probability of that turn being the first turn on which the spell is castable. The average casting turn is marked on the graph as well.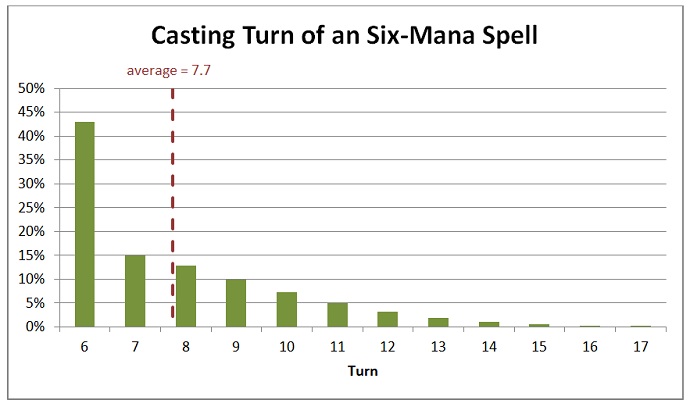 The probability on turn 6 is by far the largest. That's because I play my sixth land on turn 6 if I draw it on turn 6 or on any turn before 6. I only play my sixth land on turn 7 if I draw it on exactly turn 7.
Despite the high probability on turn 6, the average casting turn for a six-mana spell is 7.7. Why so high? Although the individual probabilities for turns above 6 are small, together they add up to over 50%. That gives them significant influence on the average casting turn, pulling it to the right.
I have cut off the graph artificially at turn 17. In fact, the probabilities are non-zero all the way out to turn 23. That's the last turn on which I might draw my sixth land. By that point on the play I'll have drawn 29 cards. In the most unlikely case, those 29 cards will be six lands and all 23 spells in my deck. The probability of that occurring is 0.000013%, which corresponds to about one out of every eight million games of Magic.
Eight Mana
Here is the distribution for an eight-mana spell.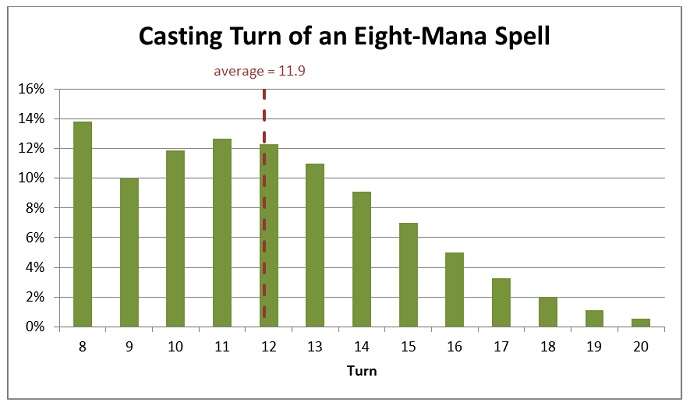 Again, the most likely casting turn is the first possible one, turn 8. Despite being the most likely turn, the probability on turn 8 is actually quite low: only about 14%. This distribution is much flatter than the previous one. The probability is relatively evenly distributed across turns 8 through 13. That's a wide range of turns on which I'm likely to cast my eight-mana spell. Eight-mana spells are a crapshoot.
The distribution is a bit odd in that it drops after turn 8 and then peaks again on turn 11. What's going on? It turns out that turn 11 is the turn I am most likely to draw my eighth land. That causes the peak at 11. The probability for turn 8 is higher overall however because it includes the chance of drawing my eighth land on earlier turns as well.
As per the six-mana distribution, the average casting turn sits to the right of the peaks. Again, the long tail out to high casting turns has a strong pull on the average.
Eleven Mana
Finally, the Worldspine Wurm. I realize that everyone loves to beat up on Worldspine Wurm and most people know not to play it, at least not without support. But it has a distinctive casting turn distribution, so I want to take a look.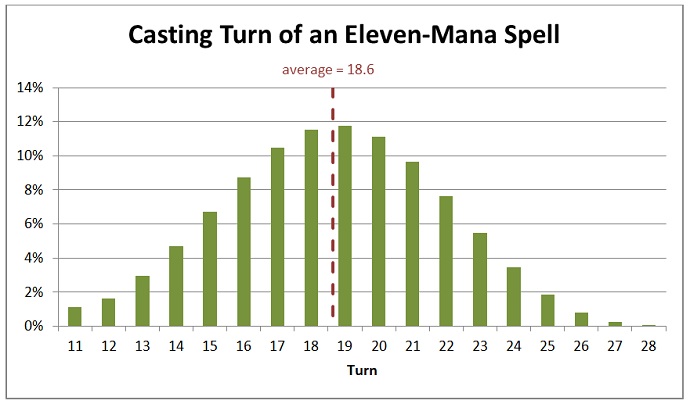 Now the average sits squaring on the peak of the distribution. The probability of drawing my eleventh mana before I put it into play is so small that the left side of the distribution is barely affected by that possibility. The distribution is a clean, bell-shaped curve. Of course, a majority of that bell sits well outside the length of the average Magic game.
Surviving to Cast
My opponent isn't going to just sit there passively as I accumulate the mana I need to cast my spells. For high-cost spells, there's a good chance the game will simply be over before I reach the spell's casting turn. What is the probability that the game will last long enough to cast an eight-mana spell? What about an eleven-mana spell? It's hard to say. That depends heavily of the details of the format. It's not something I can simply calculate. It requires real-world data for which turn games tend to end on.
Luckily for me, Matthew Watkins has already accumulated exactly the data I require. His article presenting and discussing the data for Return to Ravnica is part of his series titled Ars Arcanum. He observed over 1100 games of Return to Ravnica Draft on Magic Online and recorded on which turn each game ended.
Using the Ars Arcanum data, I can approximate the probability of being able to cast a spell before the game ends. I do this by multiplying Matthew's probability of reaching a given turn by the probability of that turn being the spell's casting turn. I then sum the result over all turns. A spreadsheet containing this calculation can be found packaged with the Magic Probability Toolkit.
Here are the results.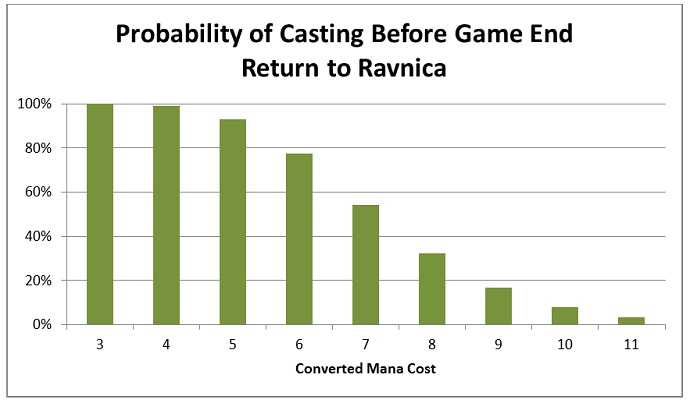 I want to be clear that unlike most probabilities I give, these results are not exact. As per any result that is based on a finite sample size, the numbers include statistical error. They also include systematic error. The samples are from two snapshots of Magic Online play. It's likely that the metagame has evolved since then. Perhaps games are now ending sooner, or perhaps they're lasting longer. Perhaps people at your local FNM play a bit different than the average Magic Online player. What's more is that the content of your own deck has a large impact on how long games last.
Despite those caveats, the numbers from Ars Arcanum are excellent. They are more than accurate enough to calculate an estimate for the likelihood of casting a spell before the game ends. Accounting only for statistical error, the listed probabilities have a margin of error of 3%.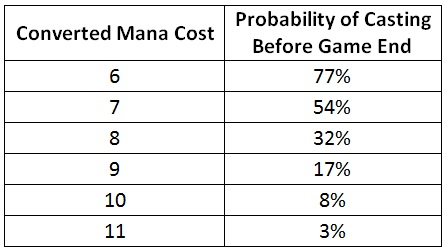 What are these numbers saying? The chance of casting a six-mana spell before the end of the game is reasonably good. In Return to Ravnica I have about a 75% chance of being able to cast one before I win or lose. For seven-mana spells, the chance is about an even 50%. For eight-mana spells, things look grim. My chance is only about 30%.
I need to take that strongly into consideration when I consider including a seven- or eight-mana spell in my deck. I must judge whether its power level is high enough to make up for the very real possibility that I will simply be unable to cast it.
Finally, there's Worldspine Wurm at 3%. I have a 3% chance of the game lasting long enough for me to cast Worldspine Wurm, and that's in games were I have a very respectable three-land starting hand. Perhaps there are decks in which it is wise to play Worldspine Wurm. Perhaps in a deck with multiple Axebane Guardians? But it's clearly not correct to just drop the Wurm into the average green deck.
Future Work
Average casting turn, or turn cost, is a valuable tool when judging the strength of a card. It provides an intuitive measure of a spell's true cost. However, in this article I've assumed a three-land starting hand throughout. A measurement of turn cost more useful to deckbuilding would account for all starting hands and would weight each hand appropriately based on its likelihood. To do that requires a mathematical model for mulligans. This is the second article in a row where the list of caveats includes mulligans. I clearly need to find a way to account for mulligans in my calculations. More on that soon.
Another missing element missing from this article is color. Considering only converted mana cost, as I have done, is a good first step towards understanding turn costs, but a more complete analysis would also account for mana color. For example, how much higher is the turn cost of a 1WW spell versus a 2W spell?
It would also be interesting to investigate the effect of a deck's land count on casting turn. Similarly, what effect does mana ramp have on turn costs?
Takeaways
When you are evaluating a high casting cost card, do not assume that you will be able to cast it on the turn equal to its casting cost. You will likely be casting it somewhat later than that.
Even with a respectable three-land starting hand, you will on average cast your first six-cost spell on turn 7 or 8. You won't likely be able to cast a seven-cost spell before turn 10. Eight mana spells are castable on average around turn 12. Beyond eight mana, you will have to wait an average of two-and-a-half turns for each additional mana.
Again, with a solid three-land starting hand, the chance of reaching six mana before the game ends in Return to Ravnica is roughly 75%. The chance of reaching seven mana is roughly 50%, and the chance of reaching eight mana is roughly 33%. These are rough estimates based on observational data from Ars Arcanum.
Worldspine Wurm is a terrible card. Without ramp to support it, you will only be able to cast Worldspine Wurm before the game ends roughly 3% of the time.
daniel.richard.nelson@gmail.com
@DanRLN on Twitter
source code for the Magic Probability Toolkit