The Death of The Rock
Once upon a time, Magic decks had clever names. Combo decks might be named after breakfast options (Trix, Fruity Pebbles, Wheaties) or parodies thereof (Full English Breakfast). Adrian Sullivan might string three completely unrelated words together the way that Conley Woods—today—strings three completely unrelated cards and / or colors together and call that a deck. Why are some of the most influential decks of all time named "Baron Harkonnen" or "Dred Panda Roberts"?
Why ask why? Adrian made a B/G/W deck for a Pro Tour that featured the card Hunted Wumpus. Yes, we could play Demonic Consultation. Also yes, we chose to use our Demonic Consultation to find Hunted Wumpus. We called the deck Pro Tour Junk. Today, almost any B/G/W deck is called "Junk" or "Junk" something (Junk Rites, Junk Tokens, Junk Walkers). Adrian put the three colors together, but I gave them the enduring name. My reason? "It sounds kind of like Jank." Once upon a time, Magic decks had clever names.
One of the most influential tournament report writers of the late 1990s was an Atlanta-based actuary, Grand Prix Champion, and eventual MySpace superstar named Sol Malka. Unlike many Magic players, Malka was well groomed, fit, and good-looking; to this day he rocks a shiny shirt with the best of 'em. Actually, like a fair number of his fellow Magicians, Sol was also a wrestling fan. Given the yesteryear propensity for giving Magic decks clever names, Malka always titled things based on some sort of wrestling something. Albino Troll was Big Poppa Pump after pushup machine Scott Steiner (but I mean, look at those guns):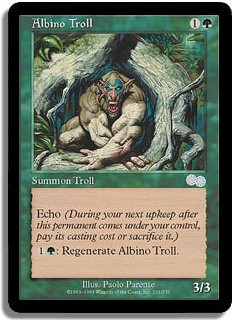 In the years before mythic rares, Sol made a nearly all-rare deck of Birds of Paradise, expensive nonbasic lands, Shadowmage Infiltrators, Pernicious Deeds, and Spiritmongers that he called The Million Dollar Man; you know, because it was expensive to make (being all rare). Malka was a severely underrated writer and deck designer, but I'll bet that even if you've never heard of him before this, you've heard of his most enduring popularization: The Rock.
"The Rock" was actually short for "The Rock and His Millions" because back in 1999-2000 1) Magic decks had clever deck names and 2) Sol Malka liked wrestling. Deranged Hermit was meant to be Dwayne Johnson aka Rocky Maivia aka "The Rock"…with all the little Squirrel tokens supposedly "the millions" and millions of The Rock's fans. As the Deranged Hermits eventually gave way to Spiritmongers (ergo no more millions), the [deck] name got shorter to just "The Rock" (though to Sol's credit, circa 2002 he attempted to switch the name to Goldberg. You know, because the deck was G/B). Just as almost any B/G/W deck is still Junk, today almost any B/G deck is The Rock.
For some years, Sol's B/G strategy of light disruption, efficient creatures, and generally misplaced regenerators was a fringe strategy. No one other than eventual Hall of Famer Jelger Wiegersma (or people who were friends with Sol) ever played The Rock. In 2002, a series of events starting with certain Apprentices "not having enough Donate cards to make three decks" led to a further series of consecutive tournament wins at the Grand Prix Trial, Grand Prix, and PTQ levels, and all of a sudden players started caring about The Rock at greater scale. The Rock won lots and lots of PTQs and placed competitively at the Grand Prix level over and over for about two years.
Abruptly, it was all over for The Rock.
By Columbus in 2004, The Rock had become the most popular deck on the Pro Tour. Even rogue Constructed Top 8 machine Gabriel Nassif was rocking the Pernicious Deeds! Nassif didn't do so well. Neither did hardly anyone else.
The highest performing iteration of The Rock was a Top 16 in the hands of Torben Twiefel; Torben actually played a three-color 187 deck that we would probably term "Jund" today. His deck was full of Flametongue Kavus and Solemn Simulacrums. The Top 8 was full of Akroma, Angel of Wrath; Task Force; and Mind's Desire. The best-performing copy of The Rock was almost playing a different format.
Backlash was severe.
Prior to The Rock's ascendance in the early 2000s, relatively few players had a bad thing to say about midrange. No, a R/W "removal" deck in 1996 probably couldn't beat the card Armageddon. The Erik Lauer of that era would have refused to acknowledge the R/W deck as "control" and would have raucously called the Armageddon "Dystopia.dec" (because that's all a G/W deck deserved), but R/W, G/W, and so on were sizable chunks of the Standard metagame (even though no one was keeping you from tapping BBB for a Necropotence).
By 1999, Survival of the Fittest was bordering on one-third of any format they let you play it in; there were no Vengevines in 1999 and barely any Goblin Nabobs, so Survival of the Fittest decks generally did poorly when faced with Wastelands and combo decks, though some players like Zvi Mowshowitz made them into combo decks and blazed all-new trails of Magic thought in the process. Sol Malka and his student John Shuler impressed in other ways, figuring out how to make unfair decks fight fair.
But after the dismal performance at Pro Tour Columbus, midrange had become a four-letter word.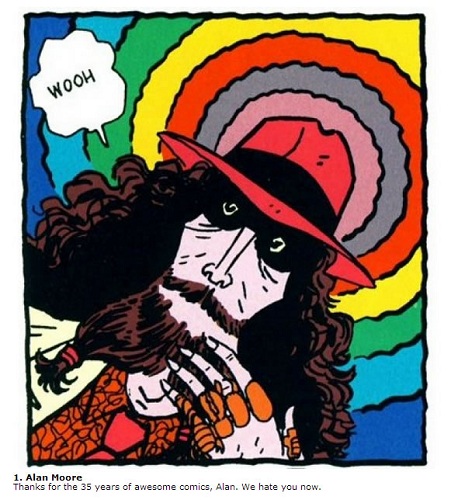 from "The Ten Least Powerful People in Comics"
In hindsight, there are probably lots of things we can say about why The Rock underperformed in Columbus that have nothing to do with midrange being bad. It was the debut tournament of Champions of Kamigawa; players overprepared for Cranial Extraction. It was the dawn of a new tournament format with a huge card pool, so reactive decks like The Rock couldn't be certain of what to prepare for against lots of different opponents (including the mirror).
Conversely, Tsuyoshi Fujita made a hell of a Red deck and Gadiel Szleifer stole-and-cobbled-together every piece of tech from every Japanese Grand Prix master for his Reanimator deck. Overprepared-ness for Cranial Extraction combined with terror at the possibility of Vampiric Tutor for Energy Flux (resulting in the eventual removal of actual Energy Flux from any and all sideboards) paved a clear road for Affinity's big win. As unfocused as The Rock was across all those dozens of different builds, the active decks were on point, On Point, and ON POINT.
Personally, I did a fair amount of my best work following Columbus; some of it with a Mono-Black Control deck (not actually "Mono-Black" seeing as it had, you know, Pernicious Deed and Spiritmonger) that I refused to acknowledge as The Rock. Why? Midrange had become a four-letter word. You're saying GABRIEL NASSIF couldn't Top 8 with The Rock? COUNT. ME. OUT. Even a noted contrarian nonconformist like myself didn't want to be branded midrange.
In reality, midrange is like anything else in Magic.
It's a tool and an outlook on how you might play, like aggro, linear aggro, combo, or true control. When you can predict what the aggro decks are going to look like, it will perform better than par. It may or may not have problems with control given the card pool. Generally, it will be at a disadvantage against combo, but many formats have no combo decks.
If it's not played, a big part of that might just be because following Columbus in 2004... Everybody hates midrange.
Over the years, midrange managed, hither and thither, to claw its way back to occasional relevance, mostly in the hands of Luis Scott-Vargas; prior to Berlin, that man would stick a Loxodon Warhammer on anything. But even when midrange was "best," you never got the feeling that anyone respected it. With Jund at its height in 2009, if you asked a top player why he did this or that or chose Jund, it's not like he was proud of what he was doing. There were no fireworks exploding behind his eyes. It wasn't like Jake Van Lunen drafting Slivers or the Professor Lightning Helixing innocent bystanders or Patrick and Nassif surviving each other's Storm combos.
He'd just kind of shrug and apologize that he couldn't figure out anything better; it was more like that scene in Searching for Bobby Fischer where the IRL madman chess genius is babbling about being up a pawn (so he might have an opinion on Putrid Leech). Midrange had become the "does my butt look fat in these jeans" of deck options; even if you were first place in a tournament, you couldn't win. Not really. Your heart wasn't in it. All respect to Simon Goertzen's infinite lands obv... But everybody hates midrange.
The Three Failings of Midrange
Truth is that midrange decks (The Rock or anything else midrange) tend to be atrocious at certain things. Their weaknesses can largely be chunked into one of three areas:
Relative Power
Relative Speed
Card Advantage and Resources
Relative Power
Midrange is rarely if ever "the best" thing you can do. If this doesn't make sense to you, think of a format, think of a midrange deck in that format, and imagine yourself explaining the horizons of this favored midrange son to a young customer in search of a potential deck to play.
"Well, Asher, it's like this. You might make them discard something. Then you might play a two-drop. Or maybe a three-drop. And if they play something, if you have the right removal, you might kill it. And you probably have some kind of card advantage that lets you replay the discard and / or the kill spell. Eventually, you will attack them to death, but it will probably take three or four attacks. No, no, no—this deck is good!"
I mean, maybe it's good.
Tournament Magic is measured on W/L records rather than feelings, but that description doesn't really inspire inspiring feelings does it?
For almost any format, you can pick the beatdown Deck to Beat and explain one of its many turn 4 kills. You know, like:
The narrative is way simpler. More focused. Less flexible, sure, but everyone can easily imagine what just happened.
Because midrange is rarely the best thing you can do, consequently, it's one of the most likely candidates to be beaten by an opponent going "over the top" of its strategy. The notion of "over the top" entered the Magic lexicon around the time of the first Pro Tour Honolulu, in a match for Top 8 between two former StarCityGames.com Premium writers.
Ben Goodman was playing a midrange B/W deck that used Tallowisp to find Pillory of the Sleepless and raced with Thief of Hope. Osyp Lebedowicz locked up Top 8 in part by aiming an eighteen-point Blaze at Ben's head. That Ben fought back with double Shining Shoal was all the sadder as actually having his answers did little to alter the outcome. Titting and tatting a card every other turn just wasn't as powerful as getting Blazed for his life total or, you know, the Clouded Mirror of Victory.
Relative Speed
Midrange decks are among the slowest decks in most formats, sometimes as slow or even slower than control decks. Midrange decks by their very nature take a long time to win. Usually, they build their advantages over multiple turns and attack for medium chunks of four or five life points at a time. Many midrange decks have some sort of life gain mechanism, but others can have the table seemingly locked up...only to lose to some Fireblasts to the face. They very often give their opponents time to draw out of advantages.
I learned this the hard way when playing The Rock in a PTQ Top 8 against actual PT Top 8 competitor Jordan Berkowitz. I'd spent years training myself to Duress and Cabal Therapy more powerful decks to a point where I could resolve my one Visara, the Dreadful and start hitting them. In one of the most productive practical lessons I've ever learned is that one-for-one disruption just doesn't cut it if the opponent is firing off Fact or Fiction and Gush every turn.
I'd take something; he'd always have something else, something more. I'd really convinced myself I was going to win in a turn or three, but Jordan just topdecked Upheaval and reset the game. I'd done so much work, invested so many turns and cards and strategies...and now we were all even. It's possible not everybody would hate midrange if it just got it over with. But then we'd call it "aggro" or something.
Card Advantage and Resources
Midrange decks generally obtain card advantage progressively. Either they trade a lot of stuff one-for-one and then cash in something like a Skeletal Scrying or they have a mechanism to pay for an extra card every turn or every other turn (something like a Genesis). One embarrassing problem is when two midrange decks fight. Remember, neither deck is likely to win very fast. So even if Midrange Deck A has an advantage and bursts a Skeletal Scrying, as long as Midrange Deck B is drawing breath, it might have the opportunity to rebuild by leaning on its card advantage engines.
So a particularly embarrassing thing for any midrange player is the concept of being out-midranged. Sure, you have this centrist, inoffensive way of winning; you have a Gaddock Teeg or a couple of Castigates that are really good at pinning a more focused deck just long enough to put him away with your not-actually-respectable clock (may or may not be true). But what about a deck that isn't focused at all? What if you just took "a card" and they have "other cards" or a better way to get more cards faster than you can take them away? Out-midranged is the worst.
One criticism of midrange in the current Standard format (Jund in particular) is that cards like Sphinx's Revelation simply outclass them. What's the point of gaining a little bit of card advantage slowly if you can just have Sphinx's Revelation, right? It's like Jordan's Gushes all over again. Poor Cabal Therapy.
Rich People Problems
There are a couple of problems that only come up in deck design if a deck 1) has sufficient cards or mana acceleration or 2) has sufficient time for the problem to come up. They're problems that you get only when you have plenty of [something]. "Real" control decks have them too! Rich people problems.
Bound by Mana
I think Adrian Sullivan uncovered this problem about the same time I did in 1999 or so. It's a phenomenon that only occurs when a deck has too much card advantage but can't actually deploy its card advantage fast enough. So its advantage is of no particular advantage against a deck deploying at the same rate, even if that opponent is only drawing cards at a normal rate. You know when you overdrew or something and are discarding? Or you know Know KNOW you are supposed to be winning because you are ahead on every metric, but then you don't? Often, you were bound by mana.
Brian Kibler is one of the people I know who is best at identifying and getting out from being under this. "Too much card drawing...not actually drawing anything." Did you Think Twice into a brand new Think Twice? Again? How clever.
All Mana, Nothing to Do With It
This was originally the "Tinker" problem, back more when Tinker decks were trying to do lots of different things instead of just blowing you up. Like a man inexplicably playing one of the most powerful card draw / selection cards of all time in order to find a 6/6 instead of a Necropotence... Actually, it was exactly like that.
Decks with massively expensive topsides need massive mana engines to support them. You have this problem when either the opponent can answer your one big thing or your ramp / threat ratio is tipped too much to the ramp side. Zvi Mowshowitz has the best caution on this. Just because a deck isn't B/G doesn't mean it's not The Rock. I showed him a Grixis deck once. Disgusted, he pointed at all my cute two-for-ones (that I planned to kill my opponent with four points at a time), removal, and hand destruction. He declared my alleged control deck midrange. And everybody hates midrange.
Primeval Titan was a great boon to ramp strategies, not just because the Titan itself is a phenomenal ramp card but because it could end games quickly itself via non-lethal attacks. It could get you Valakut, manlands, or hideaways that could help finish it for you. Maybe a Wolf Run that would make your Birds of Paradise lethal. You know those games where you only had one big ramp-y thing and you had seventeen lands in play and six cards in hand and your opponent asked to see them after improbably getting you with an Elite Vanguard? And they were all Evolving Wilds? All Mana, Nothing to Do With It.
The U/R Tron deck referenced above cleaned this up by playing Invoke the Firemind and Blaze. There are all different kinds of ways to get an advantage on the board: card advantage, finding and forcing down more mana and more powerful mana engines... But if you can't do something practical with them to win the game... It's a difference between midrange (which everybody hates) and some deck [name any deck] that everybody respects.
And Yet, Midrange Is the Most Interesting
And yet, over the many years of Magic theory and writing, a disproportionate amount of thought, discussion, technology, and innovation has been put into processes that—even if they don't always go into The Rock or Junk—can be classified as midrange. Here's a small one: Brian Kowal's theory about getting bigger and going slower. Between two G/R decks, the slower one has the advantage.
Take a deck like G/R, which from the days of Granger Guildmage and Whirling Dervish to the glory of Heezy Street and its Moldervine Cloaks and Giant Solifuges to today's hasty Strangleroot Geist into equally hasty Hellrider, is about offense. And Kowal is telling you that to get an advantage in let's-call-it-the-mirror, you want to go slower and get bigger. That's the reason PT Champions played Shivan Dragon in their sideboard (and "God bless 'em," said different Hall of Famers).
One reason is that midrange gives analysts lots of things to talk about. When a game goes on forever, there are lots of points to dissect. You can identify different paths that could have and should have been taken, branches where if a different card had been chosen or played a massively different outcome could have been reached. What happens when we choose to play Yeva or Wolfir Avenger—like Brian Kibler—instead of the more traditionally aggro Rancor? What are the implications of defending our creatures with Faith's Shield versus Selesnya Charm? It's interesting. You're playing Magic. Lots of decisions are happening or at least are eligible to happen.
A tremendous amount of work has gone into the incorporation of midrange tools like Genesis or Life from the Loam, not only to gain advantage over other midrange builds but to fuel combo-control decks like Psychatog or to produce inevitable lockdown battlefields like Bronson Magnan. Did Luis Scott-Vargas just advocate exposing and blocking with your Swans of Bryn Argoll?
The contrapositive is true. Win or lose (win especially), combo tends to be the fastest. So even when combo is good, combo gives analysts (or even ingenious if relatively inarticulate pilots) comparatively little to talk about. If the reason you lost was because your Mind's Desire gave you an Island instead of another Mind's Desire—and you "made the right play"—that's dissatisfying to talk about to the point that no one talks about it.
When victories are foregone conclusions (assembly of a Deceiver Exarch to a Splinter Twin), they're conclusions. Like. The End. End of discussion, too. There are probably interesting things to say about combo, but even very good analysts aren't great at finding, culling, cropping, and elevating those things... Maybe at least not to the point where the average player can always appreciate them.
Everybody hates midrange...as long as you can point at decks and say, "Neener neener neener MIDRANGE!" But when you can incorporate tools to doing more winning, it's just theory. It's just a tool like any other. I just got finished reading a chapter in Bossypants that leads me to believe Tina Fey is terrified of speculums. Speculums are tools; screwdrivers are tools, as is Google Maps. I think that all other things considered, all costs paid for, we want as many tools in our back pockets as we can have. The skill is in figuring out which one to use when.
My Midrange
This is the brew I've been working on for the last week or two. It kind of grew out of a RUG Midrange combo deck with Laboratory Maniac that I copied from an Andrew Cuneo Block deck that wasn't really working out for me.
I tried to incorporate some of the things that readers said about my previous Liliana deck with some of the obviously powerful things that you can play in green. For example, Kessig Wolf Run gives you a hell of a way to exploit Liliana's ultimate, which I understand was a point of dissatisfaction for some readers, even ones who liked the B/R deck.
Creatures (12)
Planeswalkers (7)
Lands (24)
Spells (17)
Cool things you might not have noticed on first look (or at least cool stuff I noticed playing the deck):
I'm sure some people will love this deck or it will give them ideas to work from (or to improve the Rakdos deck which, like I said, I still really like), but I don't necessarily expect you to. Because hey—everybody hates midrange.
LOVE
MIKE