I talked about Modern a couple weeks ago, with Pro Tour Return to Ravnica in the books and all, and I talk about Standard nearly every week, so I want to talk about Legacy first today. Since the last StarCityGames.com Invitational, I'm not sure if I've played a game of Legacy. There haven't been any convenient Open Series nearby, nor have I had the desire to try anything on Magic Online (as if the queues would fire anyway).
That doesn't mean my notebook has been all Standard decklists. In fact, far from it. With the Invitational in Los Angeles coming up, I've dedicated a large portion of my time to thinking about Legacy. Since my combined Legacy record at the last two Invitationals was 5-8, I've decided to try something different. Both times, I had decks I thought were good but might have been a little too wacky.
A bunch of weird decks have been popping up in Legacy lately, as the format seems to be shifting entirely. U/W Control, in its various forms, is about the only "real" deck left. Show and Tell fell out of favor because the U/W decks have Venser, Shaper Savant and Karakas. Maverick has lost a lot of traction because of the U/W decks as well.
RUG Delver, the former undisputed heavyweight, needs an entire retooling. Cards like Rest in Peace and Supreme Verdict are very tough to beat. Even Deathrite Shaman is a major nuisance. If I wanted to play a tempo deck, it would probably be BUG instead of RUG, but I'll get to that in a bit.
It seems like nobody has a clue where the format is or what they're "supposed" to be doing. Even the U/W Control players disagree on over half of their card choices! In times like these, it's often best to find the most blatantly good, proactive deck there is and hope nobody's ready for you.
So, Dredge?
I've considered playing Dredge at Invitationals since before Dave Thomas made it cool. Invitationals are full of "good" Magic players who think Dredge is a "bad" deck or for bad players. That means they think no one will play it and will subsequently cut all of their graveyard hate, as graveyard hate is only good against a few strategies.
With each passing Invitational, I hear more and more rumblings about people taking the Dredge gamble. Since I've had success with Dredge at Opens, I'm not concerned it's gambling—it might be the correct choice. If they cut their graveyard hate, that's cool, but I wouldn't expect them to. If nothing else, things like Deathrite Shaman and Rest in Peace are maindeckable hosers.
Is it possible to beat those cards, especially in game 1?
For the answer, I've started looking at this card: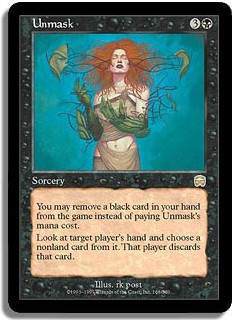 Unmask is nothing new. In fact, many people tried it before me, but it was never a necessity. I think it might be time. Force of Will is another option, but exiling a black card seems much easier than exiling a blue one. Regardless, they both have their upsides.
Post-board, you can never be too sure what hate they have, so missing with Cabal Therapy is a real issue. Gitaxian Probe is another card I'd like to try, but for now, Unmask is getting my vote. In addition to making sure Cabal Therapy never misses, Unmask gives you more anti-hate.
Street Wraith is the other card I've been thinking about. Both it and Gitaxian Probe speed you up, but usually your slots are better used with things like Breakthrough, which outright kill them if they resolve. However, Street Wraith has benefits that Breakthrough doesn't, like costing zero and not being able to be countered. Also, if they try to Deathrite Shaman or Surgical Extraction your dredger, you can simply cycle Street Wraith in response and there's not much they can do about it.
This is the list I've been thinking about:
Creatures (26)
Lands (12) Ideally, I'd have the fourth Putrid Imp and the fourth Golgari Thug in there, but something had to be cut in order to fit Unmask and the fourth copies of those cards aren't necessary.
I'm mostly happy with the sideboard, although the Leylines could be a Dread Return package or some additional creatures to fight Surgical Extraction. With Unmask, I don't feel like either of those is necessary.
Manaless Dredge has supposedly been performing well, but it's hard for me to wrap my head around that one. Going into a tournament with Dredge is a crapshoot enough as it is. Letting them go first is bad enough, but if they choose to draw first, they get a free card too. If you ever have to mulligan or get Thoughtseized, they get a Time Walk for free. It just doesn't seem as consistent, but I haven't played a game with it.
This is definitely one of my frontrunners for the Invitational, even if it's poorly positioned because of maindeck hate. The other option is going back to my BUG roots.
Creatures (12)
Planeswalkers (3)
Lands (22)
Spells (23) That's not a well-built sideboard, but I like the maindeck.
A while back, I told Evan Erwin that Deathrite Shaman wouldn't Top 8 a large Legacy tournament. I thought it was a Birds of Paradise with upsides, but the upsides might be better than Birds of Paradise's ability.
Delver of Secrets doesn't make the cut because Deathrite Shaman is better in longer, grindier games and I wanted to make use of the mana boost. Jace, the Mind Sculptor and Vendilion Clique take advantage of that, and they both want you to slow your deck down.
Since I was building a more controlling deck, I wanted to try Ancestral Vision again. While not good against Counterbalance, Ancestral is poised for a comeback (and perhaps I should be playing four). With Abrupt Decay, Counterbalance should be a non-issue, and the Vendilions, discard, and counterspells can back it up.
In short, BUG Control wants removal, card advantage, and generic answers. Whether I play a Dismember or Diabolic Edict maindeck shouldn't matter very much, as those types of slots can be for whatever you expect. This type of strategy is doing well lately, and I can understand why.
It's hard to argue with success, especially when it's a lot of success. Throughout the last six months of watching Legacy, every deck seems to come and go except one for constant—U/W Control is always winning. The versions are always different, but it's clear that U/W has what it takes to succeed in Legacy.
There are Stoneforge Mystic variants, but without a bunch of creature decks in the format, Stoneforge isn't where I want to be. Additionally, things like Terminus and Supreme Verdict clean up creatures anyway. Stoneforge is fragile and doesn't provide a realistic clock against combo, so I won't be picking up that card anytime soon.
Most U/W Control decks are fairly standard with a Counterbalance/Top package and winning with Jace, the Mind Sculptor or Vendilion Clique. I tested those versions before the MOCS and wasn't impressed. You start each game behind, and a lot of the winning or losing you do depends on whether you can miracle Terminus in a timely manner.
Supreme Verdict is actually a significant upgrade in a lot of games, lessening your reliance on Sensei's Divining Top and Brainstorm. When you see people casting Portent, you know they really need that type of effect (or they're a Hatfield).
Maybe the old school miracle version is good again, but I remember briefly tuning in to watch the SCG Legacy Open in St. Louis and seeing Jeremy Stowe, a fine Magic player, playing the Rest in Peace / Helm of Obedience version.
Planeswalkers (3)
Lands (22)
Spells (35) I was surprised to see it was designed by Caleb Durward. Don't get me wrong—I think Caleb is a fine ideas man, but his lists could use some restraint. Most of his decks look unpolished with crazy cards only for the sake of playing crazy cards. This list, give or take some sideboard cards, is actually very clean and well constructed.
I would cut a Detention Sphere and Terminus for a Supreme Verdict and a land and change the Glacial Fortress to a Mystic Gate. If you're worried about getting Choked, you'd rather have the land that makes multiple blue mana. Also, it allows your triple Plains / Karakas mana base to still cast Counterbalance. Dust Bowl and the third Plains are probably unnecessary as well.
The sideboard has very little going on for it. There's some extra removal and counterspells, but the one-ofs are low impact. Do you actually expect to kill anyone with Luminarch Ascension? With U/W, I'd be looking to exploit the Venser, Shaper Savant / Karakas interaction, not only against Show and Tell but the U/W mirror as well.
It might be the best U/W deck with some tuning as long as Rest in Peace is a viable maindeck card. You want to be able to get some use out of it and not just use it as a combo piece.
The next deck is a bit off the beaten path. One might say I have an obsession with super huge one-drops, and they probably wouldn't be wrong.
Creatures (12)
Lands (16)
Spells (32) If anyone sees me trying to register Clout of the Dominus for the Invitational, you should do your best to stop me. That said, this deck doesn't seem that bad. There's plenty of disruption for combo decks, removal, and you have a fast clock.
Turn 1 Nivmagus Elemental. Turn 2 Gitaxian Probe you, Daze it (eating the Daze with Nivmagus, creating a mana if you kept a one-lander), replay the land, another zero-mana spell, Flusterstorm it (eating everything). With any sort of disruption, that's a pretty fast clock.
Decks like these are the reason that decks like RUG Delver should never be able to stay on top. This deck does everything that RUG wants to be doing in the mirror matchup except much, much better.
Of course, there's always a downside, and that's probably the U/W Control matchup. Their removal and Counterbalances are problematic, but I've attempted to solve those with Cloud of the Dominus and Pithing Needle. Erayo, Soratami Ascendant is also pretty good against them.
In fact, Erayo might be good in Modern...
Creatures (12)
Lands (17) I realize this has been done before, and despite some Magic Online results, our deck from Pro Tour Return to Ravnica has yet to make an impact in real life. Of course, with Jund winning everything, it's tough to make a case for it. I'm not sure how much Erayo and Leyline of Sanctity help in that matchup, but I know it's a non-zero amount.
Blue could give us things like Serum Visions, but I haven't explored it past Erayo. I'm not sure how we missed Erayo before the Pro Tour, but having access to that card would have been even more exciting.
I've always liked U/W Tron in Modern, but it's always been half turn too slow in my opinion. With the format speeding up, that fact is further compounded. The G/R Tron decks do most of what you want to do but better. However, there is a different way to do things.
Planeswalkers (3)
Lands (23)
Spells (34) Is Sphinx's Revelation playable in Modern? It's certainly possible as long as Jund is the top dog and keeps the combo decks in check. This list doesn't have Sylvan Scrying, so it might be too reliant on drawing Expedition Map in order to Tron up in a reasonable amount of time, but it looks powerful.
Moving on to Standard, there are a host of interesting cards that have been seeing play lately. The first, awkwardly enough, is Fog. Bant Control is looking to accelerate into big Sphinx's Revelations but takes a huge hit from things like Falkenrath Aristocrat and Thundermaw Hellkite. By playing four Fogs and a couple Snapcaster Mages, your reliance on sweepers goes down. Against Zombies, your sweepers aren't guaranteed to do anything anyway, as cards like Geralf's Messenger tend to overpower them. Fog might actually be the answer.
Gilded Lotus is another card worth exploring. I know that I loved the card in Grixis, so I can only imagine how much I'd like it in a deck with Sphinx's Revelation. Quentin Martin compared the card to Mirari's Wake, and that isn't very far off.
Some of the Brazilian contingent played a Jund Zombie deck at Grand Prix San Antonio that cut Geralf's Messenger so they could play Rootbound Crag. Cedric Phillips and I were discussing the Zombie mirror, and we both agreed that Messenger is one of the worst cards in that matchup, so it might make sense to cut it. The rewards you gain from being able to play non-black sources is pretty huge also. Cards like Hellrider and Thundermaw Hellkite are easily castable, and you can sideboard things like Huntmaster of the Fells.
The other Zombie-related thing I was thinking about was how Zealous Conscripts might just be better than Thundermaw Hellkite. It's probably closer to the truth if you're playing Bloodthrone Vampire (and maybe Mark of Mutiny), but they seem very close in power level, especially if you're just trying to beat Thragtusk.
My love affair with pingers goes way back, and Izzet Staticaster is definitely as good as Cunning Sparkmage, if not better. The Human Reanimator decks with Chronic Flooding have been picking up on Magic Online, which makes sense since they have four Angel of Glory's Rise. Nightshade Peddler is a cute combo as well. Perhaps that's the future of Reanimator now?
The last idea I have for you is based on something I've been thinking about for a while. Do the Flash decks need white? Obviously, Restoration Angel, Azorius Charm, Sphinx's Revelation, and Supreme Verdict are fantastic, but are they the best we can do?
This isn't Caw-Blade, where Jace, the Mind Sculptor and Stoneforge Mystic kept you firmly entrenched in Glacial Fortresses. There are no sacred cows. I know I want Pillar of Flame and blue cards, but does that mean I need to be three colors? Where would cutting the white get me?
I think I found a good place to be.
Creatures (11)
Lands (23) Talrand is good right now but often gets overshadowed by Restoration Angel. At four mana, you can't afford to play too many of them unless you want your draws to be clunky. This deck is almost liberated by the removal of white and with it Restoration Angel.
The deck feels good but is lacking in some areas. With Azorius Charm gone, I'm left with Unsummon and counterspells as ways to deal with big creatures. Clone out of the sideboard helps against Thragtusk, but a Caverned Thundermaw Hellkite is tough to beat. Of course, Talrand is great against it, but how often do you expect Talrand to live?
That's the tension with this deck. Ideally, you slam Talrand and that's #game, but that doesn't always work out. In the meantime, it's hard to say whether you want to be a tempo deck or a control deck. Being a control deck is fine and the deck is suited to it, but sometimes they just play things that you can't deal with, causing your entire strategy to crumble.
I probably won't have the courage to play this at my tournament this weekend, but I want to...
GerryT
@G3RRYT on Twitter