When we last left our hero, he was 7-2 after Day 1 of Grand Prix San Antonio. With Bant. Not Grixis. Not yet.
Day 2 began with a loss to Esper Flash, which was basically just the U/W Flash deck with Lingering Souls and Ultimate Price. The matchup was definitely tough for all the same reasons U/W Flash is (plus we're talking less sideboard action compared to Charleston). These matches are just so tough because they can filter through their cards quickly and find permission. If they can stop your Revelations from resolving, they eventually get ahead from the stream of two-for-ones and token making, not to mention just playing so many fewer lands.
The rest of the day wasn't too bad, with wins over Mono-Red and two G/W Aggro decks and splitting two matches against U/W/R Midrange. Final result? Another Top 32. Among those of us in our discussion group that went to both Grand Prix (Reid, Owen, Shahar, and myself), none of us ever missed Top 32, and Reid made Top 8 twice.
This Bant deck isn't for everyone, but it is really good. Reid, Owen, Shahar, and our coach behind the scenes, Andrew Cuneo, figured out a lot of awesome technology. There is some real chemistry there, as those guys play off each other well. Besides, you know I love to see a group of guys that can brew some sweet control decks!
Here is the list I played in San Antonio:
Creatures (7)
Planeswalkers (2)
Lands (26)
Spells (25) I discussed the changes to the list for this Grand Prix here. One card I did want to discuss a little more in depth is Rhox Faithmender. Rhox Faithmender is a great example of cutting a tried and tested card for a sweet one, a habit that would actually do a lot of tournament players some good.
See, the theory goes like this. Sometimes, you know you want to play a bunch of a type of effect against a certain strategy. Once you are talking about using many copies of the same card (generally a tried and tested staple, such as Centaur Healer), it is worth asking yourself what other versions of that card exist. Is there a sweet one?
Even good sideboard cards can reach a point of diminishing returns. Once you are boarding in several copies of a card (often a card that is like other cards you already play), there can be some value to experimenting with a different version of the effect. A good example of this is with counterspells. Rather than play four Negates, I would want to start with three Negates and a Dispel (which is what I did in Charleston, and I actually liked it so much that I played a second Dispel in San Antonio).
This time around, we asked ourselves if Centaur Healer was really the only good Centaur Healer in the format. After all, we knew we wanted more life gain creatures, but we also knew that the Rakdos deck we anticipated being the most popular deck in the format had evolved to not really mind Centaur Healers. They have Searing Spears, not to mention every single creature in their deck beats it or trades up short of Diregraf Ghoul, with Hellrider and Gravecrawler being somewhat inconvenienced.
What about Rhox Faithmender? Now that is a sweet card! Having five toughness is hotter than hot, and gaining two a turn has a lot more potential upside than three up front. Rakdos decks don't actually have all that many good ways to kill it, and if you ever follow it up with a Centaur Healer, Thragtusk, Sphinx's Revelation, or *gasp* Azorius Charm, you are balling so hard Jay-Z will want to fine you (but first, he's got to find you).
See, the thinking was that drawing a Rhox Faithmender and a Centaur Healer had to be better than drawing two Centaur Healers, so if we were going to play three Healers, let's just go ahead and replace one with the Faithmender. Besides, there is some marginal utility in playing cards that people haven't had nearly as much experience against.
It also just so happens to be a great way to discover sick new technology.
Rhox Faithmender was the stones, and if I were to play Bant this weekend, I would want a lot more of this guy. He was just much better than Centaur Healer against everyone. What about G/W Humans? Well, Centaur Healer is good, but Rhox Faithmender blocks Loxodon Smiter and often Silverblade Paladin or a creature with Rancor on it. Plus, they can't really kill it easily, so you are gaining ten per Thragtusk.
But wait, wouldn't you rather draw a Centaur Healer and a Faithmender instead of two Faithmenders? You want to double that life gain, right?
Just run the experiment that we didn't. Walk through it in your head. What happens if you play a second Rhox Faithmender...?
That is correct! They both have quad-lifelink, and if you play a Thragtusk, you will gain 20 life!
You still need a plan against the hasty fliers, Falkenrath Aristocrat and Thundermaw Hellkite, but Rhox Faithmender goes a really long way towards a winning game plan in what is otherwise a challenging matchup.
I think if I were to play Bant this weekend, I would consider something along these lines:
Creatures (5)
Planeswalkers (3)
Lands (26)
Spells (26) There are a number of changes I am considering moving forward, and to be blunt, many of them are adopting the changes that Sam Black made last week.
To begin with, we all love Augur of Bolas, and he is definitely good against Rakdos. That said, if I am sideboarding in seven creatures, it is going to be real tough to keep enough hits for Augur to work. This leaves us with a real gap at the two spot, and we should look for solutions, but sadly, I am now leaning against Augur.
Once we have cut the Augurs, that frees us to play as many Detention Spheres as we actually want (which is lot these days). Also, now that we do not have Augurs to cantrip our Angel off of, we need to cut her from the maindeck.
I realize it is a little wacky, but I am excited about maindeck Rhox Faithmender. It might be a bit hasty, but I am not even convinced you don't want more. I do wonder if we might still want a single Restoration Angel in the sideboard, but I kind of like the idea of Silklash Spider more. Kibler was talking about it at the Grand Prix, and it sounds pretty decent, particularly when you factor in the Rhox Faithmenders already assure that their removal will be working overtime. I would want to try it first, but it is possible that the Sigarda in the board is supposed to be a second Spider. If they can't kill him, it is real hard for them to make forward progress.
Another change I have finally accepted is the move away from Think Twice. I cut one from my list in Charleston, as you have to board them out against some aggressive strategies. Now that Rakdos has completely taken over the format and the number of U/W Flash decks continues to drop, I think it is finally time to pull the trigger. This will definitely make us suffer against U/W Flash and the mirror, but honestly, Flash is really hard anyway and the mirror has a ton of much more important battles.
Should we help make up for the lack of Think Twices with Amass the Components or Divination? While Amass the Components is definitely a stronger card than Divination, I wanted to start with Divination and see if it does enough. Costing three is actually a big deal if we are going to keep it in against Rakdos. After sideboarding, we are going to want to Verdict or Faithmender on turn 4 as well as sideboard out our Dissipates (or most of them). This leaves with a glut at four and a shortage at three.
After further thought, I am leaning towards not having the time to keep Divination in against Rakdos after board. It is just too important to be impacting the board. As a result, I went back to Amass since we are just going to board it out when we board in the Faithmenders anyway. Then I remembered I could just play another Jace, and that was that.
Right now, I want to start by boarding in the seven creatures and the Pacifism and boarding out four Dissipates, two Jaces, Elixir, and Ground Seal. It is not out of the question to board out a Sphinx's Revelation, but once we are boarding up to four Faithmenders, I'd want to try to keep them all. It should be noted that while this plan is high on power, it is a little slow. We may want to consider boarding in another Pacifism (or whatever other two-drop we find that we want against B/R). Can you imagine what we'd do with Celestial Purge...?
Another change I want to adopt is the three Verdicts versus two Terminus. I actually think four Verdict and one Terminus was right for San Antonio, but now that Rakdos completely dominates the landscapes and G/W has fallen back a bit, I am making the same move Sam did last week and adjusting the split. He used a third Terminus in the board to combat Rakdos, but with so many creatures in my plan, I actually don't want that many sweepers against Rakdos (and would even consider boarding out a Verdict to keep a Dissipate). I still want another sweeper against G/W, and Verdict is the best card in the format against them by a lot.
The final "change Sam made last week that I am making this week" is the return to a maindeck Ground Seal. This one is a bit more dubious than the other changes and I am not so sure it will survive a playtest session, but I like the prospect of more two-cost spells. If I were looking to make room for another card maindeck, this is the card I would look to cut first. That said, the only reason we cut it before was to support Augurs. Now that Flash has died down, this card is going to be a waste of mana against the majority of opponents. Still, I cut the graveyard hate from the board, so I don't mind getting a few extra points against them.
One place I am diverging with Sam is in the use of Tamiyo. I ran a copy last week, and it was great for me. I also like it against Rakdos, so I prefer it to the Staff of Nin that Sam used. I actually used a Staff last week as well, but I want to trim the number of big cards by one to help speed the deck up against Rakdos. That said, Staff of Nin is actually not the worst against Rakdos since it hits Knights, Aristocrats, and Gravecrawlers. It is very possible that the Ground Seal should just be a Staff and that we should board out the third Verdict, keeping the Staff.
So how does this list look? Well, we are still looking good versus G/W, particularly now that they have to slant their deck against Rakdos. In fact, I would imagine that having infinite Faithmenders will actually improve the matchup even more.
We are looking much better against Rakdos, but I would hope so, given how much sideboard space we are dedicating. If this isn't enough, I think the way to get even more percentage is to keep adding two-drops. Pacifism might be the best, but we should be on the lookout for better options. Knight of Glory gets Searing Speared, but he might actually be kind of sweet since their Spears are going to be working overtime anyway. I leaned towards Pacifism since it is so good against G/W, but that matchup might just be very good anyway. Once we are talking about tripling our creature count after board, boarding in even more sounds super hot.
We are looking even worse against Flash with this build, but that matchup was already really tough and those guys aren't beating Rakdos anyway. Our Bant matchup will suffer a tiny bit, but play skill and who draws their Sphinxes and Drownyards will matter more. I don't mind not having much graveyard hate and didn't even play any last week. Game 1 against Reanimator is just so easy that I don't think it is worth the space, even though the sideboard games are more challenging.
Let's take a quick look at the metagame (weighted by finish) among the top decks of last week's Grand Prix and this weekend's SCG Standard Open in Baltimore, where we saw the trend of Rakdos taking over the format continue (and actually accelerate).
Winners Metagame: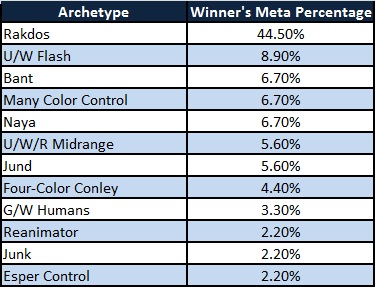 Are you kidding me? Rakdos is five times as successful/popular as the second biggest deck? Now you see why I want to bend over backwards to beat them! Bant is an awesome deck, defeating all of the green decks, from the many midrange decks to G/W aggro to Reanimator. It also beats the less pure control decks (aka the ones without a Drownyard and an Elixir).
It is fine against U/W/R and weak against U/W and Rakdos. If plan actually gets us where we need to be against Rakdos, I think it could be an ideal choice for this weekend.
It is worth noting that many of the decks in Standard are actually pretty similar to each other. People actually play a variety of Rakdos decks, all of which are getting merged together here. To get a better sense of scale, let's take a look at the winner's metagame with similar archetypes merged.
Condensed Winner's Metagame:

Now we are starting to get to the heart of it! It would appear that this format is really about three cards:
1. Thragtusk
Of course, to be fair, 78% of the field is playing Cavern of Souls, so we should probably count that among the pillars of the format. It just so happens that all three of the above pillars tend to play with it...
Ok, so we have some ideas for Bant, but what other options are out there? One interesting trend we have been seeing growing over the past few weeks is the increasing popularity of Four-and Five-Color Control. In fact, Eric Froehlich (and as a result, Luis Scott-Vargas, Ben Stark, and Tom Martell) would have played Five-Color Control last weekend if not for their lack of confidence in their ability to finish rounds in time.
The move towards Four-and Five-Color Control is a response to the need to play Sphinx's Revelation. Turns out, as crazy as he sounded a month ago, Sam Black was right, and only Thragtusk is as important in the format. The problem with not playing Sphinx's Revelation is that you tend to lose to the people that do. This means if you want to branch out into things like Slaughter Games, you just have to play more colors.
Here is a Four-Color Control deck that made Top 16 of GP San Antonio, electing to skip the Thragtusks:
Creatures (5)
Planeswalkers (6)
Lands (26)
Spells (23) I like Olivia for last week, as it just owns G/W and is generally good against most everyone. I am slightly cooler on it this week, as it is a six-drop against Rakdos (or else they will Searing Spear it), but it is still really good. Drogskol Reaver is a card that I saw more and more people playing last week, and I am a fan. If you don't have access to Thragtusk in your U/W/x Control deck, I think you want access to a couple copies of this guy.
I am not 100% sure how I feel about Sorin. What I do know is that Efro was praising him very highly in a Five-Color Control deck that was basically a Bant Control deck with Lingering Souls, Sorin, and Slaughter Games in the board. Efro is quietly one of the best deckbuilders in the world, and his endorsement alone is enough to have me wanting to try it. He actually has access to Thragtusk, but a deck without green, like this, is particularly in need of some life gain.
Here is another possible angle from Ali Aintrazi, with a little more of a ramp feel:
Creatures (10)
Planeswalkers (2)
Lands (26)
Spells (22) Ali uses Thragtusk and Huntmaster instead of some the control elements as well as Lanterns for more fixing and ramping on top of the Farseeks. For what it's worth, Efro, Luis, and I had a conversation on the topic of Lantern, and we are all in agreement that we would prefer to use Rakdos Keyrune instead of Lantern even if we are playing all five colors. Rakdos Keyrune is just out of this world and is such a powerful tool against Thragtusk and Bant in particular.
Also of note, Ali takes advantage of some Curse of Death's Hold, a card I expect to make a big surge in the next couple of weeks. It's just such a good card against Falkenrath Aristocrat, Knight of Infamy, and Gravecrawler.
This brings us to the most speculative brewing section!
Ok, so Thragtusk and Sphinx's Revelation are the cornerstones of controlling strategies, and Supreme Verdict is the best Wrath.
What if we don't have any of that noise...?
This may surprise you, but I have been thinking about Grixis. The format has finally gotten to a place where it is completely warped against Thragtusk, Sphinx's Revelation, and Supreme Verdict. They are still good, but if enough people are bending their strategies against them, it starts becoming more and more defensible to consider not playing them.
It is not clear if Grixis has enough raw power to win without Sphinx's Revelation, but it is worth exploring. There is no reason we couldn't just splash Revelations in here, but I'd like to start with the less ambitious mana base and go from there.
Creatures (1)
Planeswalkers (4)
Lands (26)
Spells (30) All rough sketch disclaimers aside, there are a few points about specific cards that are worth discussing.
To start with, I like winning with planeswalkers and Staffs more than creatures, in Grixis anyway. The miser's Griselbrand is only half creature, and he is slightly dubious. Olivia is surely the best if you actually want creatures main, but I wouldn't play more than two copies of any one victory condition aside from the real one, Drownyard.
Bloodline Keeper has fallen out of favor with me, as there are just too many Searing Spears and Ultimate Prices. Niv-Mizzet is solid, though I wouldn't play more than one, if any. Lone Revenant doesn't work with Barter in Blood, and Sphinx of the Chimes with Veilborn Ghoul is only good if you actually want to be playing cards like Izzet Charm, Faithless Looting, and Liliana of the Veil. Diabolic Revelation is just too slow without a ton of ramping and Elixir.
The theory here is that we might be able to beat the Sphinx decks with a combination of Drownyard (the best win condition in the format against them) and Slaughter Games (primarily naming Sphinx's Revelation). This might be wishful thinking, but it can be pretty hard for them to deal with a turn 4 Drownyard just going aggro. It is important to keep Elixir of Immortality in mind, as there will be times where you are actually supposed to Slaughter it just to ensure the Drownyard plan wins.
Against aggressive strategies, we are trying to buy time with cheap removal to start locking them out of the game with Curse of Death's Hold. Jace, Architect of Thought is a particularly powerful weapon when combined with Curse, as they stop the majority of threats in the format by giving everything -2/-1.
Staff of Nin is another important tool here. Its card draw is important for getting enough raw power to actually win without Sphinx's Revelation. The pinging ability is solid in the format but actually reaches new heights when combined with Curses. Additionally, Curse has a way of slowing the game way down, giving you way more extra draw phases with the Staff.
Barter in Blood is a pretty sweet sweeper these days. When combined with a lot of spot removal for cheap guys plus Curses to deal with tokens and Gravecrawlers, it is a great way to get ahead against aggro that also beats Falkenrath Aristocrat.
Rakdos Keyrune is another important part of the recipe. If you aren't going to use Farseek, you really need something to speed you up and let you play with even more mana. Without Sphinx's Revelation, we risking flooding if we play as much mana as we'd like, so being able to attack and block is a nice feature. It combines well with Barter in Blood, plus first strike gets even better with Curse, Jace, and Staff. Finally, they are worse if everyone goes the route I suggest above with three Detention Spheres, but they are pretty good against the build of Bant most of us played in San Antonio, including America's Sweetheart, Reid Duke.
This might be too much in the board against control, but it is worth noting that Duress gets a lot better when you play four Slaughter Games (and if I played Grixis, Slaughter Games is at the top of the to-do list). If you do have to cut some of the anti-control elements in the board, you might want to consider Cremate. It is kind of weak, but Grafdigger's Cage hurts us too much to play. Of course, maybe we don't care about Reanimator.
If I was playing in a tournament this week, I would play the suggested Bant deck above, as this Grixis list is speculative and will need work. However, this is the area I would like to explore in testing because it could be a step forward (if it works out), and if it doesn't there is always Bant.
What can we do to improve Grixis? How are we against U/W and U/W/R? Do we actually get the percentage we need against Rakdos?
Ok, I'm out for today, but maybe I'll be back tomorrow.
Maybe...
Patrick Chapin
"The Innovator"