[The following is written in a bit of whimsy, and I hope no one takes my comments too seriously, as every joke is made in good fun.]
I've had mixed feelings about Standard over the last few weeks. On and off the battlefield, I kept seeing the same old stuff happening over and over again. Unfortunately, that same old stuff happened to be Thragtusk and Sphinx's Revelation. I thought that Standard was going to devolve into battles between decks that couldn't kill each other and that eventually someone would realize that Jace, Memory Adept is still a card. The fact remains that this is still the slowest (on average) Constructed format that I've ever played, but something changed my perspective about Standard and the game as a whole.
I normally hate slow decks and formats. I want someone to be dead before turn 9 every single game, even if I'm the one on the short end of the stick. Maybe it's because I have an attention deficit disorder of some sort. Maybe it's because all the back and forth is draining. But this time, something is a little different.
I don't mind the "durdly" decks. I don't mind the aggro decks that "splash" gigantic Dragons to get the job done. I don't even mind the fact that Sublime Archangel went from unplayable to awesome after Vapor Snag rotated (Unsummon is still around, I get it). This is a much different Standard format than those with Delver or Caw Blade, and that's definitely a good thing for the game. Whether or not it's a good thing for me as far as tournaments go is another argument entirely.
Of course, my perspective is skewed because I was used to having a crutch. For the last three or four years of Standard, I've always had a pretty solid U/W deck to battle with, and consequently that has become my favorite color combination. Now that U/W is taking a bit of a hit thanks to Cavern of Souls and a slew of uncounterable spells, some other cards might actually get to shine.
After all, Elixir of Immortality is technically a win condition.
Go Big or Go Home
I was pleasantly surprised by the Big Red Zombies deck and its consistent performances over the last few weeks, taking down multiple Grand Prix and continually putting up solid finishes. I thought that control or other midrange decks would find a way to put the brakes on it, but it seems like the only time the deck loses is to itself and the inconsistencies with its mana base. The removal in the format lines up pretty miserably against the threats in the Big Red Zombies deck, and all of its threats are aggressively costed.
But in reference to my article last week, I felt like the real problem with Standard was that Thragtusk (along with the occasional Cavern of Souls) pushed a lot of decks out of the metagame and stifled what it could potentially become. Given that U/W decks have been continuing to perform even in a hostile environment gives me a little bit of hope, but I also know that it's very unlikely that anything will be done about it. After all, people like their spells to resolve, and no one likes to defend the bad guy (except me, apparently).
The funny thing is...I get it. I understand why people think it's fun to cast Thragtusk. I personally love casting Sphinx's' Revelation. When your opponent is trying to interact with you, it puts them in an incredibly difficult uphill battle where you feel in complete control. However, neither of these cards are fun for the opponent, and neither are fun when being cast ad nauseam in a mirror match. There are still a lot of small edges to be gained in these mirrors and the matchup is probably skill intensive, but the fact remains that when you are allowed to do whatever you want, consequences will follow.
I picked up my first unintentional draw this past weekend at a large Standard event. I was playing the same deck as Gerry Thompson, a control variant using the U/W Flash shell of Augur of Bolas, Snapcaster Mage, and Restoration Angel. I was also putting Sphinx's' Revelation to good use, which made for some pretty long games and matches.
I don't know if you've ever actually watched me play Magic, but I play at a superhuman speed. Flash could be running over to my table and I've already played out my first three turns. The reason for the draw (and close calls) was that it was incredibly difficult to kill any of my opponents thanks to them having so many powerful defensive measures. Topping them off with Cavern of Souls added insult to injury, but that's exactly what us blue mages have to put up with right now.
There is a simple solution to this problem: play a different deck. Yes, I know that I could play a non-blue aggro deck. Ah, the memories of such a time. I remember back in the day when I cast Shock with the best of 'em. We didn't need Incinerate back then. We had Firebolt, and we were proud of it!
Unfortunately, Wizards decided to give us Geistflame instead of Firebolt or else I would have been asking Patrick Sullivan for deckbuilding advice for the last year. But enough about my love affair with the world's most fair card advantage burn spell. The fact is that I just don't like playing aggressive decks unless I know that there is a lot of advantage to be gained. When I'm playing a deck with 21-24 lands, 20+ creatures, and 8-12 utility or removal spells, I don't really know what to do with myself. The deck just feels bad because you are constantly at the mercy of your opening hand and the top few cards of your deck. If you can't win with your first fourteen cards, you probably aren't going to win at all!
Of course, this isn't always the case. Sometimes aggro decks go long and attrition wars are fought. But with the power level of some of the cards in Standard right now, it's hard to believe that there is any skill edge in a Big Red Zombie mirror when both players are resource exhausted. You have the same ten-ish draws that just kill the opponent unless they topdeck the two to six cards that can match or beat yours.
I also don't think this is necessarily a bad thing either. This type of situation actually rewards people a lot for deckbuilding, sideboarding, and mulligan decisions. Whoever has the better deck in this matchup will win more often than not thanks to those decisions. However, I am much more a fan of the "game play matters more" sentiment. This is the reason why I love blue so much because you get to constantly manipulate your opponent into doing exactly what you want them to do. But it comes with a heavy price.
It's Time to Pay the Price
And what's the price, you ask?
You can't win quickly.
Your creatures are rarely aggressive.
Your spells are generally worse on average in a topdeck war.
You are usually reactive.
Anticipating plays and attacks is incredibly difficult.
These aren't "golden rules." Every deck is different, as we saw with both Delver and Caw Blade. Control decks, at their heart, follow most of these rules and regularly get punished for it. In a format like current Standard, being reactive is a very dangerous proposition. In a lot of scenarios, the threats your opponent throws at you can't be handled by your deck, and you will lose as a result.
There are no wrong threats, only wrong answers.
-David Price
Spoken like a true master of beatdown, it makes complete sense. Aggressive decks are always at an inherent advantage against control because all of their cards do effectively the same thing while the control player's deck is built to "handle" the threats coming at it. This means the control player needs to draw the right answers, the right lands to play them, and still be able to actually win the game at some point.
Again, this is not a golden rule.
As a blue player, I tend to pick blue decks regardless of whether or not they're the "best" deck in the format. I didn't play Big Red Zombies this past weekend or a deck that was that well positioned against it, but the deck I played performed well. I was very happy with my decision in hindsight. Would I play it again given my experience with the deck and the format? Probably with a few cards changes, but I'll let GerryT cover that in his article this week.
While blue is reactive in nature, it relies heavily on certain factors to function smoothly. Card advantage is huge to the game plan, as you generally need to be ahead on cards against any opponent if you want to win, mostly due to the threats vs. answers dynamic. You will draw a superfluous amount of answer cards to the wrong threats and occasionally draw more lands than spells, so you can't fall behind on cards or you'll die.
The trick in all of this is finding the delicate balance between card advantage, using your life as a resource to buy time, and building your deck correctly so that you can handle the threats being thrown at you. Without complete knowledge of a given format or enough information to deduce what you will face, it's incredibly difficult to build a reasonable control deck.
For example, Pillar of Flame can be amazing when the format is full of small creatures, but it's pretty miserable when every creature-based deck is a Restoration Angel / Thragtusk deck. In other scenarios, it's more important to play one color over another just to make sure you have the right answers for the right threats. This is why we've continually chosen to play red over black (and green, I guess) as our third color since we're battling against Zombies and G/W pretty much every other round.
Do you see the difference between aggro and control?
When you're preparing for a tournament, there are a lot of factors to take into consideration. For starters, it's important to remember that for every tournament there's an absolute best deck. The stone cold. The hot knife through butter. The spinach and cheese kolache, if you will.
I'm sure you get the picture.
Sometimes, the aggressive decks are much better than the answers available to control players. Sometimes, it's the other way around. When these two factors are at parity and both decks are on equal power level, I find myself (as well as a lot of seasoned players) gravitating towards decks that give me the ability to dictate the pace of the game. Whether it's a control or tempo deck, the color blue is often more attractive than any other color to stronger players because it gives them the ability to outplay the other players in the room. So how do you fight this?
Counterspells Are for Jerks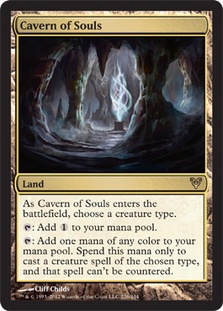 If I could find a really bad picture of Ken Nagle, I would stick it right here. He's the reason for my dismay and why I will probably be siding out my counterspells in 75%+ of my matchups. I like Ken, but the man absolutely despises Islands and everything they represent. Rumor has it that he may have actually been stranded on a desert island once with a volleyball. Things did not end well.
Cavern of Souls is the blatant, obvious answer to counterspells that everyone wanted. I don't think Wizards of the Coast and their R&D department want blue to continue being the dominant color in tournament play, at least for a little while. Since better players tend to gravitate towards control decks, Cavern of Souls is a way to prod them in the other direction. Because of this, I've found myself playing all sorts of decks on Magic Online that I would normally never think of touching.
And this is good for Magic.
I understand that now, although it isn't something I'm necessarily okay with. But I want more players to play Magic, and the way to accomplish this is to make them happy. Players actively want their spells to resolve so that they get a "fair fight" against their opponent. They want their deck to function like it's "supposed to" because they built it themselves and wanted to try it out.
Look, buddy. Reprocess and Second Sunrise is cool and all...
Taking this into consideration, I've learned that this does make for a diverse metagame. This makes for more decks rotating in and out as the "best deck" of the format, as that title has changed hands every week since current Standard began. This is a format that's constantly shifting, so I have a hard time figuring out what to play each week.
To the shock of absolutely no one, I have been sticking to U/W Flash and its variants until I can figure out something better. Once I learn a little more about the format, I may be able to jump ahead of the curve one time and figure out which deck is the "spinach and cheese kolache," but the current format is incredibly erratic. Maybe I'm starting to fall in love with it. I did cast a lot of Sphinx's' Revelations over the last two weeks. I think I'm hooked in deep.
What's Good for the Goose
Wizards of the Coast designs cards for Magic: The Gathering at a fairly rapid pace. With so many great minds working together to create something...magical, it becomes easy to grow lethargic towards newer sets that are just "good." We expect "good" and are a little happier when it's better, but we're furious when it's worse than expected. Like most people, Magic players can be fickle. This puts an incredible amount of pressure on the designers of the game in many different ways.
For one, they have to create new cards, test these cards in a complete vacuum, and ultimately decide what to change in order to make them balanced. They actively want to make some cards better than others, whether it's to help out a certain color combination or because it fits with the flavor of the set, but they have to be very careful. Sometimes they make mistakes.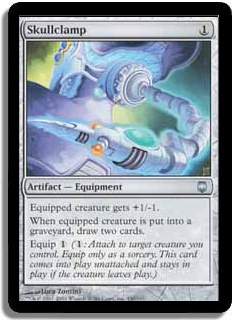 Did you know that Skullclamp was originally supposed to be +1/+0, but they thought it was too powerful and decided to "nerf" it by giving the creature a smaller toughness?
Whoops!
This happened because they were short on both time and resources, but I digress. I actually enjoyed the original Mirrodin block through all of its ups and downs, bannings and Ravagerings, but I can clearly see where they made some flaws in design and missed a few things. Affinity was just too powerful of a mechanic and completely dominated Standard for two years.
What I'm happy about at this point is that WotC is listening to players. Cards like Thragtusk and Sphinx's' Revelation appeal to a more casual crowd, and I think that's the direction that a lot of their focus is moving towards. The fact is that there's a sweet new deck popping up each week, and due to the cyclical nature of the format, Return to Ravnica is selling out at a rapid pace. Overall, I would call this a whopping success.
In the end, the goal is to have everyone who plays casually play every Friday night at their local store in FNM. This means they will need cards for their deck. This means they will buy those cards from their local store. This means that their local store will buy more product to open, which means everyone's happy. By appealing more to the casual crowd with a lot of the new, powerful cards, they're stepping in a positive direction. However, it's always good to remember that you need a balance.
If every one of them is special, then none of them will be.
Thanks for reading.
strong sad on Magic Online
@strong_sad on Twitter