I'd like to start by telling you how I love beatdown decks, how they fit my style, and that I play much better when I can turn things sideways every turn, but that would be kind of a lie. The real reason is that when you're grinding three or four matches at a time all day long like I do, you basically need to run fast decks unless you like punting all your matches or getting clocked out. After a while, you get used to it. Familiarity makes you play better with them, and the cycle keeps going until you simply can't ever run anything else. :(
The good thing is that with such a single-minded focus, I think I know quite a bit about aggressive decks, how they work, their strengths and weaknesses, and how to attack metagames with them. Even though I'm probably the laziest guy alive, I'm willing to share some of what I've learned with all of you, if only to try to justify my somewhat awful-looking lists. And since nobody really wants to hear prehistoric tales, like the one about my Affinity sideboard at Pro Tour Return to Ravnica (play Favorable Winds, it's seriously awesome), let's talk about Standard and my Grand Prix San Antonio deck, which I played to a respectable money finish.
Why Red?
Whenever I start playing a new format, I look among all the beatdown decks people are playing, pick one I like, and play it until I can't win with it anymore. Current Standard has three successful aggressive decks, which are Zombies, G/W Humans, and Mono-Red Aggro, the last being the one I've been running since rotation with mostly good results.
I dislike Zombies and have a bunch of reasons for it. Take a look at this: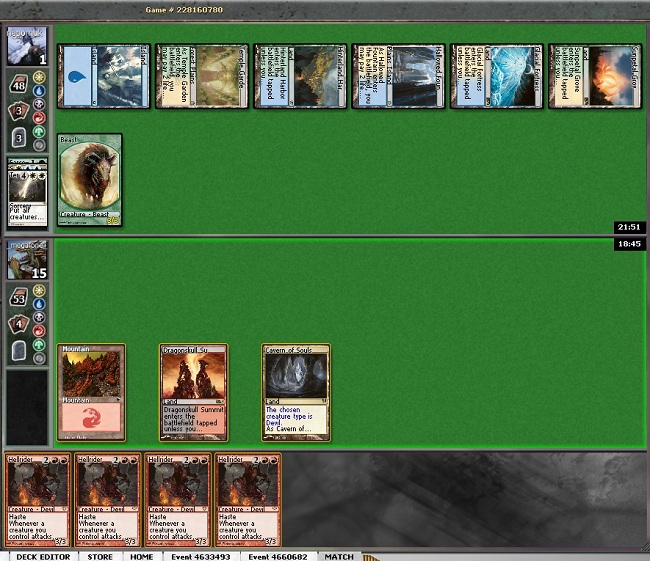 I think this format's premier control deck (Bant) is bad and most of the midrange ones are stone cold unplayable, but still, you obviously need to account for Thragtusk and Sphinx's Revelation no matter how much you hate the decks that run them. While going over the top of them sounds logical, you're still a beatdown deck and don't have a large window to resolve your threats before being overwhelmed. So I can't endorse the ten big dudes list that won both American GPs in November.
To me, the success of that list is due to a flaw most decks in this format have. Because of Snapcaster's existence, there is no true velocity to be had in control decks as Wizards has cut down on the cantrips and the "spell lands" give colorless mana, which limits aggressive builds' options. So most of the decks in this format end up being too clunky and have the "wrong side of the deck" issue that usually is only a problem for midrange strategies. Thundermaw Hellkite isn't as good when your opponent is at eighteen life, and this happens more frequently in Zombies because of the awkward creature curve. In fact, it resembles a midrange deck more than true beatdown in a lot of games.
Of course, if you're running hot and your draws come in the right order every round, Zombies is the most powerful deck around (this being the reason it's been winning so much—simple raw power, also like a midrange deck). Since most of the other decks are either bad or have a particular flaw that's easy to exploit (like G/W, which I'll get to later), you simply get there with Zombies frequently.
What Mono-Red Aggro offers that Zombies doesn't is a lighter curve and thus more consistency in your draws. Situations like the screenshot above are far less frequent. Since your deck is a lot faster, you can exploit the other decks' inconsistencies, leading to more of the "easy" wins that make people call you a lucksack over and over again. :)
Of course, Mono-Red Aggro isn't a deck without weaknesses of its own, and huge ones at that, but I felt like the upside was worth it and started working on it.
Evolving Red
This is where I started:
Creatures (28)
Lands (24) The current format's incarnation of Red Deck Wins functions a bit differently than usual. This time around, the creatures are way more efficient than the burn spells, and our flagship card [Hellrider] is better with a swarm being turned sideways with it. As such, we've moved towards heavier creature count, around 28 or so. While it works as any Red deck most of the time (you have a TON of haste creatures, so a lot of reach), you have less removal than usual to work through blockers and more creatures that you need to connect with your opponent.
Pyreheart Wolf solves this partially, but decks that can clog the board against your smaller dudes, like G/W and Junk, give you a hard time. The biggest problem is Restoration Angel, which can't be killed by any generic instant burn spell (Thunderbolt is too narrow for the maindeck), is bigger than almost all your creatures, and lets your opponent attack and block on the same turn, even with a Wolf on the table.
For a while, it seemed like an unsolvable problem with the current card pool, but the deck was still winning just enough matches for me to keep running it, weaknesses notwithstanding. I kept tweaking the list, and a few days before traveling to San Antonio, I finally had a breakthrough.
Once I started running Cavern of Souls I realized that, even though there aren't a lot of Humans in the deck, Ash Zealot was forcing me to name that tribe a lot more than I expected. From there, I had the idea of splashing the black/red lands and running Knight of Infamy. It seemed like the splash wouldn't screw up the mana base since I wasn't taking out any red source (in fact, I added one because splashing meant cutting the Crucibles), and after testing it out a little bit, I was set on playing with the splash in the GP.
Knight of Infamy in theory singlehandedly fixes a lot of the issues I had with the mono-colored build. First, most of the early game blockers midrange and control players run are white, and the one that isn't happens to be a 1/3 [Augur of Bolas], perfectly sized to NOT block exalted dudes. Second, the protection ability blanks Azorius Charm, one of the few cards Bant and Flash have for early game protection.
Third, it attacks G/W's biggest weakness, which is the inability to remove troublesome creatures off the board. Most of their creatures are white, and the exalted ability lets you keep the pressure on while still bricking out their offensive, which makes racing you an incredibly difficult task for them. This gets even more pronounced post-sideboard when you bring in a lot of removal and they simply don't have enough gas to overwhelm a single Knight.
I didn't even have Olivia Voldaren in my board until the night before the GP when everyone I showed the list asked why the hell I had black mana in my deck and wasn't running them. Once I added these to my sideboard, the G/W matchup, which in my opinion was the second hardest for the Red (after Flash), turned into a very easy one. I was sold.
Here's what I registered:
Creatures (28)
Lands (24)
Spells (8) Beatdown strategies ask for tighter builds than most decks, but that doesn't mean you shouldn't look for versatility whenever you can. Once you fill your deck with four copies of your obvious must-run cards, Standard pools usually leave you with a bunch of relatively similar cards at the same curve slots that fill mostly the same utility, each with specific caveats. Because of that, at least from my experience, you're better served splitting off between them as long as you keep their utility intact (for example, 1CC removal spells, 2CC creatures that attack for two, and so on). That's why I always run a bunch of one-ofs in my lists.
There are some huge strategic advantages to be gained here. First, diversifying your cards make every play decision from your opponent harder because they can't be sure of what they have to play around. Second, it gives you outs. Having the ability to topdeck miser's cards in beatdown decks is WAY underrated, and, if done properly, you can gain percentage points against basically everything without any sort of disadvantage. Third, and maybe the most important, is that you can customize your deck better post-board against specific matchups, which is crucial to fix the hard matchups you'll inevitably have after sideboarding.
In this particular case, most of the splits are done with the late game in mind. Since you have to run 24 lands to support the Hellkites, you end up flooding a lot, which asks you to get more impact out of each individual card whenever you can. Let's take a look at the individual cases:
-3 Searing Spear, 1 Mizzium Mortars: Mortars is quite better as straight removal since it kills Smiter and works as a late-game "out" when you're way behind, but you can't run too many removal spells that don't go to the dome. Pushing one Mortars to the main also frees up a sideboard slot since you definitely want four against green/white decks.
-2 Pillar of Flame, 1 Geistflame: This is a bit more controversial. Personally, I hate Pillar of Flame, mainly because sorcery speed sucks. (You lose mana if you're on the play and your opponent plays turn 1 Elf; also, it sucks against Snapcaster Mage and Restoration Angel obviously.) That means I didn't want too many of them and looked for alternatives. Geistflame seemed good in theory: it's an instant and has the borderline relevant ability to kill a dude and still deal one to the dome later, which is neat. The rise of Zombies means you need the full playset of Pillars between main and board, but if you have the slots, I still like the singleton Geistflame.
Of course, when you're doing this kind of split, you need to keep in mind that you must keep the main functionality of the cards intact. Spear and Mortars, for example, work just as well to kill a dude for two mana most of the time, which is how the "magic" works.
Stonewright and Bonfire, the other one-ofs in the maindeck, serve as late-game mana sinks while still being useful early. Stonewright in particular is a criminally underrated card, and I came very close to cutting a Cackler for a second one. I'm still considering it and may test that split in the future.
I usually take a long time to arrive at sideboards I really like since I mostly build them by trial-and-error until I have a setup that lets me customize the deck post-board against most matchups I expect in the metagame. So the one I played in San Antonio was quite crude because I didn't have enough time to test it.
Basically, the plan was to make the deck heavier after sideboarding against creature decks, bringing in Olivias and a bunch of removal to replace either Cacklers, Knights, or even Hellriders (remember, mind your curve) and sideboard as few cards as possible against control to keep the mana curve intact, as the only cards I want to bring out there are the 1CC removal spells. I think I ran a decent mix to achieve these objectives, but it was a bit too soft against Bant, which came back to bite me in Day 2.
The Tournament
I finished the first day 8-1. I won mostly tight 2-1 matches during the day against a bunch of different decks. I tried hard to punt my match against Josh Utter-Leyton but my deck didn't allow me to, and I ended up punting round 9 against another G/W deck after flooding in game 1 and tilting and keeping a ridiculously bad hand in the next game.
I'm still too prone to tilting for my own good, even though I've been playing this game for too long, and whatever little play skill I still had went into hiding after getting mana screwed against LSV and his Bant deck, which was supposed to be a pretty easy matchup for me. From there on, I won two matches where my opponents didn't do anything of note and proceeded to lose my last three by making mistake after mistake, keeping awful hands and misplaying them.
Overall, I won against three G/W decks, two Zombies, Reanimator, Junk Tokens, and Red. I lost once to G/W (a heavy green build with maindeck Wolfir Avengers), twice to Bant, once to Junk, and the last one to Willy's Jund Zombies build. Of these losses two of them were punts, so I think the deck itself had a good showing overall.
Going Forward
Here's the updated list that I've been running this week:
Creatures (29)
Lands (24)
Spells (7) Three Hellkites is more than I like, but I guess we don't really have a choice. You need to draw one in too many games to run less than that. The maindeck Stensia may also be a bit too greedy, but I've still been flooding and rarely have colored mana problems so I think the deck supports the colorless land.
Sideboard Tips
I change my sideboarding basically every round, so use these only as a general guide. Whatever you do, though, DO NOT simply cram in all the Olivias without taking other high-end drops out for them—keep at most eight of those for any game. Also, don't ever make the mistake of siding in too much stuff if you're not sure what to do. If you're in doubt whether a card should go in or not, don't side it in.
If you want to run a slightly different list, it's important to always dedicate a few slots to complement the split of maindeck removal. For example, if you're running two Pillars main, you need another two in the sideboard. I'd not enter a tournament right now without access to four Pillars, five or six sweepers (Mortars, Bonfire, or even limited ones like Flames of the Firebrand), and three to four instant speed removal spells that can kill Restoration Angel.
Against Zombies
-4 Knight, -1 Geistflame
+2 Pillar, +1 Price, +1 Mortars, +1 Olivia.
You're the beatdown here, so don't take too many creatures out.
-2 Pillar, -1 Geistflame
+2 Rakdos's Return, +1 Stensia Bloodhall
Keep the deck as "pure" as you can—you want to keep your curve intact. Rakdos's Return shines here because Bant needs to tap out for Verdict or Thragtusk multiple times per game, which gives you good windows to resolve Return and wreck their game plan.
Against G/W and Junk
-3 Hellrider, -4 Cackler, -1 Stonewright, -2 Mauler
+3 Olivia, +1 Bonfire, +3 Mortars, +2 Pillar of Flame, +1 Ultimate Price.
I don't like Cacklers in those matchups because they're too easy to block, but it might be right to keep them in if you're on the play.
Against Flash (U/W and U/W/R)
-2 Pillar, -1 Mortar
+2 Thunderbolt, +1 Ultimate Price
Again, keep it simple and don't side in too many cards. You can bring in Rakdos's Return if you want, but I find that you'd rather be able to affect the board with all your spells.
I think the deck was an amazing choice for Grand Prix San Antonio. Of all the decks I saw at the tournament, only the U/W/R Flash build seemed like a really difficult matchup, and if I wasn't so bad at the game of Magic, I think I could have made Top 8. I definitely recommend this list for the next few weeks and will be playing it on Magic Online. Maybe I should stream it if I have the time before traveling to Toronto—what do you think? :)
Cheers,
Pedro Carvalho
_megafone_ on Magic Online
@_megafone_ on Twitter