We're done for the year on the East Coast—it's all West Coast events for the end of 2012, with the Las Vegas Open Series preceding our Los Angeles Invitational finale. I'm never one to pass up a trip to Vegas, so I'm heading out in full-on player battle gear before transitioning back to coverage mode in time for the end of the 2012 season.
Our usual space in Sin City, the Alexis Park All Suite Resort, will be hosting our event in the Parthenon Room. Roll on over to E Harmon Avenue, just a couple blocks from the strip, for an Open Series sensation prior to enjoying the nightlife.
Or going to sleep. That's your call.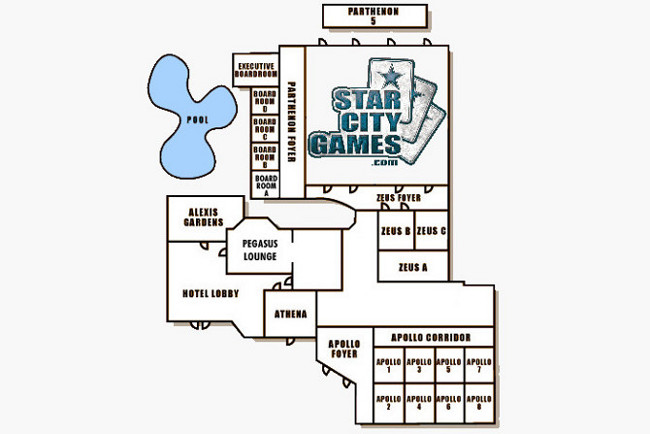 Vegas has "some" food options, but we've collected a few nearest to the convention center to help out. Personally, I'd advise going big and deep on some gourmet meals, but to each their own. After all, many Magic players are on a budget, and tournaments tend to leave you without much time to get a seat at a real restaurant.
Try to haumph in a hurry; you don't want to be late to a round!

Please, please, please preorder! We sold out of Sphinx's Revelation in Baltimore, and the only way we can guarantee you'll get what you need is if you order in advance. Select Las Vegas among the "Event Pickup" options for shipping and we'll pack your order and bring it with us to the site at no additional charge. We can only offer this option for orders placed before noon on Thursday!
We've got a real treat lined up for you on @SCGLive with a couple of Magic's eldest guardsmen commentating. Mike Flores is making the flight out to join former teammate Patrick Sullivan for a weekend of broadcasting! I'm actually looking forward to the stories a lot more than the matches this time around. Take a walk down memory lane alongside two very timely Opens with Mike and Patrick, accompanied by Reuben Bresler in the Sideboard.
They'll all be online and on Twitter—tweet using #SCGVEGAS!
Event Coverage Coordinator