Hello everybody, and welcome back! In today's article, I am going to take a look at the Vintage decks from the recent NEV VIII tournament that took place in New York on December 1st. The results from the event are interesting and may be a good indicator for the trajectory of the Vintage metagame as we move into 2013.
While NEV VIII wasn't a huge, it did have a slew of familiar Vintage players in attendance, which means that the level of competition was high. As far as Vintage tournaments go, a 30-player event that is stacked with ringers is one of my favorites because it is always fun to battle against other great players. Tournaments like this one really make me sad that there isn't more of a Vintage tournament scene in Michigan, but despite a lack of tournaments, I do break out my old cards to build decks and battle with friends quite regularly.
Speaking of decks, there were some sweet ones in NY last weekend…
It is interesting to note before we dive into the lists that sometimes good players build their decks slightly differently to compete in a field (especially a smaller field) when expecting an uncharacteristically high number of other good players (especially in Vintage). A lot of good players probably means two things: a lot of blue decks and a lot of Workshop decks. A fantastic starting point, as it has been demonstrated over the past two months that Workshop decks are sitting pretty at the top of the heap and we are all anxious to see how blue decks will adapt to their new mechanical overlords.
First and foremost, 60% of the decks in the tournament were blue-based, while Mishra's Workshop accounted for another 25% of the total decks. Now, I understand that this was a small tournament, but it is possible that this is the direction Vintage may be headed moving forward.
1st: Terra Nova
2nd: Dredge
3rd: Esper Bomberman
4th: RUG Landstill
5th: U/W Bomberman
6th: U/W Landstill
7th: Griselbrand Oath
8th: Grixis Painter
I'll start by making a very obvious observation about the way this Top 8 turned out. It is 75% blue decks, with the only two nonblue decks playing each other in the finals!
Let's take a look at the blue decks: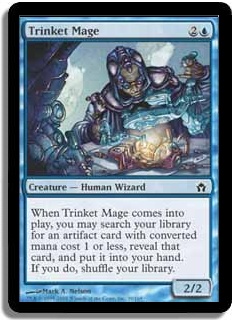 "Ten Trinket Mages in this Top 8!"
I haven't seen this many Trinket Mages in a Vintage Top 8 since, well, ever…
Both of the Bomberman and the Painter Servant deck in Top 8 used Trinket Mage as an important source of card advantage / versatility / combo kill. Pretty nifty value wrapped up in one card with a free 2/2 body tacked on.
Let's take a look at the Bomberman decks, which finished 3rd and 5th.
Creatures (11)
Planeswalkers (2)
Lands (17) Creatures (9)
Planeswalkers (4)
Lands (16)
Spells (31) The main difference between these decks is that the first one splashes black for Dark Confidant, Nihil Spellbomb, and Demonic Tutor, while the other deck stays straight U/W and has Vendilion Clique and Aven Mindcensor.
One sweet card that both of these decks include are two copies of Cavern of Souls, which once in play basically makes all of the core creatures (Humans or a few Wizards in the U/W deck) completely uncounterable. I really like the Caverns in the Esper Bomberman deck as it fixes mana and makes casting cards like Dark Confidant much easier. Also, it is important that it allows players to simply cast their creatures even through an opposing Chalice of the Void.
While Dark Confidant is my consistent, unrestricted turn 1 play of choice, the U/W deck also has some stuff going for it. In particular, I am drawn to looking at how many and which anti-blue cards decks are playing (i.e., cards that are bad against Workshop but great against opposing blue decks) and how many copies of Jace, the Mind Sculptor decks have.
It looks like both Bomberman decks are still playing between five and eight cards, and it appears the cards of choice are Spell Snare, Flusterstorm, and Mental Misstep. It is interesting that people have moved away from Spell Pierce in favor of Spell Snare. Also note that the Bomberman with Dark Confidant only plays two Jace while the straight U/W deck plays four—probably because it needs more ways to draw cards to make up for not having Dark Confidant.
Another thing that is exceptional about these decks is that they play three and four copies of Trinket Mage! Wow. These decks are the epitome of grinding stations that are able to win small through card advantage and calculated aggression with creatures but are also able to combo off and win the game all at once with Salvager or Key-Vault.
Moving forward, especially if creature-based blue decks with Cavern of Souls are going to be big moving forward, I wonder if it is necessary to play with narrow "anti-blue cards" like Mental Misstep and Flusterstorm in the maindeck. Maybe with so many creature blue decks and Workshops—and less traditional spell combo control blue decks—at the top of the heap, Misstep and Flusterstorm would be better served as sideboard cards than in the maindeck.
I do like Spell Snare quite a bit because it can hit a Bob or even more importantly an Oath of Druids and can still randomly counter a Phyrexian Revoker or Sphere against Shops.
Also, it is worth noting that both of these decks play five sideboard cards that attack the graveyard, which is a nice transition to:
Creatures (26)
Lands (14)
Spells (21) It isn't surprising to me that if people are only playing four or five sideboard cards (even if two or three of them are as good as Rest in Peace) that eventually people are going to start running the Dredge gambit.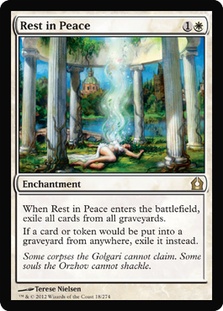 "Sure, it's the best anti-Dredge card ever printed, but you've got to draw it to play it!"
With Dredge, the most important factor is if people are cheating on their graveyard hate. At the moment based upon what I'm seeing, although there are a bunch of awesome hate cards, if a player doesn't have enough of them to draw them consistently it allows Dredge to get free wins.
The other thing that is interesting is that there were only two Dredge decks in the tournament. With the help of some good pairings and underprepared opponents, the deck was able to go pretty deep.
Actually, it won the tournament—technically.
"Raffaele Forino vs. Dave Gans - Forino wins?

This result comes with a story. Raffaele Forino currently has 34 points listed in the NEV Standings, with another three points that will be added to his total (from missed events on my part). Dave Gans, who intended on going to the 12/8 event in Jersey, was at eleven points and was currently not qualified for the NEV Invitational.

Raf, with a win, would secure a second round bye at the tournament. Dave, with a win, would secure entry.

Game 1 was an aberration for Dredge, as Dave had a Bazaar of Baghdad Wasted by Raf (finding no dredgers and having none in hand). Dave was quickly beaten down by a Lodestone Golem and Mishra's Factory.
Game 2 featured a Serum Powder (on seven) that quickly found him his Bazaar, but Forino landed a Grafdigger's Cage, Tormod's Crypt, and several Spheres within the first three turns. Dave had dredged into an early Narcomoeba, which was beating aggressively for one, but Raf had a beater of his own in a Mishra's Factory. Raf had taken some damage from his Ancient Tomb uses, and the Narcomoeba quickly had Raf on single digits. But Dave was taking a beating as well with the Factory at work, and Raf was building a board that was going to keep the explosive power of Dredge under control since a pair of Spheres and a well-timed Wasteland managed to keep Dave's mana under control.
Raf found a Mutavault and was suddenly able to beat for three without taking damage from his Tomb. Things began to look quite grim for Dave. Narcomoeba had done an incredible amount of damage this game, as it dropped Forino to low single digits, but it was time for it to block. Dave was down to four himself on the backswing, and as Narcomoeba blocked and was ready to head to the yard, Forino popped his Crypt, removing three Bridge from Below in addition to the rest of Dave's yard. Dave passed.
Raf dropped Academy, tapping it and his Tomb, dropping himself to five, and played Lodestone Golem. Dave was now held underneath two Spheres, the Lodestone, and had just had a City of Brass Wasted, rendering the Nature's Claim in his hand ineffective. Dave drew and passed. Raf drew, activated his Factory and Mutavault, and attacked with both of them and the Lodestone. As Dave extended his hand, congratulating Forino on the win, Forino shook Dave's hand, looked to me, and said, "I scoop," in one of the best acts of sportsmanship that I have seen.

So Forino gave up his second round bye in order to qualify Dave Gans for the Invitational. Dave and Raf agreed to list Forino as the winner, but I think all who saw that were winners.

Congratulations to Raffaele Forino, Dave Gans, and all my Top 8 competitors. We had a great run, and I enjoyed this moment more than any other that I've seen in the N.Y.S.E. series and the N.Y. NEV events. Thank you both."
-- Nick Detwiler, TMD
Creatures (12)
Lands (22)
Spells (26) Eight manlands and four Dismember! Awesome and innovative, Forino's deck is a masterpiece of Vintage metagaming that utilizes strong card selections against the best and most popular decks in the format. For the blue creature decks and Workshop mirror match: Dismember. Against Shops: four Phyrexian Metamorph and two SCULPTING STEEL! Against Landstill: 8 manlands!
The Terra Nova deck is a sweet brew to say the least. Dismember seems absolutely nasty in this deck, especially in a Top 8 filled with blue decks packing eight plus creatures each!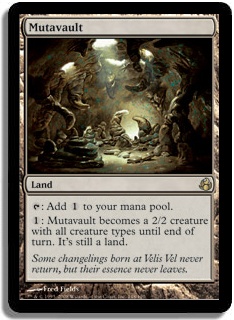 "Tap my Mishra's Factory to pump my Mutavault—filthy."
Is having eight man lands good against Landstill? Um, good is probably an understatement.
Speaking of Landstill…
Planeswalkers (2)
Lands (24)
Spells (34) Creatures (7)
Planeswalkers (3)
Lands (21)
Spells (29) These are pretty noticeably different Landstill decks. The RUG deck is creature-less, hardcore control, and Ray's deck is about six cards off of the Stoneblade Legacy deck I played to Top 16 at GP Providence. Sorry, hyperbole—including mana sources it's twelve cards off :)
I have never been a huge fan of the "prey on other blue decks" Landstill lists full of REBs and Misdirections in a format where Mishra's Workshop is probably the best deck. However, I will say that it was a decent choice for this event, where 60% of the field was various blue decks.
More noteworthy is Ray's Stoneforge Mystic control deck, which I think has a lot of potential moving forward. I really like that Stoneforge + Batterskull can simply dominate any of the opposing creature decks (including Workshops) if you get it online quickly. I also like how it is a source of card advantage kind of like a Trinket Mage.
While we're on the subject of Trinket Mage:
Creatures (8)
Planeswalkers (3)
Lands (15) You want a deck that plays five Red Blasts maindeck?
Well, here you go.
My biggest gripe about this deck is that it doesn't play Voltaic Key and Time Vault; they seem pretty good in there with so many artifact synergies.
Also, Pyroblast six and seven in the sideboard? C'mon, is that really necessary? Can't we squeeze the first Ingot Chewer in somewhere?
And last but not least (seventh, so second to least for the purpose of talking about Top 8 decks in this article):
Creatures (2)
Planeswalkers (2)
Lands (17) So, it's a Griselbrand Oath deck…
Even more interesting than that (or at least in my opinion) is that there were six blue decks in this Top 8 and only the last two play Yawgmoth's Will.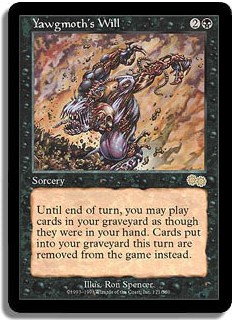 "Meh."
Oh, how the mighty have fallen.
What did we learn?
5. Can we knock off the maindeck Mental Missteps, REBs, and Flusterstorms PLEASE!
4. Trinket Mage is a thing—Yawgmoth's Will, not so much…
3. Cavern of Souls rules.
2. Two Jace or four Jace? That is the question.
1. Forino got the other Top 8 competitors' decklists the night before, which is why his deck beats their decks so badly.
Thanks for reading!
Cheers,
Brian DeMars