On the 21st day of the month of September, in the late months of a format not too long before our own, the token race encountered a threat to its very existence. This enemy surfaced, as many enemies often do, in the seemingly most innocent and unlikely of places...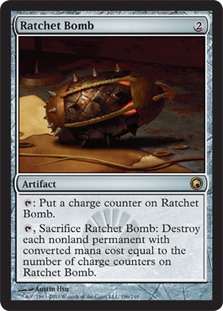 Token-based decks warred against this fairly innocuous artifact over the last couple years. Every token deck hated seeing it; being an inexpensive and colorless answer, the Bomb could short every token deck for very little commitment out of the sideboard. Although there was a bit of a bump when Lingering Souls was released, tokens slid back into obscurity for a while after the pre-Return to Ravnica format settled back in.
Now that the Bomb is gone, tokens could come back out and play again. Intangible Virtue, one of the narrowest token cards in Standard right now, could see some decklists once more.
Alright, I know that Junk Tokens is already a deck. The deck I've prepared this week is a bit more "mainstream" than my usual fare, but I wanted to take a different spin on the token archetype. Token-producing spells have their place, but I wanted to push a different token idea for use with our token-friendly enchantment.
Planeswalkers!
There are several planeswalkers in Standard that produce tokens. With board wipes still being a weak point for token swarms, being able to produce tokens for no mana and card commitment allows a token player to recover from sweep after sweep. These planeswalkers also have positive ways to interact with tokens, most notably Sorin's emblem ability. Either way, I wanted to start with a squad of 'walkers and Virtue and build our Junk-colored deck from there.
Creatures (8)
Planeswalkers (6)
Lands (25)
Spells (21) This list is meant to be rudimentary; that's why you'll see a bunch of singletons, which I don't normally like to do, but I wanted to see if any of them were relevant.
Maindeck
I've come to the realization that there needs to be an excellent reason for a G/W deck to not play a set of these. He's the only unconditional turn 1 ramp in Standard (Arbor Elf needs a Forest and Deathrite needs a format that actually has lands in the yard on turn 1 or 2), and every deck wants to cast their three-drop a turn early. With only three creature spells in this deck, I'm happy to make the only playset the Pilgrim.
Thragtusk has the benefit of being one of the best five-drops Standard has seen in years while also going along with the token theme (sort of). Big Sexy helps you stabilize and leaves you a relevant token upon death. There are some times when you'd rather have the 3/3. Needless to say, every green deck needs a pretty magnificent reason to not have this guy in it, and I don't have one for him. A big part of me hates that this is the attitude we have about Thragtusk, but if you've got it, flaunt it.
It's a shame that populate, the defining mechanic of Selesnya as a guild, has gotten very little Standard attention in comparison to the other guilds' mechanics. Populate is inherently a risky mechanic because it requires something to do anything. Still, I wanted to dip my toe into populate, and Trostani seemed like the best gateway card. With static pumps present in Virtue and Blessing, she seemed like an efficient life generator that could sidle up alongside my planeswalkers for low-commitment board advancement. Five toughness is a lot in this format, so she can stiff-arm a lot of the format's more aggressive attackers and shunt Rancor laden weenies.
Token Spells
Besides the planeswalkers, there are fourteen spells that directly create tokens, and eleven of them are solely dedicated to that task. Lingering Souls will be the workhorse of X/W/B Token decks for as long as it's legal and in Eternal formats beyond that. As a side note, the only time you should ever play out both halves at once is when you absolutely need to for defense or if your opponent is playing a non-sweeper deck (like G/W Aggro); otherwise, it's a dangerous overextension. I see people do it frequently when on offense against a deck they haven't seen, and they're walking into a trap nearly every time.
Gather the Townsfolk and Call of the Conclave were at one time contesting for the same opening. As I thought about it, though, both pose a different benefit, so I made room for three of each. Call is very aggressive, and Gather is a nice defensive play while also being better with an Intangible Virtue out. One copy of Increasing Devotion acts as an army in a box, making it great when you're on the backpedal or after a sweep. Increasing Devotion feels a lot like Conqueror's Pledge, which was a great card in its own time.
Anthem Effects
Intangible Virtue is the perfect companion for any token deck since it provides the power you need to make a dent with your diminutive tokens and gives vigilance, keeping your life total safe while pressuring your opponent to stay back. Collective Blessing acts as a permanent Overrun, making even your smallest creature a 4/4. With even just one or two tokens out, casting this will drastically improve your board position, and with more tokens, it will pretty much win you the game. Craterhoof Behemoth is a powerful card for a reason.
Meant to be the utility spell of the deck, Selesnya Charm can add another token to the board in a pinch, slash through a powerful creature, or shove one of your tokens through for extra damage for the low price of GW. The ability to silence larger creatures is probably the largest draw of this card. Being able to exile a Thragtusk's front, an Angel of Serenity, a Desecration Demon, or an advanced Olivia Voldaren gives this spell a startling level of power for a color combination unaccustomed to spot removal.
Much like a U/W player might cycle an Azorius Charm on turn 2, making a 2/2 at the same point can put you on offense or stuff their attacking mana dork. The combat trick side is probably the least useful, but it has its applications.
A powerful card in its own right, this was an admittedly uninspired, on-color choice for removal against fast decks, problem NCPs, and for smashing U/W Flash's Pikes and Snapcasters. The flexibility of this spell is excellent, and I felt fine including two here for dealing with those pertinent threats, albeit off-theme.
A trial run singleton, this was meant to coincide mostly with the planeswalkers of the deck. Most token spells make at least two dudes, but planeswalkers give just one, so making two Vampires, two Wolves or two Beasts from a dying Thragtusk seemed acceptable. It helps you outpace an opponent; stuff their one threat and have one left over!
Planeswalkers
The six planeswalkers in this deck were meant to be the primary token producers because they aren't just "one and done" like most token spells (or "two and through" in the case of Lingering Souls). Garruk Relentless will often be used as a Flame Slash, but the others can take over the game all by themselves. Vraska, probably the most bizarre inclusion, deserves a little justification.
She's bad, and I know she's bad. While she will often just be an expensive Vindicate, she might have the opportunity to make Assassins, which are tokens, and this deck can pump them enough so they have staying power. It's easier to push through three 4/4 Assassins than three 1/1 Assassins. Sure, most of the time, she'll just be blowing stuff up, but I hope the deck will protect her well enough that she can just +1 on entry. If you're doing that, you're either already winning or you've greatly shortened the clock.
Lands
The five nonbasic colorless lands are all conducive to swarms of tokens. Grim Backwoods can sacrifice one of your worst tokens for a card, the Township is obvious, and the Vault can vastly swing a race in your favor. I wanted to try a Grove of the Guardian, too. With a few populate effects in and out of the board, this can help an army of wimps get behind one huge dude. He goes nicely with Selesnya Charm's last mode as well.
Sideboard
My sideboard choices were heavily influenced by the control-centric metagame where I was testing this list. Sundering Growth is just a Naturalize with a relevant additional clause, while Golgari Charm is a flexible spell that will come in for a wide variety of matchups. It's great against Supreme Verdict, mana dorks, and Detention Spheres. Although too narrow to maindeck, I will forever quarrel with the prospect of doing so.
Curse of Death's Hold is meant to augment Golgari Charm's -1/-1 while being an excellent spell to resolve against U/W Flash or in the mirror. Although slow, it can also temper G/W Aggro decks if you can live to resolve it. Witchbane Orb is a great catchall for the bizarre effects floating around in Standard, including Blood Artist, mill, Bonfire of the Damned, and Door to Nothingness. Yeah, I heard Ali Aintrazi made a sweet brew with Door. Best be prepared.
Sigarda is a lovely lady for stopping sacrifice, of course, but she's also a very powerful threat to resolve on her own. Just watch for those Clone effects. Finally, I included a pair of Angel of Jubilation for two reasons. Obviously, she provides a relevant anthem effect, but she also does something a little more subtle. She makes shocklands come into play tapped! You and your opponent can't play them untapped anymore, which can throw off high-cost multicolored control plans. It's pretty minor, but I just want to see the look on their faces when they try.
"I'm going to play this Hallowed Fountain untapped and pay two."
"No you isn't, homefry!"
Pretty cool interaction, right guys?
... Guys?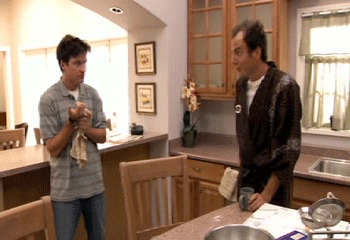 I put this deck together and had the unusual opportunity to test it on two different nights. The first time I tested it was in a casual Wednesday night tournament at our neighborhood shop. The deck did wonderfully against control, but it struggled against hyper-aggressive decks.
Round 1: U/W Flash 2-0
Round 2: Bant Control 2-1
Round 3: Mono-Red Aggro 0-2
The maindeck was surprisingly strong against control. Without many creatures, every spell I cast was a threat, and resolving my planeswalkers effectively sealed up each game. However, my final matchup against Mono-Red showed a glaring weakness of this deck. Although it is an aggro deck, it doesn't do aggro as well as G/W Aggro or something like the Mono-Red list I played against. The sideboard was very ineffective at stopping such a powerful assault, and a resolved Pyreheart Wolf spelled doom for me every time. Hellrider didn't help.
With that, I made some adjustments to the deck.
Maindeck:
- 1 Trostani, Selesnya's Voice
- 1 Parallel Lives
- 1 Collective Blessing
- 1 Grove of the Guardian
+ 1 Selesnya Charm
+ 1 Abrupt Decay
+ 1 Intangible Virtue
+ 1 Sigarda, Host of Herons (from the sideboard)
Sideboard:
- 2 Angel of Jubilation
- 1 Sigarda, Host of Herons (to the maindeck)
- 1 Sundering Growth
+ 4 Centaur Healer
I played this in the bit more formal FNM a couple days later and tested the slightly tighter decklist. I found that none of the singletons were ever necessary to win the game. I never wished I had any of them in my hand. With the reduction in populate cards, the Grove came out too.
The place I play FNM was full of aggro decks that week, and after four rounds, my deck couldn't hold out against aggressive draws and mounting pressure. Also, I made a cavalcade of play mistakes from poor sideboard choices to misplayed spells. My most awkward misplay was in round 3 when I ticked Vraska up to eight instead of popping her for Assassins (his deck had Blasphemous Act, so I didn't want to turn it on). The following turn, he cast Zealous Conscripts from a slim hand, stole Vraska, and popped for three Assassins with a Mizzium Mortars in hand.
Round 1: G/W Aggro 1-2
Round 2: G/W Aggro 2-1
Round 3: R/G Midrange 1-2
Round 4: Mono Black 1-2
I blame the losses on Friday night on poor piloting and loose play on my part. I believe the deck is an anti-metagame deck more than a safe, rounded choice, but I could be wrong. A more experienced token player would be well suited to take this deck for a spin. In construction and execution, this deck did great, but I made several justifiable yet fatal mistakes that superseded the design strengths.
Selesnya Charm is a really great card for this deck, and it was the card I wanted most to have in my opener and draw later in the game. I was grateful for the full playset in the second outing to be sure. Abrupt Decay was a blessing and a curse; I made poor sideboarding decisions to keep Decays in when I should have replaced them with better cards. For example, in the above-mentioned match, I considered siding in Golgari Charms one for one against the R/G deck but didn't. I had an Abrupt Decay in hand when the Conscripts resolved.
This deck was a grim reminder that you need to be sure of your deck's goal and protect your interests. I made decisions while playing against aggro that were ill suited for the situation. Those misplays cost me two rounds that could have been wins. The deck performed very well despite this, and better decisions could have yielded greater success.
If your shop is swimming with control, this deck has the potential to get you X-0s every time. I feel very confident about that; aggro still presents a problem, but some insightful sideboarding, perhaps with more removal, could fix that right up. If you were making a token deck for Standard right now, what would you use? Is this the best color combination for tokens at the moment? Let me know in the comments below! Also, I appreciate all of your comments each week. Next week, I'll bring you another fresh deck as well as a revision of a previously highlighted deck.
Drop by next week, and until then, don't forget to untap!
- Matt
captainshapiro on Magic Online