Recently it was announced that the Magic Online Cube will be available from December 19 to January 2, 2013, which is only a few days away. Normally, changes would mainly include cards from the newest set, but with this update, many powerful cards like the infamous Power Nine as well as some others will be introduced into the mix.
One of the classic cube divisions is powered versus non-powered cubes. There are further distinctions beyond these two camps, like using Library of Alexandria and Sol Ring but no other elements of power (which seems pretty counterproductive since Sol Ring is arguably better than any other piece of power) and having no "fast mana" (cards that can immediately create more mana than they cost to cast with most being long-term sources, like Mana Vault, Mox Diamond, etc.). Early cubists like Tom LaPille chose to not use power in their cubes, while others like Evan Erwin used power in theirs. Since this article is an in-depth view of the latest changes to the Magic Online Cube, I won't spend too much time talking about the effect of power on the format, as it may be covered in another article.
Aside from the list including power, another important aspect is that it's going down from 720 cards to 540, and with that there are some major reductions. I'll break down the changes color by color and explain what they represent for each section.
Since a lot of cards were cut, I'm not going to discuss each card's departure in detail, but I'll break the changes down into general types along with some suggestions of cards to bring back or add. (I've included cards like Momentary Blink in italics since, while they're technically white, they're used much more often in their appropriate color pair.)
White
Out:
Burrenton Forge-Tender, Spectral Lynx, Eight-and-a-Half-Tails, Loyal Cathar, Silver Knight, Soltari Priest, White Knight, Mentor of the Meek, Mikaeus, the Lunarch
IN:
It looks like a step in the wrong direction with a bunch of two-drops getting cut in white. Compare with my 460-card cube, which has thirteen two-drops, versus the Magic Online Cube at 540 now having nine two-drops, with one of them being Ethersworn Canonist, a card that I usually don't want even in my aggro decks. Thankfully, the only one-drop that got cut in white was a hoser (Burrenton Forge-Tender) which was pretty marginal anyway.
Mentor of the Meek was a bit awkward in that aggro decks typically didn't want to spend the extra mana in the early turns of the game, but Mikaeus was another nice anthem for the white beatdown decks and will be missed. The two-drops were never really high picks, but with aggressive decks being on the weak side in the Magic Online Cube, finding other replacements like Cloistered Youth, keeping Soltari Priest, and bringing back Soltari Monk and Accorder Paladin may have been a more preferable solution. The inclusion of Nearheath Pilgrim is a step in the right direction, but it isn't really in my top choices for aggro beaters even with its 1W casting cost.
To clarify, I'm not saying that aggro is unplayable in the Magic Online Cube; I've played cubes where aggro strategies were flat-out unplayable and the "optimal" version of an aggro deck would struggle to 2-1 and only 3-0 if there was a blue moon. That doesn't happen with the Magic Online Cube as I've won and have seen people win with aggressive strategies. That being said, when I'm drafted the Magic Online Cube, I've usually tried to go for a midrange or control deck and avoid aggro, much like I'd want to go in red and avoid blue in Zendikar Draft but would obviously change directions if the signals led me to do so. This trend will likely continue with this iteration.
Out:
Aven Mindcensor, Fiend Hunter, Stonecloaker, Calciderm, Sublime Archangel, Increasing Devotion
Tithe, Ray of Revelation, Celestial Purge, Momentary Blink, Dismantling Blow, Angelic Destiny, Cataclysm, Shining Shoal
Amongst the more universally playable white cards, there are some survivors that I'm surprised to see considering those that got cut. For example, I'm surprised to see Emeria Angel and Ranger of Eos make the cut over Sublime Archangel. Calciderm is a great card that acts as a pseudo Abyss, but the mana slot is extremely tight (which is why, conversely, I'm not surprised to see Angelic Destiny and Cataclysm cut). Fiend Hunter is the only three-drop out of the ones cut that I will really miss and is one that I would like to see come back over something like Oust, but the rest of the cuts like Tithe and Shining Shoal are solid for being better in theory than in practice. However, considering the emphasis on synergistic cards, seeing Momentary Blink get cut was interesting to see.
Hosers like Celestial Purge were one of the trademarks of this cube, and a lot of them ended up getting cut in this update. They were usually mid-to-late picks that could play very specific roles in certain decks (as opposed to your 26th card in your playable pile). Unfortunately, a lot were very narrow and ended up being late picks, and there isn't really room for those kinds of cards at the smaller size.
OUT:
Wall of Reverence, Yosei, the Morning Star, Avacyn, Angel of Hope
Condemn, Luminarch Ascension, Pulse of the Fields, Renewed Faith, Worship, Martial Coup, Decree of Justice
IN:
Regarding the more control-friendly cards, I'm actually happy with most the cuts because many of them were quite clunky with the exception of Condemn, cards like Luminarch Ascension were too slow unless it was in the grindiest of control mirrors, and Wall of Reverence was, like Calciderm, a card that lost out due to competition (but is worse than Calciderm).
In the AVR update, I talked about how the cube added a ton of Avacyn Restored cards and erred on the side of inclusion. With this update, it looks like they've dialed it down; there are some notable non-inclusions, although it's difficult to say how many cards would have made it in the update if the cube was still at 720 cards.
One of them is Angel of Serenity, which is a better finisher than Akroma and Eternal Dragon and, even taking Reanimation shenanigans of the latter two into account, better overall as a card to play when hard cast that has more impact. Angel is worse than Elesh Norn (that's a hard club to get into), but it's still much better than almost all the other 6+ mana finishers such as Yosei and Avacyn, both of which did get cut in this update.
Yosei isn't alone, as all of the Kamigawa Dragons are leaving the Magic Online Cube with Yosei and Keiga being cut (Kokusho left during the black overhaul in the last update, getting replaced by Nefarox, Lord of Grixis, which was a definite downgrade). Arguably, Yosei is the best of the Dragons as a nice stonewall and has a trigger that is major pain to deal with, but I found that its best use was combining with Mimic Vat / Recurring Nightmare to create locks. But that stock has fallen behind other white finishers like Elesh Norn.
Unfortunately, it still looks like there are a lot of Wraths in white. The only one that got cut was Martial Coup, but it got replaced by a better one with Moat. I'm not suggesting cutting them because they're "too good" but because there are presently too many of them. Some of them like Rout and Terminus are pretty suboptimal and help to shift the format towards control.
Blue
A lot of cards in blue got some incidental increases from this update. Cards like Tinker, Snapcaster Mage, Upheaval, and Treachery were all great before and got boosted from the addition of mana rocks and power, while cards like Palinchron and Frantic Search that were on the lower tier got boosted through the addition of bouncelands like Simic Growth Chamber. Tinker got a boost through the cube's size reduction and a few more Tinker targets. Storm archetypes also got better because of the size reduction as well. When doing test drafts with the Magic Online Cube with bots, I found that it was much easier to get at least one storm piece. Whether it's worth going into it is another matter (it still likely isn't).
OUT:
Phantasmal Bear, Cursecatcher, Ninja of the Deep Hours, Tandem Lookout, Kira, Great Glass-Spinner, Fathom Seer, Tradewind Rider
The U/W Tempo deck was a favorite for people to draft; losing out on Kira is a pretty big hit to that archetype, even if though it was a nombo with equipment. Tandem Lookout acting as a pseudo mono-blue Edric was nice too. The others were on the weak end of the Magic Online Cube, and Phantasmal Bear's departure won't be lamented by many.
OUT:
Opt, Ponder, Ideas Unbound, Forbidden Alchemy, Thirst for Knowledge, Deep Analysis, Tidings, Future Sight
Some of the card advantage tools like Future Sight and Tidings were pretty slow, but it still felt like they got some decent mileage in the slower Magic Online Cube environment. I'm surprised that Jace, Architect of Thought and Deep Analysis got cut, as there are some cards like Careful Consideration, Compulsive Research, Gifts Ungiven, and Turnabout which are worse than either of the four-mana draw cards.
Ponder and Thirst for Knowledge are also surprising cuts, especially with other cards like Impulse and Frantic Search remaining (I'd been surprised to see Power Sink replace Condescend, but it looks like neither are in now; I am guessing that Frantic Search remains due to bounceland shenanigans), but those may have been cut because of the general tightness of blue compounded with the need to support storm through cards like Brain Freeze and Dream Halls.
OUT:
Enclave Cryptologist, Augur of Bolas, Sea Gate Oracle, Talrand, Sky Summoner, Lone Revenant Keiga, the Tide Star, Brine Elemental
It looks like the "spells matter" cards like Talrand and Augur of Bolas got cut (and from what I've heard from most people who ran them, those were good cuts), and like with Yosei, I was surprised to see Keiga go. It could safely replace Aeon Chronicler, which usually felt like it required too much mana and was too slow. Brine Elemental and Lone Revenant were very good cuts for not doing very much (doing the "pickles lock" in cube is a pipe dream and generally isn't worth it) as Lone Revenant's lack of evasion hurt it like other evasion-less saboteur cards like Neurok Commando, Dimir Cutpurse, and Augury Adept. The other cards were quality cards, but alas, them's the breaks.
OUT:
Blue Elemental Blast, Spell Pierce, Stifle, Narcolepsy, Deprive, Essence Scatter, Flashfreeze, Negate,
Dissipate, Dismiss, Desertion, Pact of Negation, Capsize, Power Sink, Repeal
Most of these changes are also good; some of these cards felt like "role fillers" such as Narcolepsy and Deprive that were ways to provide answers for decks, but they just weren't very good at it. (It reminds me of when people used cards like Moonglove Extract in Pauper cubes, for example. It did something that aligned with a deck's goals and sometimes contributed positively—it just wasn't that good at it.)
I've never been happy with Dissipate in Cube as it's a marginally better Cancel since, while it hoses some graveyard cards, it's worthless against the majority of cards. A mana's difference is HUGE for counterspells, so it's good to see it go. On the other hand, the more narrow counters like Negate, Essence Scatter, and Stifle never really did enough (although I actually like Spell Pierce and Pact of Negation, but it looks like they got cut for space).
IN:
Ancestral Recall, Time Walk, Mana Drain, Timetwister, Bribery
Trinket Mage, Inkwell Leviathan
Blue made out the best from this update for several reasons: about 1/3 of the official Power Nine is blue (and Mana Drain is no slouch either) while the rest are artifacts and Mind Twist. But thankfully, with the exception of Mana Drain, all of them are splashable, so you can safely pick them late in a draft and can usually pick up some mana fixing to support them.
Trinket Mage is one of the cards that should probably have been in the list before, but it was added now with the addition of power due to the synergy. However, it isn't only good in decks with power, although it's obviously good in decks that can get a piece of power or two. It's also not to be underestimated as a poor man's Stoneforge Mystic in blue tempo/beatdown decks; a toolbox of Bonesplitter and Cursed Scroll is pretty solid. A deck like that is the kind of deck where I generally use Timetwister, a card that I feel has been both been overrated as a part of the Power Nine and underrated as people get disappointed that they can't use it in control decks, which seems kind of counterproductive since it functions much closer to a blue Wheel of Fortune than a generic blue draw spell.
Black
OUT:
Carnophage, Vampire Lacerator, Dauthi Horror, Knight of Infamy, Nantuko Shade, Vampire Hexmage
Geralf's Messenger, Zombie Cutthroat, Throat Slitter, Sinkhole
In the AVR update, it seemed like they were stuck for ideas, so they added some black aggro support by bringing back cards like Vampire Lacerator. This update seems to have undone a lot of it. They got rid of a lot of black's two-drops, which doesn't bode well for aggro support. Like in white, some of the two-drops that survived like Headhunter and Gloom Surgeon aren't that great, especially considering that cards like Pack Rat (one of the more surprising non-inclusions because most people are familiar with how powerful it is now), Knight of Infamy, Nantuko Shade or Vampire Hexmage could easily take their place.
OUT:
Puppeteer Clique, Laquatus's Champion, Tombstalker
Tragic Slip, Deathmark, Despise, Imperial Seal, Innocent Blood, Doom Blade, Night's Whisper, Terror, Wrench Mind, Makeshift Mannequin, Diabolic Servitude, Persecute,
I'm happy to see some of the suboptimal finishers like Laquatus's Champion and Nefarox leave. Reanimator decks look like they've taken a hit with some of the Reanimation spells getting axed, but it looks like a lot of these cuts got rid of some of the weaker universally playable cards. Although cutting Doom Blade, Imperial Seal and Profane Command seems like it's going a bit far due to their power (Doom Blade may have been cut to bring in Ultimate Price, although I do wish that Doom Blade or Chainer's Edict would return to provide more creature removal.)
OUT:
Phyrexian Crusader, Korlash, Heir to Blackblade, Nefarox, Overlord of Grixis, Sorin's Thirst, Attrition, Tendrils of Corruption, Liliana of the Dark Realms, Corrupt, Spinning Darkness
Another thing that it looked like the Magic Online Cube tried to do and is retracting is support for Mono-Black Control. Cards like Corrupt, Tendrils of Corruption, Spinning Darkness, and Sorin's Thirst, weren't really worth going for in that strategy and were relatively low picks, but it looks like Liliana of the Dark Realms got some splash damage. It's a card that has been underestimated as people seem to have dismissed it for being only good in Mono-Black; I've found she's good in two-color decks as well and usually doesn't have a problem getting Swamps to +1.
One suggestion for the black section is the Pox / Smallpox / Death Cloud archetype that Chris Pikula, Matt Kranstuber, myself, and others have had success with, which combines well with a lot of the recursive black cards and some of the new RTR cards like Pack Rat and Desecration Demon.
Also note that infect is gone with Phyrexian Crusader as Skittles left some time ago, which I'm very thankful for. Those cards did not contribute that much to the format aside from Crusader being a W/R hoser.
IN:
Ultimate Price, The Abyss, Nether Void, Mind Twist
Vampire Nighthawk, Okiba-Gang Shinobi
I was really confused by the cut of Vampire Nighthawk in the last update because it felt like it was taken out in haste to try to give black a distinct identity, but this was a mistake as Nighthawk is a very powerful card in most black decks (it may be on the lower tier of three-drops in a black aggro deck that doesn't utilize its life as a resource, but I still wouldn't be embarrassed to play it in black aggro), so I'm very happy to see it return along with other cards that were taken out like the pro-black Swords (can we have Snuff Out back too?).
The enchant world is nice to support control and aggro (as a pseudo Armageddon), and Mind Twist is just dumb, especially if it's ramped out. Shinobi is on the lower end of black cards, especially since the Magic Online Cube isn't running cards like Abyssal Persecutor or Desecration Demon, but the rest of the adds are good.
Red
OUT:
Vexing Devil, Blood Knight, Slith Firewalker, Countryside Crusher, Hell's Thunder, Vulshok Refugee, Zo-Zu the Punisher, Blistering Firecat, Gathan Raiders, Goblin Goon, Thunderblust
Tibalt, the Fiend-Blooded, Pulse of the Forge, Pillage, Act of Aggression
Unlike black and white, the two-drop section didn't receive much in the way of damage, although I was quite surprised to not see Ash Zealot or Gore-House Chainwalker in this update (especially since cards like Taurean Mauler and Thunderscape Battlemage survived). But I'm very happy to finally see Lightning Mauler in the cube. There were some other survivors that I was surprised to see such as Frenzied Goblin over Stromkirk Noble and Ball Lightning over Blistering Firecat, but I was happy to see some weak cards like Thunderblust, Gathan Raiders, Vulshok Refugee, Goblin Goon, and Vexing Devil cut.
OUT:
Priest of Urabrask, Ingot Chewer, Rorix Bladewing
Gamble, Genju of the Spires, Pillar of Flame, Red Elemental Blast, Volcanic Hammer, Staggershock, Flames of the Firebrand, Beacon of Destruction, Rolling Earthquake
Pillage, Staggershock, Flames of the Firebrand, Arc Lightning, Rolling Earthquake, and Searing Spear not making the roster when cards like Smash to Smithereens, Rift Bolt, Firestorm, and Mogg War Marshall remain seems odd. I'd heard some arguments that Mono-Red was too good, but I didn't find that to be the case—it was just a good deck that wasn't difficult to beat. Even if Mono-Red was deemed to be too good, cutting first-class cards like Searing Spear, Staggershock, and Rolling Earthquake feels like cutting off your nose to spite your face and an overall downgrade.
OUT:
Akroma, Angel of Fury, Bogardan Hellkite
Devastating Dreams, Slagstorm, Pyrokinesis, Jokulhaups, Rite of Ruin, Obliterate
In this update, one of the big winners was the Wildfire / Burning of Xinye deck. The problem with supporting the deck at the 720 size was that a lot of the "weak Wildfires" like Devastating Dreams, Destructive Force, and Rite of Ruin weren't very good due to high mana or card costs. Combined with the lack of mana rocks in the old Magic Online Cube and its high size, it was hard to break the symmetry of Wildfire, but it should be much easier now, especially with four red Signets in the mix.
With the addition of mana rocks like Moxen, Signets, and bouncelands, a lot of the artifact destruction and land destruction gets incidental value. I almost always play cards like Molten Rain and Pillage in my red aggro decks. Due to the increased target count and most decks being "Signet and bounceland" decks I think it still may be right to include cards like that in slower red decks like Jund/Naya/Grixis/R/W/U Control.
I almost always maindeck cards like Manic Vandal / Keldon Vandals / Uktabi Orangutan / Viridian Shaman, and it's unfortunate that those cards aren't in the cube since they'd be played maindeck a lot. Goblin Vandal is a step in the right direction, but the lack of evasion really hurts its ability to kill opposing mana rocks unless the opponent is on the "do nothing in the early game" plan; I can see it killing some early Signets, but some of the Vandals could do the job better since they retain value in the late game as well and can be used by non-aggro archetypes.
Regarding the expensive creatures, Bogardan Hellkite was nice as a ramp / Sneak Attack target / control mirror card to pick counterspell fights, but Akroma always felt overcosted and way too clunky even when cheated into play or morphed out.
IN:
Goblin Vandal, Lightning Mauler, Zealous Conscripts
Firebolt, Faithless Looting, Mizzium Mortars
As mentioned earlier, I'm not really a fan of Goblin Vandal since red aggro decks can use other aggro beaters like Stromkirk Noble more, but all of the other additions are very welcome. I'm very glad to see the Firebolt ' Pillar of Flame undone, and Zealous Conscripts is has been one of the better aggressive five-drops in Cube.
Green
OUT:
Devoted Druid, Sakura-Tribe Elder, Wall of Roots, Somberwald Sage
Explore, Farseek, Fertile Ground, Rampant Growth, Cultivate, Kodama's Reach, Search for Tomorrow
IN:
Some time ago, Tom LaPille said that he took Signets and bouncelands out of his cube because they made aggro decks and green decks bad. After he said that, I did some research. At the time, my cube had all ten bouncelands and Signets, and I did some test drafts where I took the bouncelands out and replaced the Signets with other mana rocks (like Prismatic Lens) and wrote an article dispelling the myth. The tl;dr version of it is as follows:
"When I first heard the argument about green being weaker because of Signets and bouncelands I thought, 'Why should I cut Signets because they make cards like Rampant Growth look not good enough? Shouldn't I just cut Rampant Growth because it's not good enough?' Instead of using cards like Rampant Growth in my cube, I've only used the ones that I've considered to be better than the Signets and the other mana rocks. Signets shouldn't be taken out because they're too good; green mana acceleration and fixing should use Signets as a benchmark because if a green fixer/accelerant isn't as good as a Signet people aren't going to use it."
When I did this, I cut the green mana fixing that I felt was worse than Signets and bouncelands and used those powerful mana fixers and accelerants as the benchmark. Green's role was not jeopardized because it had good mana fixing and acceleration, and the overall cube meta didn't change once I took out the Signets and axed bouncelands—aggro was still a strong archetype in my cube, just like it was before.
There's the argument that cutting Signets and bouncelands gives green an identity, but the problem is that it doesn't even really do that. Having drafted cubes with no Signets and bouncelands, it didn't make green "the ramp color," it just meant that it had more ramp options (some better than Signets, some worse) available and that when drafting non-green control decks I still utilized cards like Mind Stone, Talismans, Everflowing Chalice, and Thran Dynamo to accelerate and took them accordingly.
Many cubes are able to support aggro even with all ten of the Signets and bouncelands like Anthony Avitollo's cube and Kenny Mayer's cube (Kenny's cube doesn't have all ten Signets now and does not use bouncelands, as he only has the non-green Signets, but the aggro % in his meta is not different from when he ran all ten signets and bouncelands), and others on the MTGSalvation Cube forum use partial cycles of Signets and bouncelands because the aggressive-leaning color paired Signets like Boros Signet weren't doing enough in their cube. Justin Parnell cut the bouncelands from his cube because they were a liability against decks with disruption.
It can be convenient to point to Signets and bouncelands and say, "That's the problem," with regards to aggressive strategies since in those metas it's the "Signet and bounceland decks" that are dominant. However, as the testing showed in my article, those mana producers weren't the cause at all. In previous iterations of the Magic Online Cube, it was shown that the root cause was weak aggro support; Max McCall's statement that aggro being worse is the fault of Signets and bouncelands is false. When I tested the Magic Online Cube's current iteration, the portion of the Magic Online meta with aggro was about the same as it was before, so it wasn't the mana rocks and power that were causing the problems with aggro.
Green ramp was one of the better strategies in the old Magic Online Cube. I've heard people complaining that green won't be good anymore because of the lack of ramp, but I don't think that's true.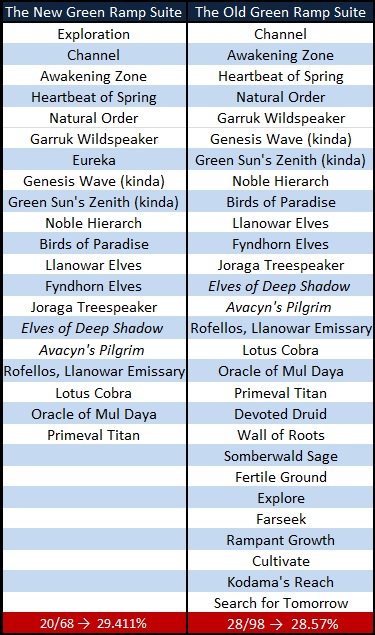 A lot of the ramp cards that were cut could fall under the "worse than Signet" rule which I defined in my article. I haven't gone as far as to cut Sakura-Tribe Elder, Cultivate, and Kodama's Reach (the latter two I've been considering cutting lately) and I'd argue whether they're better/worse than Signets in the first place (Kodama's Reach / Cultivate probably are, STE probably isn't), but the cuts represent pruning the cards that don't compete with the improved mana acceleration. Cutting STE may be a step too far, but I'm a fan of what the other cuts represent.
The ones that arguably aren't better than Signets, like Heartbeat of Spring, are better for the "put some giant monster like an Eldrazi into play ASAP" type of mega ramp deck than a generic control deck. The ramp that is for those decks is still there for the "go big or go home" type of decks. For those who are scared that green won't be good in the new Magic Online Cube, I think those fears are overstated.
OUT:
Jade Mage, Daybreak Ranger, Great Sable Stag, Leatherback Baloth, Troll Ascetic, Blastoderm, Brooding Saurian, Phantom Centaur, Yeva, Nature's Herald, Hystrodon, Thornling, Cloudthresher, Mold Shambler
Prey Upon, Moment's Peace, Seal of Primordium, Vines of Vastwood, Krosan Grip, Moldervine Cloak, Lead the Stampede, Overrun
The rest of the cuts comprise of non-ramp cards, although some of them were utilized heavily in ramp strategies like Moment's Peace and Cloudthresher. Some of the creature cuts like Great Sable Stag / Ascetic / Blastoderm / Thornling seem questionable because they're all strong creatures that work well at being persistent threats, but the rest of the cuts are good.
Some cards like Krosan Grip, Mold Shambler, Brooding Saurian either didn't do enough for their cost or were mostly hosers. Other cards like Lead the Stampede, Hystrodon, and Moldervine Cloak were good for getting some weak cards out. (I never really saw Lead the Stampede do much since it was hard to make it better than Divination and even though green doesn't get much in terms of direct card draw it's not that starved for it.)
Artifacts
OUT:
Aether Vial, Basilisk Collar, Black Vise, Ankh of Mishra, Grafted Wargear, Eldrazi Monument
IN:
Winter Orb, Bonesplitter, Sword of Feast and Famine, Sword of Light and Shadow
Some quality aggro cards like Ankh of Mishra and Grafted Wargear are awkward to see cut, but if that means that quality aggro cards like Winter Orb, Bonesplitter and the two pro-black Swords are back, I'm ok with that if that's the price we have to pay, although I'd personally prefer seeing a suboptimal hoser like Null Rod not get included instead.
OUT:
Lotus Petal, Prismatic Lens, Sphere of the Suns, Coldsteel Heart, Fellwar Stone, Palladium Myr
IN:
Black Lotus, Mana Crypt, Mox Sapphire, Mox Ruby, Mox Pearl, Mox Jet, Mox Emerald
Azorius Signet, Boros Signet, Dimir Signet, Golgari Signet, Gruul Signet, Izzet Signet, Orzhov Signet, Rakdos Signet, Selesnya Signet, Simic Signet, Metalworker
Chromatic Lantern not replacing Pristine Talisman is surprising, but it seems like five-color fixing is intentionally curtailed; City of Brass is a notable exclusion from this cube as well as other cards like Reflecting Pool (but Thawing Glaciers is in, which does throw a wrench into that theory).
As mentioned with the "worse than Signet" discussion, a lot of the mana rocks would probably qualify as being worse than Signets. The mana rock count went up by fourteen with this update; five out (Prismatic Lens, Fellwar Stone, Sphere of the Suns, Coldsteel Heart, Palladium Myr) and nineteen in (five ABU Moxen, Mana Crypt, Mana Vault, Black Lotus, Sol Ring, ten Signets).
OUT:
Tormod's Crypt, Pithing Needle, Relic of Progenitus, Isochron Scepter, Mortarpod, Powder Keg, Mimic Vat, Tumble Magnet, Phyrexian Processor, Lashwrithe, Mindslaver, Engineered Explosives
Hex Parasite, Spellskite, Platinum Angel
IN:
Null Rod, Blightsteel Colossus, Emrakul, the Aeons Torn
The problem with Blightsteel and Emrakul isn't that they're "too good" but they're in the "great when they work/worthless otherwise" camp. The story factor may make people overrate both of these, although Blightsteel Colossus does replace Platinum Angel, which wasn't very good as a Tinker target or as a finisher. Mimic Vat is a surprising cut, as is Spellskite (although Pithing Needle's a sad card to go), and I think those two quality cards were cut to make room for them. Like in blue, I think it was more just an issue of space than quality.
Multicolor
OUT:
Voidslime, Goblin Legionnaire, Goblin Trenches, Mortify, Giant Solifuge, Creakwood Liege, Putrid Leech, Spiritmonger, Putrefy, Niv-Mizzet, the Firemind, Nucklavee, Call the Skybreaker, Dryad Militant, Loxodon Hierarch, Sigarda, Host of Herons, Grimgrin, Corpse-Born, Havengul Lich, Psychatog, Undermine, Olivia Voldaren, Bituminous Blast, Terminate, Sarkhan the Mad, Augury Adept, Drogskol Reaver, Absorb, Bant Charm, Cruel Ultimatum, Esper Charm, Realm Razer, Woolly Thoctar
IN:
Vraska the Unseen, Abrupt Decay, Dreg Mangler, Izzet Charm, Niv-Mizzet, Dracogenius, Armada Wurm, Rakdos Cackler, Dreadbore, Baleful Strix, Tezzeret, Agent of Bolas, Supreme Verdict, Sphinx's Revelation
The changes to the sections are as follows: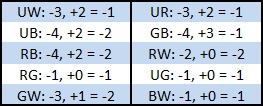 If you watched this year's Community Cup, you may remember that Isperia, Supreme Judge was in the Magic Online Cube.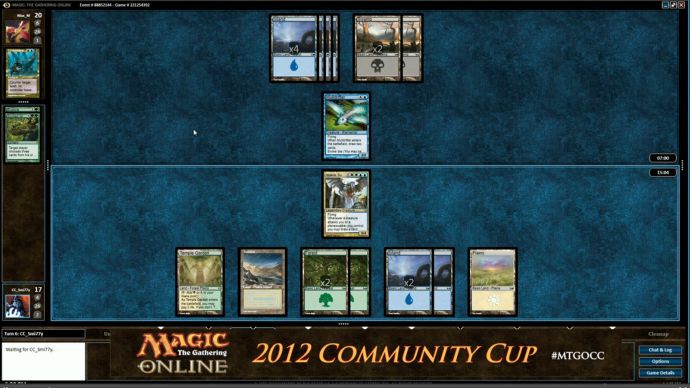 However, you'll note from the list itself that Isperia no longer is there, which is a good move even if it was just lost in the size reduction. A lot of multicolor cards got cut, and the sections are not equal.
Dryad Militant was the preview card for RTR, but it got axed. I'm not a big fan of it; it can be easy to dismiss the card by outsourcing the evaluation of it to other formats since there isn't really a home for it in Standard (B/R and Mono-Red seem to be the colors of aggro du jour) and it has a hard time breaking through the X/3s that define the RTR Limited format. But it's still a solid card that, for the most part, acts like another Savannah Lions.
A lot of the other RTR cards were pretty much as expected (although Lotleth Troll and Deathrite Shaman could easily replace Abrupt Decay and Vraska). I'm also surprised to see Detention Sphere not in the list as even a harder to cast Oblivion Ring is still great. However, it's good to see a card like Tezzeret, Agent of Bolas make it in this update. I think it was added because of the power, but unpowered cubes can utilize it just as well. Its relative narrowness makes it so that every B/U deck can run it, but that doesn't make it bad; most B/U decks generally won't have a problem getting to the seven plus artifacts needed to make it good (U/B Tezzeret is more about having a high number of artifacts, whereas Tezzeret the Seeker is more about the toolbox),
The tricolor cards that left won't be missed. Realm Razer and Cruel Ultimatum were nice cards to mise on the loop if you were in the archetype, but like with the hosers, room is getting tighter so getting rid of the low picks is a good way to improve quality. The multicolor sections may shift in other directions with Gatecrash (hopefully something good will replace Cold-Eyed Selkie, which feels like a card that's more in for completeness sake than its quality), but most of the other changes were good (with Terminate being cut being one of the few exceptions).
Lands
OUT:
Cathedral of War, Mutavault, Tectonic Edge, Desolate Lighthouse, Slayers' Stronghold
Kjeldoran Outpost, Tolaria West, Barbarian Ring, Cabal Coffers, Urborg, Tomb of Yawgmoth, Hellion Crucible, Academy Ruins, Yavimaya Hollow
IN:
Dust Bowl, Ghitu Encampment, Library of Alexandria, Mishra's Workshop, Tolarian Academy, Volrath's Stronghold
These lands were cut to shrink this section. Most of these are good cuts because they were loose ends in the land cycle. Through these cuts and adds, the land section is now the tightest in the Magic Online Cube. That said, cutting Mutavault is a pretty big mistake since I would instantly take Dust Bowl or Thawing Glaciers out to bring Mutavault back in, even though Thawing Glaciers has nice interactions with bouncelands.
OUT:
Celestial Colonnade, Lavaclaw Reaches, Raging Ravine, Stirring Wildwood, Creeping Tar Pit
Clifftop Retreat, Dragonskull Summit, Drowned Catacomb, Glacial Fortress, Hinterland Harbor, Isolated Chapel, Rootbound Crag, Sulfur Falls, Sunpetal Grove, Woodland Cemetery
IN:
Azorius Chancery, Boros Garrison, Dimir Aqueduct, Golgari Rot Farm, Gruul Turf, Izzet Boilerworks, Orzhov Basilica, Rakdos Carnarium, Selesnya Sanctuary, Simic Growth Chamber
It's shocking to see the Worldwake manlands go (especially fan favorites Celestial Colonnade and Creeping Tar Pit), but since the Magic Online Cube uses complete cycles and after looking for potential cuts, it looks like the manlands got the axe due to the section being tight. The manlands are excellent lands, but the only way that the five could come back is if other sections get trimmed. The bouncelands replacing the buddy system lands (Glacial Fortress) is an overall upgrade as both are land cycles that tend to lean more towards control.
That said, you can run bouncelands in aggro decks as a way to cheat on land counts. Think about Joe Bernal's B/R Aggro deck from a few months ago that used the Guildgates—you can mitigate the drawback of entering the battlefield tapped by having a low mana curve. There are some differences, like not being able to keep one-landers and the liability versus land destruction, but the concept remains the same (although I don't tend to run bouncelands in aggro very often). However, an aggro deck with a bounceland or two is much less awkward than an aggro deck with a Signet or two, as the casting cost on the Signet is a definite stumbling block, but it's nice to have when you're going over the top in an aggro mirror (as is having bouncelands in general in a control mirror to ensure land drops).
I've heard some that people aren't fans of having painlands like Underground River in control color pairs, but since the Magic Online Cube uses full cycles, I'm perfectly fine having Underground River if it means that there is essential early turn mana fixing for aggressive color pairs like Battlefield Forge and Caves of Koilos.
I hope that this article has given you insight into the changes that have been made to the Magic Online Cube for the powered Holiday 2012 iteration of it.
May all of your opening packs…of the Magic Online Holiday 2012 Cube contain Sol Rings!
@UsmanTheRad on Twitter
My blog featuring my cube lists: http://idratherbecubing.wordpress.com
Cube podcast that Anthony Avitollo and I co-host: The Third Power