What do you want first, the good news or the bad news?
Umm, I guess the good news.
Multiple new decks are popping up in Legacy, the metagame is evolving, and everyone seems to have figured out that you can play Brainstorm instead of Mother of Runes.
Ok, that's promising. What's the bad news?
Everyone seems to have figured out that you can play Brainstorm instead of Mother of Runes.
I love Legacy, and I love how much the format has survived, grown, and thrived. There is no tournament format with nearly as many playable cards as Legacy, and it is awesome to see it continue to evolve. It is because I love it that I choose to pull no punches regarding Maverick.
There's an old saying in poker: "Don't tap the glass." That is a suggestion or request to another shark to not scare away the fish. After all, the lives of all the sharks are much better as long as they can keep getting the fish to show up. That is part of the beauty of a game like poker, where being far better than someone might translate to a 54% edge in a given hand.
If the better player won 75% of the hands instead, the fish would almost certainly swim away. Without them, the sharks are forced on each other. It isn't just that the lowest tier of sharks becomes the fish. Rather, the sustainability of the game is thrown into question because without the fish it's possible that few, if anyone, can win enough to actually make a good living.
Legacy needs the fish.
The StarCityGames.com Invitational now features twice the money of a Grand Prix, and the competition is getting steeper and steeper. Just look at the Top 8 from this past weekend:
Reid Duke, Nick Spagnolo, Todd Anderson, Adam Prosak, Matt Nass, Ben Weinburg, Leon Kornacki, and Jonathon Job
Wow, the t8 of the #scginvi is pretty good

— Paulo Vitor (@PVDDR) December 16, 2012
No question, that lineup is fierce, but here's the $75,000 question.
"How many of those players played Maverick?"
As you probably guessed from the contextual clues, zero.
That's not really fair. After all, the competition was half Standard. What about the people that did well in Legacy but didn't get there in Standard?
Also zero. Looking at the decks of everyone that went 7-1 or better in Legacy as well as everyone that made Top 8 of the event, we are looking stone zero Maverick decks (and somehow Mother of Runes failed to show up anywhere else).
On the surface, this seems like a big step forward for Legacy. After all, having to face more Brainstorms and less Mother of Runes has to make the format tougher, right? Better competition is a good thing, right?
Legacy needs the fish.
Playing Mother of Runes wasn't atrocious or anything. After all, Maverick has won its fair share of matches, including a few Opens and an Invitational. The thing is that you can play Brainstorm, Force of Will, Jace, the Mind Sculptor, Entomb, Show and Tell, Dark Ritual, Time Spiral, and so on. Playing Mother of Runes in some sort of fair G/W creature deck could be a great way to surprise people and hit the format from an angle it wasn't expecting.
However, for G/W creature decks to become a pillar of the format...
A lot of people reading are probably G/W fans, and that's cool. I love the deck existing and hope in my heart of hearts that someone comes out and proves that Maverick still has what it takes to win. After all, as long as Legacy can survive as a format that allows Brainstorm, we are all winning. Very few people do as much to keep Brainstorm legal as the people that play Maverick. It is without irony or sarcasm that I say Legacy is better as a result of Maverick players.
Maverick has been a great thing for Legacy, and it getting completely blanked this weekend is certainly not proof of its demise. The printing of Mental Misstep turned the format on its head since the illusion that you can play non-blue Legacy decks was being threatened. Maverick helped restore that illusion and brought fish back to the table.
It isn't even just Maverick adding so many non-Brainstorm decks to the field. It is also full of creatures and interactive elements. It leads to adding and blocking, it expands how many different types of cards get played, and it threatens anyone that builds their deck too anti-blue.
What does the format look like without it? Let's take a look at the top performing decks from this past weekend.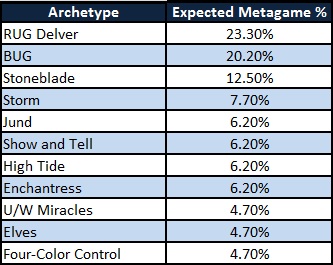 This breakdown follows a slightly modified formula compared to our usual expected metagame percentages, as the results are from a mixed format tournament with a Standard Top 8. Weighting points were awarded the following ways:
5 - Undefeated in Legacy in Swiss or both made Top 8 and 7-1'd the Swiss
4 - Finished 7-1 in Legacy in Swiss
3 - Made Top 8
2 - Made Top 16
Ok, what can we see? To start with, RUG Delver taking the top spot is no surprise. Stoneblade decks have traditionally joined RUG Delver and Maverick as the big three, so seeing it in third is also to be expected. What's interesting is the rise of BUG, ascending to the top 3. What makes it doubly interesting is the divide in BUG decks between those with Shardless Agent and those without. Here are examples of both:
Creatures (12)
Planeswalkers (3)
Lands (22)
Spells (23) Creatures (13)
Planeswalkers (6)
Lands (23)
Spells (18) It is fascinating just how similar these decks are despite one containing a cascade engine. The key is that the deck is not set up to break cascade in half but rather just get an efficient card (a la Bloodbraid Elf) and the very reasonable dream of triggering a free Ancestral Visions (which can be set up by Brainstorm or Jace, the Mind Sculptor).
One of the many common themes is the use of four Deathrite Shaman main. In Legacy, Deathrite Shaman is like a Birds of Paradise that can attack for one or two, provide some much needed life to fuel Dark Confidant, and give access to powerful maindeck graveyard hate, fighting Entomb, Snapcaster Mage, Life from the Loam, and more.
Another new staple to the format, Abrupt Decay appears to have cemented its spot. For two mana, it kills most of the format's threats, but it's the uncounterable aspect that makes it a homerun. It nearly invalidates Counterbalance as a strategy; it serves as an incredible weapon against RUG Delver decks that try to use a dozen zero or one-mana counterspells to try to tempo you out while bashing with a Tarmogoyf.
One place where these players diverge is in their use of maindeck Force of Will. Playing less than four maindeck Force of Will is so common now that people don't even think twice about it. At the end of the day, Force of Will is just not that great in the attrition matchups, such as RUG Delver versus BUG or the mirror. Reid has opted to not maindeck any, instead packing Liliana of the Veil. Added planeswalker power and added removal gives him more power against the fair creature decks, although with around 30% of the field being combo, it is not clear if it is really safe to try to get away with that.
The final principle difference between Reid and Todd's lists is Reid's use of Dark Confidant. Without Ancestral Visions, he needed another card drawer. Not surprisingly, Bob finds another home.
Before we move on, here's a RUG Delver list and an Esper Stoneblade list for updating gauntlet decks. These decks are not going anywhere, and if you are serious about preparing for a Legacy tournament, experience against these decks is crucial.
Creatures (12)
Lands (18)
Spells (30) Creatures (9)
Planeswalkers (3)
Lands (23)
Spells (25) Returning to the chart above, the next thing to notice is that once you get past the new big three, we see a bunch of combo decks, some control decks, and a Jund deck. Let's start with Jund.
Creatures (18)
Planeswalkers (3)
Lands (22)
Spells (17) That's right, actual Jund, complete with Bloodbraid Elf, has finally made its way to Legacy! Legacy enthusiasts might recall that this is not the first time Jund has popped in (even setting aside Aggro Loam decks), and they'd be right. However, the archetype has never really broken into the mainstream, and it remains to be seen if this is a random spike or the beginning of the new Maverick.
For starters, we see Deathrite Shaman, Abrupt Decay, and even Liliana of the Veil, continuing the trends from above. I absolutely love Hymn to Tourach in Jund, a card that puts even Blightning to shame. I might be slightly concerned about only running seventeen black lands; however, the Deathrite Shamans do go a long way towards ensuring you can make that second black.
When people are playing decks like this, it helps make clear why nobody is winning with Maverick, anymore. Jund has always been at its best against fair creature decks, and a sequence of turn 1 Deathrite Shaman, turn 2 Liliana, turn 3 Bloodbraid seems absolutely devastating, to say nothing of the Bolts, Decays, and discard. With eleven discard spells, Loxodon Smiter is tempting, but Hymn is random, Inquisition rarely hits it, and Liliana is mostly an Edict with upside.
It isn't clear if Jund will stick around, but if it does, that is trouble for G/W. It seems unlikely that Jund will ever be as popular as G/W was, meaning the format is even more blue-centric than it used to be. Looking at the chart above, we are talking 86.8% of the successful decks used Brainstorm (which has already subtracted the one Stoneblade deck that used red instead of blue a la Gerard Fabiano).
We have discussed Brainstorm in Legacy at great length in the past, but it is worth reminding that Legacy can't sustain this high of a Brainstorm count. How high is too high? It's not clear where the line is, but if I were to hazard a guess, I'd say north of 75% is unhealthy (even given that the format is set up to completely revolve around the card).
I certainly don't advocate banning Brainstorm, as nothing would be as effective at killing the format. What I do advocate is exploring non-Brainstorm decks (if you are into that sort of thing). Maybe Maverick can make a comeback, but maybe it can't. Either way, Legacy needs some people playing non-blue decks to actually show up or the long-term replayability of the format will suffer.
We mentioned earlier, over half of the decks outside of the big three were various combo decks (and Miracles is not the "least combo" deck in the world). This is nothing new for Legacy. The tools exist to beat any combo deck you want, but there are more of them than you can generally handle at the same time. As a result, there is a perpetual guessing game going on, as the combo players always strive to be one step ahead of the field and the hate.
Let's take a quick look at this week's batch of combo decks, looking for patterns.
Lands (15)
Spells (45) Notice the full package of Abrupt Decay. Counterbalance has traditionally been a nightmare for Storm. Abrupt Decay looks like it may have tipped the balance of power.
Most of the choices are no surprise to players familiar with Legacy Storm decks, but it's worth calling attention to Carpet of Flowers. This is an often-overlooked color hoser from the old days that is being used to combat blue tempo decks, particularly those with Wasteland.
While Storm benefits greatly from Counterbalance losing its place in the meta, it is not happy at all to see the Maverick decks replaced by decks full of discard like BUG and Jund.
One of the most prolific combo cards in the format, Show and Tell, continues to do reasonably well, allowing players to cheat Emrakul and Griselbrand into play. Whether to support this with Sneak Attack or Omniscience / Burning Wish is still up in the air, so here's an example of each:
Creatures (8)
Lands (19)
Spells (33) Creatures (4)
Planeswalkers (2)
Lands (18)
Spells (36) It is particularly important to note that Burning Wish can find either Show and Tell or a fatty (Time of Need), helping you set up a Show and Tell Fatty plan or just ensuring you win by sticking an Omniscience.
One combo deck that waxes and wanes in popularity is High Tide. The unbanning of Time Spiral makes this a very deadly strategy; however it is not at its best against Hymn to Tourach. It does benefit from the decline of Counterbalance, though.
Lands (18)
Spells (42) Enchantress is another of these "hot one week, not the next" decks. Enchantress is actually not too bad against blue decks but often struggles against faster combo decks. These decks don't always play blue, but the following list is just about the most ambitious Force of Will deck I've seen in a long time.
Creatures (11)
Lands (19)
Spells (30) That's right! Assuming you board in the Chills, you can get up to eight(!) non-Force of Will blue cards! Aggressive...
Finally, we have one more combo deck of the week. Elves seems to come back into popularity every so often but can be hated out by people that want to. Engineered Plague is a very real thing and is very good. Of course, we are seeing yet another benefactor of the decline of Counterbalance.
Creatures (32)
Lands (16)
Spells (12) Ok, now moving to the control decks, we first encounter Nick Spagnolo's Four-Color Control, though at its core, it is really a variation of BUG.
Creatures (15)
Planeswalkers (5)
Lands (22)
Spells (18) Basically, Nick added Knight of the Reliquary to BUG as well as a few sweet splashes like Armageddon.
Our final deck of the day, U/W Miracles, makes the case that Counterbalance isn't completely dead.
Planeswalkers (3)
Lands (22)
Spells (35) To start with, the most exciting innovation in Jobs' list is the use of Rest in Peace + Helm of Obedience. Getting these two cards together lets you mill your opponent out for a single mana since no creature ever "goes to the graveyard." Helm of Obedience + Leyline of the Void has been often discussed but is tough to dig for since casting Leyline is annoying. Rest in Peace actually works much better for this purpose, and it will be interesting to see just how many people adopt this approach.
One thing I wonder about is if there is any way Dredge could adopt the Helm/Line combo. You can still sideboard in Leylines and Helms, but if your opponent plays Rest in Peace against you, it is like you got a free Leyline. It seems like there might be too many people playing Surgical Extraction and Grafdigger's Cage instead, but if that balance tips, this could be a fun way to catch people by surprise.
The other piece of technology that Jobs makes use of is Energy Field. This isn't "new," per se, but is bringing back technology that hasn't been seeing as much play. I question its place in a world full of Inquisitions and Hymn to Tourachs, but it does buy a lot of time against aggression.
What would I play in Legacy? Well, Grand Prix Denver is coming up, so I am definitely getting ready myself. If the GP was tomorrow, I'd play BUG, but I'm going to be doing some brewing during the next couple of weeks. I think Deathrite Shaman is one of the most important cards to understand about the new Legacy, and I am not sure anyone has figured it out completely yet.
I'll be back tomorrow with an in-depth look at the Standard portion of the Invitational and the Standard Open. See you then!
Patrick Chapin
"The Innovator"