It's the start of game 5. Don't worry; there aren't that many people watching. Not a lot on the line, just playing for a few thousand dollars. You've been there before. You'll likely be here again at some point in future. So what's the big deal?
...
People try to tell me sometimes that "money doesn't matter." There are a lot of things in life that we get for free or are fortunate enough to be given. Well, I can honestly say that the money absolutely matters, and the thought of losing it is pretty stressful to most people, myself included.
There was a lot of pressure on my Quarterfinals match last weekend at the SCG Invitational in L.A., and even more that I put on myself to try and go "back-to-back." I had a lot of friends (and even family) watching back home rooting for me. There was no prize split amongst the Top 8 competitors, and every time I won or lost a game in the match, I took a second to reflect on exactly what it meant. Whether or not the players in the Top 4 would split or not was relevant to me, though I should have been focusing more on the match at hand.
Suffice it to say, I buckled under the pressure.
For those of you who follow the StarCityGames.com Open Series, you probably know what happened. The short version is that I messed up. Badly. There really is no excuse, as it wasn't a "bad line of play," and there is basically no reason that it should have happened. I got tunnel vision. I couldn't see what was plain as day to everyone else watching.
I tried using an Izzet Staticaster on turn 3 to kill an Avacyn's Pilgrim instead of the Mayor of Avabruck that was pumping it. Things did not end well.
For starters, I would like to say that my mistake happened long before this. As for sideboarding, we had worked on a plan the night before that I thought would make the matchup pretty easy. During the match, Ben Wienburg threw some curveballs at me and kept in some cards (and sided in some cards) that I didn't think he would have. Zealous Conscripts, for one, was a card that I didn't expect and thoroughly blew me out in game 2 and made me question our sideboard plan entirely.
Aside from that, moving on to the fourth game of the match, there was a situation where Ben cast Nevermore naming Supreme Verdict when he was behind on board. The pieces of the puzzle didn't come together in my head to set off any alarm bells, and I used my following Oblivion Ring to take out his Restoration Angel so I could race him over the next few turns. When Ben played his Sigarda, Host of Herons, I had very few outs to it and promptly died.
At that point, I knew I would be on the play in game 5, and I had to play tightly if I wanted to win. My mulligan to start the game didn't help matters, but I knew there was no reason to go on tilt. After we both kept our hands, I had the following opening six:
When Ben led off with Avacyn's Pilgrim, I thought I should gain as much card advantage as possible with my Izzet Staticaster, going for Augur of Bolas on the second turn as opposed to just using Pillar of Flame on his Pilgrim. At the time, there was nothing else on this planet that could have convinced me otherwise. I was already down a card, and I needed (above all else) to recoup that lost card.
Of course, Magic isn't just about card advantage. There are a lot of other aspects of Magic that focus on board advantage, tempo, and resource management. This was a point in the game where I could have stifled his resources and stalled his board progression by killing his Pilgrim on the second turn but was completely blinded by the prospect of losing a card in the process.
If I had killed his Pilgrim with Pillar, I would have drawn a land, allowing me to kill his Mayor of Avabruck or Champion of the Parish on turn 3 with Staticaster, and followed the rest of the turns using Restoration Angel and Augur of Bolas to dig me out of various situations.
The game would have been completely different, and the result could have gone in my favor.
One part of Magic that people focus too much on (including myself) is card advantage. At the end of the game, it doesn't matter how many cards are in your hand. If you didn't cast as many spells as your opponent, or deal with the cards they played, then you're probably going to lose. Even though you're gaining an "advantage" when you cycle through your Think Twice, it doesn't help when every card you draw is too reactive, or useless.
While card advantage is an important aspect of Magic, it shouldn't be the end-all be-all, and that is definitely where I made my biggest mistake in the Quarterfinals match. I should have focused on keeping him low on resources so that I could buy myself enough time to stabilize with Izzet Staticaster. By allowing him to keep his Avacyn's Pilgrim around, I let him play multiple spells a turn for the first few turns of the game and ultimately fell too far behind. If I had just used Pillar of Flame on his Avacyn's Pilgrim, who knows what would have happened.
Pull the Trigger
I also saw a few comments on Twitter and Facebook condemning a point in game 1 where my opponent missed a trigger on his Champion of the Parish. This has been a pretty important topic lately, as missed triggers have always been somewhat of a pet peeve of mine, so we're going to take a moment and focus on the most recent changes in the rules.
Before the sweeping rules changes early this year, I felt like, too often, I would have to "play the game" for my opponent. Reminding someone every time they have a trigger is pretty annoying, and I am glad that the people who make the rules understand that this is not a game that should play itself. If someone makes a mistake, they should be punished for it, in one way or another.
However, with the current system, I feel like a complete and utter jerk every time my opponent misses a trigger and then realizes it "too late." Either they have passed the turn or continued on to other actions in the game. In this regard, I usually give my opponent one "freebie" and don't expect them to make that mistake again. But when the tournament gets closer and closer to an end, I always feel my mindset change in this regard. When there is more on the line, I get more cutthroat. I wouldn't blame anyone for doing the same.
If you are in the Top 8 of a tournament, you should get no reprieve. Follow the rules, and don't expect mercy at any point. I don't expect anyone to give me any, but I also don't expect to get railed for doing something that is not only legal but also reinforced by those who make the rules. When Ben played his land, he was signifying to me that he had missed his trigger. When he was about to move to combat, he realized that he had missed the trigger on his Champion of the Parish and tried to add it. I immediately said that he had already played his land and had passed the point where it was acceptable to put the counter on his creature.
While the head judge disagreed with me and ruled it as "out of order sequencing," I don't think what I did was wrong in any way. If you make a mistake, accept it and move on. If you think your opponent made a mistake and you call a judge, you should accept the ruling of the head judge and move on. That is exactly what happened.
You should never feel bad about following the rules.
Triggers have always been a tricky issue and something that I've always tried my best to be on top of. "May" and "must" triggers were always troublesome because you had to know exactly what every card in a format did in order to gain an advantage. You couldn't let your opponent forget their trigger if it was a must, but you would also be giving them a pretty significant edge by reminding them of a "may" trigger.
As it stands now, you have no obligation to remind them of any trigger. If they miss it, then that's just too bad. If they remember it immediately after taking another action, then it still usually doesn't matter, as the opponent has the option of giving it to them or not.
[Editor's note: For more on the new trigger rules, check out Jason Flatford's article on the Select side today. –Lauren Lee]
The "Death" of Maverick in Legacy
I'm not going to lie to you. I love Maverick. It is one of my favorite decks of all time, and I honestly have no idea why. Something Kibler-esque inside of me really likes casting Noble Hierarch into Knight of the Reliquary, but I'm under the impression that those days have passed. No one seems to think that Maverick is good anymore, but I'm honestly not sure why. At the moment, the format seems to revolve around "fair" decks, and Maverick was always really good at beating up on the fair decks.
So what's the problem?
Mother of Runes should be seeing a lot more play at the moment. She is one of the few creatures in Legacy that can protect your creatures from Abrupt Decay, which is the premier removal spell of the current format. BUG, in all its forms, has been cropping up a lot lately, and they all seem to have the common theme of playing four Abrupt Decay. Of course, this spell is incredible against Knight of the Reliquary, as well as all of your other threats, but that shouldn't be a big deal when you have Mother of Runes in your deck, right?
I think that Maverick's death might be a little over-stated at the moment, but I can certainly see that people are afraid to play with Maverick because it has continually under-performed over the last few months. Even me, a Maverick aficionado, has refused to pick up the deck since before the last Invitational. Of course, this originally had something to do with the rise of Show and Tell and Miracles, but with Abrupt Decay keeping Counterbalance in check, I'm not so sure that the Death of Maverick is so finalized.
Mother of Runes, while a great protection spell for your hate bears, might not be enough. While it does counter Abrupt Decay, I'm not sure that your hate bears are as powerful as they used to be. Thalia, while awesome, doesn't slow down the Show and Tell decks nearly enough to give you a significant edge. Gaddock Teeg is not as much of a dagger against combo as he used to be and turns off all your Green Sun's Zeniths. As for the rest...
Well, they weren't doing a whole lot of good in the first place.
If Maverick hopes to survive in any shape or form, it has to evolve. For one, I don't think people are as greedy as they used to be. If you take a look at all of the U/W decks from the Invitational, they all have a ton of basic lands to search up with their fetchlands, protecting them from Wasteland. This was one of the biggest reasons why Maverick was so powerful: Wasteland. When everyone can just shrug it off, Maverick isn't nearly as good (which is one of the reasons why I put the deck down in the first place).
While Legacy is moving away from Noble Hierarch, it is moving closer and closer towards Deathrite Shaman. Deathrite Shaman is the love-child of Grim Lavamancer and Birds of Paradise and is as good as everyone says it is. While Deathrite Shaman has some powerful abilities, you should not forget that it also acts as a deterrent for graveyard-based combo decks. There is a reason why Dredge and Reanimator haven't been showing up in Legacy for a while.
But this might just be a common misconception. I almost played Dredge at the Invitational in Los Angeles because I thought people would be skimping on their graveyard hate thanks to the fact that they had Deathrite Shaman in their deck. With so many combo elements in the Dredge deck, I thought we could just power through a Deathrite Shaman no problem.
After playing some games against it, I figured out just how wrong I was.
Deathrite Shaman, while only acting as a way to eat one card per turn, beats about one-third of Dredge's draws by itself. Throw in some timely Force of Will, Spell Pierces, or pretty much any disruption, and it becomes much harder to win. I think that Dredge and Reanimator are quite done for a few months until something comes along that absolutely punishes people for playing a lot of small creatures…
Oh my, how I've missed this spicy little number. Yes, this combination is banned in Modern. Yes, I think it is time for it to rise again in Legacy. I've always been a fan of Grove and Punishing Fire when the format called for it. When everyone is playing Maverick and RUG Delver, Punishing Fire is probably a great answer. When everyone is playing Show and Tell and Reanimator, then maybe not so much.
Regardless, I think that when everyone is playing Deathrite Shaman, this is a perfect time for Punishing Fire to burn its brightest. I'm not sure what shell is currently the best for it to fit in, but there has to be some deck out there that might want access to a recurring source of removal...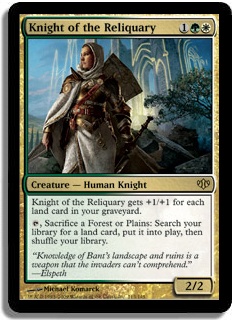 Perhaps Maverick? With Knight of the Reliquary leading the way, fetching out Grove of the Burnwillows could be pretty awesome. You need a significant way to deal with so many annoying, small creatures, and this could be it. While you won't be able to play this combination along with Thalia, Guardian of Thraben, it might just be what you need to battle a field full of Deathrite Shaman and Delver of Secrets.
When everyone is playing fair, you just need to be more fair.
Of course, you are folding to virtually every combo deck in existence, but that is just a sacrifice you need to make. Deathrite Shaman decks have a slew of discard and counterspells to keep those decks in check. Hopefully you can have a sideboard full of answers, but don't expect any mercy from the Show and Tell delegation.
During the few matches I had on camera at the SCG Invitational in L.A., some people noticed that I was using Thought Scour almost exclusively on my opponent. Yes, I had Think Twice, Runechanter's Pike, and Moorland Haunt in my deck. Thought Scour should have been targeting me so that I could gain more of an advantage out of those cards, right?
Wrong.
This brings up some interesting opinions and concepts involving Magic, as well as the deck I played at the Invitational. Playing with cards like Thought Scour can be particularly dangerous in some scenarios. With the current configuration, we only had one copy of Runechanter's Pike and Moorland Haunt, meaning that we could no longer afford to "accidentally" mill over either of these cards if we hoped to win a long game.
With Sphinx's Revelation in the deck, it was fairly likely that we would get to see any number of cards out of our deck and eventually find whatever we wanted. On the same foot, we only had one copy of certain cards that we could find to win. If we happened to mill over one of those cards in a given matchup, it is safe to argue that we could not actually win the game with the rest of the cards in the deck.
Of course, this is thinking in extremities. It isn't too terribly likely that you'll mill over your own Runechanter's Pike, right? But what is the "value" of milling over yourself versus losing the game on the spot, depending on the matchup?
Honestly, I'm not sure which action is 100% right in a given situation, but I do know that it is never correct to always do one or the other. When you are in a matchup that regularly is decided by decking, you want to target your opponent most of the time. However, if they have a Runechanter's Pike or Moorland Haunt already, this can be overly dangerous.
Against a lot of decks, you can also argue that the combination of Thought Scour and Azorius Charm act as "permanent removal" against a lot of creatures like Thundermaw Hellkite and Falkenrath Aristocrat. In those cases, it is correct to wait on both of them, unless you need to dig for lands, etc. Regardless, I just wanted to point out that Thought Scour is not an easy card to play with, for a variety of reasons.
...
While I should be happy with my performance at the Invitational in Los Angeles, there is something gnawing at me. Making such a bone-headed mistake on camera is not only embarrassing, but it forces me to look at everything I do on a larger scale.
What was the cause of the mistake? Was my play compromised due to lack of sleep, food, hydration, or some other factor? Is this just something that is going to happen every once in a while, and I have to deal with it?
With all of these questions, an answer will only lead to more questions. I can't honestly say why I messed up so badly. I don't know if it was nerves, or if I really am just that bad at the game. We all make mistakes, but I know that I rarely make blunders that big anymore. The most important thing to remember is that I have to move past it and grow from it.
I will be taking somewhat of a break over the holidays to spend time with family and friends from back home, but January is going to bring some awesome tournaments and some awesome times. I know that I've played a ton of Magic over the last twelve months, and it might feel good to have a "vacation."
Although, there is a Magic Online PTQ on Christmas Day…
Thanks for reading.
strong sad on Magic Online
@strong_sad on Twitter