Season's greetings and happy holidays! Today, I wanted to bring you something a little lighter and a little more festive. During the holiday season, it's easy for us as Magic players to be looking ahead to that next big thing: the February release and the constantly changing Standard environment. One week R/B Zombies is the big thing, then it's Naya Midrange, and sometimes it's USA Control. With the constant shift we experience in what we build around, let's take this Christmas day and focus on something a little more casual and relaxed. Today, I'll bring you two Standard decks, each with a more flavorful approach to the holiday spirit while maintaining Untapped's fun card selections.
Let's start brewing!
A Creature-Filled Christmas
For me, Christmas has always been a time of unforgettable memories, fun and treasured gifts, and delicious food. If you'll notice, "sharing" is a part of each of these paragons of the holidays. For our first deck, we'll be looking at the idea of gifts and their distribution amongst beloved friends and family members.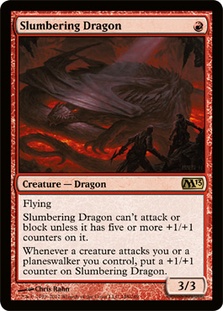 GPOY after a holiday feast.
This card is a sleeper hit for getting a deck built around it. Although I suppose we could wait to get attacked with five creatures, we'll push our little buddy along with a little gift.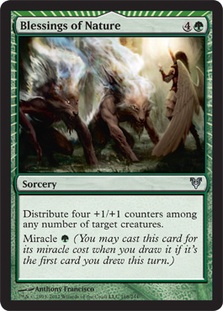 Although the more common combo choice is Increasing Savagery, the ability to distribute the gifts to the rest of your team is exciting, and the possibility of doing it on the cheap is just as fun as opening a present.
Having a high power is arguably the most important characteristic of any creature, so let's find some fun ways to augment our creatures' power.
This pair has intrigued me, allowing single-creature pumps to fortify a whole squad of creatures. Pumping a Beastmaster with a one of our Blessings of Natures gives your team +7/+7 on the offense. Also, if you'll notice, Blessing of Nature can target up to four creatures. You can add a +1/+1 counter to four creatures and give a team a total of sixteen additional power for that alpha strike.
Let's find some complementary creatures and spread some cheer!
Creatures (22)
Lands (23)
Spells (16)
You can't have a party without some Rakdos in there, and the Cackler is just about the best one-drop this deck can support. The Cackler loves to get in the red zone, but you don't need me to tell you that. Flinthoof Boar is a similarly efficient dude that often acts as a fairly regular 3/3 for two. Being a cheaper Boggart Ram-Gang is a great way to get brought along for the ride.
He's quickly becoming one of my favorite creatures; chances are that he'll feature in an upcoming article. The ability to give haste to a creature for free is really powerful. He's right on curve, so attacking with him and a paired Cackler is another aggressive option. Naturally, though, his greatest gift is providing free haste to one of your larger threats.
Power-Matters Creatures
The rest of our creatures should maintain a high power to keep on theme. Markov Blademaster pairs beautifully with Lightning Mauler, allowing you to sneak the otherwise slow and vulnerable Vampire through your opponent's tapped creatures. It also stops X/1 attackers and discourages X/2s, as any double striker would. Wild Beastmaster, as mentioned above, benefits from the permanent pumping ability, whether by enchantment or +1/+1 counters.
Ulvenwald Tracker and Falkenrath Exterminator are singletons that function as creature-based removal. The Exterminator synergizes with the +1/+1 theme; with enough mana, he can machine-gun cartloads of coal into naughty creatures' stockings. Ulvenwald Tracker can take advantage of temporary or permanent pump to forcefully spread your Christmas spirit. The Wolfir Silverheart, although slow and unwieldy, generously provides a very powerful gift to a special someone. Our Slumbering Dragons will naturally gain counters, but our +1/+1 counter spells will help wake him more quickly. Don't forget that he still gains counters after he is awoken!
Nearly every spell in this deck adds to or depends on our creatures' power. Rancor is a necessity when you're using powerful creatures; a heavily pumped creature becomes a nigh-unstoppable battering ram of cheer and glee with a bit of rancorous tidings. Blessing of Nature and Hunger of the Howlpack act as our +1/+1 counter spells, and they are low in quantity on purpose. Hunger acts as a third Blessing of Nature that can be cast offensively or defensively for the low tithe of G. Wild Defiance acts as a pump for the multi-target spells as well as protection from damage-based spot removal.
Flames of the Firebrand and Nightbird's Clutches each serve dual purposes. Each acts as removal, but if needed, they can also target your own creatures with a Wild Defiance out. Flames of the Firebrand turns into Overrun, and the Clutches can remove a blocker and pump one of your creatures for a backbreaking swing. When those naughty foes' try to meddle with your plans, Fling is there to make sure they feel how bad they're being. Bear in mind it's easy to Fling an irrelevant or late game Slumbering Dragon to get efficient power value out of him. With all the power-boosting effects, a successful casting pretty much means good game to you all and to all a good night.
Lands
There are only 22 lands, and although this seems low (rather, it is low), it can function on about three mana. I can start getting aggressive with two, and only three spells cost above three maindeck (the Blessings and the Silverheart). Evolving Wilds is a poor stand-in for Stomping Ground and Gruul Guildgate, but it does fine in the meantime and can not only fix your mana but provide that Mountain in a snap for your Boar (I'm reaching a bit).
For the sideboard, I wanted to able to tackle other aggro decks while also giving long-term inevitability and one-creature pressure solutions against the control matchups you might come across this holiday season. Most of it is fairly self-explanatory, so I'll just note a couple cards.
Ranger's Guile acts as very inexpensive spot removal protection or as a combat trick in a close combat. Triumph of Cruelty gives you a leg up against sweeper decks; even in a land of Thragtusks, it's still easy for this deck to have more power on its side. Deadbridge Goliath, a glorified vanilla creature, acts as a huge wall to dissuade the format's beefier ground guys while providing a relevant, power-pumping ability when dead. Its efficiency at doling out Christmas magic earns it a slot in my final list.
I purposefully didn't include a couple slower yet synergetic cards. I considered Increasing Savagery, Fungal Sprouting, Garruk, Primal Hunter, and Thragtusk, but all of them had the unfortunate requirement of costing a lot in a deck that can't reliably go above four mana. I purposefully chose cheaper dudes to put the aggro decks I'd face on the defense, a position at which they often fare poorly.
Although playtesting for this deck was fairly limited, I found that it did pretty well against midrange and control matchups and did moderately in the mirror, the mirror being aggressive matchups where it ran the risk of being out-tempoed, with B/X decks being the biggest problem. It did better against aggro post-sideboard, and control usually went better post-board, too.
I had a lot of fun with this deck; I might exchange some creatures for hexproof and/or haste dudes, but overall the theme played out well. Flinging was often a highly successful and exciting finisher, and it helped me win games out of nowhere. Lightning Mauler checked its list twice, providing awesomely efficient tempo advantage on the draw and even more powerful benefit on the play. Flinthoof Boar is also a highly underrated card; it dodges Pillar of Flame, and a lot of decks can't successfully attack through it.
It's a Miracle!
This time of year brings another venerated holiday: Hanukkah. As a celebration of faith and divine providence, Hanukkah reminds us all what we can be thankful for and to appreciate a miracle when we see one. Thankfully for my sake, this made the deck decision regarding Hanukkah fairly easy.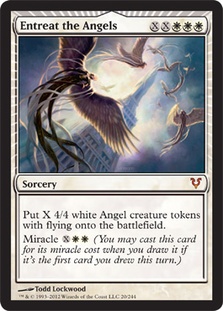 The miracle mechanic is a deceptively fun but highly variable mechanic that we have all tried to use at one point or another since its release in May with disparaging levels of success. As there are many miracles in these colors and with their connection to the Jewish culture and religion, we'll make this deck blue and white.
Miracles rely on the ability to nest them on top of your library and on timing the draw correctly to utilize them; any other way relies on blind luck, which will often get you a large amount of very overcosted cards in your hand and a quickly dwindling life total. We won't rely on luck for our miracles. No, we're going to plan them.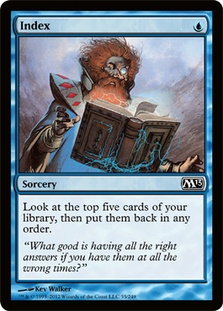 Now, before you say it, Index is a bad card. A bad card. In a world without Ponder, Preordain, or Brainstorm, we must live with Index for the time being. This is one of the few ways in Standard to "set up" the miracle, so we're going to use this as our main planning tool. Miracles can be activated on your first draw each turn, so utilizing cantripping spells or cyclers will give us the ability to active miracles on demand for maximum effect. Slap this all together and what do you get?
Creatures (13)
Lands (24)
Spells (23)
Although I normally start with the creatures, the deck depends on Index, so I'll start there.
Index…
As bad as Index is (you can't shuffle and it doesn't replace itself), it does let you dig quite deep into your deck. You can see one-fifth of your deck with a turn 1 Index, are able to cheaply manipulate your library, and, considering all the cantrips this deck plays, I'd hope the deck won't miss the replacement clause. In the original design, Index was supposed to be one of the more difficult and rewarding cards this deck could cast, as careful planning could not only prepare you for the turns ahead but guarantee timely effects on the miracle. There are eleven miracle cards, so you stand a strong (but not certain) chance of hitting at least one in any Index, and you decide whether you want it right now as removal for your next drawn card (Terminus or Banishing Stroke) or whether you need a few turns to build up mana (Entreat the Angels).
Now, let's look at the creatures. Deranged Assistant is certainly not the best ramp card ever printed, but he is unique in Standard as he is one of the few two-mana ramp spells in the format that an Azorius-colored deck can cast. Furthermore, with an Indexed top five, you can slough off a planned bad card to dig deeper towards that miracle card.
Alchemist's Apprentice, although just a chump blocker, is a free draw in the case of a missed land drop or as an attempt to hit a miracle. Snapcaster Mage is there to synergize with all the expensive and inexpensive targets alike; not much groundbreaking there. The final three cards were chosen mostly to give them a try. Captain of the Watch is nine power guaranteed (it relies no nothing else, I should say), and it can apply a large amount of pressure on a freshly wiped board. Isperia, Supreme Judge while being a large finisher, was also a free draw trigger while on defense. Isperia is not a very popular card in Standard right now, but I think this is a nice application for one. Also, full disclosure, I pulled one the other day and don't want to see her go to waste.
Draw Spells
The three draw spells serve unique purposes. Azorius Charm is by far the best non-miracle spell in the deck. It is flexible enough to buy you time with its Time Ebb mode, and it can give your Captain of the Watch and friends a nine-life rider. The most commonly used mode, to cycle, will be a simple and cheap way to find a miracle at your opponent's EOT.
Thought Scour is meant to be set up with Index for maximum value. Put two silly cards on top, mill them both, then draw the card you care about (perhaps the miracle you need). Alternatively, putting a creature on top of your opponent's library makes this Thought Scour an effective removal spell (albeit a two-card one). Sphinx's Revelation exists as a singleton. If you have enough mana to pay for a healthy Revelation, you can probably hard cast most of the miracles your draw. It's not as good here as it is in other decks, but I figured a singleton seemed feasible.
Miracles
I played as many of the miracles as possible, even some of the uncommon ones. Vanishment and Banishing Stroke act as instant speed removal, either on the miracle or hard cast. Sure, they're not as powerful as the other removal spells in this deck, but they're also the easiest to hard cast. Sometimes you just need to reliably do something at instant speed, and each effect is strong enough without casting it during your draw step to merit inclusion.
The two sweepers, Devastation Tide and Terminus, buy you the time you need to get your big miracle online. Entreat the Angels is the primary win condition of this deck. For just five mana, this makes twelve evasive power, which can be achieved as early as turn four. Temporal Mastery acts as a ramp spell or additional combat step for a squad of Angels.
Lands
There's nothing special about the lands, save Evolving Wilds. Sure, I could play Azorius Guildgate, but I'm using Evolving Wilds here like many blue Legacy decks use fetchlands: to shuffle. A bad Index paints a grim picture unless you have the option to shuffle away. You don't lose a card for doing so, and there is enough land that you can just squat on the Wilds until you need a clean topdeck.
Sideboard
Mostly geared to combat aggressive decks and gritty control decks, the sideboard contains specific answers. Supreme Verdict is a nice has-to-resolve sweeper that complements Terminus well. Sensory Deprivation has been my go-to blue Pillar of Flame. Dissipate is a vital tool evil for single-threat decks, and it is effective in throwing off tempo-intensive deck. Side it in against non-Cavern or Souls deck for maximum effect.
Judge's Familiar can serve a variety of roles, but the one I think I like the most is being a side choice when you are on the draw. It is one of the few one-mana counters in Standard, and it can stop a Farseek if you're on the draw. It has to constantly be played around, and it can ping in while your opponent is trying to find that extra mana to push through the Bird. Detention Sphere is meant to be an efficient catchall to deal with any tough customers, and the singleton Curse of Echoes has proven to be very effective against instant- and sorcery-heavy decks.
Much to my surprise, this deck can actually pull it off. The sideboard turned out to be particularly well tuned to a variety of deck styles, including blazing aggro and midrange G/X builds. Control was a problem pre-sideboard but became much easier after boarding. Snapcaster + Dissipate is still awesome.
I was really surprised at the success of this deck. Index's inherent disadvantage was rarely a problem; although I couldn't say my hand was filled to the brim very often, I had what I needed. This deck proved to be quite adequate. When tested against the Christmas deck, it won as well. Although there are specific hosers for Entreat the Angels floating around in Standard, I don't see many of them where I play (Sever the Bloodline, Detention Sphere, etc.)
If I had to pick one to play, I'd choose the Hanukkah deck. Playing Index and successfully lining up your draw was surprisingly difficult but immensely rewarding. Make sure to keep a pen on hand so you can jot the top of your library down if that kind of mental crunch is tough for you. It was for me; I had to rewind play to correct foolish mistakes.
I hope at the very least you've enjoyed this week's selection of decks for some light reading while you sip your eggnog. These are just sketches, but I hope you'll take my card selections to heart while feeling comfortable to explore deeper, more profound options. Don't forget to untap this holiday season, and Merry Christmas and happy holidays to you all! I'll see you again in 2013!
- Matt
CaptainShapiro on Magic Online