Should auld acquaintance be forgot and never brought to mind? Perhaps, but that doesn't mean you shouldn't come out to the first Open Series weekend of the year in my hometown of Columbus, Ohio! It's been a little while since the Invitational in Los Angeles, where Reid Duke was, as always, Reid Duke-ulous by winning with Bant Control. But eight archetypes made the Top 8 of #SCGINVI, and that's just in Standard!
In Legacy, Deathrite Shaman's coming out party was impressive. Surrounded by everything from Delver of Secrets to Jace, the Mind Sculptor to Shardless Agent, Legacy's newest Squire is on everyone's hotlist… That is, unless you're planning on casting Tendrils of Agony for a bazillion! With Storm making the Top 8 of the Invitational in Adam Prosak's hands and Lands, The Walking Dead, and DreadStill turning in Top 8 finishes in the Legacy Open in LA thanks to Jody Keith, Sam Black, and Andrew Shugart, Legacy might be even more wide open than Standard right now!
What do these players have in common? They're good. They're very good. So if you think you've got what it takes, right now is the time to prove it!
Once again the Greater Columbus Convention Center will house the festivities on Saturday and Sunday, with our event taking place in Ballrooms 4 and 5.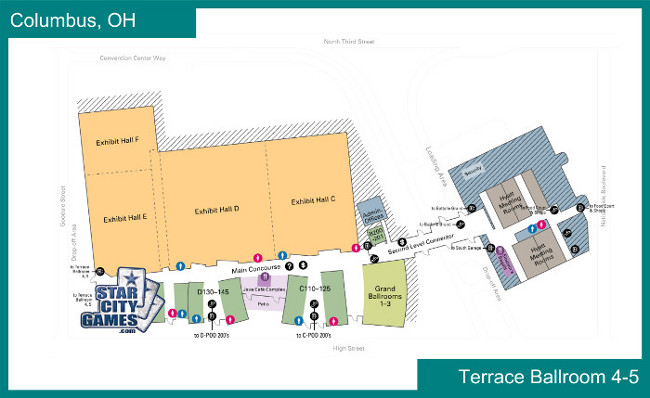 Downtown Columbus is one of the best locations when it comes to food and drink. A block away is the North Market, with 35 different businesses including restaurants offering Italian, Thai, Indian, and many more types of food, not to mention shops with candy, ice cream, wine, fish (if you feel so inclined), and so much more.
In addition, local pubs like Barley's (right across the street from the Convention Center) and the nearby Short North offer excellent food and nightlife options.
And for the Joey Pascos of the world, there's a Starbucks on the corner of High and Goodale!

A trio of talented alterists will be peddling their wares, and you'll almost certainly want to visit their stations.
Amber Musick will be at this event offering her custom, full art playmats and tokens as well as creating new works of art and customizing your playmat with original art. Pricing and her current offering of playmats can be found on her deviantART page. You can contact Amber atzhycalui@gmail.com torequest a playmat to be picked up at the event.
Lindsay Burley will be selling and creating her unique brand of 3-D cards and tokens as well as custom playmats! Check out her work here, then stop by and check out these awesome cards! For special commissions before the event, you can contact Lindsay at 3Dalters@gmail.com.
Ron Faris of Blackwing Studio will be painting custom card alterations at the event!Check out his unique alters by following him on his Facebook or his blog. You can e-mail him at blackwingalters@yahoo.com for commission information.
I made the decision to skip the event this weekend. I know, I know; you'll be sad you missed me. But I need a weekend off! Reubs needs his naps. Plus, I was just there for the holidays. But never fear, for in my stead you'll be getting the class of @SCGLive, Ari Lax and Adam Prosak (who you may remember from Storming his way to victory), delivering top-notch and entertaining coverage all weekend, with Glenn Jones holding it down in the Sideboard. And you can join in on the conversation (and try your best to Tweet your way into the coverage) by using #SCGCOL!
Good luck, have fun!
Event Coverage Coordinator