Over the past year, I've had a string of tournament successes that have taught me more than any period in which I've played Magic. At the same time, I've learned how hard it is to come close to a goal without quite achieving it. I'd like to share the journey of this past year and its lessons with you. When I discuss current formats, I'll also provide some decklists and card analysis.
Looking back, the beginning of 2012 was also the beginning of a streak of my worst finishes in Magic tournaments ever. I missed making Day 2 for the first time at Grand Prix Baltimore. On the late night ride home, I maximized my heartbreak by getting a speeding ticket and then slamming my finger in the car door. I've never come closer to quitting Magic then when I was lying in a hotel bathtub that night with a bleeding, throbbing finger, unable to sleep.
I missed another Day 2 at Grand Prix Nashville. After that, I lost my confidence.
The phase in which skills have been developed and are present but haven't yet translated to success is a risky time. Almost everyone experiences it at some point. The first time you spike a tournament, do well on a test, get a job, or kiss a crush, you might feel rewarded, but you also see the potential for more and feel you have to know you're good enough to go all the way. Next time you get a little bit closer, and that makes you want it even more.
This cycle of achievement and motivation is part of what makes us strive to be better, but it's easily broken. I'd had some minor successes, most notably a Top 16 at Grand Prix Washington DC a few years ago, but after two beatings in a row my sense of increasing capability and self-worth in Magic had largely slipped away.
Sometimes things change.
June
Grand Prix Atlanta was a tournament that I almost didn't play in. Because I've been blessed with great friends who have always been willing to loan me cards, I haven't had a personal collection in years. Getting outfitted with a viable Legacy deck almost didn't happen, and it never would have been possible without help. A friend had promised me some cards for U/W Miracles, but on Thursday night, two days before the tournament, he wasn't answering his phone.
A recurring theme of 2012 was Thomas Dodd bailing me out. As a trader and gentlemen, Dodd has largely given up playing outside of cube drafts, and he planned on trying to move his Legacy stock at the Grand Prix. He graciously gave me cards for Robbie Cordell's Esper Stoneblade, a deck I'd never touched in a format I'd never really played.
The tournament went well, as you can see here. I was happy with my play and got lucky when I needed to be, but as I resigned myself to defeat and shook Gaudenis Vidugiris's hand in the finals, a feeling of disappointment rather than happiness washed over me.
The fire was rekindled.
The moment from the tournament that will always stick with me didn't actually occur in the Top 8. In the second to last round of Swiss, I needed to win both remaining rounds to make Top 8, but I quickly found myself down a game against RUG Delver. We shuffled up, and I gave it another try. This time the board state devolved into my Geist of Saint Traft and Snapcaster Mage staring down a Nimble Mongoose with threshold. My opponent was at six life and was recurring Wasteland with Life from the Loam, crippling my options. If I attacked with both my creatures and my opponent had nothing, then I would win the game.
I wanted so badly to just attack. I was exhausted, having accumulated three unintentional draws already in the tournament and having played nearly the whole 50 minutes every round, largely as a consequence of my unfamiliarity with the format. With just a few cards in his hand I decided to press on, eventually drawing fetchlands that found basics and won me the game. I was rewarded in a close game 3 where it looked like I wouldn't be able to win before time expired but drew a Stoneforge Mystic that found an Umezawa's Jitte that became lethal on exactly turn 5 of extra turns.
I asked about game 2. He had the Lightning Bolt.
This decision to not relinquish control changed the last six months of my life.
July
I suddenly found myself at the beginning of the Pro Tour season with six Pro Points and an invite to Return to Ravnica, and I made the decision to pursue what has been a very distant dream ever since I learned about the Pro Tour. Although in the past this seemed impossible, I figured I'd never have a better chance to get on the gravy train. Since I'm notoriously bad at getting a group together to test for a tournament, I decided to attend Grand Prix Columbus to prepare for the Pro Tour.
As an aside, I have an unhealthy love of Merfolk. If you've ever played against U/W Merfolk on Magic Online without Aether Vial, there's a very good chance it was me. I knew I did not want to play Aether Vial since it's a poor topdeck and Modern is a format that's less tempo oriented than Legacy and doesn't contain Wasteland. Frankly, I think Aether Vial is a pretty poor card in general outside of tribal decks in Legacy.
My expectations were at an all-time high after Atlanta, and I wanted nothing more than a back-to-back despite having no idea if my deck was actually any good. After starting 7-0, I stumbled into Day 2 at 7-2 and then rattled off four in a row, finding myself in a potential win and draw scenario. In round 14, I played against Gerard Fabiano. After splitting the first two games, we both mulliganed, I got very flooded, and he was eventually able to draw out of his severe mana screw. Although I ended up opting to draw into the Top 32 (a solid finish) and was overall pleased with my deck, experiencing the taste of being so close but not quite getting there was, again, a motivating disappointment.
This was the last time for a while that I experienced the joy of going to a Magic tournament and spending the weekend with a big group of my dear friends. It goes without saying that people are what make everything worthwhile. In addition, I was exposed to Cards Against Humanity in Columbus, a fantastic game for people with a degenerate sense of humor.
Probably the highlight of my trip is this picture: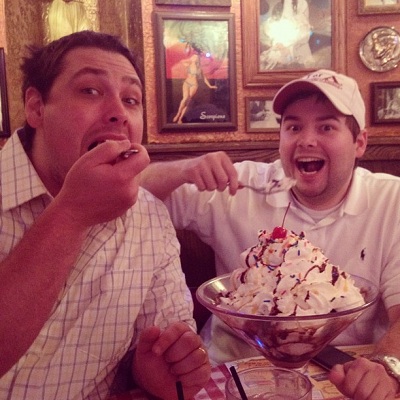 September
The StarCityGames.com Invitational in my backyard was my biggest flop of the season. (Thanks SCG for giving me another shot this year!) I played a slightly tweaked version of Esper Stoneblade in Legacy and went 3-1. However, in Standard I played a Delver list I was completely unfamiliar with, a recipe for disaster when all my opponents had been playing mirror matches and tweaking their swing slots for months. At 3-3, I tilted and played miserably before I'd even died in the tournament.
This failure likely taught me more than any other tournament this season, preparing me in the future to not give up and to force myself to play with my back against the wall. I often play much worse Magic with one loss than with a flawless record. It's been said countless times, but I'll reiterate: playing each match as a separate entity to the best of one's ability is a key to tournament success. You have to put that into practice.
October
The Pro Tour was certainly an interesting experience for me. I'd never flown and wasn't personally familiar with anyone attending. Thankfully, I ran good and met two participating gentlemen on Facebook from Atlanta who turned out to be absolutely awesome. Columbus was the bulk of my preparation, and with school limiting my time, I decided to play a slightly modified version of Merfolk even though I wasn't particularly confident in my matchup against the Jund deck that was becoming more and more popular. The advancement of Magic Online set releases was a blessing, and the six or so drafts that I got in prior to leaving were invaluable since I didn't get the chance to play any in paper.
The tournament itself started badly with two losses to Jund, giving me a 3-2 Modern start. My first Draft deck felt very average. I ended up with a Junk-flavored Ethereal Armor deck that was promptly crushed by an Azorius deck with several Dramatic Rescues and Azorius Charms. After winning round 7, I was down a game against a Mercurial Chemister / Niv-Mizzet, Dracogenius masterpiece.
At this point, I was starting to think I should just lose quickly so I could catch the shuttle back to the hotel (navigation from the venue was awkward to say the least). Luckily, I had a master plan. I boarded out all my expensive cards and a land and hoped to get lucky. It worked, as my opponent stumbled on mana in game 2, and in game 3 my double Ethereal Armor draw was able to race against his Pursuit of Flight.
My second draft went much better, as a solid combination of Axebane Guardian and several defenders splashing double Skymark Roc got upgraded significantly by two Collective Blessings in pack 3. I 3-0'd without too much effort. Returning to Modern, I lost immediately to Willy Edel, ending my Top 8 dreams short of a true miracle, but defeated Scapeshift, Storm, and finally Jund.
Going into the last round I was 11-4, with a draw guaranteeing a Top 25 and potentially Top 16. Needless to say, I was thrilled, especially when I considered my abysmal first rounds. Unfortunately, my opponent was not interested in drawing, and I lost to Affinity. I was crushed. The rollercoaster of doing poorly, going on a huge run, and then falling just short was painful, and suddenly I found myself with 14 Pro Points and unqualified for Pro Tour Gatecrash.
A week later, I thrust myself back into the PTQ circuit, determined to requalify. I wanted to wash away the hard loss I had just taken and prove to myself that despite a misfortune I deserved to be back on the Pro Tour. My Sealed deck was nothing great; once again I had a Junk conglomerate featuring a few removal spells and no real bombs. I was able to X-0-2 the Swiss, and I drafted an average Bant deck featuring four Hussar Patrols and several Civic Sabers as the blunt of my offense in what I felt was a very mediocre set of packs in the Top 8. I won in the quarterfinals but lost in the semifinals after stumbling on mana in game 1 then losing to Pack Rat game 2. Getting acquainted with Pack Rat for the first time was certainly a disappointing way to end a day of high hopes.
November
I booked a flight to Grand Prix Chicago mainly as an excuse to visit my friend Brad, who had moved there nearly a year prior. The Grand Prix was the icing on the cake. Unfortunately, the format was once again Modern, which I was beginning to get burnt out on. Playing Merfolk yet again seemed like a risky venture with its poor Jund matchup, so I set about testing U/W Control on Magic Online the week before the tournament since it far and away had the best sideboard cards in the format. From here on out, the Constructed decks have some relevance to current strategy, so I'll share them:
Creatures (17)
Lands (27) There were probably a large number of flaws with this list, but more than anything else it suited what I like to do. The high numbers of Vendilion Clique give a lot of information and are able to quickly clock opponents. I value information more than just about anything else in Magic.
Furthermore, the very high land count with a large number of action lands mitigates flooding but also reduces mulligans, particularly in a discard-heavy format where mulliganing can severely compound disadvantages. In general, I believe that most decklists are about a land short, particularly when there are often so many good lands with abilities available.
Rounding out the decklist, prior to the Grand Prix Blade Splicer had performed well, and I liked the idea of having cards that wouldn't get hosed by Deathrite Shaman like Kitchen Finks. Cryptic Command started as a two-of, but every time the board was anywhere near parity it was the number one card I wanted to draw, so I quickly switched to four copies.
My sideboard was full of all-stars. Sunlance is a great answer to Deathrite Shaman, Dark Confidant, and a slew of other cheap creatures during the early turns when Path to Exile is miserable. Gideon Jura was my replacement for Baneslayer Angel since I felt it gave similar benefits but was far less vulnerable to commonly played removal.
The tournament itself did not go very smoothly. At one point I had to win four matches in a row to make Day 2, and I succeeded in doing so. Ultimately, I won the last round to barely crack the Top 64. It's mind boggling to me that it was possible to miss the money in this tournament with an 11-4 record, but Magic is getting more and more popular and the competition is correspondingly fierce.
My losses were to decks doing generally far more unfair things than me: Griselbrand Reanimator, the mirror with Vedalken Shackles, Infect, and Mono-White Martyr. Because Modern swings so heavily with die rolls and demands you have certain relevant cards at particular times, I adopted a strategy of being willing to keep hands that had what I needed but were fundamentally shaky. I was punished several times for this. U/W is a deck that is more or less required to fall into these traps though, and it's a reasonable risk one assumes by playing it. With Jund adopting Lingering Souls now, however, I'd argue that U/W has become much worse, with one of its solid matchups getting very difficult to grind out and pressure in.
Chicago itself was beautiful and amazing, with the venue itself being the nicest site for a Grand Prix I've ever been to besides perhaps the Gaylord Opryland in Nashville. The city and food did not disappoint, and Brad introduced me to this life changing Eggs Benedict: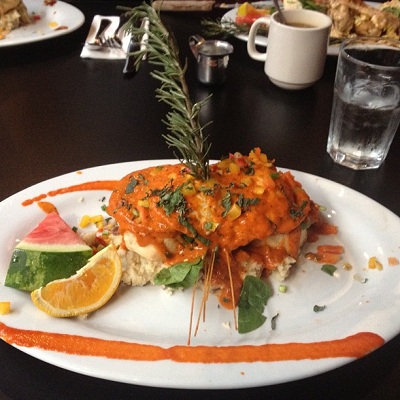 At this point, I had 15 Pro Points, just in time to play in the Silver PTQ since benefits take a month to go in effect.
The following week was Grand Prix Charleston, and after getting home from Chicago, I spent the week up to it testing Junk Tokens and U/W Flash decks to get acquainted with new Standard, but I had no clear idea of what to play. Robbie Cordell urged me to play Tokens, advice that led our friend Brian Eason to an eventual 2nd place finish, cementing the #RCordell curse.
Unfortunately, things are never easy or simple, and on Thursday with a car of friends en route to my apartment, my mother called me and told me my grandmother had suffered a huge stroke. When we arrived at the hospital, she had passed. My brother and I drove to Athens to pick up our sister, afraid to let her drive given the news, and when I arrived back at my apartment very late, I'd given up on the trip.
I spent all day Friday with my family, but by the evening my parents urged me to go, telling me that they knew how much it meant to me, that there was nothing to be done, and that I would have ample time to make it back for the funeral on Monday. I sent a text to Thomas Dodd asking if it were possible to get me a deck together with 12 hours remaining, and as usual he did not disappoint. I arrived in Charleston, driving solo, at about 3 AM, and received a deckbox with some Esper cards with which I put together this list almost solely on intuition:
Creatures (1)
Planeswalkers (7)
Lands (27) Once again, after my two byes my tournament started poorly, and I found myself at 2-2. After dying in literally eight minutes in round 4 to Geist of Saint Traft on turn 3, I called Tom to order me some food at the hotel restaurant he was at for lunch. When I arrived, I was defeated. Emotionally and physically exhausted, I felt sick for coming to the tournament instead of staying with my family. If I couldn't make my opportunities count, what was the point? Thankfully, Tom is a decade wiser than me, and he urged me to refocus and live in the moment. I was there, and it'd be a waste to give up.
Six hours later, after a nerve-wracking bubble match against Luis Scott-Vargas, I'd advanced to Day 2.
I put up a solid second day, ending with a loss in the final round to make Top 32 at 11-4. My sideboard was mostly miserable throughout the entire tournament, a consequence of a lack of preparation. Overall, I think Esper Control is a solid deck and will likely benefit enormously from Gatecrash when its mana becomes very stable and it picks up a few goodies, but as of right now Reid Duke's flavor of Bant is likely a better choice.
Immediately after the conclusion of round 15, I left for home. After a surreal 36 hours, it almost felt like I'd never left at all.
December
December marked the busy conclusion of my semester and two PTQs available to me: one in Atlanta and the Silver Magic Online PTQ.
My pool in Atlanta was very strong and offered a number of options. Ultimately, I decided to forgo my Niv-Mizzet, Dracogenius and strong suite of Azorius cards for a Jund-based Axebane Guardian shell with several black removal spells and a splash for Vitu-Ghazi Guildmage. My deck was even better than I realized, and I quickly swept into a double draw through to the Top 8 with #RCordell.
My draft went poorly. I have a preference for Selesnya, and despite forcing it as best I could, I was cut and didn't adapt quickly enough, audibling into Golgari halfway through pack 2. As a result, my deck was playable but nothing exciting. I lost in a very close three-game set to good friend Mike Kwan in the quarters, who put me away in a third game I thought I couldn't lose after he stabilized the board with Collective Blessing and I drew a few too many lands down the stretch. Thankfully, he went on to win the tournament.
The following week, after finishing finals, I went back to Atlanta for a friend's birthday extravaganza, and my roommate and I travelled home early Sunday morning so that I could play in the Silver PTQ. My Sealed pool gave me a solid G/W deck with a reasonable number of pump spells and a legitimate bomb in Collective Blessing. I lost a match where I had to play into Rootborn Defenses twice and was thoroughly blown out both times by it, but after defeating a Pack Rat a few rounds later, I was able to advance to the Top 8 for the third time in three attempts.
This time I opened a Mizzium Mortars and kept my colors open before settling into a nice Grixis Control deck featuring four Doorkeepers. Once again fortune was not with me, as a Rubbleback Rhino with Deviant Glee backed by three Augur Sprees put me into another game 3. My somewhat sketchy keep was punished by a curve involving Frostburn Weird into Ogre Jailbreaker backed by two more Augur Sprees.
As I logged off Magic Online, I was numb.
I learned a lot about Magic and myself over the past year. What success I had came with a fair share of disappointment. Ultimately, my pride is my greatest enemy, but through my experiences I have gained a great deal of confidence and independence.
Reading signals while drafting is probably my weakest area of play, and I'll try to fix that over the remainder of the season. Unfortunately, I've missed my window to qualify for Pro Tour Gatecrash, and with it my chances of reaching Gold have fallen dramatically. But I haven't given up and plan to give it my all for the remainder of the season. The experience of travelling, meeting new people, and getting to pay my rent by playing Magic has been an amazing ride that I hope to continue at least through the remainder of my college career, and if I'm lucky, even after I graduate. Coming into the new year, I hope that I can become more involved with the community, and I plan to start streaming and becoming more active. I hope to continue to share my journey with you all.
Thank you for reading,
Michael Majors
P.S. Props:
My parents for being amazing and supportive of me no matter what
All of my friends and family for making every experience worthwhile
Thomas Dodd, Nate Sanders, and James Orr in particular for being extremely gracious people and always lending a helping hand with cards
#RCordell for the decklists, chats, and the assurance I'll never have the biggest ego in the room